originally published: 12/20/2018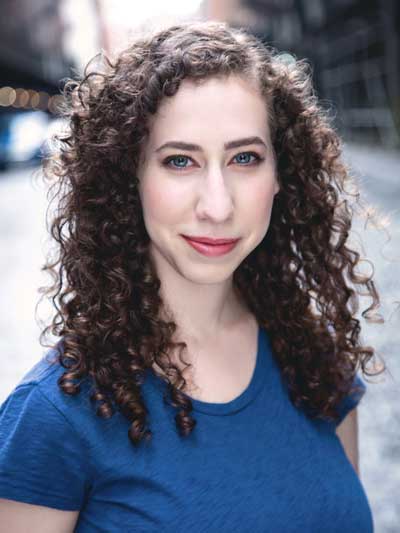 (NEW HOPE, PA) --  Brooke Wetterhahn joins the cast of Naked Call and will now be performing as "Jennifer" in tonight's reading.  Naked Call, a brand-new play by award-winning playwright, Ken Kaissar, which is premiering as a professionally staged reading, produced by New Feathers Productions, tonight at James A. Michener Art Museum. 
The play revolves around an Off-Off-Broadway theatre company who produces a futuristic, post-apocalyptic, Dystopian tale, but the concept requires that the piece be performed in the nude.  The play is fully rehearsed and the cast gathers for the first naked rehearsal. Hesitation sets in and causes the cast to scrutinize the concept.  Are we getting naked out of necessary artistic expression?  Or is this a desperate attempt to be noticed?  Note:  The real cast performing will be clothed.
The complete Naked Call cast includes: Michael Gamache as Patrick; Eileen Cella as Lorraine; Jason Silverman as Tim; Daniel Patrick Smith as Dirk; Brooke Wetterhahn as Jennifer; and Miriam White as Lisa.
Naked Call is a staged reading professionally produced and presented by New Feathers Productions, exclusively at the James A. Michener Art Museum on December 20th.  Naked Call concludes the 2018 New Feathers Season.  Show ticket-holders enjoy an included museum pass with access to the latest exhibitions and the ever-popular, pre-show wine gathering with the creatives at 6:15pm, Naked Call starts promptly at 7:00pm and runs approximately 75 minutes. All-inclusive tickets on sale for a flat-fee of $20.00 and are available now at MichenerArtMuseum.org
New Feathers Productions is a professionally produced, ever-expanding playwright and performance reading series devoted to new works and are will be accepting open-submissions from all playwrights, submission details TBA.  From inception and onto their exciting, second-season this fall, NFP promises to showcase theatrical works currently created by the award-winning playwrights of Princeton's Witherspoon Circle and Bucks County area playwrights. NFP purposefully presents an edgy, industry-inside view to the creative development process with skilled performers, playwrights and directors.  NFP aims to deliver a delightful and memorable mix of emotion-flexing, brain-teasing comedy, frank thought, post-conversation, while immersing participants in the experimental, theatrical process and encourages audience feedback to support new work.  For the latest updates please visit the New Feathers Productions Facebook page.
---
The article continues after this ad
---
---
The James A. Michener Art Museum collects, preserves, interprets, and exhibits American art, and promotes the work of nationally and internationally known Delaware Valley artists of all eras and creative disciplines. Founded in 1988, the museum presents exhibitions that explore a variety of artistic expressions and offers diverse educational programs that develop a lifelong involvement in the arts. Throughout the year, the Michener Art Museum hosts a wide range of programs open to the public, including lectures, artists conversations, gallery talks, artist studio tours, dance performances, jazz performances, family-themed activities, and other events. The Museum also offers a diverse selection of art classes for children and adults, which include instruction in drawing, painting, sculpting, and printmaking as well as programs for the public, schools, and teachers designed to support arts education. The James A. Michener Art Museum is accredited by the American Alliance of Museums.