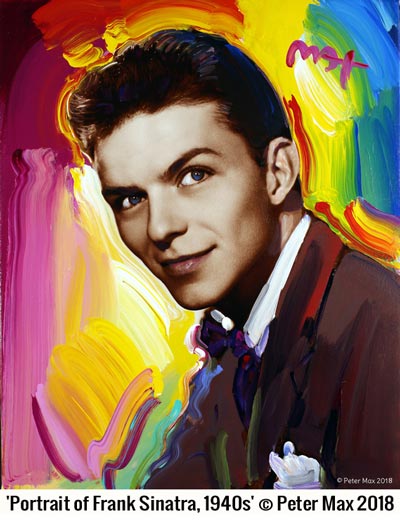 (HOBOKEN, NJ) -- As fans of Frank Sinatra across the world remember the legendary entertainer on what would have been his 103th birthday (December 12th), pop artist Peter Max provides a series of portraits of 'Ol' Blue Eyes' at different points throughout his career. Max, with a 5 decades-long career of his own, created these signature, vibrantly colored portraits, working with the Sinatra family to celebrate the Sinatra Centennial in 2015. They remain a fan favorite at gallery shows across the country.
Known as "Ol' Blue Eyes" and simply "The Voice" - Sinatra was one of America's all-time favorite singers and a great actor, winning an Academy Award-winning for his work in From Here to Eternity.  He was born on December 12, 1915 in Hoboken, New Jersey where he grew up and performed some of his earliest shows. He often called himself just a 'saloon singer,' but that was truly an understatement. Sinatra's six decade career and impact on music, movies and pop culture still resonates with audiences and influences artists to this day. And in this Christmas season, his holiday songs are some of the most played and beloved.
Sinatra's film career began in the 1940s with an uncredited performance in Las Vegas Nights.  Some of his most popular films include Anchors Aweigh with Gene Kelly and Kathryn Grayson; On The Town; From Here To Eternity; The Man With The Golden Arm; Guys and Dolls; Not A Strange;  High Society; Pal Joey; The Joker Is Wild; Ocean's 11; and The Manchurian Candidate.  Several songs performed by him in films were nominated for Academy Awards for Best Original Song and a few were winners, including "High Hopes" - a song from A Hole In The Head which stayed on the charts for 17 weeks.
"My earliest memory of Frank Sinatra was watching him in movies like Anchors Away at Saturday matinee movies when I was a kid growing up in Shanghai, China," recalled Max. "He was America to me. And then I heard his songs, unbelievable, smooth, deep and just timeless. I first heard his songs as a kid in Shanghai too, on Shanghai radio. They had an American swing jazz and jazz standard show.
---
The article continues after this ad
---
---
"I just loved his voice, his songs, his arrangements," continued Max. "He was a master. I was truly honored to work with his daughter Nancy and grand daughter Amanda in curating the images that I painted portraits of to honor his life. His music, film roles and life's works stay with us and are a part of us. I looked to capture some of his electricity and some of the many moments of his long career in my portraits of him," said Peter Max.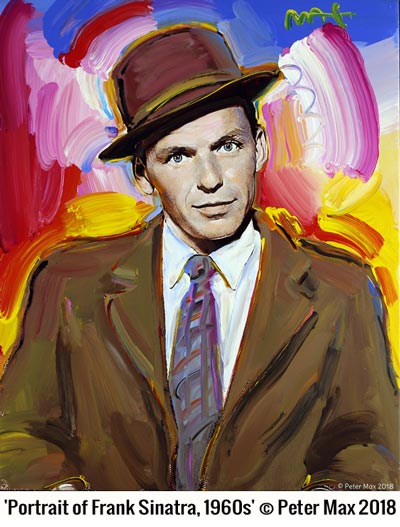 Sinatra was part of the inaugural class of New Jersey Hall of Famers in 2008.  His listing on the HOF website says, "Francis Albert Sinatra became one of New Jersey's best known celebrities. Singing on radio, records, film, television, and concert stages the world over, "Ol' Blue Eyes" brought style, sophistication, and unprecedented attention to the finest standards in the Great American Songbook. And, it all began with a four-cent ferry ride from New Jersey to New York City. Sinatra is considered by many as the finest male popular song vocalist of all time, but his list of accomplishments goes well beyond. A believer entertainer for six decades, Sinatra achievements earned him three Oscars, two Golden Globes, 10 personal Grammys (and a total of 21 including those for his albums), an Emmy, a Cecil B. DeMille Award, a Peabody, and he was recognized at the Kennedy Center Honore in 1983. These are only a sampling of the awards and honors that suggest the prominence this New Jersey native son achieved in music, film, television and business. A generous charitable contributor, he was the recipient of the prestigious Jean Hersholt Humanitarian Award by the Motion Picture Society of America 1971. The Hoboken post office was renamed in his honor in 2002 He was and remains the single most influential vocalist in the history of American popular music."
Tony Bennett, another legendary singer, once told Time Magazine, "When I think of Sinatra, I think of the way that Laurence Olivier depicted Hamlet. He was Everyman. He ran the gamut of emotions. Sinatra conquered every aspect of his world, the entertainment world. He was the two masks of the theater—the comedy, the tragedy. Underneath it all, he was a very, very sensitive, nice person."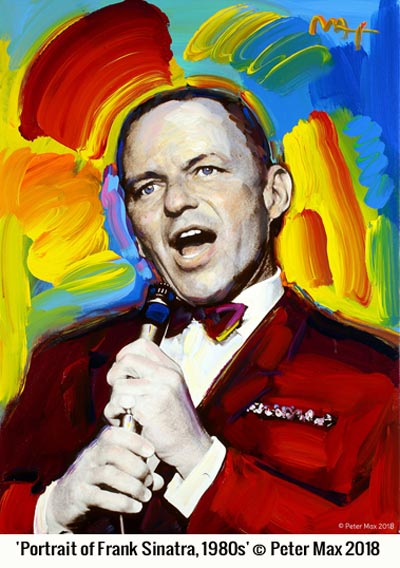 Acclaimed for his bold, cosmic art that captured the spirit of the '60s and '70s and for his colorful, expressionist paintings that he creates to this day including portraits and celebrity commissions, Peter Max has been the official artist for six GRAMMY Awards, five Super Bowls, the NHL All-Star Game, the U.S. Winter Olympics, World Cup USA, the Indy 500, the Rock & Roll Hall of Fame, NBC's 'The Voice' singing show and many other notable events in sports, global initiatives and music.
Max captured the zeitgeist of the psychedelic '60s youth movement with his cosmic paintings, posters, serigraphs and popular licensed products-- GE art clocks, bed sheets, Wrangler clothing, stockings and high-top sneakers, among many others. Over his five-decades long career, with gallery and museum shows around the world, the now 80-year-old Max is an icon of pop art, neo-expressionism and is often called 'America's Painter Laureate.'
His portraits have honored U.S. Presidents, foreign dignitaries, rock stars and jazz musicians, movie stars and sports icons. Max's impressive resume goes far beyond his world-famous bold, colorful artwork, as he is acknowledged for his global charity work - being an active environmentalist and defender of animal and human rights, and for helping to bring yoga to the United States by co-founding the Integral Yoga Institute with Swami Satchidananda.
Sinatra's last two decades of life were full of lifetime honors.  He was honored at the Kennedy Center Honors in 1983.  President Reagan presented him with the Presidential Medal of Freedom in 1985.  He received the Congressional Gold Medal in 1997.  Sinatra's career included eleven Grammy Awards, including the Grammy Trustees Award, Grammy Legend Award and the Grammy Lifetime Achievement Award. His last two albums, Duets and Duets II both cracked the Top 10 when released in 1993 and 1994 respectively.  Sinatra died on May 14, 1998.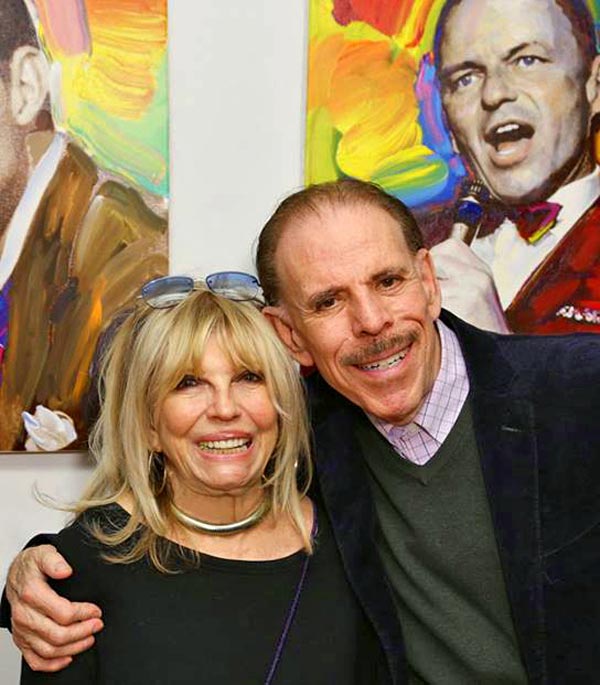 PHOTO: Peter Max and Nancy Sinatra at the opening of 'Peter Max Paints Sinatra,' an exhibition of Max's Sinatra portraits curated with the Sinatra Family celebrating the Frank Sinatra birthday centennial in 2015. Selected Max Sinatra portraits were part of the GRAMMY Museum's sweeping exhibit 'Sinatra: An American Icon' at the The New York Public Library for the Performing Arts at Lincoln Center.