originally published: 12/10/2018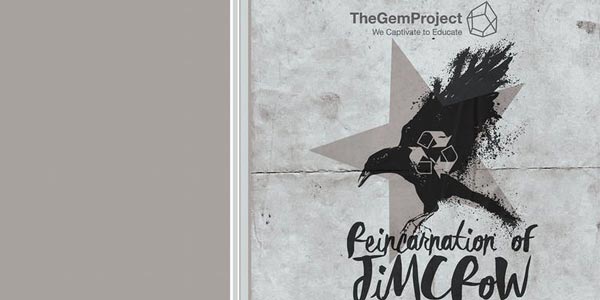 (NEWARK, NJ) -- The Gem Project, a Newark-based not-for-profit organization, is hosting its inaugural youth-led Art Activism exhibit, "Reincarnation of Jim Crow" at Kelcher Hubb in Newark on Friday, December 14 from 5:00pm to 7:00pm. The culminating event arrives after two cohorts of Newark High School participants earned up to 64 hours of service-learning hours across 11 weeks, which has given them an opportunity to:
(1) Engage with activist artists and work on visual art projects, which addressed a social issue by leading art educators from Newark, NJ.
(2) Learn how policies impact the chosen social issue, while using art to inform and educate the community at-large.
(3) Organize as a cohort their own call to action through the arts and discuss their own recommendations for policy reform, through their artist statements.
Angelica Pimentel, 17, says, " It (The Gem Project) is an actual safe space where I can say what I want, without feeling judged. The respect, vibe and knowledge you get from the people here is nice to see." Angelica, junior attending American History High School, joins 9 additional Gem Project High School fellows on Friday, December 14, 2018 in an immersive night of storytelling, presentation and youth-led dialogue surrounding the injustice of mass incarceration, as it leads to homelessness.
---
The article continues after this ad
---
---
The event is free and open to the public. Attendees must RSVP and register at: http://bit.ly/artivism2018.
High School Fellows/ Exhibiting Artists include: Danae Books (Newark Collegiate Academy); Tatiana Florexil (Saint Vincent Academy); Inayah Folch (North Star Academy); Victoria Hoegah (West Side High School); Ayoko Kessouagni (American History High School); Erica Mends (Malcolm X. Shabazz High School); Kiara Page (Barringer High School); Angelica Pimentel (American History High School); Andrea Samaniego (Technology High School); and Kendra Sanchez (Arts High School).
The project is supported by the Founder/CEO of The Gem Project, Amanda Ebokosia, and its art educators/co-curators Nadïne LaFond and BaJa Ukweli, including Rutgers University Paul Robeson Galleries and Express Newark. It is made possible in part by Newark Arts Council's ArtStart grant, which is funded by Prudential Foundation, M&T Bank, Bank of America, Turrell Fund, New Jersey State Council on the Arts, and the Geraldine R. Dodge Foundation.
Kelcher Hubb is located at 260 Washington Street, Suite 201, in Newark, New Jersey.
Founded in 2006, impacting 2000+ youth and young adults, The Gem Project is a 501(c)3 focused on improving high school to college student engagement, while supporting graduation of marginalized populations, through peer-mentoring and service-learning initiatives that take on a social justice approach.