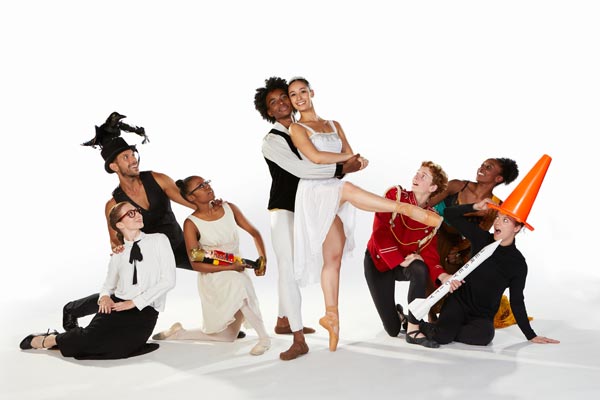 (JERSEY CITY, NJ) -- For the 9th consecutive year, NimbusPRESENTS its local holiday favorite: Jersey City Nutcracker. Set to Tchaikovsky's renowned orchestral score, Jersey City Nutcracker tells the story of two children's city adventure, following them through fantasy, adversity, and celebration with lessons about friendship and community along the way. This year's performances feature two exciting new components: video mapping and projection design by award-winning video artists Laia Cabrera & Isabelle Duverger. Also new: families can enjoy a pre-show Winter Carnival with games, concessions, and holiday craft vendors. Public performances run from Friday, December 14 to Saturday, December 22.
Jersey City Nutcracker features Nimbus Dance Works' professional company dancers with talented local youth from the school of Nimbus Dance Works as well as from Cornelia F. Bradford School, Frank R. Conwell Elementary, Rafael J. De Cordero School, Bergen-Lafayette Montessori, Middle School #4, Waterfront Montessori, and Martin Center for the Arts. Lead youth performers include Lucy Reider and Krystal Andrade (High Tech High School), Janelle Acosta (High Tech High School), Adele Maudlin (St. Dominic's Academy), Stephanie Santiago (County Prep High School), and Isabella Levin (McNair High School). Additionally, local celebrities make hilarious guest cameo appearances.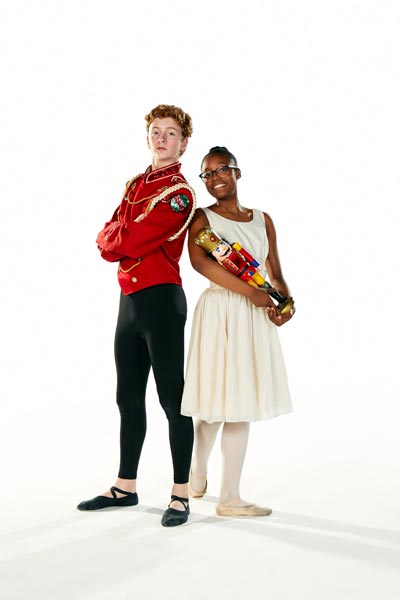 Goldman Sachs will support the 9th season of Nimbus Dance Works' Jersey City Nutcracker as Lead Sponsor. Goldman Sachs' support helps cover the costs of dance artists, lighting and production, costumes/sets, administration, and marketing. Additionally, one half of Goldman Sachs' sponsorship makes possible the inclusion of Jersey City public school students as performers in the production. Says Anthony Cammarata Jr., Managing Director, Corporate Services and Real Estate at Goldman Sachs: "For nine years Nimbus' Jersey City Nutcracker has brought Jersey City youth, families, and residents together around the holidays to celebrate our community. Goldman Sachs is proud to sponsor this wonderful production and applauds the youth performers and Nimbus dancers and staff for their continued contribution to Jersey City."
Public performances will take place on Friday, December 14 at 7:00pm; Saturday, December 15 at 1:00pm & 5:00pm; Sunday, December 16 at 1:00pm & 5:00pm; Friday, December 21 at 7:00pm; Saturday, December 22 at 1:00pm & 5:00pm.  Tickets are $20-$35 and available online.  (Group discounts available) Nimbus Theater is located at 165 Newark Ave in Jersey City New Jersey. 
In addition to 8 public weekend performances, Nimbus will present 12 additional school matinee performances, providing the opportunity for 1500 Jersey City youth to attend the performances. School Matinee Performances will take place on Tuesday, December 11 at 10:15am & 1:15pm; Wednesday, December 12 at 10:15am & 1:15pm; Thursday, December 13 at 10:15am & 1:15pm; Tuesday, December 18 at 10:15am & 1:15pm; Wednesday, December 19 at 10:15am & 1:15pm; and Thursday, December 20 at 10:15am & 1:15pm. (For information on groups sales or to reserve seats for school matinee performances, please email programs@nimbusdanceworks.org or call (201) 377-0718.)
---
The article continues after this ad
---
---
Nimbus Dance Works' mission is to create and present innovative dance by bringing together top-tier dancers, choreographers, and collaborators in a dynamic, creative environment and delivering that work to diverse communities. Founded in 2005 by Samuel Pott and based in Jersey City, Nimbus has been at the forefront of excellence in the arts, community engagement, and impact, successfully interweaving Company, School, and Presenting wings. With a repertory of over 25 works, the Company performs on tour nationally and in Jersey City, impacting more than 16,000 people each year. Community engagement initiatives serve over 3,000 children annually through in-school, movement-based programs. The School of Nimbus holds 45 classes throughout the week and also offers the Junior Youth Ensemble, Nimbus Youth Ensemble, and the Pre-Professional Program. Through Company performances, programs for youth and seniors, partnerships with institutions such as New Jersey Performing Arts Center, Saint Peter's University, Young Audiences of New Jersey, and the Jersey City Board of Education, and collaborations with notable composers and visual artists, Nimbus weaves together artistic excellence and community impact.
Photos by Megan Maloy