By Adam F. Cohen
originally published: 12/07/2018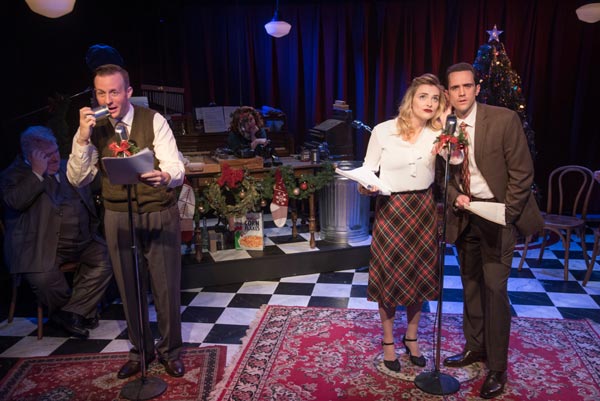 Nestled in a corner of Hoboken, on the second floor, lies the studios of radio station WMST.  It's a wonderful art deco studio, replete with fine wooden walls, embedded with colorful lights an applause sign.  On stage, we've got a few chairs, several microphones and a whole corner wedged with all the necessary props – piano, men's shoes, sheet metal – to create the audio effects for the production of "It's a Wonderful Life."
Yes, the classic Frank Capra film has been transformed into an effervescent, energetic, engaging radio play for the stage.  Here five actors play all of the characters from the film accompanied by a sound effects artist and commercial breaks for Mile Square Theater's sponsors.  It's a wonderful evening of theater, radiating with creativity and fine acting.
One of the secrets to great acting is listening.  And the cast of the production is spot on and in great concert with one another.  An actor's coughing fit is incorporated into a line or two.  One mimes a child playing the piano while the foley artist executes the actual music on the piano.  These small treasure help enliven the classic film into an evening of compelling theater.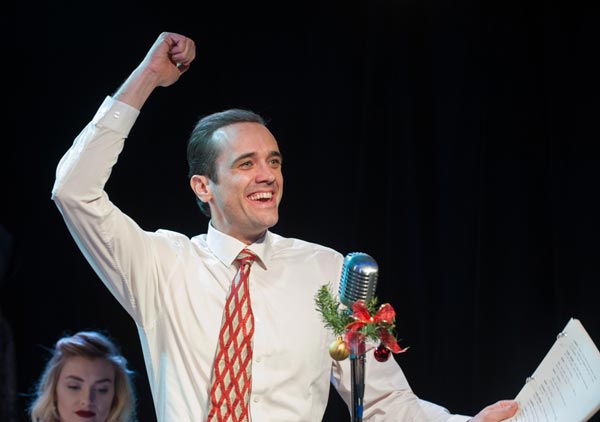 As fans of the movie know, George (John P. Keller) has grown up in Bedford Falls, an idyllic small town, determined to get out. He plans to see the world and build skyscrapers or something else huge when he grows up. But circumstances constantly keep him in Bedford Falls. His father dies. The rich, sinister Mr. Potter tries to liquidate the Bailey family's savings-and-loan business (and basically take over the town). George's brother, Harry the war hero, marries a great woman whose father has offered him a promising career opportunity, elsewhere. When the accidental loss of $8,000 leaves George on the verge of disaster, he contemplates killing himself.
Clarence, George's slightly bumbling 292-year-old apprentice guardian angel, comes to earth to help him. By showing George what Bedford Falls and numerous loved ones would have been like if George had never been born, Clarence manages to turn him around. Which is no surprise, since apparently without George, the town would have turned into sleazy Pottersville long ago replete with angry, lifeless citizens.  And his beloved wife ends up a spinster librarian.  Lifted from a suicidal depression, George Bailey is a man with a reawakened appreciation of his life and the people he loves. It all happens on Christmas Eve, and an angel gets his wings.
---
The article continues after this ad
---
---
From moment one the audience is enraptured.  There's so much to look at – from the incredible foley artist (Hannah Mount) to the instaneously transforming actors.  Shifting from one character to another with a simple costume hint (a fur wrap, apron) or prop (cigar).   They create memorable characters who are surprisingly vivid and fully believable characters – neighbors and friends of the Bailey family.  Each actor is incredibly expressive and versatile.  Maggie Weston largely enacts George's faithful wife, Mary.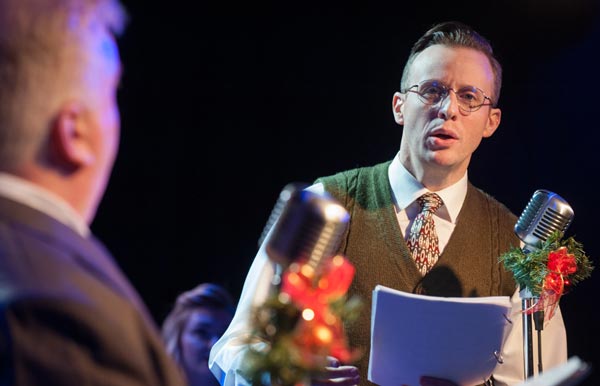 According to announcer Freddie Filmore (played by Michael Daly, who also played It's a Wonderful Life's God, Potter and Uncle Billy), Laurents had starred on radio in a "boy detective" radio show, and Sally Applewhite\Mary Bailey (Weston), had been Ms. Ohio 1943. Filmore is magical in his many roles.  He's just delightful as he quickly embodies each character, within a sentence transforming himself.  The top-of-the-line cast was rounded out by Tim Nicolai, who magnificently played Harry "Jazzbo" Heywood who played Clarence and several other characters in Wonderful Life, and Joelle Zazz, who played Lana Sherwood, who most notably played Violet, the town temptress and Bailey's mom.
Director Joseph Discher did a masterful job of keeping to the play-within-a-play conceit. Mount's impressively, perfectly timed sound effects included a leather strap to effect slaps, a tub of water for breaking ice, a miniature door for doors, and tin-cans (held by the actors to their mouths) for phones. I loved the faux commercials.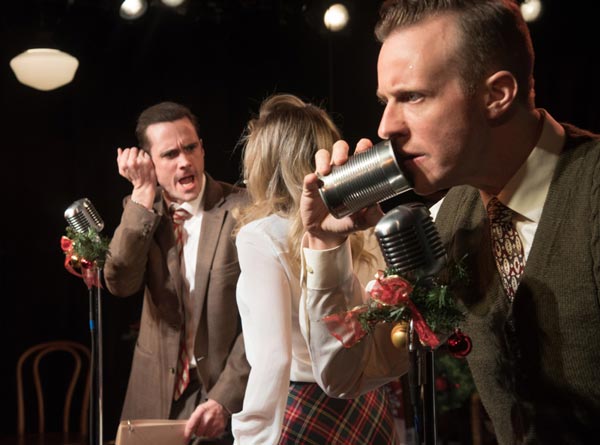 It's a Wonderful Life: A Live Radio Play plays all the right emotional strings. It certainly has earned its place as a new holiday tradition. It's the perfect show for families to see, and reflect on, this holiday season.
The production runs now through December 23rd at Mile Square Theatre (1400 Clinton Street in Hoboken, New Jersey). For tickets or more information, click here.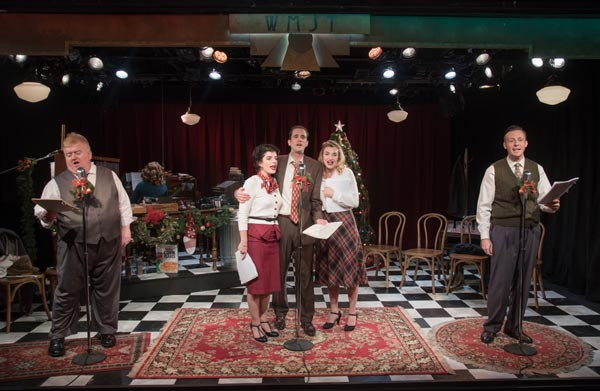 Photos by Joe Epstein