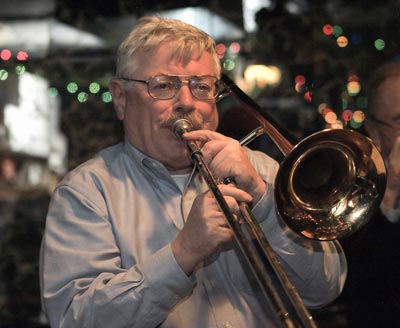 (MADISON, NJ)  -- One of bassist/vocalist Mike Weatherly's favorite tunes is "On the Alamo" written by Isham Jones and Gus Kahn. It was first recorded in 1922 by the Isham Jones Orchestra without Kahn's lyrics. In fact, according to Weatherly, "very few people knew it had lyrics, but I found them on the Internet." 
Weatherly is hoping he will have an opportunity to sing it when the Grove Street Stompers appear at the New Jersey Jazz Society's annual meeting on Sunday, December 16, at Shanghai Jazz in Madison, NJ. But there's no guarantee. "We don't discuss what we're playing ahead of time," Weatherly says, "until we're on the stand. There's a certain repertoire that everyone is assumed to know, but Peter Ballance calls the tunes."
Ballance, a Montclair resident, is a self-taught trombonist who has a day job as a banker. He has been with the Stompers since the 1970s, but the band has been playing on Monday nights at Arthur's Tavern on Grove Street in Greenwich Village since 1962. "My two brothers had a lot of Dixieland records," he recalls, "and I learned a lot of the tunes at an early age." The band's style is a mix of Dixieland and swing, described by Ballance as "sort of the Eddie Condon style." 
Weatherly has been with the band about 10 years. "I started as an occasional sub, probably about 15 years ago, and when the bass player who preceded me developed Macular Degeneration, I became a regular." Another long-time regular, clarinetist Joe Licari, joined the band in August 2004. Licari, a resident of New City, NY, received the NJ Jazz Society's Distinguished Musician Award at the Pee Wee Russell Memorial Stomp in March.  He had also been subbing before becoming a regular. "I must say I really enjoy playing with the present band," he says. "I look forward to every Monday night with these guys. The crowds at Arthur's Tavern in the West Village are fantastic. The first set is usually a little light  -- about a dozen people  -- but by the second set the place is packed. We do a big tourist crowd from all over the world. We get all age groups, though. Lots of younger people in their 30s seem to like our music."
The band, Ballance points out, has always had a sit-in policy, welcoming professional and amateur musicians to join in. Among those who played with the Stompers over the years, he says, were clarinetist Kenny Davern, clarinetist-saxophonist Bob Wilber, clarinetist Pete Fountain, trombonist Dan Barrett, and cornetist Wild Bill Davison. 
---
The article continues after this ad
---
---
One of those well-known "guests", trumpeter Ed Polcer, will be sitting in with the Stompers on December 16. Although the band was officially dubbed The Grove Street Stompers in 1962, Polcer remembers the origins of it as early as 1958. "I had just graduated from Princeton in June 1958," he recalls, "and moved to New York City, sharing a loft on South Street with trombonist Dick Rath. Arthur's was no different then than it is now, always welcoming guest musicians to sit in with the band and just socialize. I only know of two other musicians still alive who go back that far  -- trombonist Dick Dreiwitz and banjoist Alan Cary."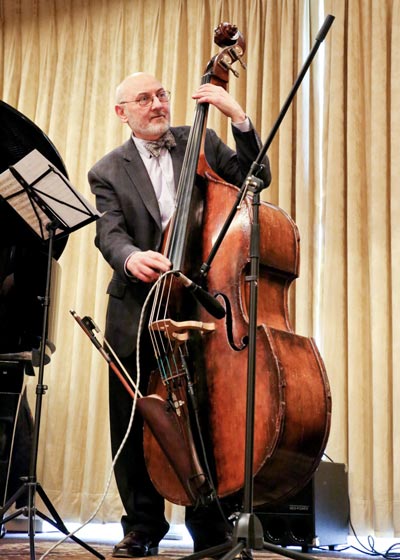 In a 1986 New York Times article, John S. Wilson pointed out that, "two of the founding members of The Stompers  -- the pianist and leader Bill Dunham, a personnel director in real life, and the trumpeter Jimmy Gribbon, a commercial artist  -- are in their 23rd year of Monday performances." The playing, he wrote, "combined the loose, relaxed swing of a jamming group with ensemble playing that was surprisingly crisp for combos that always included some visitors. This was particularly true of an exuberant treatment of 'Crazy Rhythm' in which the three trombonists, two of them sitting in, ripped cleanly through three-part passages and took challenging solos . . ." In an article in The Wall Street Journal (April 17, 2012), Richard Morgan called the Stompers' run at Arthur's Tavern "a 50-year feat of endurance and consistency virtually unmatched in the city's musical history . . . In the New York jazz world, few acts have approached the Stompers' staying power."
Dunham, who died in January 2016, explained how it all started in a 2013 article in the West View News, a West Village community newspaper. "In 1962," he said, "I started a band with a wonderful cornet player named Jimmy Gribbon. One day, we walked into Arthur's Tavern on Grove Street and talked to the owner  -- an irascible fellow named Jerry Maisano  -- who said we could play on Mondays for no pay. So, we split the tip bowl, and we've been there ever since." The club was eventually sold, and the band does now get paid. 
Some of the other current players are John Halsey, who succeeded Dunham on piano, drummer Giampaolo Biagi, and trumpeter Barry Bryson. As per policy, Licari points out that, "I was not told what we are playing [at the NJ Jazz Society annual meeting]. We play a mixture of everything. Everything we do, though, swings. I love playing the ballads myself, like Eubie Blake's 'Memories of You' or a swinger like 'Three Little Words' (Bert Kalmar/Harry Ruby). But, generally, I love it all."
The annual meeting will begin at 2:00pm on Sunday, December 16. Admission is free to NJJS members and $10 for non-members, and there is a $10 food/beverage minimum. Shanghai Jazz is located at 24 Main Street in Madison. 
Funding for New Jersey Jazz Society music events has been made possible in part by Morris Arts through the N.J. State Council on the Arts/Department of State, a partner agency of the National Endowment for the Arts.
Photos by Lynn Redmile