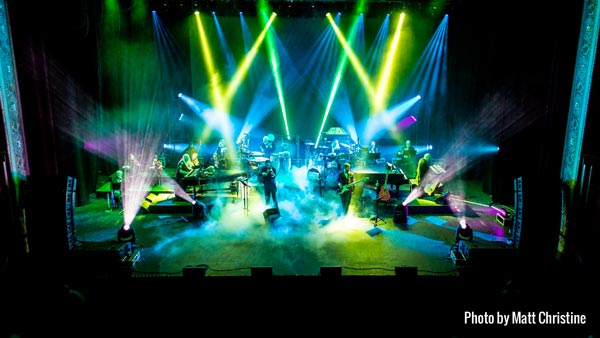 You can experience the magic of the holidays — Steamroller-style — when Mannheim Steamroller Christmas by Chip Davis makes a tour stop this Thursday, December 6, 2018, at New Brunswick, NJ's historic State Theatre.
For the 2018 season, Grammy Award-winning composer and performer Chip Davis has created a show that features the beloved Christmas music of Mannheim Steamroller along with dazzling multimedia effects, all designed to create the perfect holiday setting. Performed by musicians who were hand-picked by Chip Davis himself, the spirit of the season comes alive with the signature sound of Mannheim Steamroller.
Chip Davis is the former teacher and jingle writer who is the creative force behind Mannheim Steamroller. Born in Ohio, Chip began piano lessons at the age of four and he composed his first piece of music at age six.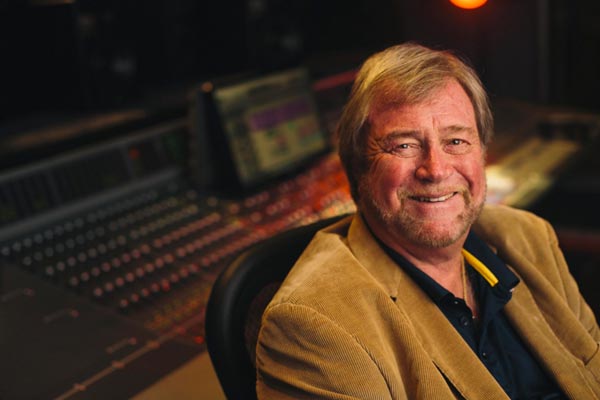 Davis founded Mannheim Steamroller in 1974. When the group's first album, Fresh Aire, was turned down by the major record labels, Davis founded what turned out to be the music industry's largest independent recording label, American Gramaphone. Altogether, Mannheim Steamroller released eight Fresh Aire albums, and as a result of his work, Davis is largely credited with establishing the New Age genre of music.
Davis released his first Christmas album, Mannheim Steamroller Christmas, in 1984. With more than 28 million Christmas albums sold, he has become the #1-selling Christmas artist of all time — with Elvis Presley coming in at a distant 17 million holiday records sold.
---
The article continues after this ad
---
---
Davis recently sat down for a chat where he talked about his background, his band, and his upcoming Mannheim Steamroller Christmas show.
Do you come from a family of musicians?
Yes. For as long as I can remember, I've always been around music. I have third generation musicians on both sides of my family. My dad was a saxophone player in a big band during the World War II era. My mother played trombone for the NBC Symphony while she was still in high school. She was even a poster girl for the famed music center, Interlochen Art Academy. Both of my grandmothers were piano teachers, as well.
How many instruments do you play?
I majored in Bassoon at the University of Michigan, but I also play the drums, hammered dulcimer, cornamus, and a crumhorn. I love to play old instruments.
How did your big break come through a series of radio commercials?
I worked as a jingle writer early in my career. One of the ad executives was Bill Fries and we wrote a series of commercials about a fictional truck driver named C.W. McCall and his waitress girlfriend, Mavis, at the "Old Home Filler Up and Keep on Truckin' Café." Bill was the voice of McCall. Well, those commercials and jingles became extremely popular throughout the country. We produced one in 1975 that became the song, "Convoy," which sold 10 million copies. "Convoy" went on to become a movie starring Kris Kristofferson and Ali McGraw. And would you believe I won the Country Music Writer of the Year Award for my work?
What were you trying to do with music when you formed Mannheim Steamroller?
I wanted to explore new ways of expressing music, and created a sound I call "18th Century classic rock." I don't believe in all acoustic or all electronic, all digital or all analog. My style is where they all meet.
Where did the name Mannheim Steamroller come from?
From Mannheim, Germany. That's where Mozart and composer/music theorist Joseph Stamitz both lived. Stamitz came up with the idea of the crescendo: music building and getting louder in order to excite the audience. The 18th Century musical phrase "Mannheim Valse" literally meant "roller," and people used to joke that the loud music would roll over the crowd and flatten them.
When it was time to start selling my band, I had to come up with a name to market. At the time, the big rock groups had interesting names like Jefferson Airplane or Iron Butterfly, so I came up with the name Mannheim Steamroller.
Why do you think Mannheim Steamroller's Christmas albums have been so popular?
At Christmas time, people want to listen to something that is familiar in their lives. And for over 30 years, millions of people have grown up listening to our music. It's comforting to hear something from your childhood — kind of like comfort food. Also, Christmas time is family time, and our music and concerts are all family friendly. We often see three generations attending one of our shows.
What does it mean to you knowing that your recordings have become a part of people's annual Christmas traditions?
It is one of the biggest honors that you can possibility have — to be invited into people's homes through my music and have them integrate Mannheim Steamroller into their Christmas traditions. I absolutely love it and love being part of their families!
We understand you have a couple of special highlights this year?
Yes — we're continuing to celebrate our "30/40" Anniversary, marking 30 years since our first Christmas album in 1984 and 40 years since the very first album in my Fresh Aire series was released in 1974. Mannheim Steamroller Live, a special PBS program developed for this anniversary, continues to play on PBS stations nationwide.
What makes this show a richer experience than popping in a Mannheim Steamroller CD?
I think the fact that this is our 34th consecutive tour — one of the very longest running tours in the entertainment industry — demonstrates the richness of our Christmas experience.
On a CD, you cannot see the band playing live with a 20-piece orchestra, so you lose the experience of seeing six Mannheim Steamroller performers accompanied by an orchestra.
Additionally, the repertoire they perform is not on one single CD; it is a compilation of Christmas classics which presents a fresh rendition. And by the way — speaking of fresh — the concert has some selected tracks of Fresh Aire music which are not on any of our Christmas CDs.
Why are you no longer touring with Mannheim Steamroller?
Unfortunately, I can no longer play with the band because I was involved in a head-on car accident years ago where I hurt my neck and right arm. Over the years, I had overwhelming pain because of the lasting effects, and finally underwent surgery, replacing all the cervical discs in my neck. I'm pain free now, but have limited feeling in my right arm and very little mobility. That's why I don't perform on tour.
So now I can instead focus on recording and producing the tours. In addition to our two touring companies that go out for Christmas, we have another company that plays at Universal Orlando Resort during the holiday season. And we often have yet another ensemble for performances on national television shows, the Macy's Thanksgiving Parade, and other activities.
Forty-plus years after Mannheim Steamroller's founding, what do you hope your legacy will be?
My legacy and hope is that Mannheim Steamroller continues on without me. That actually happens right now. Our touring companies have the ability to perform without me being there. And while I have a video piece welcoming the audience, that is my primary contact unless I do a surprise visit. So my legacy and hope — as a musician, pop culture figure, and businessman — is to keep Mannheim Steamroller rolling!
Mannheim Steamroller Christmas takes the stage at New Brunswick's State Theatre on Thursday, December 6, 2018 at 8:00pm. Tickets are $55 to $95. Tickets are available online or by calling 732–246–7469.