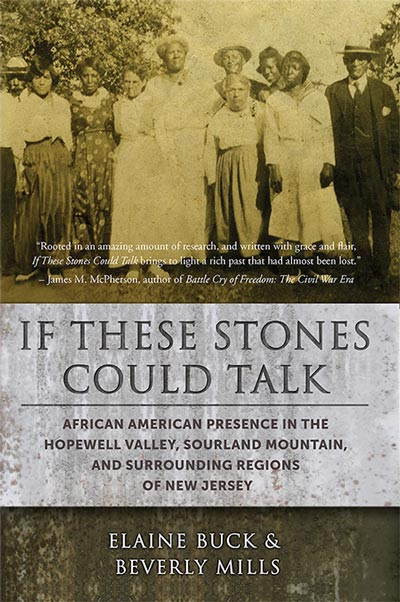 (PRINCETON, NJ) -- D&R Greenway Land Trust presents a book talk with If These Stones Could Talk: African American Presence in the Sourland Mountains authors Elaine Buck and Beverly Mills on Tuesday, December 11. Doors open 6:00pm, program begins 6:30pm. The book brings fresh light to a forgotten corner of American history that begins in a small cemetery in central New Jersey. Admission is free.
When Elaine Buck and Beverly Mills got an unexpected call for help in 2006—an unofficial burial ground was going to be bulldozed—a search through the woods for gravestone markers soon had them rummaging through land deeds and making relentless calls to state officials, archeologists and reporters.
Until then, the two middle-aged African American women had led busy but quiet lives. They were both board members of the Stoutsburg Cemetery Association, nestled in New Jersey's Sourland Mountain region, where they had deep familial ties—some of their ancestors are buried there. The authors embarked on a journey through the past to document the land's hallowed purpose, what Kirkus Review has called a "detective-labor-of-love."
Buck and Mills offer readers a window into our past. Cemeteries have stories to tell, voices to unearth–and lessons from the past that we can draw upon to better shape the future. The Stoutsburg Cemetery was purchased by three Black men in the early 19th century as a location to bury Blacks with honor and dignity. Buck and Mills' foray into historic preservation work convinced them they had a lot more work left to do to connect African American history to local and national history books—within which they still felt largely absent from the most visible narratives in United States history.
These stories, including dozens of oral histories, consecrate the collected lives of a minority Black community in a predominantly White region, a pattern of community that reflects a larger, deeply important but typically overlooked national story in small towns all over the United States.
---
The article continues after this ad
---
---
"Our vision for the Stoutsburg Sourland African American Museum (SSAAM) is to bring awareness about the African American presence and their contributions to this region," says Buck. "Through partnerships with D&R and the Sourland Conservancy we intend to preserve and sponsor programs and events about the native ecology, plants and insects from the Sourland Mountains. We are working hand-in-hand with D&R Greenway and the Sourland supporting their vision and working to preserve our history and culture in the Sourland Mountain region."
Buck and Mills are the founders of Friday Truehart Consultants, named after the original slave brought to Hopewell, New Jersey, at the age of 13 by his master Oliver Hart. Buck and Mills are founding members of the Stoutsburg Sourland African American Museum and serve on its Advisory Board. They have been trustees of the Stoutsburg Cemetery Association for the past 35 years. Through decades of research, Buck and Mills have become statewide educators on a mission to open up a healthy investigation into the history of race beginning in their home state. Beverly Mills is the first African American woman to hold the elected position as Councilwoman, Pennington Borough, and Elaine Buck is Church Clerk for the Second Calvary Baptist Church of Hopewell.
"The authors place these stories in the larger context of American history in the eras of slavery, the Civil War, freedom, and civil rights," says James M. McPherson, author of Battle Cry of Freedom: The Civil War Era. "Part genealogy, part history, and part personal memoir, rooted in an amazing amount of research, the book brings to light a rich past that had almost been lost."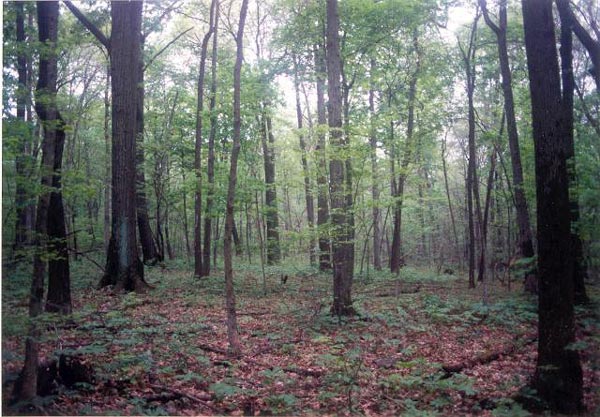 "D&R Greenway is working to preserve lands near the proposed Stoutsburg Sourland African American Museum in the area, near their site to support the museum project," says D&R Greenway Vice President Jay Watson. "The museum will be housed in the existing historic AME Church which is situated on a sliver of land between Hollow Road and the Rock Brook. The building's current land area is insufficient to accommodate visitors to the museum, and D&R Greenway is exploring opportunities to expand the land base to support the project."  Partners for this exciting project include the Stoutsburg Sourland African American Museum Trustees, the Sourland Conservancy and the Montgomery Township Open Space Program.
D&R Greenway has been preserving lands in the Sourlands since its beginning 30 years ago. "In fact it was the site of our very first preserved property," says D&R Greenway President & CEO Linda Mead. "We have led the preservation of more than 2,000 acres in the Sourlands, where natural resources are so important. Every preserved acre of land protects the water that flows on, through and under it."
"Humanity is prone to the unfortunate habit of forgetting, avoiding and altogether rewriting history, particularly when it falls into uncomfortable territory," says New Jersey Congresswoman Bonnie Watson Coleman. "'If These Stones Could Talk' has collected an important and often forgotten history of central New Jersey, preserving it permanently so that everyone can understand the diverse tapestry of our past."
The event is co-sponsored by Sourlands Conservancy. D&R Greenway Johnson Education Center, One Preservation Place, Princeton. Admission is free; RSVP by emailing rsvp@drgreenway.org or calling 609-924-4646.  
D&R Greenway Land Trust is in its 29th year of preserving and protecting natural lands, farmlands and open spaces throughout central and southern New Jersey. Through continuous preservation and stewardship -- caring for land and easements to ensure they remain protected and ecologically healthy in perpetuity -- D&R Greenway nurtures a healthier and more diverse environment for people and wild species in seven counties. Accredited by the national Land Trust Accreditation Commission, D&R Greenway's mission is to preserve and care for land and inspire a conservation ethic, now and for the future. Since its founding in 1989, D&R Greenway has permanently preserved more than 20,000 acres, an area 20 times the size of New York City's Central Park, including 30 miles of trails open to the public. The Johnson Education Center, a circa 1900 restored barn at One Preservation Place, Princeton, is D&R Greenway's home. Through programs, art exhibits and related lectures, D&R Greenway inspires greater public commitment to safeguarding land.