originally published: 12/03/2018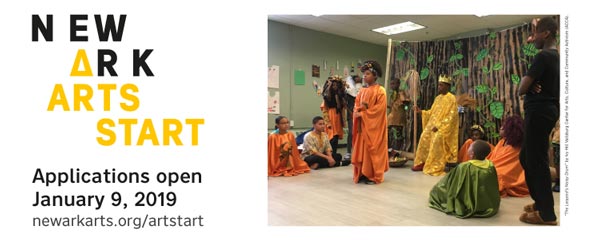 (NEWARK, NJ) -- If you are an artist with an idea for a community project, a resident seeking to collaborate with a local arts organization, a non-profit that is servicing Newark's youth, or a school with an arts education program that needs funding, you may be eligible to receive an ArtStart grant from Newark Arts.  Applications will open for the annual mini-grant program on Wednesday, January 9, 2019.  Applications close on March 22, 2019.
ArtStart provides funding to organizations and individuals to create music, dance, theatre, film, visual and literary art projects that benefit the residents and neighborhoods of Newark. Winning proposals will be awarded grants ranging up to $3,000 each. 
"Last year, we awarded nineteen grants.  And we plan to do even more in 2019," said Newark Arts Executive Director Jeremy Johnson. "We are looking for proposals that that will infuse arts into the community while providing opportunities for amazing artists." 
ArtStart was established in 2001, with the mission to nurture arts and cultural activities throughout the city of Newark, especially for youth and under-served populations. Since its inception, Newark Arts has made over 150 ArtStart grants, totaling more than $500,000. 
ArtStart has funded schools of music and dance, local galleries, film and book projects, programs for children and seniors, and multidisciplinary community initiatives including neighborhood development plans. 
---
The article continues after this ad
---
---
Download an application at Newarkarts.org/ArtStart beginning on January 9, 2019. Applications close on March 22, 2019. 
ArtStart Information Sessions will be held at 17 Academy Street, Suite 702, Newark on the following dates: Saturday, January 12, 2019 at 10:00am; Monday, January 14, 2019 at 6:00pm; and Wednesday, January 16, 2019 at 10:00am.
Funding for ArtStart has been provided by Prudential Foundation, Bank of America, New Jersey State Council on the Arts, the Geraldine R. Dodge Foundation, and the Turrell Fund. 
Newark Arts' mission is to power the arts to transform lives. Established in 1981 as the Newark Arts Council, the organization's vision is to become a nationally recognized catalyst for the collaborative power of the arts in the City of Newark and urban America. Newark Arts is the producer of Newark Creates, a community-led citywide cultural plan, created in partnership with the City of Newark. Newark Arts' key initiatives include the Newark Arts Education Roundtable (NAER), the ArtStart community grantmaking program, and the Newark Arts Festival. Newark Arts is generously supported by the City of Newark, Prudential, PSEG, Geraldine R. Dodge Foundation, Victoria Foundation, Turrell Fund, Bank of America, New Jersey State Council on the Arts, the National Endowment for the Arts and individuals, businesses and institutions.