originally published: 12/03/2018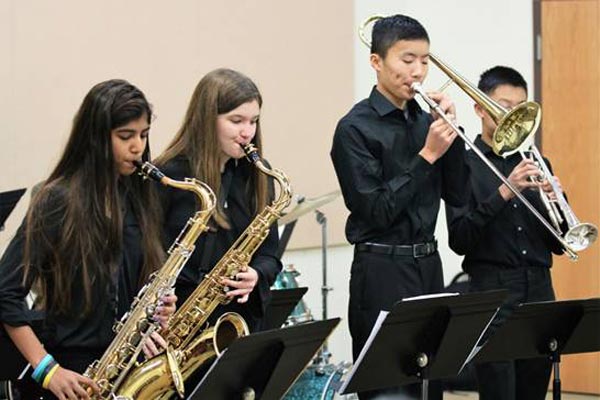 (MADISON, NJ) -- The New Jersey Youth Symphony (NJYS) will present a concert featuring the NJYS Jazz Combos, Big Band, Jazz Workshop, and Jazz Orchestra on Sunday, December 16 at 7:00pm at the Concert Hall at Drew University located at 36 Madison Avenue in Madison. Tickets are $20 for adults and $15 for students and seniors available online at www.njys.org.
Under the deft direction of Julius Tolentino, Shamie Royston, and Dave Schumacher and coaches Kevin Brown, David Gibson, and Mark Slocum, both large and small ensembles from the NJYS Jazz Program will perform popular standards including John Coltrane Blue Train and Impressions, Tito Puente Ran Kan Kan, Charlie Parker Now's the Time, Charles Mingus So Long Eric and Nostalgia in Time, and Wayne Shorter Footprints, among other contemporary selections. This fun, high-energy performance will delight audiences of all ages while keeping with NJYS's history of presenting the highest quality student performances composed of members from around the Garden State.
"At NJYS, we strive to provide musical experiences that embrace more than just excellence in music," says Helen Cha-Pyo, Artistic Director and Conductor. "We believe music is a powerful agent that transforms individuals, communities, and the world, and through our partnerships with local social service organizations we aim to use music as a tool to connect with the communities we live and serve."
In celebration of the New Jersey Youth Symphony's 40th Anniversary, the youth organization is partnering with social services in the communities where NJYS will perform throughout the season. For the December 16 concert at Drew University, NJYS will partner with Morristown's Community Soup Kitchen and Outreach Center and take in-kind donations including: hearty soups and stews, gloves, hats, umbrellas, and warm thermal socks. For a full list of the NJYS 2018-2019 season concerts and social services partners, as well as ways to give back at each concert, click here.
Saxophonist and educator Julius Tolentino, Director of NJYS Jazz Orchestra and Big Band, has been on the New York jazz scene for over 20 years. He has played with numerous small groups and big bands including Louis Haye's Cannonball Adderley Legacy Band and Quartet, Eric Reed's Sextet, Jeremy Pelt's Quintet, Natalie Cole, Wycliffe Gordon, Connie Francis, Gloria Gaynor, the Illinois Jacquet Big Band, Christian McBride Big Band, Cecile Mclorin, Michael Feinstein, Dianne Reeves, Jimmy Heath, the Count Basie Orchestra, and the Duke Ellington Orchestra. Tolentino has played in top jazz venues and festivals throughout the United States, including Avery Fisher Hall, the Newport Jazz Festival, Tanglewood, the Village Vanguard, Birdland, Blue Note, the Jazz Standard, and Dizzy's Coca Cola. As a leader, his debut CD Just the Beginning on the Sharp Nine label peaked at No.8 on the jazz charts in 2006. As an educator, Tolentino has worked with hundreds of students across the country. He is Jazz Director at Newark Academy where he started in 2006 and currently conducts five jazz ensembles. He also holds positions at Jazz at Lincoln Center as a Middle School Jazz Academy Director and as a travelling clinician. He has served as NJAJE Region I President from 2009-2011 and was the Director of Large Ensembles at Jazz House Kids from 2010-2017. His groups have won and have been finalists in several national festivals and competitions, including Essentially Ellington (2012-2018), the Charles Mingus Competition (2011-2018), and the Mid-Atlantic Jazz Festival. At the state level, Newark Academy has received First Place at the NJAJE State Finals nine years running (2010-2018). Tolentino was awarded the Illinois Jacquet Jazz Educator of the Year award courtesy of the Illinois Jacquet Foundation in 2013. He has presented clinics at the NJMEA in 2010 and MMEA in 2014 and is currently on the board of the Jazz Education Network (JEN).  More recently he has been awarded the Jazz Achievement Award in 2018 by the New Jersey Association for Jazz Education (NJAJE).
---
The article continues after this ad
---
---
Born in Denver, Colorado, Assistant Director of NJYS Big Band Shamie Royston is a pianist, composer, and educator. The New York Times states, "She is a rhythmic vanguardist...who channels Kenny Kirkland, Geri Allen, Ahmad Jamal and McCoy Tyner." Her exquisite style of piano playing is a combination of traditional and contemporary sounds, which embodies a deep-rooted and soulful spirit. Royston has been commissioned to compose and arrange works for trumpeter Sean Jones, saxophonist Tia Fuller, and Grammy-Winning vocalist Dianne Reeves, as well as other prominent musicians. After two decades of conducting All-State Band and Orchestra to directing full-piece orchestras, it is no surprise that she has received several awards for her exemplary work in music education. At the prestigious Berklee School of Music, Royston held a full-time a professorship in the Jazz Composition Department where she co-directed ensembles with Terence Blanchard and taught jazz composition and jazz arranging classes. She has conducted clinics for top ensembles not only throughout the United States but also in the Dominican Republic, Panama, Germany, Italy, and at the Panama Jazz Festival and Monterey Jazz Festival. Royston's most recent CD entitled Beautiful Liar, which was released in June 2018 under the Sunnyside record label, has received glowing reviews in Downbeat, Jazziz, NPR, and other prominent publications. This recording is also in the first round of voting forBest Jazz Instrumental Album for the 2019 Grammy Awards and features Jaleel Shaw on alto, Josh Evans on trumpet, Yasushi Nakamura on bass, and Rudy Royston on drums. Her debut CD Portraits was released in 2014 under the Hot Tone Music record label to great acclaim. Royston will forever be a leading force in music, always on the precipice of innovation while remaining a preeminent voice in the jazz world.
David Schumacher, Director of NJYS Jazz Workshop, is a Chicago native who has been a touring musician and educator for over 35 years. At the age of 23, Schumacher started his career with the legendary jazz master vibraphonist Lionel Hampton (1983-1989). He joined Harry Connick, Jr. as an original member of Connick's orchestra in 1990 where he performed for the next 19 years. He has toured and recorded with many world-class jazz artists including T. S. Monk On Monk, Tom Harrell Octet and Big Band, Art Blakey Big Band, the Mel Lewis Jazz Orchestra, Dizzy Gillespie, and Mel Tormé. Schumacher has impressed audiences in over 460 cities in 41 countries on 5 continents on the stage and countless major television broadcasts. In 2013, Schumacher was hired as the first Director of Jazz Studies for NJYS and was instrumental in the development of its combo and workshop program for the next five years. In addition to his role as Director of NJYS Jazz Workshops, Schumacher is on the faculty of Wharton Institute for the Performing Arts' Performing Arts School, teaching saxophone, clarinet, and improvisation. As a composer and leader, Schumacher has three CDs to his credit and continues to perform as a freelance musician. He holds a Bachelor of Music degree from Rutgers University and a Master of Music in Jazz Performance from New Jersey City University.
Kevin Brown is a professional bass player in the tri-state area and has played hundreds of theatrical, pops, jazz, and classical concerts at venues ranging from Carnegie Hall, The Metropolitan Museum, Cutting Room, and Count Basie Theater to the Signature Theater and Paper Mill Playhouse. He has backed entertainment acts including Joan Rivers, Bob Newhart, Marvin Hamlisch, Regis Philbin, Rich Little, and the Drifters. Brown holds a Bachelor of Music degree in Jazz Studies and a Master of Music degree in Double Bass from the University of North Texas. Performances and recordings include the Staten Island Symphony, Metro Lyric Opera, Orchestra of St. Peter-by-the-Sea, New Jersey Pops, New Jersey Ballet, Monkeyworks Music Ensemble, and the Rock Opera Orchestra. Brown is an adjunct professor of Double Bass and Music Theory at Montclair State University and teaches music theory at Wharton institute for the Performing Arts' Performing Arts School.
Trombonist David Gibson has enjoyed a varied musical career deeply rooted in the genres of jazz and funk. Originally from Oklahoma, Gibson's musical journey steered him to New York City. Jazz luminary Curtis Fuller said about Gibson, "Out of all the young players I hear in the music today, David is one of very few who speaks the language of jazz".  His latest release, Inner Agent, is his fourth recording for Posi-tone Records. It follows on the heels of Boom and Gibson sees it as "a natural continuation of what we began with Boom. There are more risks taken and more trust present in the performances. Like any successful team, the members of this quintet are often willing to risk failure knowing that they can depend on the support of their teammates to provide a soft landing." The "team" of which Gibson speaks is the incredibly dynamic collection of NYC-based musicians including Freddie Hendrix on trumpet, Theo Hill on piano, Alexander Claffy on bass, and Kush Abadey on drums. The rapport between these musicians is palpable as they use their powers to propel the music forward. Gibson's early experiences in New York had him performing with Slide Hampton, Jon Faddis, Roy Hargrove, Jimmy Heath, and James Moody. In 2003, he was a finalist in the Thelonius Monk International Trombone Competition and has subsequently released seven recordings as a leader.
Hailed as "one of America's pre-eminent young jazz drummers" (OC Weekly), Matt Slocum has earned a reputation as a distinctive, inventive, and lyrical composer. Slocum is the recent recipient of composition grants and commissions from the American Music Center, New Music USA, Puffin Foundation, and Meet the Composer. His ensembles have been featured throughout North America and Europe at venues including Jazz at Lincoln Center, Yoshi's, the Blue Note, Earshot Jazz Festival, Saratoga Jazz Festival, Twin Cities Jazz Festival, and the Soka International Jazz Festival, among others. Frequently referred to as a "musical" drummer, Slocum possesses a uniquely personal voice on the instrument and is a propulsive, melodic, and dynamic accompanist and soloist. He has performed and recorded with artists including Seamus Blake, Alan Broadbent, Steve Cardenas, Gerald Clayton, Taylor Eigsti, Aaron Goldberg, Jon Irabagon, Larry Koonse, Wynton Marsalis, Lage Lund, Linda Oh, Alan Pasqua, Jerome Sabbagh, Jaleel Shaw, Walter Smith III, Anthony Wilson, Sam Yahel, and the Dallas Symphony Orchestra. Born in St. Paul, Minnesota and raised in western Wisconsin, Slocum began his musical studies on piano before switching to percussion at age 11. While in high school, he was introduced to jazz through recordings featuring Max Roach and Philly Joe Jones. He received a full scholarship to attend the University of Southern California where he studied with Peter Erskine. After graduating in 2004, Slocum spent three years in California before making the move to New York City in 2007. His debut recording Portraitswas released in January 2010. The New York City Jazz Record raved, "With this excellent premiere, Slocum steps out of the box as the full package," while All Music Guide wrote, "This auspicious debut should put Matt Slocum's name firmly on the jazz map." After the Storm, a more introspective trio recording, was released in October 2011 and received high marks from DownBeat Magazine, JazzTimes, Los Angeles Times, and Jazzwise. After the Storm was one of fifteen recordings by American composers to receive a New Music USA recording grant in 2011.
The Wharton Institute for the Performing Arts' mission is to provide the highest quality performing arts education to a wide range of students in a supportive and inclusive environment, where striving for personal excellence inspires and connects those we teach to the communities we serve.
Wharton is New Jersey's largest independent non-profit community performing arts education center serving over 1,500 students through a range of classes and ensembles including the 15 ensembles of the New Jersey Youth Symphony, which serve 500 students in grades 3 – 12 by audition. Beginning with Out of the Box Music and Pathways classes for young children, WIPA offers private lessons, group classes and ensembles for all ages and all abilities. We believe in the positive and unifying influence of music and the performing arts and believe that arts education should be accessible to all people regardless of their ability to pay. We teach all instruments and voice and have a robust musical theater program.
Based in Paterson, New Jersey, the Paterson Music Project (PMP) is an El Sistema-inspired program of the Wharton Institute for the Performing Arts that uses music as a vehicle for social change by empowering and inspiring children through the community experience of ensemble learning and playing. PMP provides intensive, free musical training to students throughout Paterson after school. PMP launched its first site at the Community Charter School (CCSP) of Paterson in January 2013 with 32 second graders and has since added a new class of students each year. Since its inception, PMP has partnered with the Paterson Public Schools to open the Paterson Public School 1 and 26 site as well as the CCSP 21st Century Community Learning Center Program to start a winds and brass middle school program. Last year, PMP partnered with William Paterson University's Music After School Program to create a central band site at the Norman S. Weir School to serve over 60 students. This year, Paterson Music Project will be partnering with the Rosa Parks Performing Arts High School in Paterson to host the PMP Saturday Program which includes large ensemble rehearsal, Community Choir, Afro-Fusion Percussion Ensemble, and private lessons. There are now over 250 students in the program across the city of Paterson grades 1-8.
Wharton Institute for the Performing Arts is located in Berkeley Heights, New Providence and Paterson, NJ and reaches students from 10 counties. All of WIPA's extraordinary faculty members and conductors hold degrees in their teaching specialty and have been vetted and trained to enable our students to achieve their personal best.