By Spotlight Central
originally published: 12/03/2018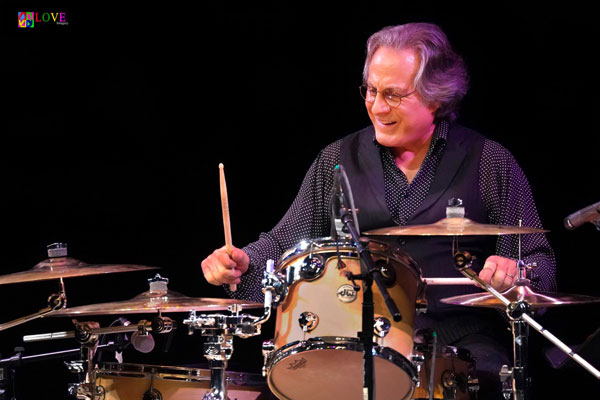 Something is different about tonight's November 18, 2018 concert at Toms River, NJ's Grunin Center for the Arts starring Max Weinberg, celebrated drummer from Bruce Springsteen's E Street Band!
As we step inside the modern auditorium, we see a list of over 200 songs scrolling down a large screen above the stage. Songs on this list include: "Mony Mony — Tommy James and the Shondells," "Good Lovin' — The Young Rascals," and "Jumpin' Jack Flash — The Stones" — in addition to several songs by Bruce Springsteen including "Pink Cadillac," "Fire," "10th Avenue Freeze Out," and more.
We take a moment to chat about this unusual pre-concert set-up with Amy, a woman in the audience, who reveals, "I recently saw Max Weinberg perform his Jukebox show at the Stone Pony in Asbury Park. He had no set list. He just invited audience members to call out songs they wanted to hear that were listed on the screen and the band played them."
"I loved that the show was so different," explains Amy. "It was interactive, and the energy was so amazing I decided to come back to see it again!"
After adding, "Max also had people come up to the stage to sing or play an instrument if they wanted to," Amy concludes by exclaiming, "That's something I would love to do tonight!"
---
The article continues after this ad
---
---
The lights dim and Max Weinberg walks onto the stage. He welcomes tonight's packed house announcing, "This show is about you! You are going to pick the set list," before joking, "And if you don't have a good time, don't blame me — you picked the songs!"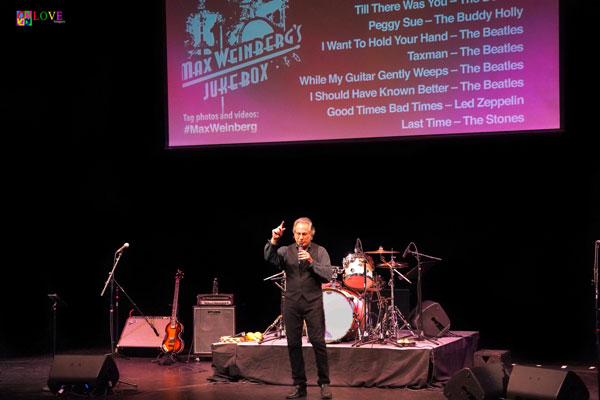 Here, Weinberg introduces the musicians who will perform with him tonight — guitarist Bob Burger and bassist Glen Burtnik, both from the NJ band, The Weeklings — along with NJ guitarist PK Lavengood.
Opening tonight's show with two selections specifically chosen by Weinberg and his colleagues, Weinberg and the band perform a rollicking rendition of The Beatles' "She Loves You."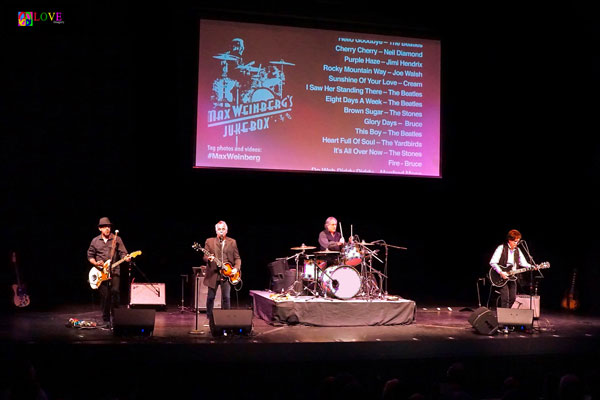 The number features Weinberg's trademark powerhouse drumming along with three-part vocal harmonies courtesy of Burger, Burtnik, and Lavengood.
After announcing, "This is not a concert — this is a party!" Weinberg and his musician friends perform a hard-driving version of ACDC's "Highway to Hell."
Following avid applause, Weinberg makes his way down into the orchestra to invite audience members to call out songs they'd like to hear. After obtaining four selections, he retakes his place behind the drums and introduces the first pick saying, "If you were a musician in a band in the 1960s, you had to know this song," before playing The Ventures' "Walk Don't Run."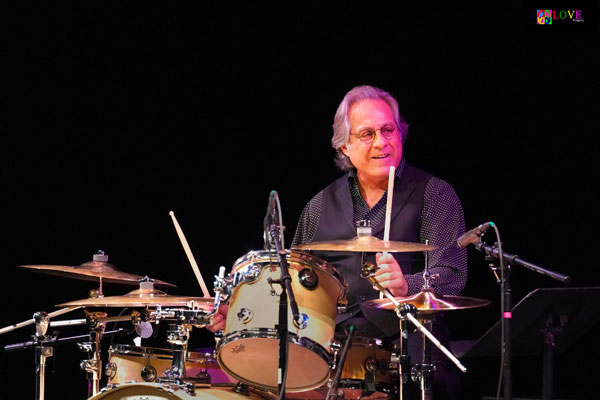 Bob Burger launches into a guitar intro and he and Glen Burtnik share vocal harmonies on the band's rendition of The Beatles' "Paperback Writer," as one audience member can be heard exclaiming, "It's a jam session!"
Burger's lead vocal is featured on The Traveling Wilbury's folk-rocker, "Handle with Care."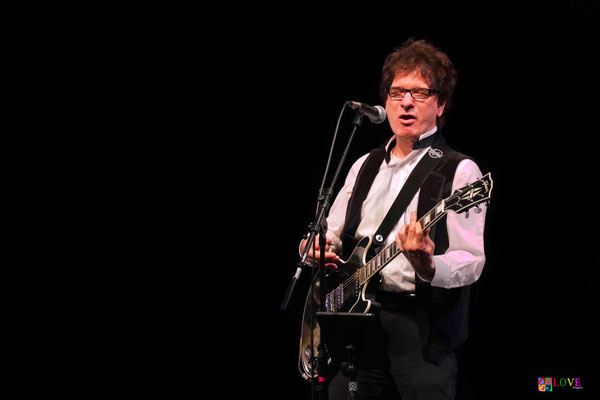 Glen Burtnik takes the lead on a song about which Weinberg jokes, "This one has a lot of chord changes, but that's not my problem — I know the rhythm!" — The Easybeats' "Friday on my Mind."
After Weinberg comes back down into the orchestra to get the crowd's next set of picks, Burger starts off the group's rendition of The Kinks' rocker, "You Really Got Me," with Burtnik's bass and PK Lavengood's guitar echoing the famous instrumental hook.
A highlight of the evening is Weinberg and Co.'s rendition of Steppenwolf's "Born to Be Wild." As Burtnik sings, heads bop to Weinberg's driving beat.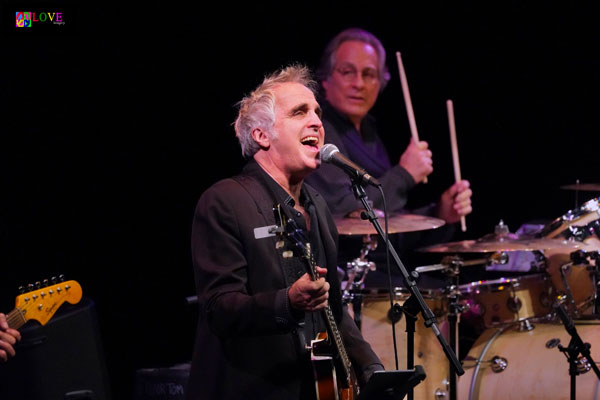 Audience members happily sing along on the famous "Born to be wild" chorus as PK Lavengood rocks out on his guitar. Then, Lavengood impresses with his guitar skills on Joe Walsh's bluesy "Rocky Mountain Way."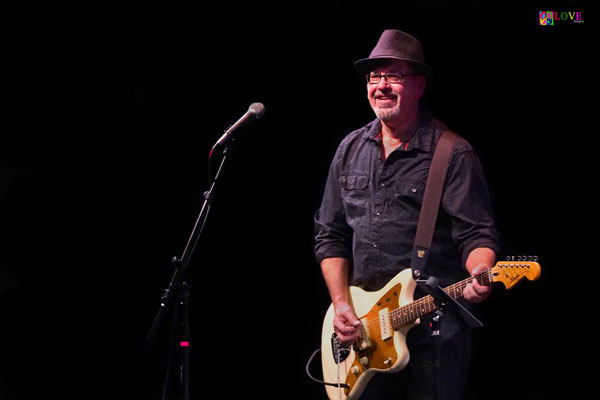 Fingers fly as Burger and Lavengood trade guitar solos to cheers and whistles!
The music of Steppenwolf is again featured as the band plays "Magic Carpet Ride," a song which transports the audience back in time to the '60s and features Bob Burger's lead vocal, dueling guitars, and inspired drumming by Max Weinberg.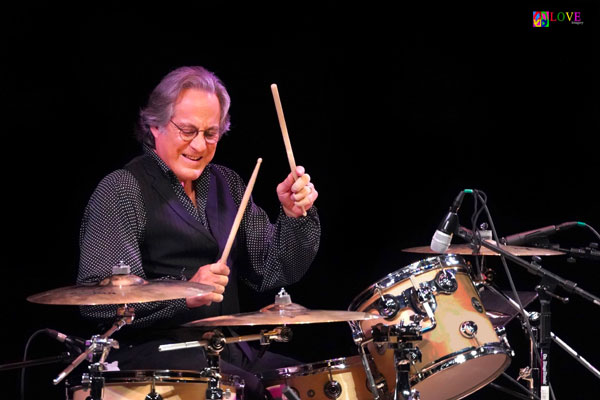 An audience favorite is Weinberg and friends' rendition of Bruce Springsteen's "Thunder Road." The crowd joyfully sings along on the song's "Show a little faith, there's magic in the night" lyric and Weinberg encourages the fans to sing even louder. While Max's drums rock up a storm, Burger sings his heart out before playing the harmonica and the entire band elicits cheers and applause from this Jersey crowd.
Weinberg takes a moment to read a note he's received which says, "Would you please play this song for Rick?"
Then, he and the band launch into Roy Orbison's "Pretty Woman," before Weinberg makes his way over to the other side of the orchestra to get more audience song choices.
This round of selections includes a funky rendition of The Rolling Stones' "Tumbling Dice," a version of Neil Diamond's "Solitary Man" featuring a live fade-out ending, and a cover of The Eagles' "Take It Easy" which boasts a PK Lavengood guitar solo.
Before playing the last song of this group of four, Weinberg tells the crowd that the group's next number "comes from PK's favorite band — Cream," to which PK replies, "No, my favorite band is Todd Rundgren's Utopia."
Here, Weinberg tells a story about playing drums on Meat Loaf's Bat Out of Hell album — a recording which was produced by Todd Rundgren — asking, "Did you know that Todd Rundgren fired me off that record? He wanted to use his own band!"
"That was 40 years ago," recalls Weinberg, joking, "I may forgive him in another 40 years," before pointing out, "but I did get to play on the album's hits!"
Moving on to another highlight number of the evening, Weinberg and his colleagues perform Cream's "White Room," the four musical friends creating a simmering groove replete with tasteful fills and rolls by Max.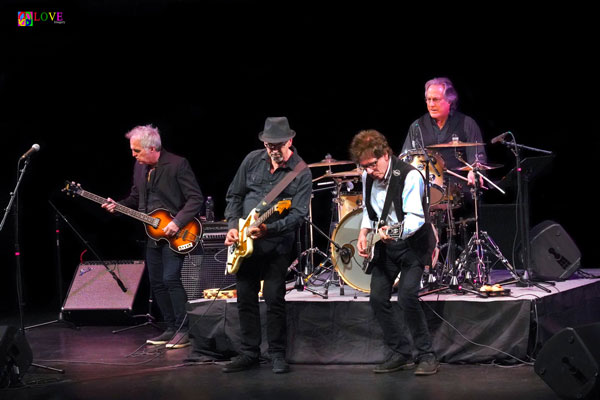 With Weinberg's drums keeping time on this heavy duty number, Burger and Lavengood jam before PK plays a wah-wah guitar solo which provokes cheers and hollers.
Although members of the crowd indicate that they want to hear Bruce Springsteen's "Born to Run," Weinberg responds, "Not tonight," before acknowledging, "but I'm gonna play the best part of that song."
Here, he settles in at his set and masterfully plays the opening drumbeat intro to "Born to Run," which has the entire audience smiling and cheering!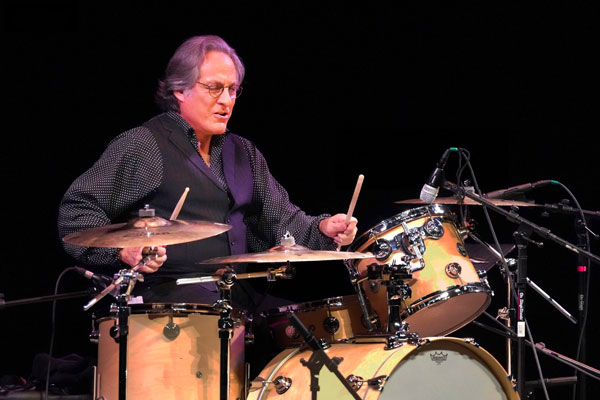 Substituting another E Street Band hit — and announcing, "Our biggest song went to #2" — Burger handles the lead as Weinberg perfectly recreates his iconic drumbeat from Springsteen's "Dancing in the Dark."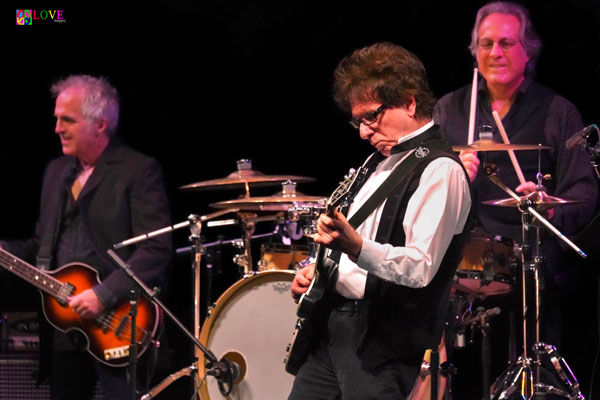 After announcing, "That video with Courtney Cox was made in 1984. Two weeks before, I had a permanent, and I have never lived it down," Weinberg jokes, "It's in Bruce's book! Steve Van Zandt said I looked like Gene Wilder — and it lasted six months!"
Glen Burtnik performs what Weinberg refers to as "an a cappella — meaning no drums!" — version of The Beatles' "Blackbird."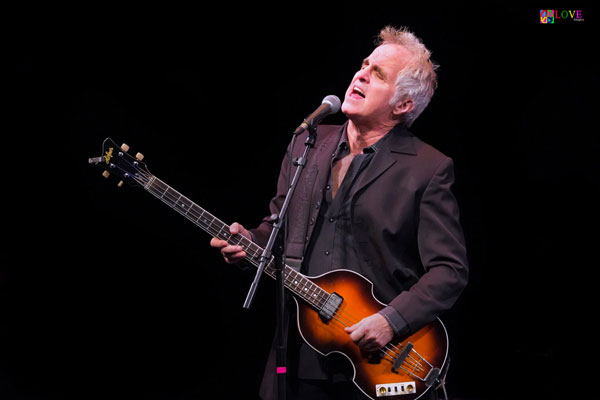 As Burtnik sings, Weinberg climbs up to the Grunin Center balcony to get the next batch of song selections. Audience members in the orchestra hear cheers when Max reaches the balcony, and when Weinberg finally makes it back to the stage, he pants, "This theater is really big!"
Weinberg's big drum sound rocks the rafters on Cheap Trick's "Surrender," and three-part harmonies ring true on The Beatles' "Nowhere Man."
Starting with a solid Weinberg beat, the group performs The McCoy's "Hang on Sloopy" — the audience joyously singing along — and, then, Max and his friends perform a tribute to "the late, great David Bowie" with their inspired rendition of "Rebel Rebel."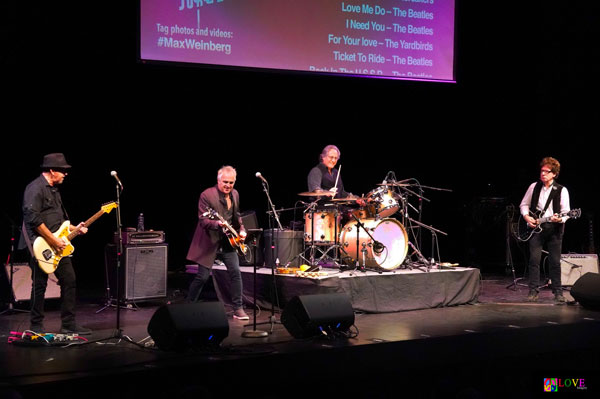 Before performing their next number, Weinberg tells a story about how he used the words of this song "in a letter to my first teenage love, to break up with her at the end of summer camp." Announcing, "Joan — if you're out there, this is for you," he and the band perform Chad and Jeremy's "A Summer Song." As Max plays his drums — repeatedly turning over his brushes to alternate playing with the stick ends — Burger and Burtnik harmoniously croon, "They say that all good things must end some day/Autumn leaves must fall."
Following large applause, Weinberg announces, "I need someone to play cowbell, tambourine, and to sing — this last song is a tradition!"
Here, an intrepid group of audience members takes to the stage to sing, play instruments, and dance to Weinberg's rendition of Bruce Springsteen and the E Street Band's "Glory Days."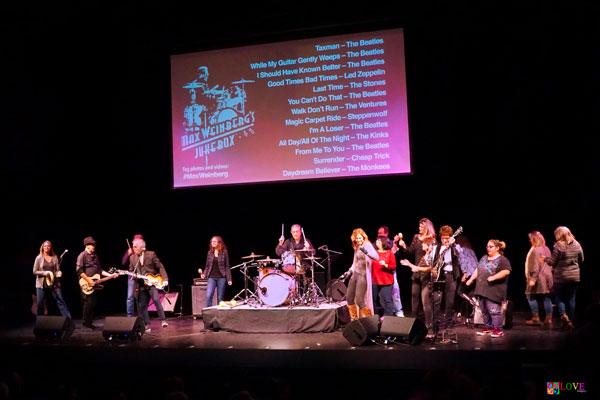 As the group parties on stage, music lovers in both the orchestra and balcony leap to their feet in appreciation of Max Weinberg and his talented band's performance tonight!
Audience members begin make their way out of the auditorium — at which time we chat with several in the crowd who share their opinions of tonight's performance with us.
Comments Mary Karen from Little Egg Harbor, "This show was wonderful! It was fantastic!" before acknowledging, "I would go to see it again next week, because it would be a completely different show."
Continuing, "All of the performers showed their excellent musicianship, and their friendship came through, too," Mary Karen concludes, "You can't fake that kind of chemistry."
Steve from Toms River remarks, "This show was excellent! I've seen Bruce a few times, but I didn't expect Max's musicians to be so good — they are super talented!"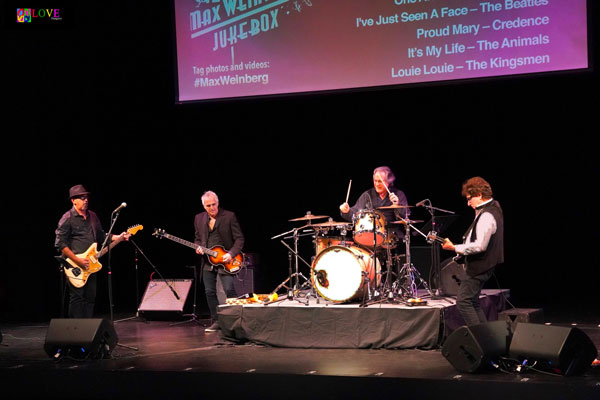 Bob from Pine Beach calls tonight's show, "Awesome! Great! Fantastic!" before asking, "When's the next one? I'll be there!" Revealing, "I'm a drummer and my son is a drummer," Bob acknowledges, "I even brought a pair of drumsticks for Max to sign for my son."
Tom from Toms River suggests that Max Weinberg's show tonight brought back memories of his youth when he says, "This concert made me feel like I was 20 years old with a fake ID at DJ's…or the Royal Manor… or the Stone Pony!"
Lastly, we chat with Barbara from Toms River, who sang onstage with Max and the band. Exclaiming, "It was great! It was fantastic!" she declares, "Just to be on the same stage as Max Weinberg was an honor!"
Adding, "My favorite song was 'Glory Days,'" Barbara concludes by stating, "From now on, every time I hear that song, I'm going to remember tonight!"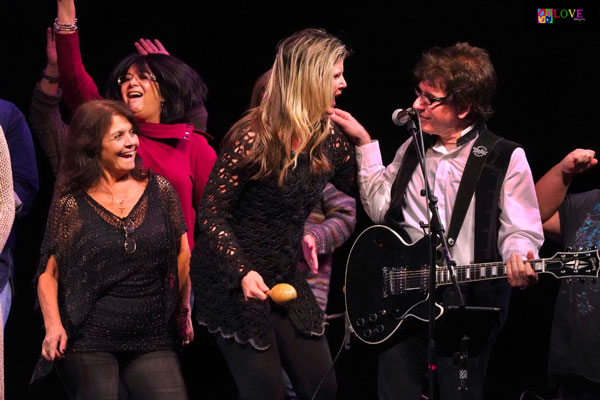 To learn more about Max Weinberg's Jukebox, please go to maxweinberg.com. To find out about future events at Toms River's Grunin Center — including Rockapella on Dec. 13, Ana Gasteyer on Dec. 15, and the Glenn Miller Orchestra on Dec. 21 — please go to grunincenter.org.
Photos by Love Imagery
Spotlight Central. Your source for Jersey entertainment news and reviews
Love Imagery Fine Art Photography. all you need. peace/love/flower/power