By Gary Wien and Danny Coleman
originally published: 11/27/2018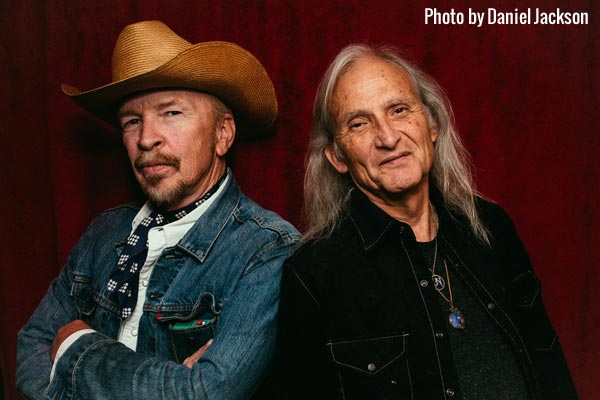 "Forty years on the highway, living on dreams and gasoline"
That's a line from the wonderful title track of the album  Downey to Lubbock  the first collaboration from Dave Alvin and Jimmie Dale Gilmore.  The longtime friends embarked on a series of acoustic shows in Texas, which were so much fun and well received that they decided to create an album. 
Named for their hometowns in Southern California and West Texas respectively, the record's song selections are part road map and part love letter: tributes to mutual heroes, friends gone too soon and lifetimes spent on the highway. Currently on tour, New Jersey Stage got the chance to speak with them before they performed at SOPAC in South Orange in early November.
Dave Alvin is best known for his work with The Blasters (a band he co-founded with his brother) and numerous solo albums which were released to critical acclaim. In 2001, one called Public Domain, won the Grammy Award for Best Traditional Folk Album. 
Jimmie Dale Gilmore was a founding member of The Flatlanders along with Joe Ely and Butch Hancock, but found more success as a solo artist including Grammy nominations for three separate albums.  In addition to music, he's also acted in several films including a memorable role in The Big Lebowski as Smokey, the pacifist bowler.
---
The article continues after this ad
---
---
Together, they've merged Alvin's bluesy sounds with Gilmore's folk and country roots to create a simply outstanding roots album. The duo are backed by stellar musicians as they cover songs by Woodie Guthrie/Martin Hoffman, Steve Young, John Stewart, Lightnin' Hopkins, Chris Gaffney, Chester Powers, Brownie and Ruth McGhee, and Lloyd Price.  But it is the two original songs by Dave Alvin which stand out.  Alvin has always been known in the industry as an excellent songwriter, but hearing his songs alongside these fine songwriters seems to take his tunes to another level.
"I'm a pretty good songwriter," said Alvin.  "When I'm dead and gone, I think a couple of my songs will live on.  I'll put my best song against anybody's worst! Hey Bob Dylan, give me your worst song and I'll give you my best… and I'll show ya!"
Alvin jokes, but those who have heard his work know what a great songwriter he is.  Chances are you already know some of his songs even if his name isn't immediately familiar.  If you were a fan of alternative rock in the 80s, you probably will remember a song that I think is rather legendary - "4th of July" by X.  It was part of the brilliant See How We Are album for which Alvin replaced Billy Zoom in the studio and on tour.
"We're a couple of guys that never really had hits," continued Alvin.  "In some ways, that's a curse; in other ways, it's a blessing.  I think both of us have been able to survive one way or another.  Jimmie's song 'Dallas" was a hit as well.  It's funny; we've been blessed in that of all the sort of trauma that goes into making a living this way… I mean, people I know have gotten pretty bitter at times and that affects them, what they do and they lose the love of the music.  Both Jimmie and I are really blessed in that we never did lose that.  Not to say this hasn't been difficult, but the sort of innocent joy of 'Oh my God, I played the right chord!' - that hasn't left."
Even though the two had been friends for decades, they had never played music together. Gilmore says they originally met while on The Monsters of Folk show. A year ago, his manager asked if he would be interested in doing some acoustic shows with Dave Alvin.  Both were very interested.
"It was so much fun that about midway through the first show, I was thinking we should probably make a record," Alvin recalled.
"Pretty quickly into it we discovered that we had so much in common musically," added Gilmore.  "Even though we sound so different we found that our backgrounds were similar and in January of last year we did our first show together in Denton, Texas."
They added more and more acoustic shows with each winding up different than the last.  They had a basic framework for the shows: they'd each do a crowd pleaser in the beginning and another crowd pleaser at the end, but the middle was different each night.
"He'd pull out something and I'd pull out something and then he'd pull out something we'd never played before and I'd do the same," said Alvin.  "Our roots are not exactly the same, but very similar musically.  Some of what is on the record are things we had done acoustically and just tried to capture that vibe."
On tour, they found they shared a mutual love of New Orleans rhythm & blues, Texas and West Coast country music, traditional folk and early rock and roll. Their sets could effortlessly drift from Merle Haggard to Sam Cooke to the Youngbloods.
"I grew up listening to Hank Williams and Ernest Tubb, the heavy country radio and honky tonk -  Lefty Frizzell and Ray Price," explained Gilmore. "Then right around the time when I got old enough to learn how to play and I was learning the chords to accompany myself, the folk boom happened and I became devotedly interested in the old folk music with people like Woody Guthrie and Bob Dylan. In that period I was also a big blues fan, so some of my real influences were Lightnin' Hopkins, Sonny Terry, Brownie McGhee, and the blues bands from New Orleans and Chicago. I was at the age when rock 'n' roll was new so I got all the input from Fats Domino and Little Richard and Chuck Berry as well. I was steeped in a whole lot of different kinds of music from an early age."
Most of the songs performed on stage were ones they both knew, but Alvin says some songs required a little learning on the fly.  It wasn't so much as a competition to throw out the most obscure song as it was discovering how many songs they had in common.
"There's a song on the record called 'Silverlake" that was written by a dear friend of ours who sadly passed away and we each had a story," said Alvin.  "It was written by a songwriter named Steve Young.  He was older than us and a hero to both of us growing up.  He told Jimmie one time, 'I really want you to sing this song.' And he had also told me, 'Man, I wrote this song just for you!'  It was not a famous song, but Jimmie pulled it out one night.  I was like, 'How the hell do you know that song? What do you mean he wrote it for you to sing? He wrote it for me!"
One thing Alvin knew, he wanted them to make a folk blues record.  He said he intentionally tried to steer clear of anything that was overtly country.  He felt Gilmore's folk blues side was one that had never been captured before, but was something that went back to his roots. Alvin hates using the term Americana, but he knows that's what the industry will call it.
"Americana seems to be a kind of a catch all phrase for music I like but we don't know what to call it," said Gilmore, "I think it's an amalgam of all of it - just all of the folk influences that have had such an effect on all of the musicians of our time blended in with rocking blues and country. I can't figure it out.  There's stuff to me that I'd call hard rock that they call Americana and then there's some sweet ballads." 
The two shine on their cover of "Get Together" - the classic sixties anthem, which seems as appropriate and needed today as ever.  They cover songs by John Stewart, Chris Gaffney, and Woody Guthrie - making each song sound as if it was written today.
The other original tune is "Billy the Kid and Geronimo" - another song that is absolutely perfect for this duo.  In this one the two take turns telling a classic western tale.  Alvin plays Billy and Gilmore sings the parts of Geronimo.  Alvin, who released solo records for about two decades before rejoining his brother on a pair of releases, says he doesn't need a musical partner but tracks like this hint otherwise.
"It's funny, it looks like I need a partner, but I don't really," said Alvin.  "I do know that I like making music and I like learning things.  The way I learn a lot of stuff is by playing with other musicians or working with other singers and songwriters.  By the time I'm 85, I'll be pretty good! That's kind of my goal.  'Man, when I make 85, I'm really going to be something!' So working with other people - whether it's singers or musicians, that's a real kick.
"When I sit down to write a song, I'm not thinking about doing duets usually," he continued.  "I'm just thinking about what makes a song good or bad.  In the case of 'Billy the Kid and Geronimo' I've had it in my brain - my songwriter brain is kind of like an auto parts repair place where there are parts lying around everywhere and there's no rhyme or reason why something is lying around.  The song had been laying around in parts for a little while and then I had the idea… Jimmie has Apache blood and hey I was a kid once, so I'll be Billy the Kid and make Jimmie Geronimo.  Then I just put the parts together into a song and it worked.  I remember the moment he sang the first line of his first verse - it was just like 'this is good!'"
"My brother had some serious health issues and I wanted to make sure that before either of us moved on to whatever awaits us on the other side that we finally made a couple of records that weren't Blasters records," added Alvin.  "They were just albums for the Alvin brothers playing together like we were kids. In the case of Jimmie it was just out of left field.  It was like bam, suddenly we're making a record.  There was just too much magic and fun going on.  It's like this is what we're doing now."
"I haven't toured this much in 15 years," added Gilmore. "I love it; we have such a good band and musically it's exciting. I'm a little older than Dave so I had slowed down a little bit and I've been jokingly saying that I've been retired even though it wasn't true. I was still playing but I just wasn't playing every night."