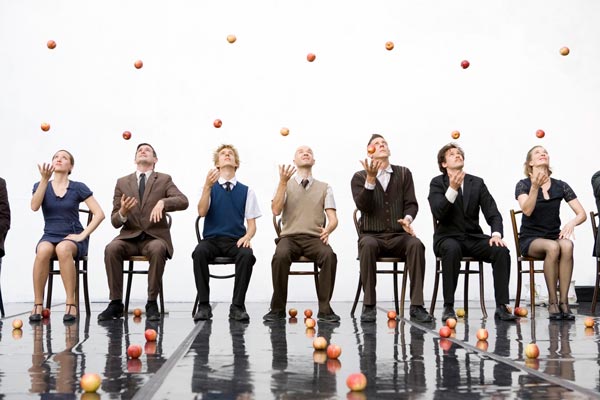 (MONTCLAIR, NJ) -- Peak Performances' 2018-2019 season of genre-and-convention-defying performances continues with Smashed, Gandini Juggling's acclaimed work inspired by the choreography of Pina Bausch, directed by Sean Gandini and assistant directed by Kati Ylä-Hokkala. Smashed comes to the Alexander Kasser Theater at Montclair State University (1 Normal Ave., Montclair, NJ) December 13-16.
Smashed is set at a tea party with a group of mild-tempered, buttoned-up attendees, juggling apples in perfect, cordial unison—until their movements reveal and give way to growing, often gendered power tensions in a crescendo of destruction. Set to a soundtrack ranging from Bach to Louis Armstrong to Tammy Wynette, the Gandinis display a virtuosic blend of skills, precision, and theatricality that leaves the audience breathless. Formed in 1992 by world-renowned jugglers Gandini and Ylä-Hokkala, Gandini Juggling continues to be at the vanguard of contemporary circus.
In 2016 the company contributed juggling choreography for the Olivier Award-winning English National Opera (ENO) production of Philip Glass's Akhnaten. Prior to their Peak Performances engagement, Gandini Juggling has been working with MSU mathematical sciences professors Mika Munakata and Ashuwin Vaidya to develop a juggling classroom module for their National Science Foundation-funded project called Engaged Learning through Creativity in Mathematics and Science.  
As The Standard writes, Smashed is "poetry in motion personified." The first iteration of Smashed, staged in 2010, was a buoyant 30 minutes, performed outdoors, centered on an embrace of the juggling mishap of the "drop." When Gandini Juggling expanded it—maintaining the centrality of the cathartic desecration of apples and crockery—its tone changed for the darker, the relationships within it becoming more antagonistic, as Gandini and Ylä-Hokkala folded their admiration of Pina Bausch into the work. The performanceborrows elements of Bausch's gestural choreography and combines them with the intricate patterns and cascades of solo and ensemble juggling.
Simultaneously evoking great pleasure and small disquiet, Smashed lightly disrupts the rigid conventions of etiquette, dress, and body language. The result is a new hybrid of juggling, performed with meticulous unison and split-second timing, in a work that creates a riveting blur between dance-theater and circus. The Guardianwrites, "This is a show in which the tensions between mind and body, concentration and distraction, surface blandness and hidden emotion, mathematical patterns and chaos often threaten to explode, and do in a finale…which is as terrifyingly vicious as it is funny."
---
The article continues after this ad
---
---
The creative team includes Sean Gandini (Director), Kati Ylä-Hokkala (Assistant Director), Mark Jonathan (Lighting Designer), John-Paul Zaccarini (Dramaturge), and Marina Arranz, Anne-Agathe Prin, Rae Boswell, and George Warren [MH1] (Management Production).
Performance Schedule and Ticketing
Performances of Smashed will take place Thursday, December 13, and Friday, December 14 at 7:30pm, Saturday, December 15 at 8:00pm, and Sunday, December 16 at 3:00pm at the Alexander Kasser Theater at Montclair State University (1 Normal Ave, Montclair, NJ).
Tickets are affordably priced at $30, and can be purchased at www.peakperfs.org or 973.655.5112. Tickets are always free for Montclair State students.