originally published: 11/25/2018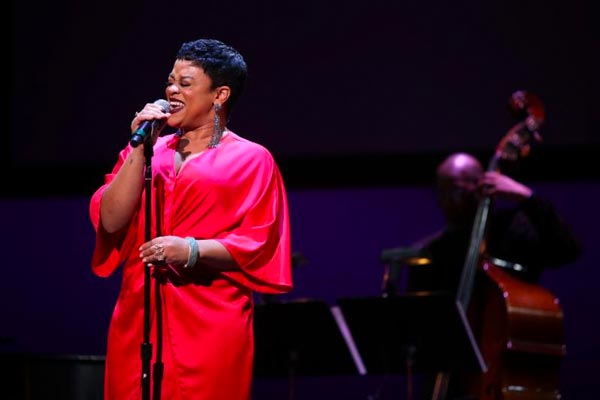 (NEWARK, NJ) -- A distinguished panel of judges and pillars of the jazz community awarded Laurin Talese first place in the 7th Annual Sarah Vaughan International Jazz Vocal Competition. The competition to find the next great jazz vocalist was held on Sunday, November 18 at the New Jersey Performing Arts Center (NJPAC), as part of the TD James Moody Jazz Festival.
As the first-prize winner of the SASSY Award, Talese receives a $5,000 cash award as well as a guaranteed performing slot at the 2019 Newport Jazz Festival. The second-place winner of the competition was Oleg Akkuratov, who was awarded a $1,500 cash prize, and the third-place winner was Toscha Comeaux who received $500.
Pulled from over 600 submissions, Talese was among five finalists who performed before a live audience at NJPAC's Victoria Theater and a judging panel consisting of Stefon Harris, NJPAC's Artistic Advisor of Jazz Education; six-time Grammy-nominated jazz vocalist / composer Nnenna Freelon; Mary Ann Topper, President of the Jazz Tree, Inc. artist management; WBGO Jazz 88.3FM radio personality Sheila Anderson; and, trumpeter, conductor and composer Jon Faddis.
The competition recalls the humble beginnings of legendary jazz singer Sarah Vaughan who, back in 1942, was a Newark teenager and winner of an amateur singing contest at the Apollo Theater. That memorable night help launch the lifework of one of the most successful, influential jazz vocalists in the history of American music. Past winners of the competition include Cyrille Aimée, Jazzmeia Horn (winner of the 2015 Thelonious Monk Competition), Ashleigh Smith, Arianna Neikrug, Deelee Dubé, and last year's winner, Quiana Lynell.
Through three public rounds, public voting on the IndabaMusic.com, the field was narrowed to the five vocalists. Contestants were judged on vocal quality, musicality, technique, performance, individuality, artistic interpretation, and the ability to swing.
---
The article continues after this ad
---
---
NJPAC is proud to partner with TD Bank, the festival's title sponsor. For the 7th consecutive year, TD Bank's generous support and commitment to the arts has helped build the TD James Moody Jazz Festival into one of the most noteworthy jazz festivals in North America. "TD Bank is excited to sponsor and be a part of this jazz festival, which has grown into one of the country's best," said Martin Melilli, TD Market President. "We believe the opportunity to enrich our communities is both a privilege and a responsibility and TD is honored to support the jazz festival as an opportunity to enhance a more inclusive and culturally vital Newark."
Meet the Finalists
Laurin Talese has been captivating audiences with her voice since the age of 10. A native of Cleveland, she earned a bachelor's degree in jazz vocal performance at the University of the Arts in Philadelphia. She has worked with such recording artists as Bilal and Robert Glasper and has shared the stage with the Cleveland Orchestra, The Moses Hogan Chorale and the Mozarteum Orchestra of Salzburg. A passionate songwriter, she released her debut album, Gorgeous Chaos, in partnership with producers Ulysses Owens Jr. and Adam Blackstone.
Pianist and vocalist Oleg Akkuratov, who was born blind, showed outstanding musical ability in pitch, musical memory and sense of rhythm from a very early age. A graduate of the Rostov State Conservatory in Russia, where he currently teaches, he studied at the Moscow State College of Pop and Jazz Music and the Institute of Music at the Moscow University of Culture and Arts. He has toured internationally as a member of the Igor Butman Quartet and the Moscow Jazz Orchestra. Akkuratov was the subject of Lyudmila Gurchenko's film Colorful Twilight.
Toscha Comeaux, a native of Hartford, Conn., began her musical journey in church. Genres of music – classical, R&B, soul, rock'n'roll, pop – have always been a part of her vocal makeup, but jazz would have a more profound effect on her spirit. There was something about the lyrics and melodies that were so simple, yet complex. Sarah Vaughan was one of the first vocalists Comeaux bent her ear to, and then many greats followed.
A young singer with a distinctive sound, Gabrielle Cavassa began her career in San Francisco, performing in jazz clubs like Club Deluxe, Black Cat, Small Wonder, and Yoshi's. She graduated with a degree in jazz history from San Francisco State University, where she studied with saxophonist Andrew Speight, to whom she credits her love of bebop. Last year, she moved to New Orleans to further her lifelong study of music and performs weekly with both straight-ahead jazz and hip hop groups.
Australian vocalist Olivia Chindamo is a New York based musician who is best known for her natural and effortless ability to improvise, or scat. As the 2016 Bell Award winner for "Young Australian Jazz Artist of the Year," she became one of Australia's most sought-after jazz vocalists and is now being recognized internationally. Chindamo studied with some of America's finest jazz musicians at the Banff International Workshop in Jazz & Creative Music 2016, and has performed on stages of all sizes, such as Melbourne's iconic Hamer Hall and The Basement in Sydney.
About TD James Moody Jazz Festival - Co-produced by NJPAC and WBGO Jazz 88.3FM, the TD James Moody Jazz Festival was inaugurated in 2012 and named in recognition of the jazz saxophone virtuoso from Newark. NJPAC's annual celebration of "America's classical music" is a spree of more than two dozen concerts and related activities - over half of which are free to the community. Guided by Christian McBride, NJPAC's Jazz Advisor, the festival has presented artists such as The Manhattan Transfer, David Sanborn, Tony Bennett, Wynton Marsalis, Al Jarreau, Dianne Reeves, Sérgio Mendes, Bill Charlap, Esperanza Spalding, Fantasia, Chris Botti, Pat Metheny, and the Keith Jarrett/Gary Peacock/Jack DeJohnette trio, among many others.
TD James Moody Jazz Festival is intrinsic to Newark, a city renowned as the home and creative inspiration for jazz geniuses including Sarah Vaughan and pianist Willie "The Lion" Smith, and institutions such as Savoy Records, the Rutgers-Newark Institute of Jazz Studies and WBGO Jazz 88.3FM. Among the festival's unique events are concerts and special attractions held off-campus throughout Newark.