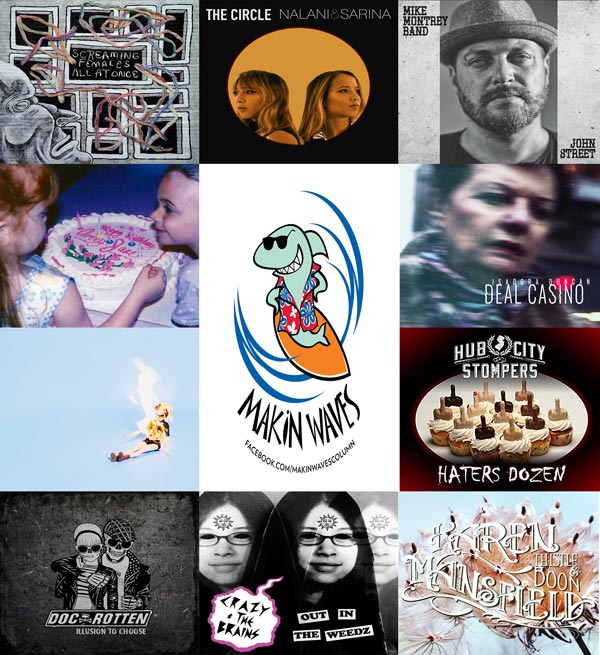 Covers from the best LPs and EPs released in 2018 by independent New Jersey acts. From left to right and top to bottom are works by Screaming Females, Nalani & Sarina, Mike Montrey Band, Avery Mandeville, Deal Casino, Well Wisher, Hub City Stompers, Doc Rotten, Crazy & the Brains and Karen Mansfield. COLLAGE BY BOB MAKIN
Makin Waves' annual Top 10 NJ indie album list features Screaming Females, Nalani & Sarina, Mike Montrey Band, Avery Mandeville, Deal Casino, Well Wisher, Hub City Stompers, Doc Rotten, Crazy & the Brains and Karen Mansfield, plus another 10 honorable mentions.

Here's a look at what I felt where the 10 best LPs or EPs by New Jersey indie acts in 2018, plus another 10 honorable mentions. For full reviews, click here.

Screaming Females, "All at Once": New Brunswick's Screaming Females are the only band I've ever heard whose albums continually top the predecessor, which is no easy feat for "All at Once" because 2015's "Rose Mountain" was brilliant. Even more challenging, the Don Giovanni Records release consists of 15 songs that translate into a double album on vinyl. While the lengthy sequence of surreal snippets and sprawling guitar epics takes some getting used to compared to the bullet to the brain and heart fired from "Rose Mountain," the Screamales once again have succeeded in maintaining an unprecedented artistic trajectory with their seventh studio LP since 2006.
Nalani & Sarina, "The Circle": I believe Nalani & Sarina are a voice for their generation. With a mix of funky sass and folky storytelling, they chronicle their peers with quality songwriting and intelligent stories that featuring an abundance of hooks weaved into a theme that makes a statement about millennial successes and failures. Whether about drinking too much in college, having difficulty paying back college loans, avoiding the monotony of 9-to-5 life, finding a way to make a difference in the world, caring for an ailing parent, taking a chance on a relationship or just suddenly getting older, "The Circle" takes rhythmic pop to a higher level.
Mike Montrey Band, "John Street": I've always liked how Mike Montrey Band can get soulful and funky like Prince, then downright down home, like Neil Young, depending on the track and its arrangement. Montrey does that with his masterpiece, "John Street," but particularly flexes his Young muscles with the help of sought-after session player Dave Pearlman on pedal steel and dobro. An exceptional lead guitarist in his own right, Montrey leaves most of the lead parts to Pearlman and focuses on some tasty pickin' 'n' strummin' on acoustic and the best use of a whistle since Otis Redding's "Sitting on the Dock of the Bay."
Deal Casino, "LLC"/"Isadora Duncan": This brand-new LP and June EP sound great as one record; just play the four-song "Isadora Duncan" immediately after the nine-song "LLC." Between the two, there's plenty to appeal to fans of Pink Floyd, Radiohead and Coldplay. Deal Casino are the real deal, and if there's any rock 'n' roll justice, they will thrive. The best part is that as good as these records are, Deal Casino are even better live, so check them out Dec. 1 at Asbury Lanes in a hometown date of a national tour with The Wrecks.
Avery Mandeville, "Happy Birthday, Avery Jane":  The uniquely expressive, richly talented Avery Mandeville makes fun of accepted absurdity like Elvis Costello and sings like an indie-rock Billie Holiday with quivers, smokiness and elongation of vowels. With a more indie-rock sound on this debut full-length, Avery certainly has come a long way since her days playing solo acoustic on the streets of Asbury Park, where Bruce Springsteen once gave her a $20 tip. An honest patch of songwriting that blends cute and warped, "Happy Birthday, Avery Jane" is a testament to Avery as a songwriter and performer.
Well Wisher, "This Is Fine": Well Wisher sound like front woman Natalie Newbold's previous band dollys grown up, saddened by the world and their own personal situations, but toughened by them and expressing that with a harder sound and heartier edge. I love the way band stop on a dime to accentuate a certain part of a song and the way some build from a sweet, soft start into a magnificent mash up reminiscent of Nirvana. Former dollys bassist/co-songwriter Erik Kase Romero was behind the board on yet another outstanding production by him. 
Hub City Stompers, "Haters Dozen": You realize three things immediately while listening to Hub City Stompers' latest LP, "Haters Dozen": they're having so much fun, they seem almost as entertained as they are entertaining; alongside the fun, they make serious statements about racism and hate, and their chops are deeper than ska-punk, delving into jazz and rhythm & blues.  The appropriately entitled 13-track outing is a debut for Austin-based Altercation Records. See Hub City Stompers Dec. 8 at Mill Hill Basement in Trenton with Rude Boy George, a ska tribute to '80s new wave featuring HCS' buds in Bigger Thomas.
Doc Rotten, "Illusion to Choose": After two EPs co-produced with the great Sean Glonek, Trenton punks Doc Rotten's first full-length is a 12-song collection that features five excellent new tracks. They were produced by Bouncing Souls guitarist Pete Steinkopf at his Little Eden studio in Asbury Park and mastered by Glonek. "Illusion to Choose" also features the entire five-song "Sick and Suffering" EP and two of the best tracks from the four-song 2017 debut, "Fallout." Having released three records AND toured Japan and Europe in less than one year, Doc Rotten have several area dates coming up, including an Oi Christmas Party Dec. 22 at Randy Now's Mancave in Bordentown.
Crazy & the Brains, "Out in the Weedz": This wonderfully odd punk- and jazz-rooted ensemble from Jersey City would be straight-up punk if not for the amazing chops of xylophonist Jeffrey Rubin. A frantic trickle 'n' tink often shatters his mallets, which he tosses to the floor, beheaded and shredded beneath his rig. Interplay between Rubin, Johnny Thunders-possessed front man Chris Urban, thunderous bassist Brett Maverick, energetic guitarist Ernest Young and rock-steady drummer Jonathan Lango is captured well on this EP produced by Pete Steinkopf of the Bouncing Souls. At his Little Eden Studios in Asbury Park, Steinkopf also helmed the forthcoming Crazy & the Brain LP, "Into the Ugly."
Karen Mansfield, "Thistle & Boon": A follow-up to a 2014 self-titled EP, the 10-song "Thistle & Boon" demonstrates a better grasp of the recording studio at the able hands of acclaimed Asbury Park-based Joss Stone producer Steve Greenwell. The album brings to mind such artists as Joan Baez, Chrissie Hynde, Stevie Nicks, Patti Smith, Lucinda Williams and Dusty Springfield. I believe their fans will enjoy "Thistle & Boon" because Mansfield has something to say, and she says it well with a smoky, soulful, world-weary but sometimes sweet and pretty vox. She gets a lot of help from Greenwell, yet another mighty Asbury talent behind the board.
---
HONORABLE MENTIONS
---
Wetbrain, "Things You Think You Thought You Knew"

Rachel Ana Dobken, "When It Happens to You"

Billy Hector, "Some Day Baby"

The Mercury Brothers, "II"

Bulletproof Belv, "With or Without You"

Elk City, "Everybody's Insecure"

The Porchistas, "Porch Drive"

Colossal Street Jam, "Just Take Hold"

The Vice Rags, "Hope the Neighbors Are Lookin'"

Joe Petillo, "Long Journey Home"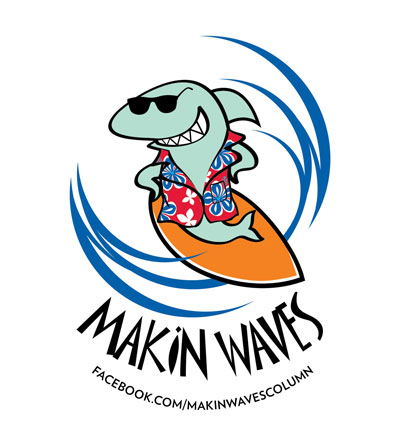 Bob Makin is the reporter for www.MyCentralJersey.com/entertainment and a former managing editor of The Aquarian Weekly, which launched this column in 1988. Contact him at makinwaves64@yahoo.com. And like Makin Waves at www.facebook.com/makinwavescolumn.