originally published: 12/02/2019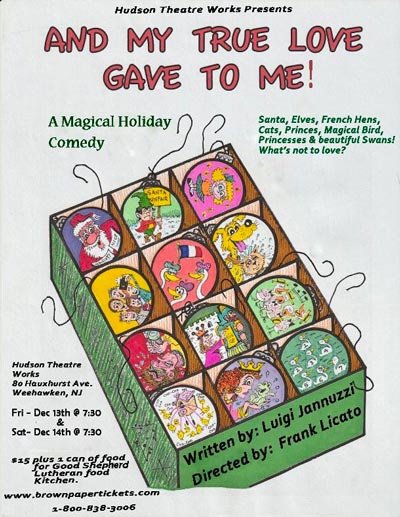 (WEEHAWKEN, NJ) -- Hudson Theatre Works presents And My True Love Gave To Me - an original holiday comedy by Luigi Jannuzzi - on December 13-14 at 7:30pm. This is a magical holiday comedy for the entire family that includes Santa, elves, french hens, geese, cats, princes, magical birds, frogs, princesses, and beautiful swans.  Tickets are $15.  Attendees are encouraged to bring one non-perishable food item for the Good Shepard Lutheran Food Kitchen.
This original comedy, developed at Hudson Theatre Works, is by Luigi Jannuzzi.  Luigi has 27 plays published by Samuel French:  Exhibit This - The Museum Comedies (13 One acts), All The King's Women (8 One acts), Night Of The Foolish Moon, For The Love of Juliet, A Bench at The Edge, The Barbarians are Coming, The Appointment, and With Or Without You.  Luigi is a contemporary American comedic playwright. A native of New Jersey, Jannuzzi attended Bound Brook High School, Raritan Valley Community College, Salem University, WV & The University of Notre Dame, where he received a Master's Degree. From 1978 - 2012 at Immaculate High School, Somerville, NJ, he taught English, Drama and Creative Writing.
His play A Bench At The Edge won best one act in Ireland in 1999 and best one act in Scotland in 2001 & 2016 and the United Kingdom in 2001.  He also wrote the screen play for the movie.  He is a recipient of two New Jersey State Council on the Arts Fellowships, two Geraldine R. Dodge Grants, three National Endowments for the Humanities (2000 at Rutgers U., 1998 at Columbia U., and 1995 at The U of Vermont), a 1986 & 2016 Goshen Peace Prize Award, a 1998 and 2000 Finalist in the Eugene O'Neill National Playwriting Conference, the 2016 Pirandello Society/NY University Playwright Award, and a 2007-2009 James Madison residency grant at Princeton University. He is listed in Contemporary Authors, Who's Who in America and is a member of the Dramatists & Author's Guild.
The play is directed by Artistic Director Frank Licato, recipient of a 2018 Tanne Foundation Award.   The cast includes Valerie Stack Dodge, Beatriz Esteban-Messina, Cassandra Giovine, Ryan Glynn, Todd Hilsee, Jeffrey Leshansky, Kelley McAndrews and Gloria Lamoureux.  It is stage managed by Dawn D'Arrigo, lighting design by Hudson Theatre Works co-founder Gregory Erbach and sound design by Donald Stark.
Tickets are available for purchase online or calling 1-800-838-3006. Performances take place at 80 Hauxhurst Avenue in  Weehawken, New Jersey. The show is sponsored by Weehawken Mayor Richard Turner and the city council, UBS, The Campbell Foundation, Actors Equity and Walmart.
---