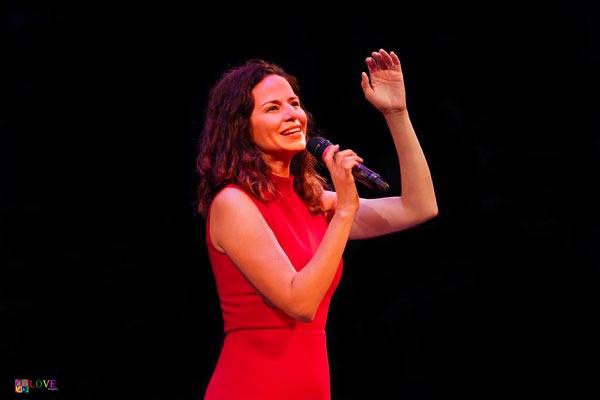 Broadway is in the house at Toms River, NJ's Grunin Center for the Arts with a Fearless live concert performance by Broadway star, Mandy Gonzalez!
Gonzalez, 40, was born and raised in California's Santa Clarita Valley. After graduating from high school, she was hired as a background singer for Bette Midler on Midler's Devine Miss Millennium Tour.
Moving to New York City, Gonzalez worked as a coat check attendant while auditioning for various shows. As a cast member of the Off-Broadway production, Eli's Comin' — an innovative musical based on the work of songwriter Laura Nyro — Gonzalez won an Obie Award. She made her Broadway debut in the role of Princess Amneris in Aida as the standby for Idina Menzel.
Gonzalez went on to create the character of Nina Rosario in the Off-Broadway production of In the Heights, where she received a Drama Desk Award; she additionally starred in the show when it ran on Broadway and appeared on the original Broadway cast album. Following her stint in In the Heights, she played Elphaba in Wicked on Broadway. She currently can be seen playing the role of Angelica Schuyler in the Broadway sensation, Hamilton!
In 2017, Gonzalez released her first solo album, Fearless, a recording which features a title number written especially for her by In the Heights and Hamilton composer Lin-Manuel Miranda. Along with the album, Gonzalez has created an organization called Fearless Squad — a movement on social media which emphasizes inclusion and belonging which has united hundreds of thousands of people from all around the world.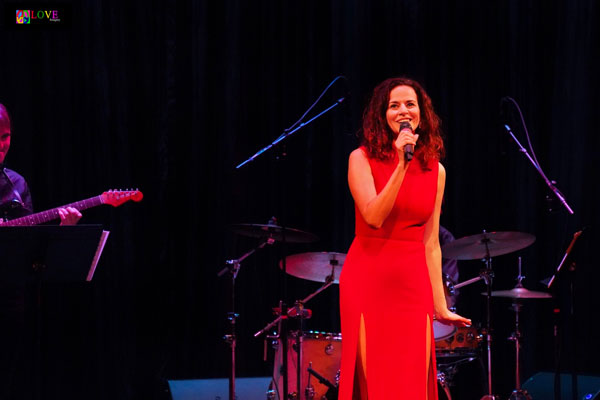 ---
The article continues after this ad
---
---
Before the show begins, outside the Grunin Center auditorium, we chat with Michael Olender, Choral Music Director at Lacey Township High School. Olender tells us that Ms. Gonzalez has invited singers from his choir — in addition to youngsters from other local high schools including Barnegat, Manchester Township, Pinelands Regional, and Southern Regional — to join her on stage tonight to sing two songs including "Fearless."
After the students rehearse the songs with Ms. Gonzalez, we take a moment to chat with several Lacey choir members who share their thoughts about getting to work with a Broadway star.
Drew, the president of the choir, says, "I loved getting to work so closely with Mandy — the experience was great!" Choir member, Aja, declares, "I'm obsessed with Broadway, so I was freaking out when we were invited to sing! Mandy is a great role model, and the fact that she wanted to do this with our choir is amazing!"
Sophie, the choir treasurer, acknowledges, "I've seen Wicked twice, so I'm glad to see this idol of mine turn out to be a real person."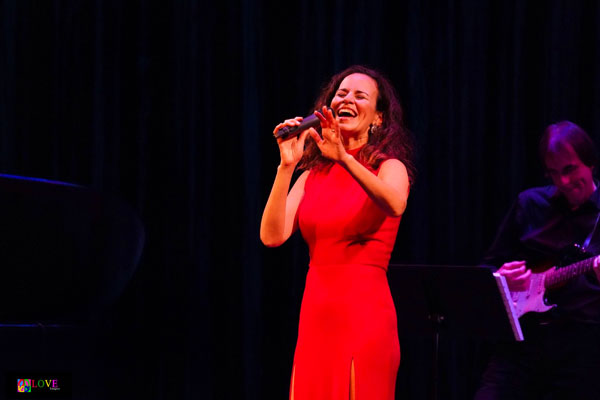 Likewise, Mya, the vice president of the choir, adds, "I'm obsessed with Elphaba! I've been watching videos of Mandy — her high notes are the best thing I've ever heard — she's so good she makes me cry!"
Choir member Trinnity admits, "I'd never heard of Mandy Gonzalez before this experience, but I'm really interested in her Fearless campaign. I'm inspired by her four pillars — "Help others when they've fallen," "Give back," "Stay in the moment," and "Dream big!" acknowledging, "I'm joining just as soon as I get home!"
Her friend, Sara, agrees concluding, "I love Mandy's Fearless campaign, too. She's so talented and super inspiring — to be able to interact and sing with her is just crazy!"
Inside the Grunin Center auditorium, the lights dim and six musicians including a pianist, guitarist, bassist, drummer, and two backup singers take the stage. As the musicians play the Eric Burden and War hit, "Spill the Wine," Gonzalez enters and talks about her dreams of becoming "a Latina goddess in a Broadway show" before singing the famous, "Spill the wine and take that pearl" lyric.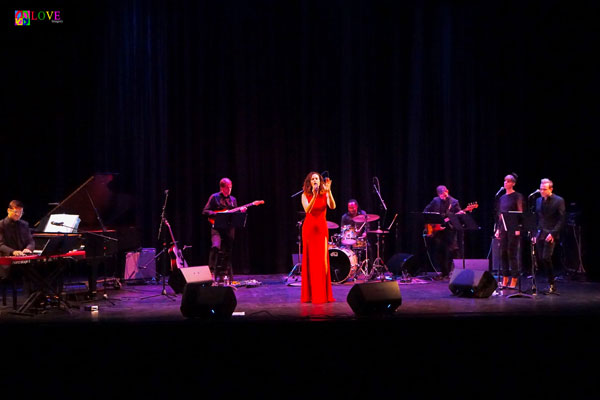 Her world-class voice sounding warm and full, Gonzalez and the band excite the crowd with her next number, "In These Shoes." On this Latin sizzler — her homage to Bette Midler — she performs in both English and Spanish.
Welcoming the audience to tonight's show, Gonzalez tells the crowd that her husband's family lives in this general area of the Garden State, revealing, "I have a lot of love for South Jersey; I'm thrilled to be here!"
Proving that — with her voice — she can sing anything, Gonzalez performs a rollicking version of Elvis Presley's "A Little Less Conversation," a number which has members of the Grunin Center audience whistling and cheering.
Next, she presents a jazzy rendition of "On a Clear Day (You Can See Forever)." The soft running beat of brushes on drums propels her musicians along as they play a jazzy accompaniment to Mandy's smooth and legato vocal. Clearly enjoying working with her talented combo, Gonzalez and company present a refined performance of this classic tune which features an impressive piano solo by musical director John Deley.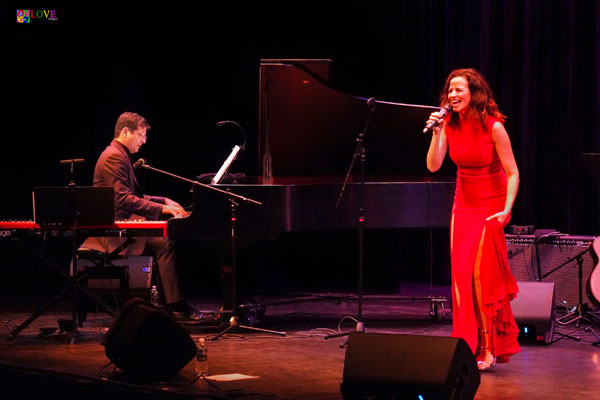 "This is so much fun — getting to sing songs I love!" exclaims Gonzalez before announcing, "Here's one of my favorites," and launching into a hip-hop inspired rendition of "I Only Have Eyes for You." Performed with '50's style "sh-bop" back-up vocals provided by background singers Neil Coomer and Nadia Ackerman, the audience loves the funky feel of this standard which has been so cleverly reinvented by Mandy and her band.
After singing a song in Spanish, "Amor Sin Fronteras," Gonzalez follows up with another Spanish song, "Vivir Mi Vida," an infectious number which has everyone in the audience clapping along and singing "Oh-ay-oh-ay."
"That's my favorite!" responds Gonzalez, "Thank you for letting me live my fantasy!"
After noting, "I've spent 18 years on Broadway," Gonzalez asks if there are any volunteers from the audience who would like to come up and sing on stage with her on a number she introduced to the world when she was in In the Heights — "Breathe."
When two young people, Audrey and Isabelle, take her up on her offer, Mandy and the audience are surprised to learn that Audrey is only 11 years old!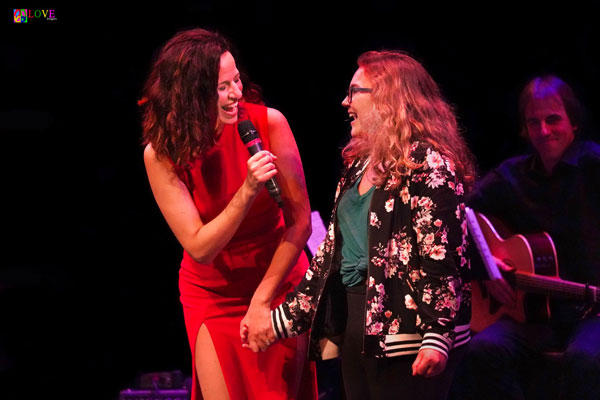 Mandy shares the spotlight with these two youngsters as they sing their hearts out! As the audience applauds for this unique performance, Mandy says to the pair, "I hope one day you will pay it forward,and bring a young girl on stage with you, too!"
A highlight of the show is Gonzalez' performance of "As If We Never Said Goodbye" from Sunset Boulevard. Sounding as pure and resonant as ever, Gonzalez uses her considerable vocal talent to evoke pure emotion within her listeners, and they respond in kind with appreciative applause.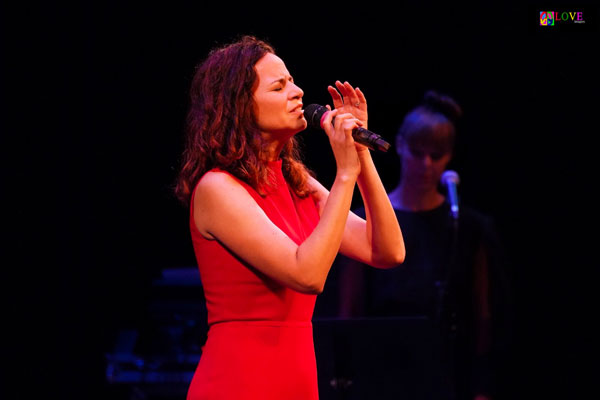 Explaining that along with her husband's family, her six-year-old daughter is in the audience tonight, Gonzalez tells a story from her own childhood.
After revealing that, in his younger days, her father once sang her next song with a band he played in, Gonzalez performs a soulful uptempo rendition of The Temptations' "Get Ready."
Taking a break from the lead vocal, she tells a story about how her parents met as pen pals when her father — a Mexican migrant worker — was drafted and sent to Vietnam and her mom — a white, Jewish girl — wrote to him.
According to Mandy, she learned about her parents' youth, friendship, and courtship by reading her parents' pen pal letters. At this point, she continues "Get Ready" in a slower, more intimate arrangement, sharing her personal story with the audience and allowing them to experience the song in a creative and new way.
Following avid applause, Gonzalez changes things up by launching into her own exciting rendition of Bruce Springsteen's "Born to Run."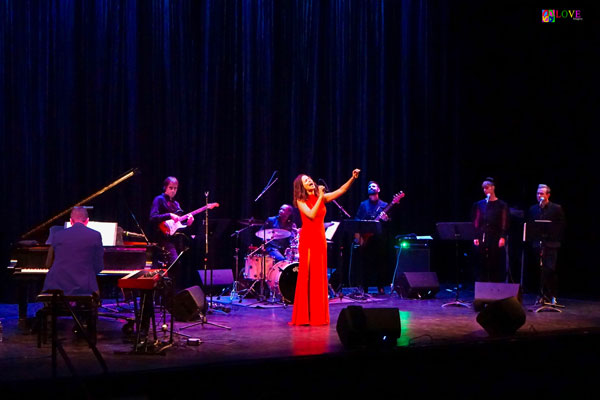 The Jersey crowd sings along with her interpretation, especially on the "Baby, we were born to run" coda.
As the audience applauds, a fan yells out, "I love you!" and Gonzalez responds by calling out, "I love you, too!"
After talking about her latest recording, Fearless, Gonzalez performs a selection from the album entitled "Everyday" — a soaring number which features an intricate keyboard accompaniment by John Deley.
She follows this up with another highlight number of the evening — a second selection from Fearless — a beautiful and touching ballad entitled "Life is Sweet." Inviting background singer, Neal Coomer, into the spotlight, the singers trade vocal lines, the emotion shining through in this emotional performance which clearly touches Ms. Gonzalez.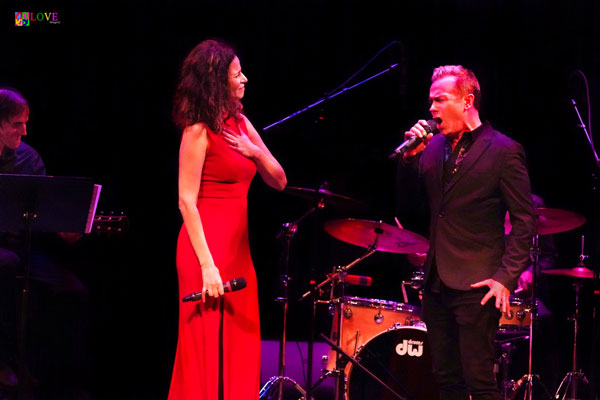 Gonzalez brings down the house reprising her role as Elphaba in Broadway's Wicked when she performs a knock-your-socks-off rendition of "Being Green," and follows that up with a stellar version of "Defying Gravity. As she sings, Gonzalez moves to the music, her amazing voice filling the Grunin Center auditorium with unadulterated soul and capturing the hearts of all of her fans in the audience.
After explaining that whenever she performs in any town she likes to "find out about the community," Gonzalez informs the audience that she has invited 80 students from several neighboring high schools to join her tonight on stage for her next two songs. She also tells the audience all about her social media movement called the Fearless Squad.
Exclaiming, "Right now, this is our Fearless Squad!" the curtain behind her opens to reveal the choir of talented high-school-aged singers who perform back-up on Gonzalez' powerful "Starts Right Now."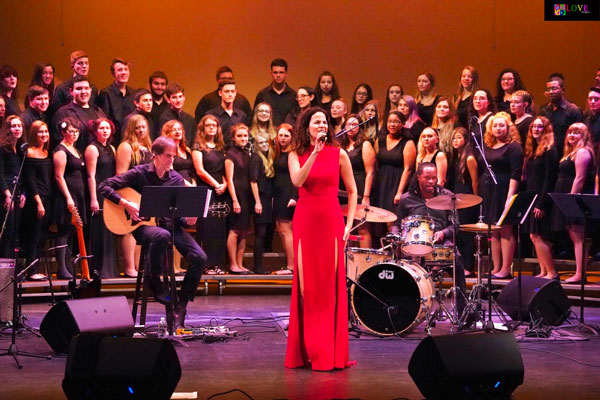 Gonzalez and the choir follow up with "Fearless." As the choir gives an emotional and dynamic performance singing the song's "Walls come down!" lyric, Gonzalez performs from the bottom of her heart, connecting with all present, and providing a unique creative and artistic moment which can only be experienced in a live setting such as this.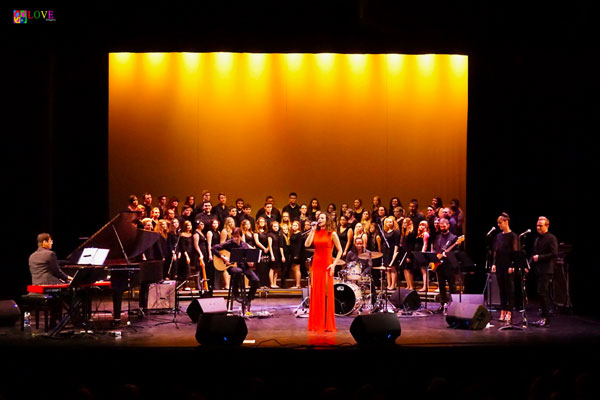 Following cheers and applause, Gonzalez thanks John Deley and the rest of the musicians on stage before performing her final number of the evening — a song about which she discloses, "My Bubbie used to sing this to me to remind me of what to strive to be." On this innovative and bluesy arrangement of "Que Sera Sera," Gonzalez exemplifies soul with her dynamic rendition of the Doris Day classic which earns her a well-deserved standing ovation from the crowd!
As an encore, Mandy brings out her six-year-old daughter, Maribel Melini, declaring, "This is my heart," and announcing, "This is her beginning." Holding hands as they sing together, Mom and daughter perform a poignant version of "Remember Me."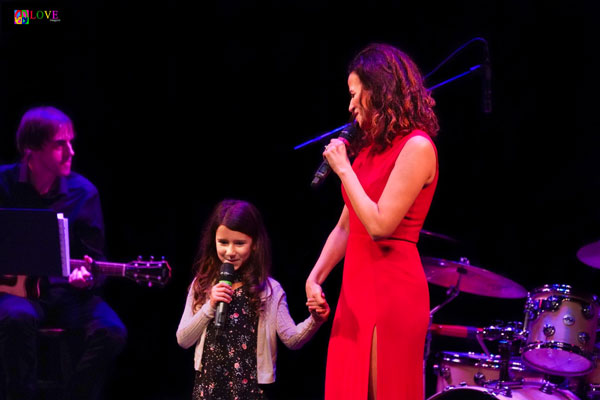 Hugging at the end, the pair provide a sweet ending to an evening filled with music and emotion.
Following the show, we get an opportunity to chat backstage with Mandy Gonzalez who says, "I am so appreciative of all the teachers who taught the music to the choir members — they were all so ready!" before adding, "Tonight's show warms my heart; I not only got to sing with the choir, but I got to sing with my daughter, Maribel."
Says Maribel, "The best part was at the end when I got to hug Mommy."
Out in the Grunin Center lobby, we get a chance to chat with several other young performers who shared the stage with Mandy Gonzalez.
First, we chat with Audrey, 11, who sang "Breathe" onstage with Ms. Gonzalez.
When asked how she knew all the words to the song, Audrey reveals, "I listen to In the Heights all the time — it's one of my favorite shows!"
Declaring, "I've always wanted to perform, so singing with Mandy tonight was really fun," Audrey concludes by acknowledging, "I was really nervous, but she was so inspiring!"
We also chat with two youngsters from Pinelands Regional High School who participated in tonight's show. While, like Audrey, Katie calls Mandy Gonzalez "inspiring," her friend, Darcie, declares, "This experience was amazing — I was speechless!"
Mikaela, a Southern Regional High School student who also sang in the choir with Mandy tonight, says, "Mandy Gonzalez is so sweet and down to earth, and she loves what she does. It was exciting to be a part of something this big — it was an amazing thing to be a part of."
Mikaela's brother, Jonathan, who was in the audience tonight, comments, "Mandy is someone who connects with her audiences. She's so honestly genuine — you can tell she doesn't do what she does for the money — she performs for the love of it, and to give back to the community."
Several other audience members share their experiences of tonight's show with us as well. For example, Carl from Voorhees calls tonight's concert "Wonderful," revealing, "My favorite part was the 'Fearless' song. Mandy Gonzalez has such a beautiful voice, she's so friendly, and she appears so at home on stage," before concluding, "and she doesn't look old enough to have been on Broadway for 18 years!"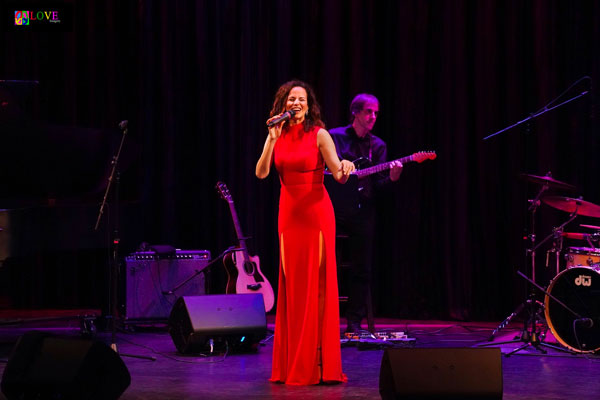 Moreover, after referring to Mandy Gonzalez as "gorgeous, glamorous, generous, and gifted," Lisa from Point Pleasant exclaims, "Seeing the kids perform with her was wonderful!"
Lastly, we chat with another performer who shared the stage with Ms. Gonzalez tonight — back-up singer Neal Coomer — who comments about his experience stating, "Mandy has such a command of her instrument. She's sincere and genuine, and you feel completely engaged with her. The Broadway songs she performs are cemented in her gut — no one else can perform them like she does," before concluding, "Singing with her is really special. She is a star."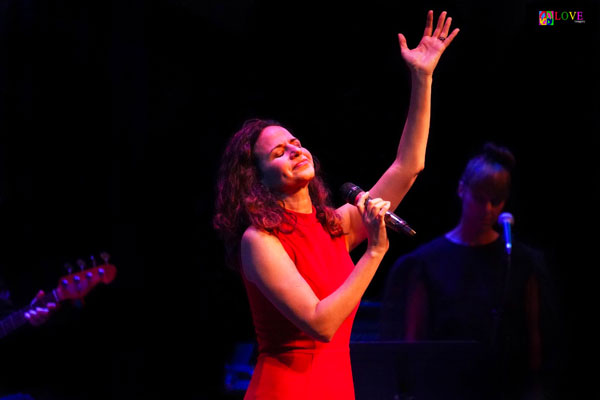 To learn more about Mandy Gonzalez, please go to mandygonzalez.com. To find out more about future events at Toms River's Grunin Center — including Max Weinberg's Jukebox on November 19, Rockapella on December 13, and Ana Gasteyer on December 15 — please go to grunincenter.org.
Photos by Love Imagery
Spotlight Central. Your source for Jersey entertainment news and reviews
Love Imagery Fine Art Photography. all you need. peace/love/flower/power