originally published: 11/15/2018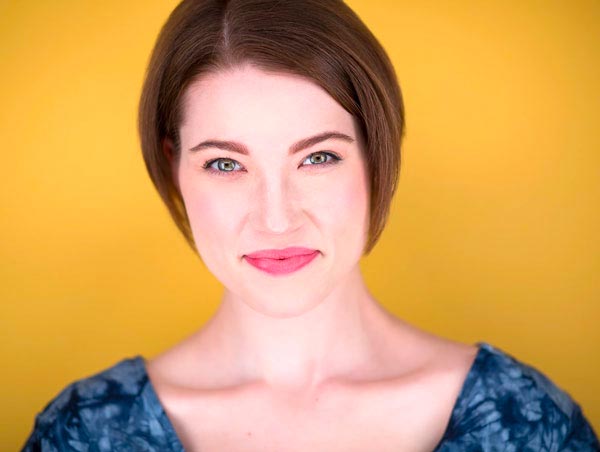 "I saw something in her that you rarely come across," recalled Ted Wioncek III, Artistic Director at Eagle Theatre in Hammonton. "She's more than wise beyond her years; I believe she's going to be a game-changer and a trendsetter for this art form."
Wioncek was referring to Caitlin Geisser, the Vineland native who is directing "The Spitfire Grill, the Musical" at Eagle Theatre. It's her first time directing at the theatre after being an assistant director on a pair of shows there earlier in the year.
Geisser graduated from the Southern New Jersey Academy of the Performing Arts and moved on to Wright State University in Ohio, where she graduated with a degree in musical theatre. Following that, she moved to New York City and now spends her time there and in South Jersey – where she is making a name for herself. This includes being the founder and Artistic Producing Director of Triple Threat Workshop, a South Jersey theatre company that uses theatre as a means to help raise funds to minimize the financial burden of medical expenses of those in the community.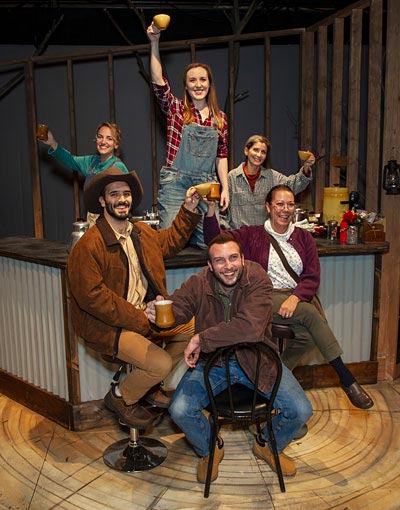 "The Spitfire Grill – The Musical" follows a feisty parolee who moves to a small town based on a page from an old travel book. She finds a place for herself working at Hannah's Spitfire Grill in rural Wisconsin. It is for sale, but there are no takers for the only eatery in the depressed town, so newcomer Percy suggests raffling it off. Entry fees are $100 and the best essay on why you want the grill wins. Soon, mail is arriving by the wheelbarrow full and things are definitely cookin' at the Spitfire Grill.
The show, based on the 1996 film, is returning to the Garden State where it first began. In June 2000, George Street Playhouse in New Brunswick presented a workshop of the play. The following year, Playwrights Horizons presented it off-Broadway.
"It's funny, because in discussing the production itself, it correlates to nature, the beauty of human nature and the landscape that surrounds us," said Wioncek. "And we felt as though bringing it back to Jersey is one more analogy – it's bringing it back to its roots."
"'Spitfire' is the perfect autumn show," added Caitlin Geisser. "When I think about the fall, I think about change and new beginnings, and about being home with your family. This musical caters to the ties of your hometown and the reconnection with the all the reasons you love where you are from. A perfectly timely piece to this time of year.
"New Jersey in the fall is gorgeous, and the whole show centers around this idea of your hometown community. I always say there's nothing quite like being home, so it's been very nice to be in my hometown while working on a show that centers around that hometown feeling. I love the story in 'The Spitfire Grill,' because of the heart that's behind it, but I think the songs are the vehicle that gets us there.
"It's got that rustic twang to it and I've never had the opportunity to work on a show with it. It's so indicative of those people's personalities and their lives. The songs truly are the vehicle of the story that we arrive to."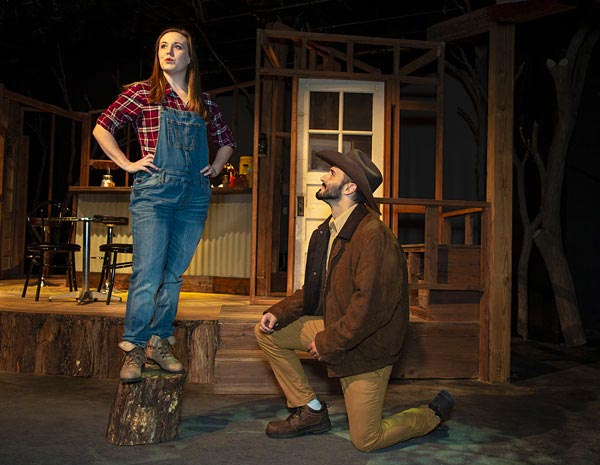 The concept of a small hometown is one that appealed to Eagle Theatre, which believes its audience will see the town of Hammonton in the play's Wisconsin setting.
"I think what attracted me to the play is simply that these characters are identifiable," said Wioncek. "We see ourselves in them and the people we know. Their situations are not so elevated that we cannot relate. Yet, there's something about the undertones, which are to appreciate what you have in your own hometown at your fingertips. Maybe there's something you haven't looked at in a certain way, or maybe seeing it through someone else's eyes allows you to appreciate it more.
"I think that's what the character of Percy represents. She comes into a town that's somewhat set in its ways and shakes things up. All of a sudden these people, who have somewhat taken their surroundings for granted, see them through a traveler's eyes and there is a renewal in the town. I think the poignancy of that doesn't override the musical numbers, but complements them."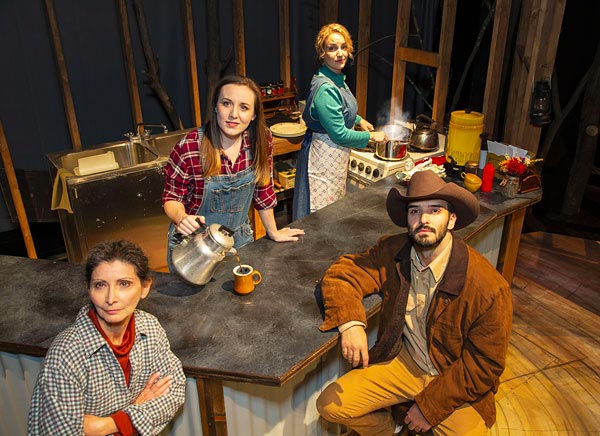 Ironically, Geisser's first directing job at Eagle Theatre wasn't supposed to happen for two-three more years. Wioncek said the plan was originally to keep her on as an assistant director throughout the next two seasons and potentially "groom" her to direct on the mainstage. After seeing her in action, though, they decided to greatly expedite that plan.
It didn't hurt that they both went to the Southern New Jersey Academy of the Performing Arts (about nine years apart) and actually met when Wioncek was invited back to serve as a guest director and an adjunct professor. They reconnected several years later, and Wioncek helped work on her portfolio – something he does for up-and-coming directors to help them in the industry.
"Within a few hours of talking with her and getting reacquainted, I realized I didn't want to give her lessons, I wanted to give her an opportunity," said Wioncek.
On her website, Geisser lists herself as a director, actor, singer and teaching artist. She said she always believed that whichever path was giving her the opportunity was the road she would take. And, at this point, it's becoming clear that Wioncek isn't the only one to recognize her talents as a director.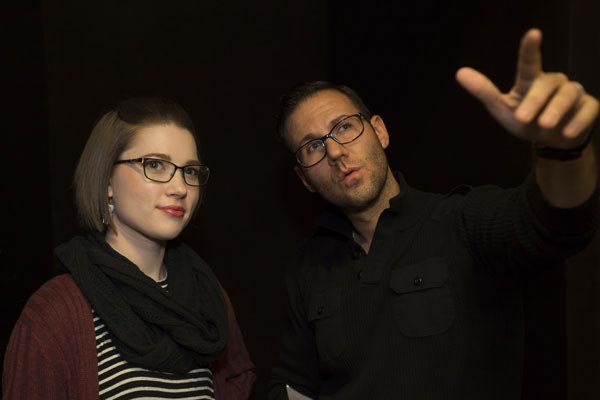 "Nothing makes me happier," said Geisser. "I can put in so many hours and not even realize I'm putting in that many hours, because I'm so engrossed in a project. I also teach kids and directing kids is where my passion started. Now, I'm starting to break out and work with adults, which is a whole other challenge. It's exciting and I truly love it!"
Geisser hasn't given up on acting, but sees her previous experience on stage as something that has helped her become a better director.
"I always say the best directors are actors first, because they know what it's like to be on the other side and they know what it's like to have to use their body to tell a story," she explained. "Now I'm sitting on the other side, and I have to create a picture using someone else. It's so imperative that directors have at least some insight as to what that's like to be on the other side."
The Eagle Theatre is the only year-round Equity theatre in South Jersey. It is dedicated to redefining regional theatre through innovation, enlightened production techniques and the development of eclectic theatrics. It utilizes a truly unique space – one that changes for nearly every performance as they move and redesign the seats to fit the show being presented.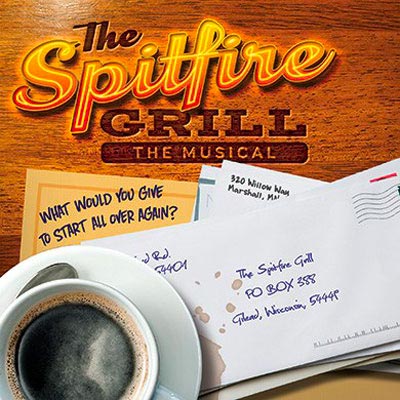 When Wioncek was in high school, there was nothing like the Eagle Theatre to aspire to. He notes that artists like Geisser have never known a time without such a theatre. That is not only good for inspiring future actors and directors, but good for the future of theatre itself.
"We are right between Philadelphia and Atlantic City and I think our work represents that in a lot of ways. It has both styles to it and I think that appeals to a wider demographic," said Wioncek. "We believe in providing world-class talent for our patrons, but I would be remiss if I didn't mention that some of the most world-class talent out there is in South Jersey – and I don't know if South Jersey is cognizant of that yet."
With every production at Eagle Theatre, that becomes clearer.
"The Spitfire Grill – The Musical" runs at Eagle Theatre, 208 Vine Street in Hammonton, from November 16 through December 16. For more information or to purchase tickets click here.