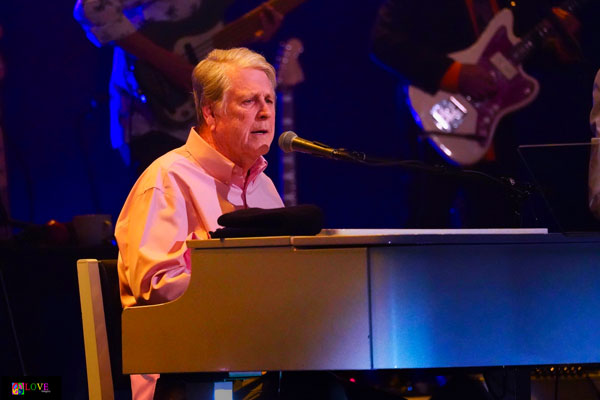 In the music room in the back of our house, there's an electric bass and amp, two acoustic guitars, a microphone and PA speakers, several pieces of music recording equipment, and a bookcase filled with books on music, not to mention a slew of assorted music memorabilia. But, perhaps, one of the most highly prized items in the room is hanging directly above the piano next to the college music diplomas.
What is it?
An autographed photo of, arguably, the greatest American songwriter of the past sixty years, Brian Wilson.
Brian Wilson's musical journey began in a home in Hawthorne, California that was filled with music. As a toddler, Brian loved listening to George Gershwin's Rhapsody in Blue. Both his mother and father played the piano and, as a youngster, Brian started singing harmonies with his younger brothers, Carl and Dennis.
As a teen growing up in the '50s, Wilson become obsessed with the harmonic blend of vocal groups like The Four Freshmen. On his 16th birthday, he received a Wollensak tape recorder as a gift, a device which would allow him to experiment with recording songs and vocals. In the early '60s, he was inspired to combine the multi-part vocal harmonies of the groups he loved with the rock rhythms of artists like Chuck Berry to create new songs. It is said that his first original melody was based on Dion and The Belmonts' version of "When You Wish Upon a Star," a song which was ultimately destined to become "Surfer Girl."
---
The article continues after this ad
---
---
Barely out of his teens, Brian created some of the most beloved pop recordings of all time — "I Get Around," "Don't Worry Baby," "Fun, Fun, Fun," and "California Girls" — songs which he developed with his band, The Beach Boys. The group not only included Brian's brothers Carl and Dennis, but also his cousin Mike Love and his friend Al Jardine.
In 1966, at the age of 23, Wilson looked beyond the commercial success generated from the over two-dozen Top 40 hits he'd helped to engineer, and sought to expand his artistic horizons with the creation of Pet Sounds, considered by many to be one of the greatest albums of all time. In the process of bringing this project to life, Wilson rewrote the rules of what a pop record could be and how it could be created working simultaneously as a composer, arranger, producer, and performer.
At the same time, he also created what many consider to be his masterpiece — his recording of "Good Vibrations" — widely acclaimed as one of the finest works of the rock era.
As Brian spent more and more time in the recording studio, The Beach Boys continued to perform on the road with a variety of musicians — notably Bruce Johnston — joining the band. During the early 1970s, South African musician Blondie Chaplin joined the group as a guitarist and also sang lead on several Brian Wilson compositions including "Sail On Sailor."
In 1988, Wilson released his first solo album, Brian Wilson, which featured one of his signature songs, "Love and Mercy." With the release of Imagination in 1998, Wilson started to consistently perform live for the first time in decades. He soon teamed up with members of the LA band, The Wondermints — a combo which featured keyboardist Darian Sahanaja — to create his own group, The Brian Wilson Band.
With the help of Sahanaja, in 2004, Wilson completed his concept album, Smile — an album he first started to develop in 1966, but abandoned in 1967. The album received critical acclaim from music lovers across the globe and earned Wilson his first Grammy award.
Although in 2012 Wilson did perform with The Beach Boys on the group's 50th Reunion concert tour, these days, he tours with a trio of different solo shows — a Pet Sounds show, a Holiday Tour, and a Greatest Hits Liveperformance. On Thursday, Nov. 1, 2018, Brian Wilson and his band made a stop at the State Theatre in New Brunswick, NJ, for a performance of his Greatest Hits Live show featuring special guests Al Jardine and Blondie Chaplin.
As we wait inside the packed State Theatre auditorium for the show to begin, we chat with a young boy and his dad who are both wearing Brian Wilson Tour T-Shirts.
Dad Yeong, from Summit, tells us why he brought his son, Owen, 11, to today's show, explaining, "he knows most of the songs Brian Wilson wrote for The Beach Boys."
When asked why he's such a Wilson fan, Owen explains, "I like the melodies!" Revealing, "My dad introduced me to the music of The Beach Boys when he bought me the video game, Rock Band," Owen smiles as he acknowledges, "It has 'Surfer Girl' on it."
Acknowledging that his favorite musical groups are The Rolling Stones, The Beatles, and The Beach Boys, Owen states, "We already saw Paul McCartney, and this is my first time seeing Brian Wilson." Notes Yeong, "We went to London and saw Abbey Road, and when we went to California, we went to Hawthorne and we even went to the hamburger stand from 'Fun, Fun, Fun' and had shakes and burgers," before lamenting, "unfortunately, the Wilson home in Hawthorne is no longer there — it's now a freeway."
Owen proves that he knows a lot of Brian Wilson songs when he tells us that his favorite Beach Boys' songs are the album cuts, "Girls on the Beach" and "Friends," in addition to the Billboard Top 10 hit, "Fun, Fun, Fun."
He also proves his allegiance to the music when he points to his new Brian Wilson shirt and lifts the front to reveal that, underneath, he's wearing a Beach Boys T-Shirt!
The lights dim and tonight's opening act, Beat Root Revival, takes the stage. The group consists of Andrea Magee from Belfast, Ireland and Ben Jones from Kent, England. Calling their genre of music "acoustic Americana," Andrea plays an Irish hand drum known as a bodhrán and Ben plays guitar.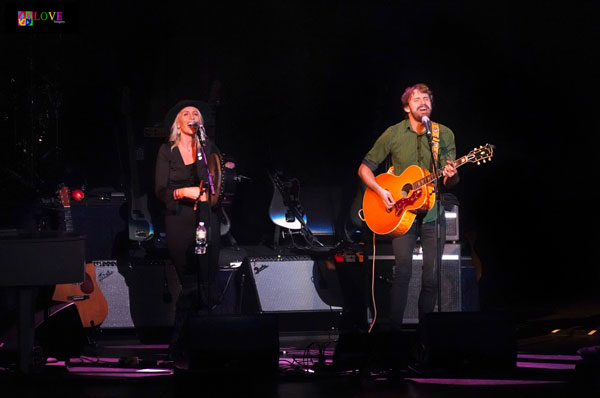 Highlights of their set include an original song, "Instincts," where the duo's smooth vocals contrast to the rockin' rhythms of sequenced acoustic guitar — a la Ed Sheeran — and hand drum. Audience members cheer for the group's cover version of Fleetwood Mac's "Dreams." The audience claps along as the duo sings the famous, "Thunder only happens when it's raining/Players only love you when they're playing" chorus before jamming out with Andrea soloing on the penny whistle.
The duo also scores with their innovative cover version of The Beatles' "Come Together." Alternating between a bluesy feel and Ben's rapid fire guitar picking and strumming, Andrea rocks out on the the bodhrán as the two harmonize on this song with a timeless message. Audience members instinctively clap along to the infectious rhythm coming from the stage, ultimately expressing their approval via hooting and hollering while standing at their seats!
Following a short intermission, music lovers in the audience immediately leap to their feet as soon as they hear the melodic strains of the introduction to "California Girls." The State Theatre curtain opens to reveal Brian Wilson seated at his white grand piano backed by eleven additional musicians. The audience cheers as Wilson sings, and the song's infectious rhythm invites the audience to clap along as the years seem to melt away.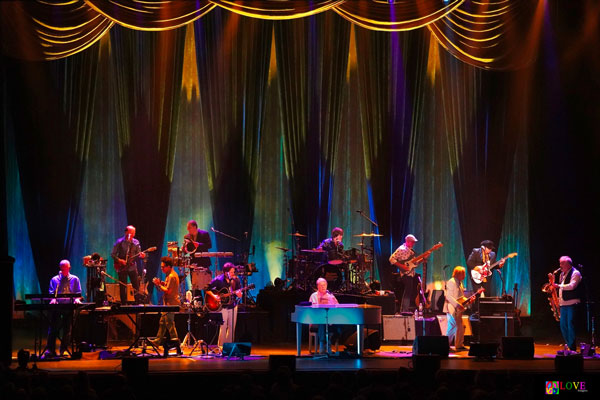 Lights pulsate and change colors like a kaleidoscope as the drums roll and the theater rocks to "Dance, Dance, Dance."
Brian greets the Jersey crowd as the band plays the introduction to "I Get Around." People in the packed house air drum and sing along to the beat as a bari sax honks.
Al Jardine takes over the lead on two popular car songs, "Shut Down" and "Little Deuce Coupe."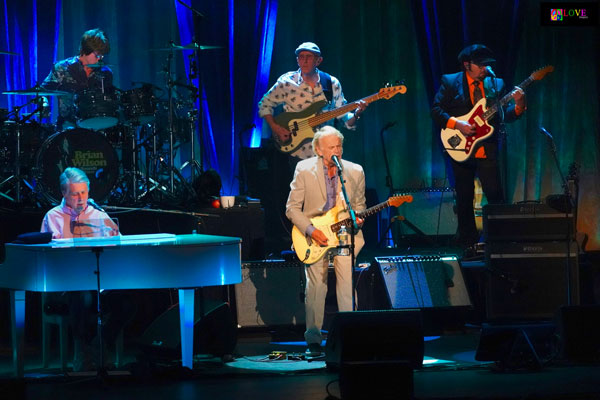 Brian handles the lead vocal on "Little Honda," as an audience member shouts, "Go, Brian, go!" Lights spin overhead as he sings and Blondie Chaplin joins in the fun rocking out on the tambourine.
The rich harmonies of nine vocalists all crooning "Do you love me?" are featured on "Surfer Girl," before a lesser-known hit, "Salt Lake City," features vibraphone, bells, bari sax, and a live fade-out ending.
Al Jardine addresses the crowd saying, "We wrote this one a long time ago. We had nothing else to do, so we wrote a song about waking up in the morning." Here, he, Brian, and the band perform the bouncy "Wake the World." As they perform, a fan yells out, "We love you, Brian," and Al immediately chimes in, "Me, too!'
Following an intricate rendition of "Add Some Music to Your Day," the sound of a flute introduces "California Saga." Singing "Water, water/Get yourself in the cool, clear, water," for many, this happy-go-lucky tune echoes an era of simpler times.
Brian introduces his son-in-law, Ron Bonfiglio, who takes the lead on "Don't Worry Baby," and the crowd responds to his performance by standing, whistling and cheering.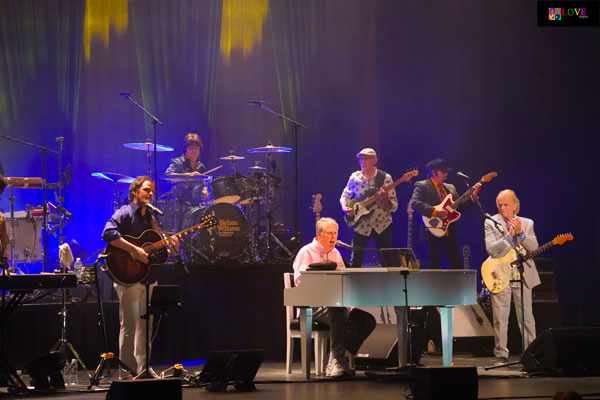 Then, Darien Sahanaja performs a stellar vocal rendition of "Darlin'" making the song his own while backed by The Brian Wilson Band's "wall of sound" which not only features multiple horns and guitars but doubled tambourines!
Brian introduces Blondie Chaplin who performs "Feel Flows." A staccato instrumental part contrasts with smooth backup vocals that support Blondie's lead. After playing a bluesy guitar solo, the audience cheers before synthesizer, flute, and acoustic guitar complete the song with another live fade out ending.
Chaplin rocks his lead vocal on "Wild Honey," accompanied by a theremin oscillating its sweet swirling sound. Blondie dances around the stage during a tenor sax solo while Brian plays the piano. The crowd erupts with applause as Brian exclaims, "I love it! Love it!"
Blondie responds by singing his signature Beach Boys tune, "Sail On Sailor." His vocal sounding as good as the original recording, he plays a screaming guitar solo to the song's pulsating boogie feel. The audience stands and cheers and Blondie throws kisses to the crowd before bowing and leaving the stage.
Brian takes over the lead vocal on "Do It Again" as audience members dance in the aisles to flashing colored lights.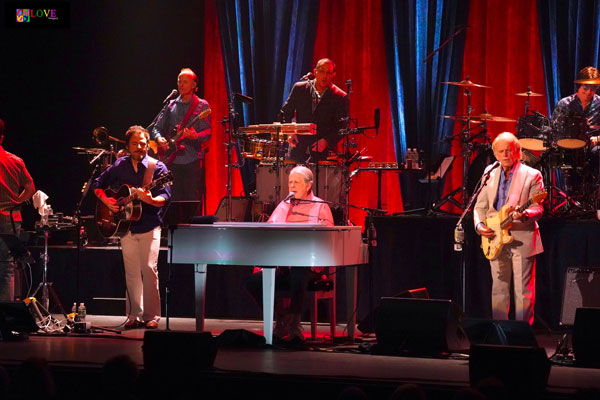 Following avid audience applause, Ron Bonfiglio takes over Brian's part from the original recording of "Wouldn't It Be Nice?" and Brian sings Mike Love's original part. The audience responds with emphatic whistles, cheers, and a standing ovation!
Brian starts out singing the lead on "Sloop John B," while Darien plays vibraphone. After Al takes over the vocal, he changes the song's lyrics from "This is the worst trip…" to "This is the best trip I've ever been on."
One of several highlight performances of the evening is Brian's rendition of "God Only Knows." Even though his vocal is highly syncopated, it's poignant and touching as he sings, "God only knows what I'd do without you," on this song which is so closely associated with his late brother, Carl. The vocal canon at the end surrounds the audience with so much harmony and love it elicits yet another standing ovation.
Brian and the band respond with a live version of "Good Vibrations." As vocal harmonies swirl, heads can't help but bop, and theater lights create rays of color that drench the stage, enhancing the amazing vibrations that are Brian Wilson and The Brian Wilson Band!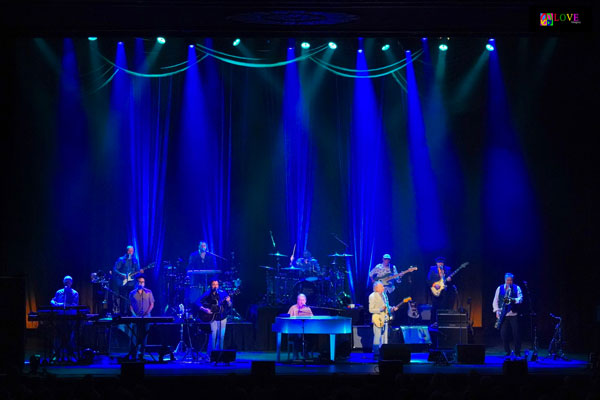 Audience members can't help but dance to "All Summer Long" before Al, Brian, and the rest of the musicians perform another highlight number of the evening — a dynamic version of "Help Me, Rhonda" which has the entire audience singing, clapping, and dancing along.
The party continues with "Barbara Ann," where the crowd is "rockin' and a-reelin'" to this classic Beach Boys tune, and it grows even stronger when the guys segue into a soaring rendition of "Surfin' USA."
Dueling guitars, a honking bari sax, and Brian's lead vocal are featured on "Fun, Fun, Fun." After the audience rocks out, the band concludes the number with an exciting Gershwin-inspired Rhapsody in Blue ending. The audience stands and cheers for this iconic musician and his band!
For the final song of the night, Brian sings a compelling version of "Love and Mercy."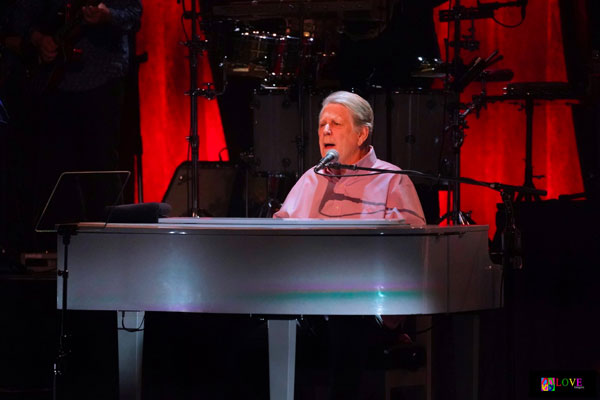 Giving his fans all the love and mercy they need, all eleven Brian Wilson Band musicians gather around Brian and harmonize as he provides a sweet ending for an amazing evening, bringing all present to their feet as the curtain closes.
Following the performance, we take a moment to chat with musician Ben Jones from Beat Root Revival who admits, "I've been a Brian Wilson fan since 2001. I saw him about 20 times before Beet Root Revival started opening for him, and since then, we've performed as a part of his tour about 20 times. In my opinion, Brian Wilson is the greatest songwriter since George Gershwin. His writing has such complexity — but he manages to do it with popular music! He is a true rock star. Even tonight — after seeing him and working with him — I still can't get used to the fact that all of that amazing music came out of his head!"
We also get a chance to chat with Wilson Band keyboardist Darien Sahanaja who talks about tonight's concert at the State Theatre, exclaiming, "We always love playing in Jersey!" Adding, "It's been nearly 20 years since I've been playing with Brian," Sahanaja jokes, "When I first started doing this, I thought, 'This isn't going to last a single song!' — and it's been 20 years now."
We also chat with several members of the audience who share their thoughts about tonight's concert with us.
First, we catch up with Wilson fans Dad Yeong and son Owen. Says Owen, "This show was awesome!" acknowledging, "My favorite part was 'Help Me Rhonda.'" Dad Yeong agrees before adding, "and 'Love and Mercy' was the perfect ending to a perfect night."
Next, we chat with Nicole from Newark who says, "I loved this show!" disclosing, "I just started listening to Brian Wilson's music last year, and I've been obsessed with it ever since!"
Enrique from Newark concurs noting, "I liked the entire show. I missed Brian the last time he was here in New Jersey, so I'm so glad I got to see him this time. It was touching. Seeing him perform live was like going back in time."
We also chat with multiple generations of a family from Lawrenceville — Great Grandma Dorothy; her grandson, Stacy, and his wife, Jill; and their daughter Johanna.
Contends Dad Stacy, "Johanna — who is two — is a true Beach Boys fan, and proves it by constantly singing 'around and around and around' from "I Get Around.'"
Commenting, "The whole family really enjoyed this show — it's good dancing music," Mom Jill — who is pregnant — agrees, before pointing to her belly and declaring, "And I'm exposing the next generation to this great music!"
Lastly, we chat with Susan and Michael from West Windsor.
Remarks Susan, "Brian Wilson was terrific! He's a legend, so I'm glad I got to see him. His music spans generations — it's just irresistible. He's an amazing musical genius!"
Concludes Susan's husband, Michael, "She just said it all."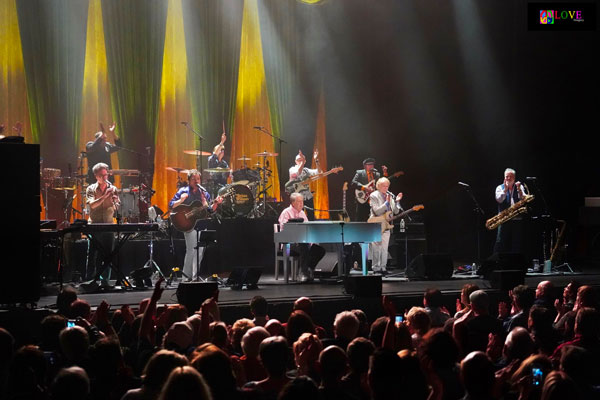 To learn more about Brian Wilson and The Brian Wilson Band, please go to brianwilson.com. For information on upcoming performances at New Brunwick's State Theatre — including Melissa Etheridge's The Holiday Show on Nov. 30 , John Mellencamp on February 23, 2019, and Art Garfunkel on March 15, 2019 — please go to stnj.org.
Photos by Love Imagery
Spotlight Central. Your source for Jersey entertainment news and reviews
Love Imagery Fine Art Photography. all you need. peace/love/flower/power