originally published: 11/13/2018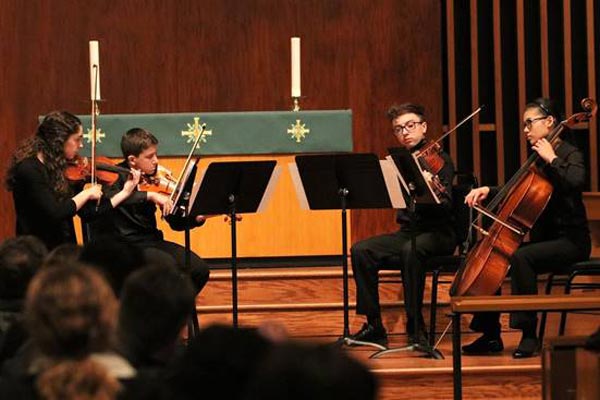 (CHATHAM, NJ) -- The New Jersey Youth Symphony (NJYS) Chamber Music Program presents their final concert on Sunday, November 18 at 7:00pm at Chatham United Methodist Church located at 460 Main Street in Chatham. The concert is free and open to the public. Students will perform trios and quartets by Shostakovich, Dancla, Haydn, Beethoven, and Mozart. The concert will conclude with the NJYS Octet performing Allegro moderato ma con fuoco from Mendelssohn Octet in E-flat Major, Op. 20.
The NJYS Chamber Music Program provides young musicians of all levels with the opportunity to learn and perform classical music composed for small ensembles of instrumentalists. Often characterized as "the music of friends,' chamber music and its study enhances musicianship, listening, group collaboration, and technical skills while exploring historical practices and perspectives. Students find themselves challenged to read and perform music more fluently. The NJYS Chamber Music Program expands on existing foundations of solo and orchestral repertoire and contributes to a fuller range of artistic expression. Chamber music coaches include Nate White, Milan Milinkovic, Nevena Bojovic, and Susan Meuse.
Says Artistic Director Helen Cha-Pyo, "My vision for the New Jersey Youth Symphony's 40th Anniversary is promoting the already well-developed musical excellence of our students—encouraging them to shine far and wide on varied stages and bring their talents to new audiences." This season NJYS ensembles will grace stages including Kasser Theater at Montclair State University, the State Theater in New Brunswick, Dolan Hall at the College of St. Elizabeth, Drew University, and the New Jersey Performing Arts Center.
In a nod to the New Jersey Youth Symphony's ruby anniversary and her first season as Wharton Institute for the Performing Arts Artistic Director and Conductor of the NJYS Youth Symphony, Cha-Pyo chose a unique spin on the usual celebrations—in addition to a gala, which will be held at NJPAC on May 19, Cha-Pyo introduced the idea of partnering with social services in the communities where NJYS will perform throughout the season.
For the November 18 concert at Chatham United Methodist Church, NJYS will partner with the Interfaith Food Pantry and Resource Center of Morris Plains and take in-kind donations of non-perishable food items. For a full list of the NJYS 2018-2019 season concerts and social services partners, as well as ways to give back at each concert, click here.
---
The article continues after this ad
---
---
Nate White joined the NJYS family as a student in 1989 and has served in numerous capacities. White is currently the conductor of Sinfonia. He also works as a freelance double bassist and private teacher in the greater New Jersey area. After beginning his studies at the Manhattan School of Music, White continued the remainder of his studies at the John J. Cali School of Music at Montclair State University. There he studied double bass with Linda McKnight and conducting with Paul Hostetter.  A gifted soloist, White has performed solo concerti with several orchestras including the New Jersey Youth Symphony, the Philharmonic Orchestra of NJ, the Doctor's Society Orchestra of NY and the Montclair State University Symphony. In 1999, he won the Grand Prize of the NJ ASTA State Solo Competition and in 2008 he won the Montclair State University Concerto Competition. White can often be seen performing with the South Orange Symphony, the Central Jersey Symphony, the Staten Island Philharmonic, the Orchestra of St. Peter's by the Sea, the Eastern Wind Symphony, and the Bravura Philharmonic. In 2008, White founded the Freelance Ensemble Artists of NJ with the purpose of extending a more professional performance experience to young student musicians. He now serves as the Artistic Director and Conductor of the FEA Symphony, a group made up of professional performers and music educators who take the stage with advanced college and high school student musicians.
Serbian native Milan Milinkovic is an active solo, chamber, and orchestral violinist in the New York metropolitan area.Milinkovic has performed with a large number of orchestras include the Manhattan Virtuosi, Riverside Symphony, and Garden State Philharmonic. Last year, Milinkovic had the opportunity to be a part of the Belgrade Philharmonic Orchestra's first American tour. A graduate of University of Music Arts in Belgrade Serbia, Milinkovic studied with Prof. Dejan Mihailovic and Prof. Srboljub Zikic, concertmaster of the Belgrade Philharmonic. In his native country, Milinkovic's orchestral experience included performing with the Belgrade Philharmonic Orchestra as well as National Opera Theater in Belgrade, Serbia. As a member of renowned St. George Strings, Milinkovic has performed widely throughout Europe. After his move to the United States in 2001, Milinkovic became interested in violin pedagogy and in 2008 was offered a position as adjunct faculty at the College of St. Elizabeth in Morristown as well as the Far Brook School in Short Hills.  In 2016, Milinkovic became orchestra director at Far Brook School and maintains private teaching studios in New Providence and Summit.
Serbian native Nevena Bojovic holds a Bachelor of Music degree in violin performance from the University of Musical Arts in Belgrade, Serbia. After moving to the United States, Bojovic continued her studies and obtained a Master of Music degree from Brooklyn College. Bojovic has performed throughout the tri-state area and her orchestral experience includes performances with the Serbian Chamber Orchestra and St. George Strings ensemble. Bojovic received Suzuki teacher training and certification from the School for Strings, NYC. She has been a faculty member at the Wharton Institute for the Performing Arts, String Project at Brooklyn College, United Nations International School, Far Brook School, and the NJYS Orchestral Camp. Bojovic is currently teaching orchestra in the Franklin Township Public Schools and maintains a private violin studio in Summit, NJ.
Susan Meuse is in her sixteenth year as an orchestra teacher in New Jersey. She currently teaches at Hammarskjold Middle School in East Brunswick. She has taught in her hometown of Cherry Hill, as well as the Bridgewater-Raritan Regional School District. Meuse received her Bachelor of Music degree in Education from Ithaca College and her Master of Music degree in Education from Rutgers University. As a cellist, Meuse performs regularly with the City Winds Trio and the Freelance Ensemble Artists of NJ.  She is currently serving as President of the Board of Directors for the FEA of NJ. An active member of NJMEA, Meuse is the Orchestra Procedures and Performance Chair. She is an organizer for the CJMEA Elementary Honors Orchestra and has twice conducted its ensembles. She conducted the CJMEA Intermediate String Orchestra in 2013, the All South Jersey Junior High String Ensemble in 2014, and the CJMEA Intermediate Chamber Orchestra in 2017.
The Wharton Institute for the Performing Arts' mission is to provide the highest quality performing arts education to a wide range of students in a supportive and inclusive environment, where striving for personal excellence inspires and connects those we teach to the communities we serve.
Wharton is New Jersey's largest independent non-profit community performing arts education center serving over 1,500 students through a range of classes and ensembles including the 15 ensembles of the New Jersey Youth Symphony, which serve 500 students in grades 3 – 12 by audition. Beginning with Out of the Box Music and Pathways classes for young children, WIPA offers private lessons, group classes and ensembles for all ages and all abilities. We believe in the positive and unifying influence of music and the performing arts and believe that arts education should be accessible to all people regardless of their ability to pay. We teach all instruments and voice and have a robust musical theater program.
Based in Paterson, New Jersey, the Paterson Music Project (PMP) is an El Sistema-inspired program of the Wharton Institute for the Performing Arts that uses music as a vehicle for social change by empowering and inspiring children through the community experience of ensemble learning and playing. PMP provides intensive, free musical training to students throughout Paterson after school. PMP launched its first site at the Community Charter School (CCSP) of Paterson in January 2013 with 32 second graders and has since added a new class of students each year. Since its inception, PMP has partnered with the Paterson Public Schools to open the Paterson Public School 1 and 26 site as well as the CCSP 21st Century Community Learning Center Program to start a winds and brass middle school program. Last year, PMP partnered with William Paterson University's Music After School Program to create a central band site at the Norman S. Weir School to serve over 60 students. This year, Paterson Music Project will be partnering with the Rosa Parks Performing Arts High School in Paterson to host the PMP Saturday Program which includes large ensemble rehearsal, Community Choir, Afro-Fusion Percussion Ensemble, and private lessons. There are now over 250 students in the program across the city of Paterson grades 1-8.