originally published: 11/12/2018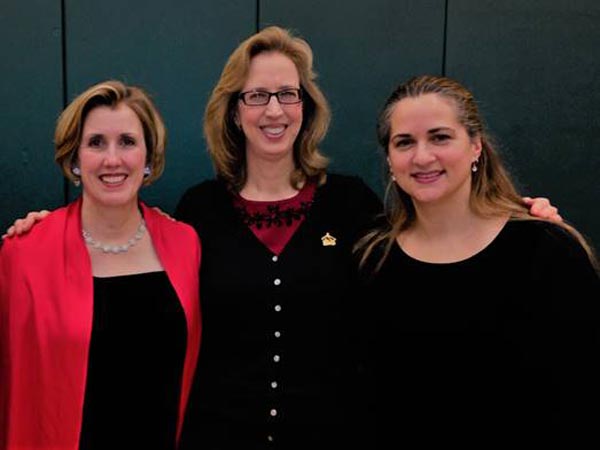 (BERKELEY HEIGHTS, NJ) -- Wharton Institute for the Performing Arts (WIPA) continues its Salon Series with an Evening of Holiday Music featuring Musicale Amice on Thursday, December 6 at 7:30pm at 60 Locust Avenue in Berkeley Heights. Wine, cheese, and hot cocoa will be served and the concert will end with a festive sing-along. Tickets are $12 for adults, $6 for seniors, and free for Wharton Institute for the Performing Arts students. Tickets are available at the door or by calling 908-790-0700.
Soprano Jamie Baer Peterson, pianist Lois Buesser, and cellist Sariah Johnson formed the trio Musicale Amice in 2013 and have appeared throughout the Garden State at churches, libraries, and senior living centers as well as the Madison Thursday Morning Club, American Association of University Women (AAUW), and the Suburban Music Club. Experience the magic of the season as they perform music of The Piano Guys and original arrangements of classical holiday carols from around the world, including Sleigh Ride, White Christmas, Christmas Time is Here, O Holy Night, Gesu Bambino, A Welsh Lullabye, and the spiritual Rise Up Shepherd.
Soprano Jamie Baer Peterson is a native of Minnesota and received her training at the Eastman School of Music. She began her opera career as an apprentice with the Lyric Opera of Chicago which led to performances throughout the United States, Canada, and France in leading roles with L'Opera de Nice, Santa Fe Opera, and the New York City Opera, among other regional companies. On the concert stage, she has appeared with the symphonies of Dallas, Atlanta, Hartford, Omaha, Princeton, and Westfield as well as choral societies in New York City, New Jersey, and Pennsylvania and in two national broadcasts with the Mormon Tabernacle Choir.  Peterson has taught at SUNY-Fredonia and Monmouth University and is currently on the faculty of the Wharton Institute for the Performing Arts.
Originally from Oklahoma, pianist Lois Buesser has performed as a soloist, accompanist, singer, and club band keyboardist.  She has sung in chamber choruses, entertained troops with the USO\DOD in Europe and Asia, and acted as music director for area theatres and schools. Buesser bi-annually performs "Lois Buesser's Musical Extravaganza" at St Mark's Episcopal Church in Basking Ridge where she is the organist. She directs the Humdingers, a women's touring troupe in the Montclair area. Buesser is the Music Director at Light Opera of New Jersey and on the music faculty of William Paterson University.
Sariah Mourik Johnson was raised in Germany and began her cello studies at a young age in Frankfurt. She immigrated to the United States at the age of 20 and graduated with a Master of Music degree in Cello Performance and Pedagogy from Brigham Young University. Johnson is an avid chamber player in Chicago, New York City, and New Jersey. She is a former member of the Jupiter Symphony and currently performs with the Light Opera of New Jersey, the Baroque Orchestra of New Jersey, and the PEL Trio and enjoys playing on her Bohemian cello built in the mid-1800s in Markneukirchen. 
---
The article continues after this ad
---
---
The Wharton Institute for the Performing Arts' mission is to provide the highest quality performing arts education to a wide range of students in a supportive and inclusive environment, where striving for personal excellence inspires and connects those we teach to the communities we serve.
Wharton is New Jersey's largest independent non-profit community performing arts education center serving over 1,500 students through a range of classes and ensembles including the 15 ensembles of the New Jersey Youth Symphony, which serve 500 students in grades 3 – 12 by audition. Beginning with Out of the Box Music and Pathways classes for young children, WIPA offers private lessons, group classes and ensembles for all ages and all abilities. We believe in the positive and unifying influence of music and the performing arts and believe that arts education should be accessible to all people regardless of their ability to pay. We teach all instruments and voice and have a robust musical theater program.
Based in Paterson, New Jersey, the Paterson Music Project (PMP) is an El Sistema-inspired program of the Wharton Institute for the Performing Arts that uses music as a vehicle for social change by empowering and inspiring children through the community experience of ensemble learning and playing. PMP provides intensive, free musical training to students throughout Paterson after school. PMP launched its first site at the Community Charter School (CCSP) of Paterson in January 2013 with 32 second graders and has since added a new class of students each year. Since its inception, PMP has partnered with the Paterson Public Schools to open the Paterson Public School 1 and 26 site as well as the CCSP 21st Century Community Learning Center Program to start a winds and brass middle school program. Last year, PMP partnered with William Paterson University's Music After School Program to create a central band site at the Norman S. Weir School to serve over 60 students. This year, Paterson Music Project will be partnering with the Rosa Parks Performing Arts High School in Paterson to host the PMP Saturday Program which includes large ensemble rehearsal, Community Choir, Afro-Fusion Percussion Ensemble, and private lessons. There are now over 250 students in the program across the city of Paterson grades 1-8.
Wharton Institute for the Performing Arts is located in Berkeley Heights, New Providence and Paterson, NJ and reaches students from 10 counties. All of WIPA's extraordinary faculty members and conductors hold degrees in their teaching specialty and have been vetted and trained to enable our students to achieve their personal best.