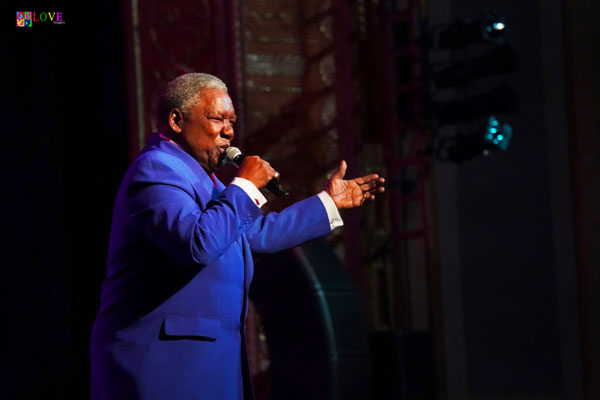 The stars are out this Saturday Oct. 26, 2018 evening in Lakewood, NJ for a "Golden Oldies" concert featuring Charlie Thomas' Drifters, The Classics IV, and The Brooklyn Bridge!
As we enter the historic Strand Theater, we meet the emcee of tonight's show — concert promotor James D'Amico — who asks us if we'd be interested in interviewing Rock and Roll Hall of Fame inductee Charlie Thomas who sang with The Drifters on some of their most enduring recordings including "There Goes My Baby," "This Magic Moment," "Save the Last Dance for Me," "Up on the Roof," and "On Broadway."
Would we!
D'Amico takes us backstage at the Strand where we meet Thomas, 81, who is wearing his embroidered Drifters' jacket and an embroidered hat that says "Ben E. King."
"Ben E. King was my best friend," explains Thomas — "He was the one who wrote 'There Goes My Baby' for me and The Drifters."
---
The article continues after this ad
---
---
Acknowledging "I've been a Drifter since 1954," Thomas laments, "I miss my friends — Ben, Dick Clark, and Gordon Waller from Peter and Gordon. I have such wonderful memories of all of them, in addition to so many other people I've worked with. I continue to carry their memories with me in my heart and soul."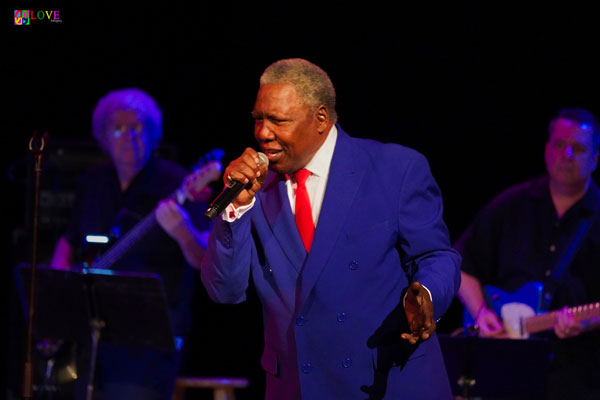 When asked about his early inspiration for getting involved in the music business, Thomas responds with a story.
"I recently met Hank Williams, Jr.," he recalls, "and when I did, I told him about when I met his dad, Hank Williams, Sr., when I was eight years old. At the time, Hank Williams Sr. was playing at the opening of a Piggly Wiggly grocery store. He was wearing boots, a pin-striped suit, and a big 10-gallon hat. And Hank Williams, Sr. hired me — at eight years old — to carry his amplifiers, and he paid me $75! He made me feel like a million bucks and inspired me — and I'll never forget it."
Asked how it feels to continue performing the classic Drifters' songs for more than a half century now, Thomas replies, "It feels good!" before adding, "I like to sing all the Drifters' songs — even the ones I didn't originally record."
With regards to the longevity of The Drifters' music, Thomas notes, "In the 1960s when The Beatles first came to America, Ahmet Ertegün and Jerry Wexler from Atlantic Records said to The Drifters, 'Don't you change a thing — just keep on going,' and that turned out to be the best advice for us."
Continuing, "I'm glad people still come out to hear our songs," Thomas declares, "and I hope that our music will continue! I've gotta keep the flame alive," before concluding, "this kind of music makes the heart feel good!"
After thanking Mr. Thomas, we make our way out into the historic Strand Theater auditorium where comedian Uncle Floyd is warming up the crowd for tonight's "Golden Oldies" concert.
Following Floyd's set, James D'Amico introduces the first musical act on tonight's bill — The Classics IV.
The group, featuring Tom Garrett on lead vocals, takes the stage and opens with a medley of two feel-good songs with a message: The Rascals' "People Got to be Free" and Jackie DeShannon's "Put a Little Love in Your Heart."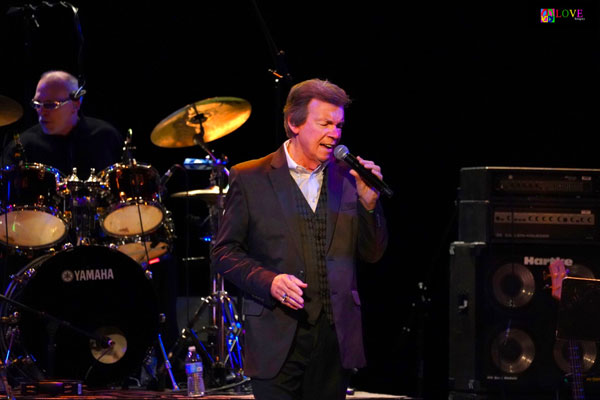 On the group's '60s style straight-ahead rocker, "24 Hours of Loneliness," Garrett croons, "Nine o'clock I'm sad/Ten o'clock I'm blue/Twelve o'clock I lie awake/Cryin' over you."
Bringing the audience back to a simpler time, Garrett and the band perform their 1969 recording, "Every Day with You Girl," a number which features three-part harmonies and an easy groove.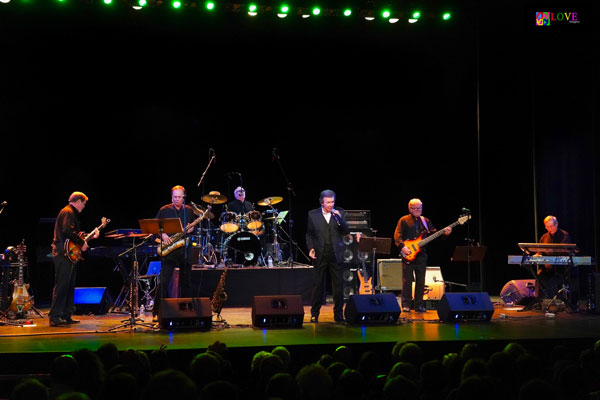 Introducing a number which Garrett explains "was not a Classics IV song, but was recorded by Joe Cocker," he and the band perform the bluesy "Unchain My Heart." Roughening his voice for this rockin' cover version, four-part harmonies ring out and Paul Weddle's sax wails as bass, keyboard, and drums provide support.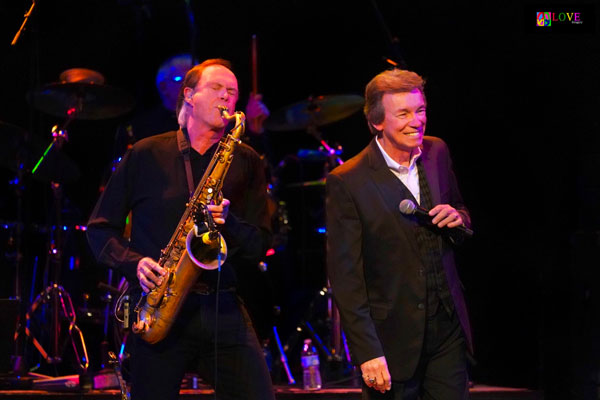 Performing a tune The Classics IV recorded — but which turned out to be a bigger hit for the tune's composer, Bobby Hebb — the group performs "Sunny." On this number, Garrett strolls down into the crowd and dances with audience members, shaking hands as he sings.
The crowd cheers when they recognize the familiar strains of the intro to the group's Top Ten hit from 1969, "Stormy." The audience happily joins in singing on the famous "Bring back that sunny day" lyric as Garrett and guitarist John Kerner happily lead them in song.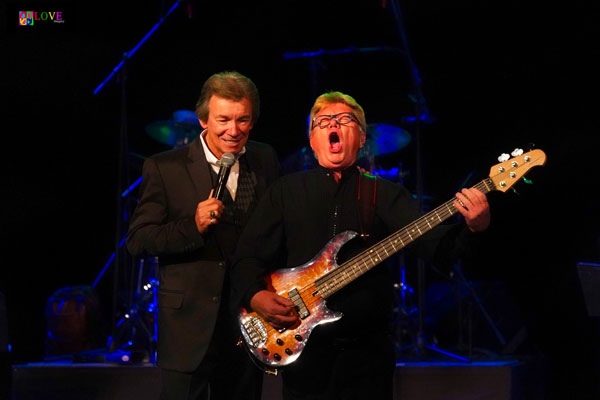 Calling the band's next tune, "a favorite Classics IV song, but not a giant hit" Garrett and Co. perform the mysterious "All in Your Mind," a number which has Paul Weddle performing on flute.
Explaining that The Classics IV's original lead singer, Dennis Yost, died in 2008, Garrett says that he and the group "dedicate this next song to him every night," stating, "DY — we miss you."
Here, they perform the band's 1969 hit, "Traces," with Garrett crooning the song's famous "Faded photographs, covered now with lines and creases" lyric.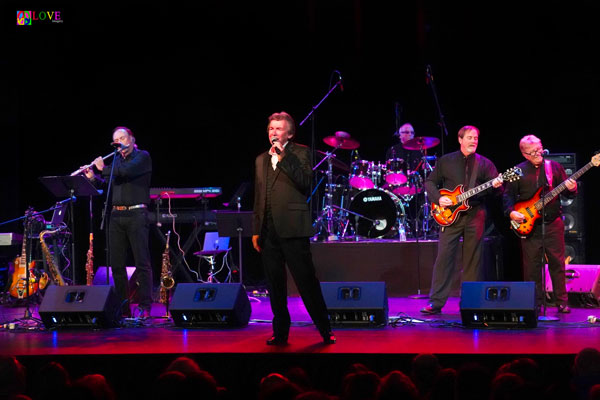 The audience heartily applauds when Garrett talks about the pride he feels for our country, and veterans in the audience stand for the band's performance of Lee Greenwood's "God Bless the USA." The audience sings along while red, white, and blue lights rain down on The Classics IV.
Concluding their set with their 1968 Top 5 hit, Garrett and The Classics IV celebrate Halloween a bit early with their rendition of "Spooky," a performance which earns them hoots and hollers from the crowd!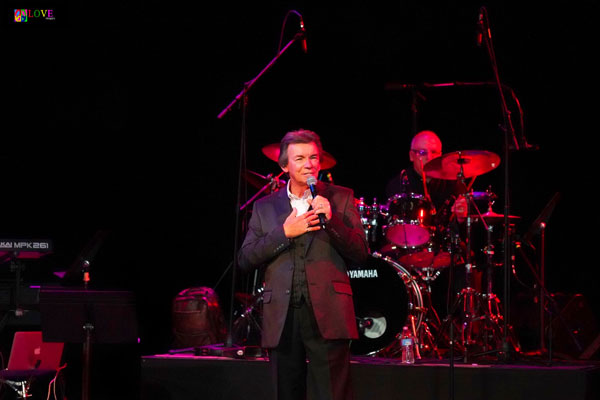 During intermission, we take a moment to chat with Classics IV lead singer, Tom Garrett, who exclaims, "This is a great audience! This is my third time back in NJ," revealing, "I was born in Perth Amboy and, as a youngster, I lived in Newark, Elizabeth, and Highland Park."
"It's cool to be back here again," continues Garrett, who notes, "In 2006, Dennis Yost was injured, and he brought me in to continue the group, so we're all here to represent Dennis" before concluding, "That's what he wanted, so that's what we'll continue to do."
Following intermission, James D'Amico retakes the stage to introduce Charlie Thomas and the Drifters.
As the band starts to play a familiar accompaniment, the audience claps and Thomas exclaims, "Let's have a rock and roll party!" before Charlie and The Drifters launch into a dynamic rendition of their 1963 Top Ten hit, "On Broadway."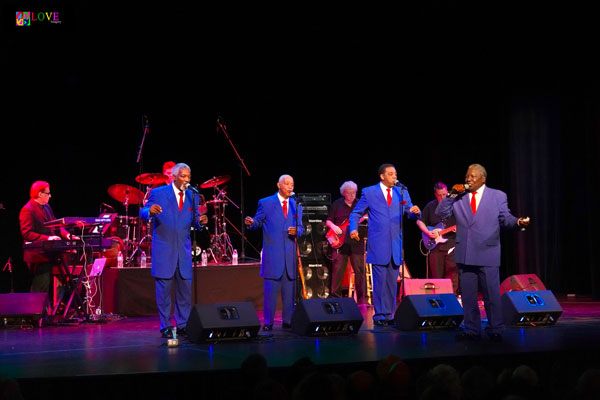 Changing the famous lyric to "They say the girls are somethin' else in Jersey," the audience beams, enjoying a legendary performer who proves that even after nearly six decades, he still has the voice and moves to sing and dance his way into everyone's hearts.
Charlie welcomes the happy crowd to the Strand announcing, "I'm 81 years old and I'm still moving! I love this old rock and roll — don't ever let it die!"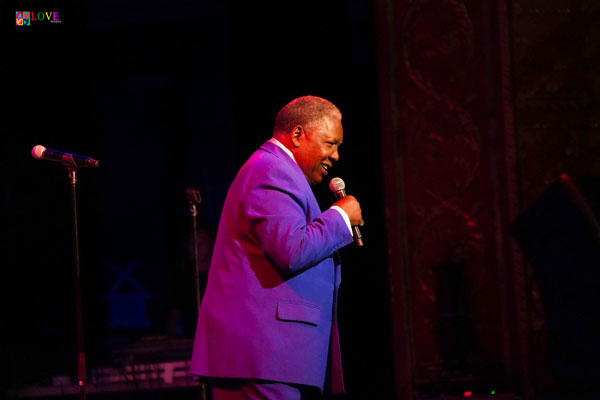 Moving on to "This Magic Moment," Charlie and The Drifters make magical moments for everyone present with a timeless performance of this '60s classic.
Launching into their 1962 hit, "Save the Last Dance for Me," The Drifters rhythmically echo Charlie's message to "Save the last dance," creating a lush backdrop to his impassioned plea as the crowd sings along. As the number continues, Thomas alternately instructs the ladies to sing and then the gents, acknowledging, "I like to hear the audience!" When a crowd member jokingly yells out, "When are we gonna get paid?" Charlie responds without skipping a beat, "Don't worry about it. It's in the mail."
Next, the combo performs "There Goes My Baby," the saxophone musically answering Charlie's questioning vocal, "Did she really love me?," before the quartet entertains the audience with their dancing on the group's 1961 Top 20 tune, "Sweets for my Sweet."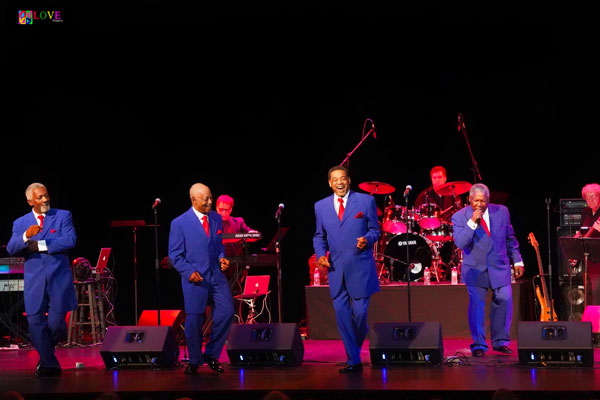 As the audience applauds, Thomas jokingly pleads, "Don't let rock and roll die, or I won't have a job! Please keep this ol' rock and roll going!"
Thomas shines on his heartfelt rendition of 1961's "Please Stay," and the audience cheers for the talent of this consummate singer.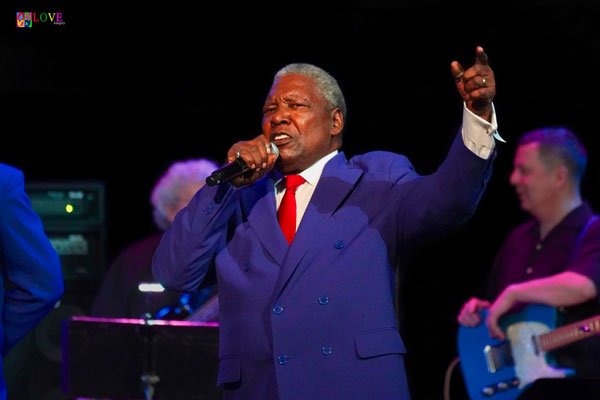 Charlie and Co. follow up with The Drifters' 1962 Top 5 hit written by Carole King and Gerry Goffin, "Up On the Roof." The crowd sings along — at least until they begin to holler when the quartet breaks into a precision dance routine, sliding across the stage and shaking it! As the men move to the groove, Charlie exclaims, "Give me some rock and roll dance party on stage! I'm 81 years old, and rock and roll's been good to me!" before noting, "I'm the last of the originals!"
Moving on to one of the highlight performances of the evening, Thomas and The Drifters perform their 1964 Top Ten smash, "Under the Boardwalk."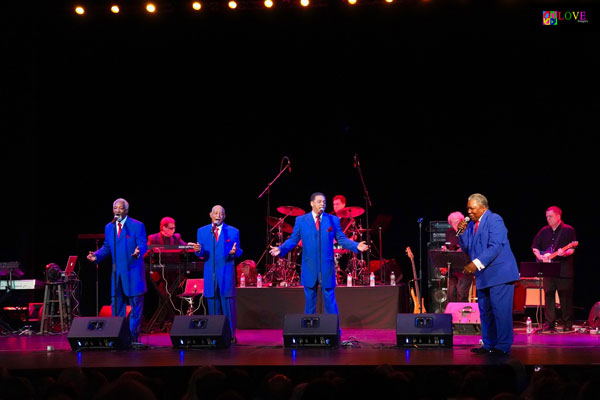 On this delightful rendition, members of this Jersey crowd have their hands waving in the air as they tunefully sing along to this famous soundtrack of summer melody.
Following what appears to be a spontaneous a cappella performance of "God Bless America" by Thomas, the rest of the quartet returns to the stage to perform an electrifying rendition of The Isley Brothers' "Shout," the entire audience on it's feet, hands in the air, echo-singing to Charlie and Co. who have the entire place rocking!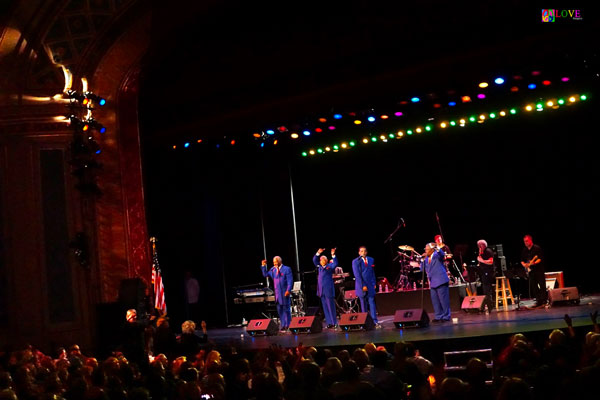 After huge applause, James D'Amico takes the stage one last time to introduce tonight's final act — The Brooklyn Bridge.
Audience members put their hands together as bassist Johnny Rosica announces, "We do our show in tribute to former Brooklyn Bridge members Johnny Maestro and Freddy Ferraro." Here, the band gets the audience clapping along to a 'shoop-shoop-de-doop" rendition of "My Juanita."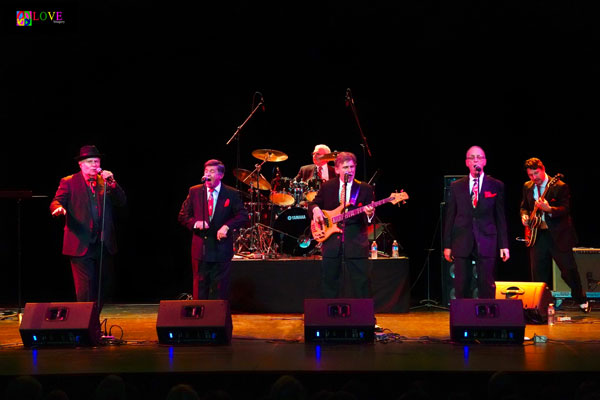 Moving on to a rockin' cover version of Jackie Wilson's "Lonely Teardrops," the crowd joyfully joins in echoing on the famous "Say you will" refrain.
Slowing things down, the band performs "My Prayer," featuring Joe Esposito, who pays homage to Johnny Maestro — former lead singer of both The Brooklyn Bridge and The Crests — with his dynamic vocal performance.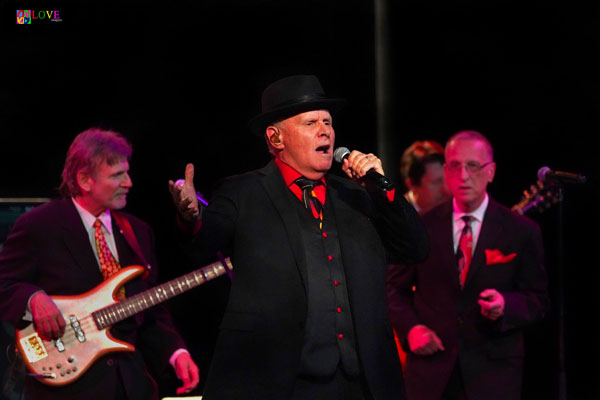 Announcing to the crowd, "In 1969, we had a double-sided hit record," the group performs one side of that 45rpm single, "Welcome Me Love," complete with cascading chords and tight vocal harmonies. They follow that up with their brassy version of the flip side of the record, "Blessed is the Rain."
The audience is impressed when five-part vocal harmony is featured on an a capella rendition of "You Gave Me Peace of Mind."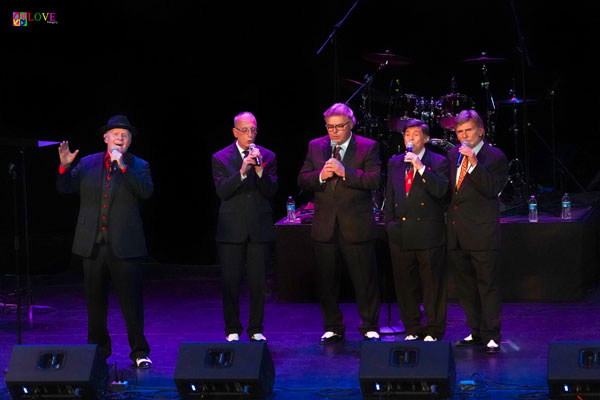 Moving onto "Step by Step," the guys sing, "Step by step/I fell in love with you/And step by step/It wasn't hard to do," on this bouncy number originally recorded by Johnny Maestro and The Crests.
The entire audience joins in on The Brooklyn Bridge's masterful take on The Crests' "Sixteen Candles," and the group follows that up with their dynamic version of The Righteous Brothers' "Unchained Melody," the crowd cheering wildly before the song is even over.
After introducing the current members of the band, The Brooklyn Bridge concludes the show by giving it their all on their 1969 Top 5 smash written by Jimmy Webb, "The Worst That Could Happen," with the entire crowd cheering on its feet!'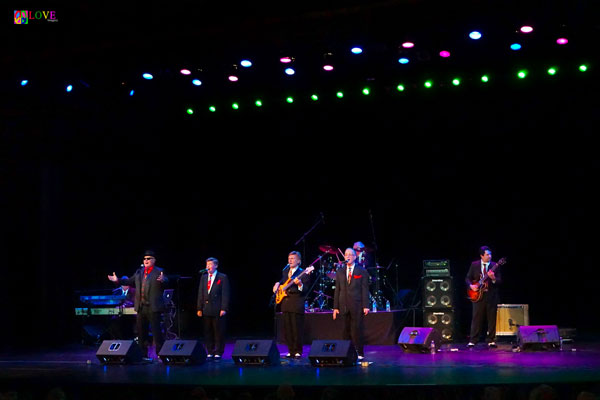 When the audience insists on an encore, the group returns to the stage and Joe Esposito is featured on a poignant rendition of "You'll Never Walk Alone" that brings the audience to its feet one last time.
As music lovers make their way out of the Strand auditorium, we chat with several members of the crowd who share their opinions of tonight's concert with us.
Says Jodi from Wilmington, "This concert was phenomenal! I especially liked The Classics IV's tribute to the veterans."
John from Toms River calls this "Golden Oldies" concert, "a beautiful show," before revealing, "I sat in the front row, and I even got a guitar pick from The Classics IV!"
Lois from Bayville comments, "My favorite group was The Brooklyn Bridge. This was my first time seeing them in concert. I'm so glad they were here!"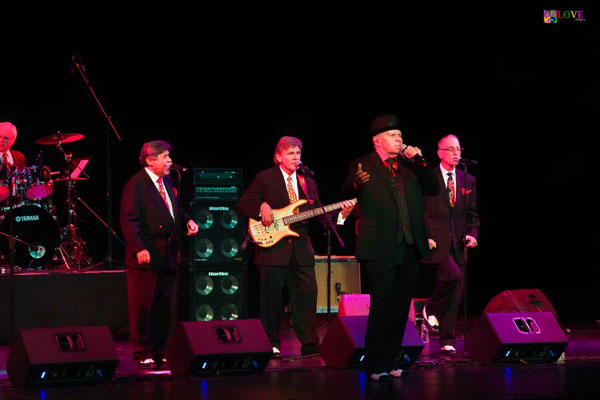 Linda from Toms River remarks, "We love the Strand — we've already been here four times this year. We like all the oldies' shows — they're wonderful," before adding, "And I loved how The Drifters were so patriotic — I'm so happy to be able to have heard them here tonight!"
Walter from Toms River concurs adding, "I used to listen to The Drifters at The Chatterbox Bar in Seaside Heights on the Boardwalk back in the early '60s. We'd see all the great groups there — Joey Dee and the Starliters and Frankie Valli and the Four Seasons — so hearing Charlie Thomas and his group tonight brought back a lot of memories for me."
Ernest from Chatham joins in, "I was a short order cook in Seaside Heights when I was 14 years old. At the time, all of these guys would come in for breakfast — The Coasters, The Drifters, Jay Black and the Americans, and Frankie Valli and the Four Seasons. I had always liked their music — I had grown up with it — so I've known all of these songs for a long time, and it was great to hear so many of them played tonight."
Lastly, Carmen from Toms River concludes by simply stating, "This concert was awesome — I loved all of it!"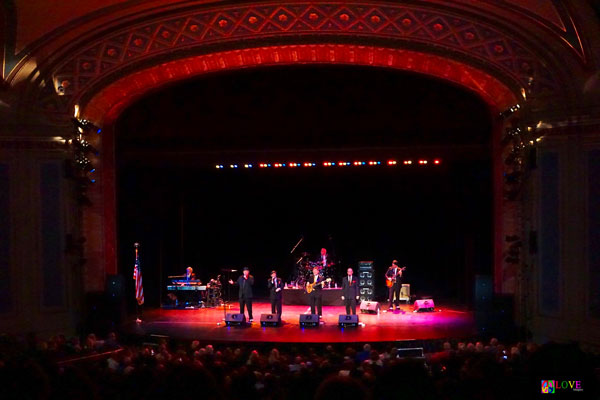 To learn more about The Classics IV, please go to theclassicsiv.com. For more on Charlie Thomas' Drifters, please click on facebook.com/Charlie-Thomas-Drifters. For further information on The Brooklyn Bridge, check out thebrooklynbridgeband. For info on upcoming shows at The Strand Theater — including The Machine Performs Pink Floyd on Nov. 17, Kashmir, the Live Led Zeppelin Show on Dec. 15, and Tramps Like Us, The Planets Most Revered Bruce Springsteen Band on Jan. 19, 2019 — please go to strand.org.
Photos by Love Imagery
Spotlight Central. Your source for Jersey entertainment news and reviews
Love Imagery Fine Art Photography. all you need. peace/love/flower/power