originally published: 11/09/2018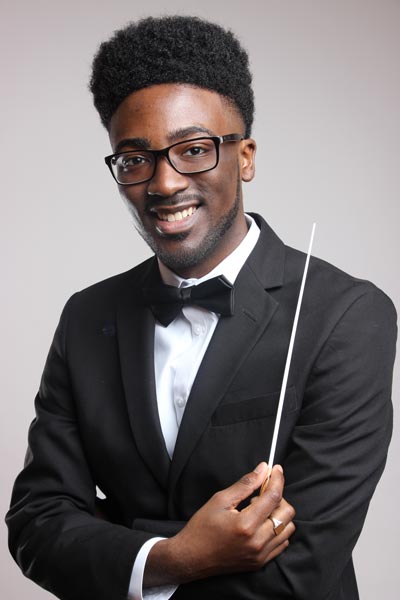 (PRINCETON, NJ) -- Westminster Jubilee Singers will present a concert titled "Examine Me" on Sunday, November 18 at 7:30pm in Bristol Chapel on the campus of Westminster Choir College of Rider University in Princeton. Led by the ensemble's conductor, Vinroy D. Brown, Jr., the program explores the Psalter (book of Psalms) and includes settings by African American composers.
The program features Psalm I by Nathan Carter, "The Lord is My Shepherd, Alleluia" from Adolphus Hailstork's I Will Lift Up Mine Eyes, Margaret Douroux's Day and Night Praise and works by Cedric Dent and M. Roger Holland.
Composed of students selected by audition, the Westminster Jubilee is modeled after the historically acclaimed Fisk Jubilee Singers.   Its repertoire, while specialized and select, is very diverse and focuses on solo and ensemble artistic expressions from its singers.  Part of Westminster Choir College's Sacred Music Department, the ensemble performs literature that includes African-American spirituals and folk songs; classical music by African-American composers; African chants and dances; gospel music and secular songs by musical greats such as William Dawson, Duke Ellington, Patti LaBelle, Walter Hawkins, Quincy Jones, Andre Crouch, Richard Smallwood, Kirk Franklin, Dr. Nathan Carter, as well as Westminster graduates, Rosephanye Powell, Donald Dillard and Roger Holland.  Also explored and performed are works by non-African-American composers, including George Gershwin, Alice Parker, Robert Shaw, Robert Page, Gail Poch, Steve Pilkington and others who have composed and/or arranged music of the African-American experience.
Vinroy D. Brown, Jr. is a member of the Sacred Music faculty at Westminster Choir College, where he conducts the Westminster Jubilee Singers. A church musician, he is director of music & worship arts at Elmwood United Presbyterian Church where his responsibilities include building music and arts programs. He maintains an active conducting schedule, and he is founder and artistic director of the Elmwood Concert Singers and artistic director and conductor of the Capital Singers of Trenton. During the 2018-2019 season, he will conduct Handel's Messiah, present concerts in Freehold and Long Beach Island, N. J., and present Duke Ellington's Sacred Music Concerts with the Elmwood Concert Singers. With the Westminster Jubilee Singers he will perform Undine Smith Moore's Scenes from the Life of a Martyr and Rosephanye Powell's The Cry of Jeremiah, and he will conduct the Capital Singers of Trenton in annual concerts and prepare both Capital Singers and the Trenton Children's Chorus for a performance of the Dan Forrest's Requiem for the Living. He will also headline the Harlem Classical Music Festival in New York this February.
Tickets are $20 for adults and $15 for students and seniors and are available by phone at 609-921-2663 or online at www.rider.edu/arts. Westminster Choir College of Rider University is located at 101 Walnut Lane in Princeton.  
---