originally published: 11/08/2018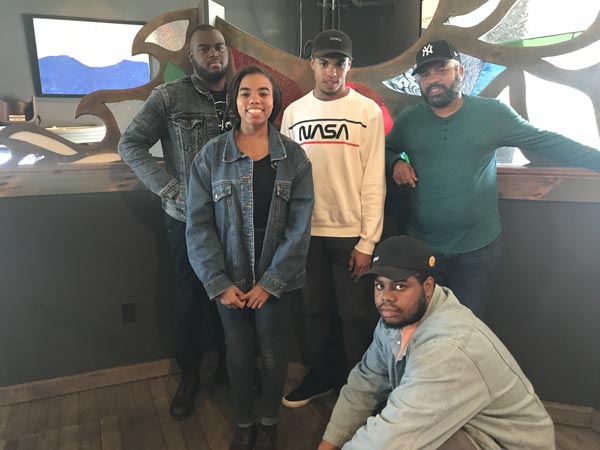 Participants in the Black Suburbia Music Group artist collective, record label and concert promotion are pictured at Langosta Lounge in Asbury Park. From left to right are founder Drew Barkley, aka rapper-singer Drew the Recluse; organizer/DJ Rachel Barkley; Morgan Barkley, aka rapper Momo Da Gawd?, Miles Winfrey, aka rapper Miles Nxbxdy, and Band Dad of the Year, James Barkley. PHOTOS BY BOB MAKIN
Influential Black Suburbia Music Group have unified the Asbury Park rap and rock music scenes with mixed bills and features, along with Chris Rockwell, Chill Smith, Bulletproof Belv, Matty Carlock and others. Mainly run by the Barkley family of Jackson, who has deep roots in Asbury, Black Suburbia chat about all that and what they have coming up as an artist collective, record label and concert promotion.

I always say the family that rocks together stays together.
The Barkley family of Jackson believes that too. That's why they work on Black Suburbia Music Group together.
An artist collective, record label, concert promotion and all-star rap music ensemble, Black Suburbia consists of brother rappers Drew the Recluse and Momo Da Gawd? (aka Morgan) and their brother from another mother, Miles Nxbxdy, whose mother knows him as Miles Winfrey. Rachel Barkley, Miles' girlfriend and Drew and Morgan's sister, helps run the group with father, James, a Neptune native with a long family history in Asbury Park. Other label acts include neo-soul songstress Jazz Coexist and psychedelic popster Philosophical Tom. 
Releases include three by founder Drew, most notably, the label's 2015 namesake EP, "Black Suburbia," and 2016's acclaimed "Vices" EP, and Miles' brand-new 13-song "Free Bird for the Free World" LP (look for a Record of the Week here on Dec. 13). Drew is readying his second full-length for a June release, while the other artists work on recordings. At some point, Black Suburbia will record as a group, the Barkley family and Miles said during a recent lunch interview at Langosta Lounge in Asbury Park.
As performers, Drew and Momo will headline there on Nov. 16 for the Second Annual Makin Waves Hunger Benefit for Food for Thought with Evangelia and Cook Thugless also on the bill. Exactly one week later, Drew will return to House of Independents for the fourth time this year to perform with Miles at the Asbury venue's third anniversary party. That free show also will feature gods, Von Mons and Little Vicious. And as a group, Black Suburbia will play as Wu-Tang Clan at Dark City Entertainment's soon-to-be-announced '90s New Year's Eve party at the Stone Pony, also featuring tributes by other top local talent.
No stranger to mixed bills, Black Suburbia has produced many during the past three years, particularly at The Saint. Along with Bulletproof Belv & Matty Carlock's local hit, "Dark City Lights," and Chris Rockwell & Chill Smith's frequent studio and stage collaborations, Black Suburbia has been a big influence on Asbury Park's continually unifying rap and rock music scenes. All of those artists' efforts inspired the weekend-long mixed bill of the Makin Waves hunger benefit, which also will include alone-and-together sets by Belv & Carlock, plus Sonic Blue, on Nov. 16 at Asbury Park Yacht and Nov. 17 with Rockwell, Smith, Experiment 34 and Nalani & Sarina at APYC and Des & the Swagmatics, Pamela Lopez and Tara Dente at Langosta. Admission to all the shows is free. Funds will be raised by artists' donating their pay, plus voluntary patron donations, a 50/50 raffle and a silent auction for a dozen valuable sponsor prizes. A canned food drive also will support Food for Thought's annual Thanksgiving and Christmas dinners for the homeless and the hungry at Langosta. 
As concert promoters, Black Suburbia will continue to play its part in closing the gap of a once segregated music scene. But first their rap-focused Suburbia Friday Nights on first Fridays at Asbury Park Music Foundation will flow through January. A version of the series expanded in run and race is expected to return September to March at APMF, Drew said.
Before Black Suburbia, members were a part of the Asbury music scene. Drew was in the young jazz-oriented band Outside the Box, featuring Mark Masefield, now of Remember Jones and Shady Street Show Band, as well as Matt Wade, who has his own band when not playing with Matt O'Ree and Nicole Atkins. Miles was a member of Trulogy with fellow Jackson rappers C. Truth and EFFBFABZ, both of whom Black Suburbia often collaborate. 
In the following interview, the collective talk about much of that history, as well as a bunch of dope plans.
Question: How and why did Black Suburbia Music Group come to be?

James: Drew started performing with a young man from Belleville, Jon Soul. He sent out emails to find a place to perform. They found The Saint and went out as Black Suburbia. 
Drew: Most of the options were pay to play in North Jersey. So I used my jazz background. I used to be a part of the Jersey Jazz & Blues Foundation, working with (keyboardist) Matt Wade and Mark Masefield, who's in Remember Jones, in Outside the Box. I knew that was a healthy resume to get us shows out here. The first two venues to hit us up were The Saint, which has become the home for Black Suburbia Music Group shows, and Asbury Lanes.

Q: What is Black Suburbia Music Group: a label; a collective; a group, like Wu-Tang; concert promotion, all three or something else?

Drew: I would say it's all three, but designed in its own unique way. It started off as a duo with me and Jon Soul. He was the DJ, and I was the performer. It then evolved into shows. We got the opportunity to put a show together at The Saint after an act dropped out. They gave us three days to put it together, and there were 80 people in there after promoting it for only three days. With that, we decided to say, 'We would like to do another show here. Just give us a proper amount of time to really promote the show.' Then we had a show Dec. 26, 2015, and there were 216 people in there with a line out the door. There were actually so many people outside that a gentlemen with a hot dog stand ended up driving by, parking, and getting a hot dog stand out for people who were waiting to get inside. One of our boys was performing, and his parents still were waiting outside. We had to get people outside to get them inside.
Morgan: That was a very inspirational show. That's what made me want to do music. That was probably the most inspirational thing I'd ever seen. I wasn't even into music before that, then I saw that show, and I was like, 'Dang, that looks fun.'
Drew: It was an awakening to the possibilities. With all those people in there, we didn't have trouble, we didn't have fights, we didn't have people being vicious to the venue. We handled everything professionally. We brought a crowd out that Scott (Stamper, owner) loved. With that show, we saw we had the possibility to put together great shows, giving people an alternative to the pay-to-plays.
Q: What artists are involved in Black Suburbia Music Group and what is happening for each of them as far as events, records, videos and tours?

James: We have Drew the Recluse, Miles Nxbxdy, Momo Da Gawd?, Jazz Coexist, and Philosophical Tom. We have a crazy mixture of music. Morgan's brand of hip hop is very old school. Drew is R&B mixed with a little hip hop. Miles is punk hip hop with a rock appeal to it. Jazz is that neo-soul jazzy, bluesy type of singer. And Tom is psychedelic rock. 
Miles: But he also puts a lot of '80s pop into his work. He doesn't have anything out right now, but I've heard a lot of it. It's definitely coming along. 
I just released my album. I have in the works two music videos and a short film. One music video should be out in December, the other in January. The short film should hit in April. And I'm also working on three collaborative tapes: one with Drew, one with Gnarly Nonsense of OFFTOPKILLS, and another one with EFFBFABZ from my other group, Trulogy. 
Drew: I'm working on my second album, which is very much inspired by contemporary hip hop and R&B music, but also cinematic composers: John Williams, (Ryuichi) Sakamoto. In our approach to hip hop, we do unique things. Everything is such an oversaturation with the same kind of sounds, especially right now since hip hop is pop music right now. It's very easy for people to get lost in the sauce. We ride in our own lane, and we're inspired by the things that are on the Jersey Shore as well. There is a punk scene in Asbury Park. We've been to some of those shows. There is a retro '80s-ness to the Jersey Shore that inspires the music that I do. 
James: Drew is going to shoot for June. He does have a couple of singles that will be out early next year. And then we want to start doing something for Morgan. 
Morgan: I'm going to school now at Brookdale working on a music technology associate's degree. I'm trying to work on producing my own beats so I can make an EP of songs that I've written. For now, I'm performing. 
Miles: Jazz has almost a whole album written and 75 percent of it has been recorded. She's also away at college. She goes to Hofstra, but when she's back, we'll finish up that album. I think we were trying to get it out in March. 
And Tom's album is done. He's getting it mastered right now. We're going to figure out when he's going to drop, but the big thing is that we have to make music videos for everybody. There's a lot of groundwork you have to do before you release things. So with those two, it's definitely going to be before July. 
Drew: Everybody's branding is on point. We sit down with each other and talk about how we feel about certain things. Miles comes into the studio with me whenever he can to tell me, 'That was a terrible take. Do it again.' And that honesty is really important to me. I would say that Miles is like Stanley Kubrick, making you do things that you never thought you actually could do, but it's real, and it's honest and necessary. Art is raw and honesty is raw, so that correlates really well.
James: It's collaborative, working together as a collective, a group. We're all close enough. We are all family, Jazz and Tom and Miles. 
Drew: That's how we operate, like family, so we can be critical of one another, and nobody's feelings get hurt. Being that way, you can look at yourself and know your brand and build your image, know what you want to be when it comes to making the music you want to make. 
Locally, I've always said there needs to be more cross-camp features, more people doing songs with other people. That's why we love doing the Black Suburbia Music shows because it's saying, 'I really like this guy's music. I really like what this guy is about. Let's put them on a show with us.' Then we can have that person be involved with what we do, and we can be involved with what that person does. That's the big take away. 
We are all each other's success in terms of collaboration, in terms of art, in terms of culture, in terms of anything that gets done. And the more and more that we work among each other, the more people will want to work with us, and we'll work with them. It's setting an example of something genuine, something that sticks.
Q: Will Black Suburbia Music Group release an album as a group, like Wu-Tang Clan?
Miles: Oh, we are. It's happening, maybe the end of next year.
Drew: There is an influence of Wu-Tang, but there's also an influence of Odd Future and Rock Hampton, even like Bad Boy Records, where artists have done individual tapes, but they're going after each other in each song. 
We also think about ways that we can up the ante with our shows. We focus on lighting, aesthetic, tone, song placement. Some of us have incorporated live instruments into our music. Miles and I have used drummers, keyboard players, guitars, a full band. Now we're starting to get into background visuals, which I'll be using Nov. 23 at the House of Independents' anniversary show. To have those things adds more and more to our set. And you don't have to have a great budget to do those things, you just have to have the will. 
This year, I will have been on the House of Independents stage performing music, whether it be  with The Cold Seas being featured with them; my first show that I did there with a full band at the Chris Rockwell album release party in March. This year was just nuts in that I've been on that stage four times and by the end of the year, I will have been on the Stone Pony stage two times. I remember I stopped emailing them because they tried to do hip hop shows, but it never panned out the way that they wanted. So to have been able to by the end of the year to have performed on that stage twice all in one year is incredible.
But that's what's so cool, we can do a show as a group, like doing the charity (Food for Thought), which is so important to us, and at the same time, we can break everything down, do everything individually, still promote the plan of Black Suburbia. 
Q: Miles, what are you most proud about your new album and why?
Miles: I'm actually proud about how it came out. Everything -- the sounds, the mixing, the lyrics, the presentation of it – is exactly what I wanted, and that's hard to accomplish as an artist. The quality is what I wanted it to be. I love the album, but I see the blemishes, the shortcomings. I'm already over it, and working on the next thing. Gotta keep pushin', gotta keep trying to make the music exactly what you want. 
Drew: My EP, 'Vices,' was everything that I wanted it to be. We have a friend C. Truth who was on Miles' album and I've played some songs with. He was part of Trulogy. I remember him saying to me, you need a couple more songs on it. I said, 'No, it's got to be just four songs.' And that was the only complaint that I ever got with that EP: 'I just wish you had more songs on it.' The reason I did that is because of the Internet and people's attention spans, I wanted to streamline things and not have any fillers, really get to the point with everything. 
So for this project coming up, it's got more songs it, but it's taking that sound growing it from being a boy to being a man. It's going to be spectacle to the max. We're going to do a tour. Miles is really pushing me with his album that he just did. It's so monumental that it's really pushing me to take my sound and move it forward, to make things as great as he did.

Q: James and Rachel, what behind the scenes roles do you play in Black Suburbia?

Rachel: It's mostly to manage them. I wear a lot of hats. I manage them, which is when things should be released, planning the templates, scheduling, the meeting minutes, all the paperwork for shows. I stage manage, so if you see me running around at a show, that's what I'm doing, keeping everybody on time. I've been DJ here and there, which is not something I ever expected to do.

Drew: (whispers) But she's good at it.

Rachel: I even fill in when artists aren't there and do their raps.

Miles; She knows all the songs. It's a natural gift.

Rachel: I don't like being on stage, but it happens. I also help with social media, music videos, short films.

Q: You're like the glue as the middle sister.

Rachel: I'm like a mom to a degree. I definitely shouldn't be Miles' mom, but everybody comes to me if they have an issue. They all let me know what's going on. Mom is probably the best word. That's what it feels like.

Miles: DJ Soccer Mom (all laugh).

James: I try to keep the money side in order. The shows help us fund the things we want to do. You gotta pay your band, you gotta pay your DJ, so I make sure all those things run. I try to help Rachel keep these guys going in a certain direction. I try to be that person who pushes them to step above where they are at this point. 
I'm a big fan of the hip hop band concept, like The Roots. I'm a big fan of Jay-Z's work with Linkin Park. Live instruments bring something to music that backing tracks just don't. So I push them in that direction, so we're working on putting bands together. My job is to influence them to take it to that next level.
Drew: It would be great to talk to bands in the area, like The Cold Seas, gods, Matty Carlock, learn how they operate.

Q: James, is your wife, Barrie, involved?

James: Only in that she is very social. If you go into any restaurant in Asbury Park, the owner and the manager know her. So she uses her contacts to help find them places to play.

Q: How long have you guys been married?

James: 25 years, but we've been together for 30.

Miles: They were high school sweethearts.

James: Her mother taught me in sixth grade at Lakewood, and she went to Lakewood Prep. We met when she was 13 and I was 14. Then we started dating four years later.
Q: So you're all from Jackson, which is where a good chunk of the Pine Barrens used to be and still is to some extent. How long have you lived in Jackson, how has it gone from rural to suburban, and what influence has Jackson had on Black Suburbia and why?

Drew: We grew up in the same house that our mother grew up in. My grandmother and my grandfather were educators, and I think they were the first African-Americans in the development that my mother grew up in. Both were from Newark.

James: They moved there in 1969 … and my wife was born there in 1972.
I grew up in Lakewood and the Asbury Park/Neptune area. Jackson was the sticks as far as we were concerned in Lakewood. We felt like we were a big city compared to Jackson. 
Jackson has changed a lot since I was a kid and could ride my bike down County Line Road without fear of getting run over. My kids don't even know Jackson like that. It was already pretty built up.
Drew: But even when we were kids to what it is now, it's insane how much it's grown. We have two McDonalds. We have six Wawas. 
Miles: And three QuickCheks. 
Drew: There was nothing really there for us to do. Everything was spread out, so you have to find things to do. And you have many options in terms of finding things to do if you're creative. We were recording music at our friend's house in his bedroom for three years to make music. We went to the newer high school (Jackson Liberty). We had money donated by Cablevision for their TV and film programs, and we were all a part of that. That got us into storytelling. Being a part of woodshop got us into design. Being a part of theater, Rachel, Morgan and I were all on that high school stage doing plays.

Q: When did you all graduate?

Miles: I'm 2010.
Drew: I'm 2012.
Morgan: I'm 2016.
Rachel: I'm 2013.

Q: While Jackson has grown with suburban sprawl, Asbury Park has grown with revitalization. Did the revitalization and Barkley family connection to Asbury Park draw you back here?

James: My father is an Asbury Park native, went to Asbury Park High School. He used to be board member on the Jersey Shore Jazz & Blues Foundation, so that's how Drew got his start with them. He had a big part in the youth program that they did, so Outside the Box was a part of that. 
I would always come back to Asbury Park. Even when the revitalization wasn't going on, my wife and I would walk around when one bar was open on Cookman Avenue. I would tell her about where I used to live. But the revitalization to me is really important. This is where it all started from me. I have an Aunt who still lives on Third Avenue. The Barkleys have been in Asbury Park a long time, so the city is important to me. 
Drew: The truth is there really is nowhere else to play, especially in Jackson.

Miles: We've been to Jersey City and Newark, but our style of music, because we're from Jackson, is from a whole different perspective and something that people actually can attach to in this area. That's not to say that people in those areas don't attach to our music because they do. People come out to support us and want to collaborate, but there's a bit of a culture gap. 
Morgan: It's kind of like a Goldielocks thing because if you go too far north, there's a different feeling, and if you go too far south, there's another feeling, but right here in Asbury Park, it's a great middle ground for all of our music. I feel like in South Jersey, they really wouldn't understand a lot the essence of Drew's R&B. And then you go too far north, and they might not understand some of the essence of Miles' punk. Right here, you can get all of that because you have the rock 'n' roll and there are a lot of rappers. 
James: Asbury Park has always been a hub for Jersey music. What better place to be than Asbury Park if you're an artist. The way the city highlights any type of artist – pictures, music, video -- whatever you want to be creative with, this is the spot to be. 
Drew: And it's great to be a part of a new history, a new moment of the city trying to get to the level of a New York City or a Philadelphia or a Nashville or an Austin, Texas, in terms of festivals with See.Hear.Now and everything. We love to be a part of those things because I feel we learn from being a part of those things and being a part of shows with different genres and different artists and different people. That's what sets us apart from the rest of hip hop is a broader approach, a broader spectrum, and also broader opportunities. 
Miles: We have a lot of crossover appeal.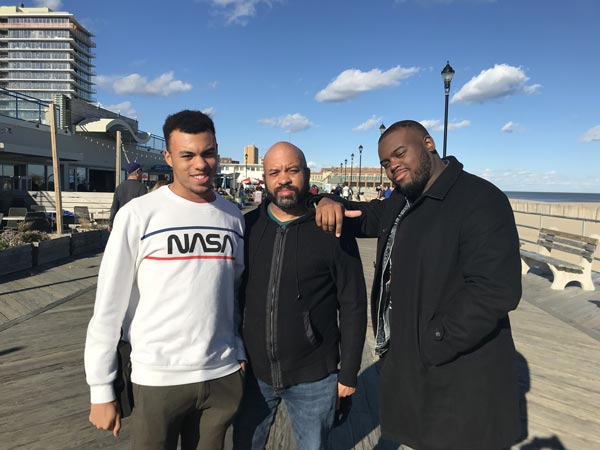 Morgan, James and Drew Barkley of Black Suburbia Music Group outside Langosta Lounge on the boardwalk in Asbury Park, which is where their family has hailed from for many years. On Nov. 16, Morgan, aka Momo Da Gawd?, and Drew, aka Drew the Recluse, will perform on Nov. 16 at Langosta at the Second Annual Makin Waves Hunger Benefit for Food for Thought.
Q: James, how does it feel to reconnect to Asbury Park through your sons' music?

James: It's awesome. It truly is awesome. I love the beach. I'd walk on the boardwalk when it wasn't a great city to walk on the boardwalk. None of that matter to me because it was home. But now, my children get to perform and be a part of this city and create a name that will forever be attached to what's going on in Asbury Park. It's really exciting. To see articles with their faces in the newspaper, stories about them in the Asbury Park Press, you doing this interview with us, this is stuff that is going to archived on the Internet forever. That's really exciting.

Q: How AP has evolved into a great live hip hop scene and why?

James: Part of it is what we've done. We've come in and given a little bit of room for artists to say, 'Hey, I don't have to do pay-to-plays' … because Black Suburbia has gotten them in to do shows. They're doing ticket sales for their art and not being taken advantage of. 
The second thing is collaboration. When you have hip hop artists, like Drew, like Belv, and some others, trying to work with artists in rock and punk, you get more exposure for hip hop. You get people looking at it differently than the raw, really emotional hip hop that comes from the deepest, most difficult parts of any city. I've always been a hip hop fan, so hip hop started out about the black struggle and then the unity within our community as black folks. And a lot of hip hop wasn't accepted when you went into other communities. Then as hip hop has grown and become a really large mainstream genre of music, it's far more acceptable, but there are still pockets in places that don't want to bring the live aspect. There's a stigma to it that of you bring a large hip hop crowd, you're going to have gun violence and gang bangers.
Miles: None of that really exists out here.

Q: Why do you think the venues and the rap shows in AP are so chill?

Miles: We know artists from that part of Asbury. In that small area, yeah, there's violence, but a lot of them look at it as, 'Why?' They have respect for the artists. 
James: They're artists first, and the people who surround them may have rivalries in town, but when it comes to the art, that's where it stops. When you and I went to school, there was always music; there were always art classes, there were always those creative possibilities that don't exist in a lot of schools anymore. They just don't have them. But the thing about artists is that they bring people together. People may have different opinions or not like each other, but still find something in common in a song or a photo, a movie or poetry. 
Miles: When they see somebody with talent, whatever it is, they want them to succeed in that, and they don't want to be the reason why they were inhibited. When we talked to Bulletproof Belv, who grew up in a similar kind of environment, he was saying something similar to that. When it comes to music, people just want him to be successful. If you have a chance to get out, they want you to get out.
James: Growing up in Lakewood, I had friends who were drug dealers, and I thought about doing that because I needed money. And they said, 'You need money? I'll give you money. Get your A's and get your B's and run your track. You're better than that.'
As rough as gangs may be, they recognize when people have talent, an ability to do things outside of their community, to rise up who we are as black people rather than feed into the stereotypes that are seen about us. They recognize that and that transfers over to art. When people see that someone is really talented at whatever they do creatively, they want to be a part of that, they want to see that succeed because it transcends race, culture, country. It transcends all of that if it's really good art, and that's what we're trying to keep pushing and expand that so people will know that rap music, hip hop music, there's no violence in that culture. Some of the music may talk about it, but that's some artist talking about where they grew up, what they've seen in their lives, and that's really expression. For them, it's not really a way of life, it's just, 'I'm telling you about my life, what I'm going through and sharing with you that part of me.' 
I'm glad that the scene shifted. When I talk about music with my father in Asbury Park, he always talked about on the east side of Asbury Park, you had rock music, and on the west side, you had your jazz and blues. And a lot of those bands had a hard time coming down here to play. They would play Convention Hall, but a lot of those small popular rooms didn't accept those jazz artists, those blues artists from those days on this side of Asbury Park. They had to play on that side. And then when things were bad and there were Asbury Park riots, all the folks who rioted, rioted over there. They didn't riot over here, so all of that got destroyed. 
I would love for Asbury Park to be the hub for music in New Jersey, and I think it's well on its way. Ryan (Gamound) from Asbury Park Music Foundation's Beat Bus said he moved to Asbury Park because he believed that Asbury Park was going to be the place that puts out a new sound that will inspire music all over the world. And he felt that Drew was going to be a part of that, that we were going to be a part of that. That right there is collaboration, and that's what I want Asbury Park to do. We can create a sound, a culture, a vision for Asbury Park that brings opportunity together and unity.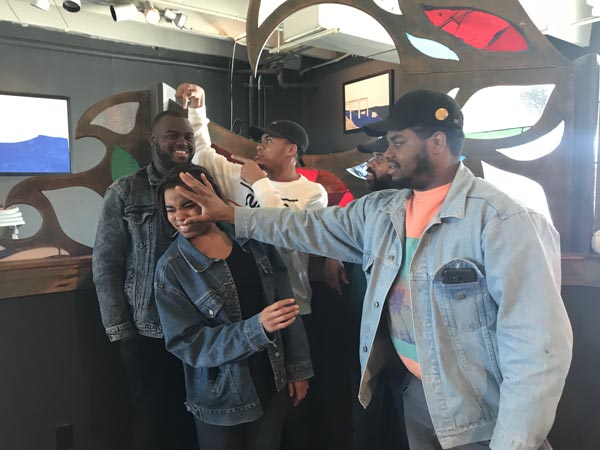 Black Suburbia nerding out at Langosta Lounge in Asbury Park. On Nov. 23, Drew the Rapper, far left, and Miles Nxbxdy, far right, will help House of Independents, also Asbury Park, celebrate its third anniversary with gods, Little Vicious and Von Mons.
Q: It's so cool that Asbury Park is so chill with live rap music because other cities in New Jersey won't have it.

James: It's the level of professionalism that we bring to a venue. We're not going to go in there with a gangster attitude that might come with some artists. 
Drew: I'm not that at all.
Miles: That's not our brand.
Drew: I'm a nerd. I like 'Star Wars' (all laugh).
Morgan: I like NASA.
Miles: I like anime.  
Drew: Rachel likes Wes Anderson films (all laugh). We're artists. 
When it comes to hip hop music, it is synonymous with black culture, so whether you're a small local artist or a big pop artist in terms of hip hop being pop music, you represent that culture. And when you do something that is unprofessional or not articulated well, and you're walking out with a lasting impression that is negative, we live in a world where people remember you for the negative things more than the positive things. You hurt everybody in the situation. 
James: Gang-related shootings have nothing to do with hip hop culture. They just happen at a show where hip hop is happening. It may not be gun violence, but I'm sure there are fights and brawls at all types of shows.
Miles: At punk shows, you have mosh pits. People come out with broken arms, missing teeth, a broken nose. 
Drew: We haven't had a fight at any of the shows we've done. 
Rachel: People are looking for an excuse to attach any sort of violence to black people and misrepresent hip hop culture. When people are given a reason to, they immediately jump on that. It's more indicative of a racial divide than anything. There are plenty of punk artists who are black, and even they have trouble finding shows. Not here, but just in general. 
Miles: In New Jersey, unfortunately, because if you go into the city, those issues don't exist. If you go to Philly, those issues don't exist.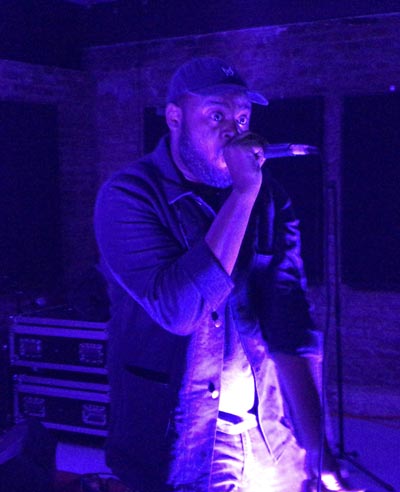 James: If you want to bring an artist into your show, know your artist, know their audience. If you don't know your artist and their audience, find somebody who does. 
We preach love at our shows because that's what we want. Hopefully, we'll leave you with a good impression of love and peace, and you'll take that home with you. 
Rachel: A&R doesn't exist anymore because that's a dying field, but realistically, each venue should have someone like that to curate. Go out to shows and see who they are and who they bring in.
PHOTO: Drew the Recluse at Asbury Park Music Foundation.



Q: How and why do you think Asbury Park Music Foundation has embraced Black Suburbia and rap in general?

James: As far as our relationship with Asbury Park Music Foundation, we're really professional. That's the first thing that Jim (Lenskold, chairman) said to me when we sat down to talk about shows. He wants hip hop expanded in Asbury Park. When he thought of ways of trying to do that and bring in a series of hip hop, he said the first people he thought of were Black Suburbia Music Group.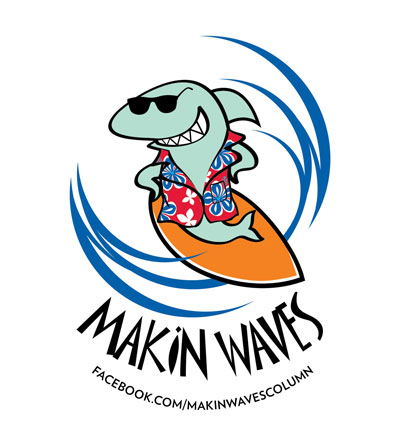 Bob Makin is the reporter for www.MyCentralJersey.com/entertainment and a former managing editor of The Aquarian Weekly, which launched this column in 1988. Contact him at makinwaves64@yahoo.com. And like Makin Waves at www.facebook.com/makinwavescolumn.