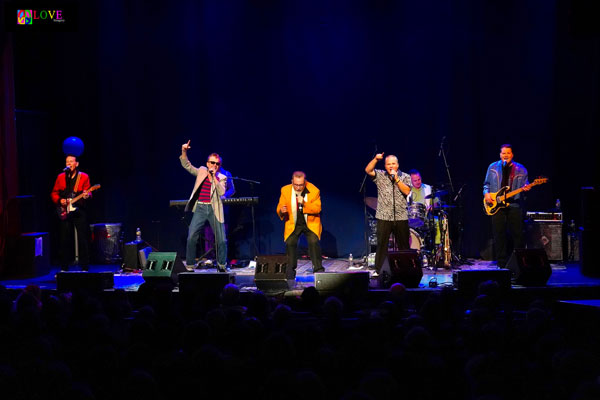 The audience is streaming into the Newton Theatre auditorium in Newton, NJ this Friday, Oct. 19, 2018 for a live concert starring Sha Na Na!
Sha Na Na started out in the late 1960s as a rock and roll group while the members were all students at Columbia University. Originally billed as The Kingsmen, they changed their name after another band with the same name scored a hit with "Louie, Louie." As a '50s tribute group, they took their new name from the nonsense syllables in The Silhouettes' 1957 smash, "Get a Job."
In 1969, they performed live at Woodstock, and their appearance in the documentary film on the event started a nostalgia craze for '50s music that inspired the Broadway musical Grease, the film American Graffiti, and the TV show, Happy Days.
On tour, Sha Na Na opened for such groups as The Grateful Dead, The Mothers of Invention, and The Kinks. Once they reached headliner status, others opened for them, including an up-and-coming singer from New Jersey — Bruce Springsteen. In 1972, former Beatle John Lennon invited Sha Na Na to perform at a benefit concert held at NYC's Madison Square Garden.
From 1977–1981, the band starred in the syndicated Sha Na Na TV variety show which featured music, skits, and guests including Chuck Berry, Little Richard, Bo Diddley, The Ronettes, Chubby Checker, and more.
---
The article continues after this ad
---
---
In 1978, the members of Sha Na Na appeared in the film version of Grease as a '50s band called Johnny Casino and the Gamblers. Several of the group's tracks appeared on the film's soundtrack album including two songs from the original Broadway show — "Those Magic Changes" and "Born to Hand Jive."
Still rockin' today, the group tours with original member Donny York on lead vocals.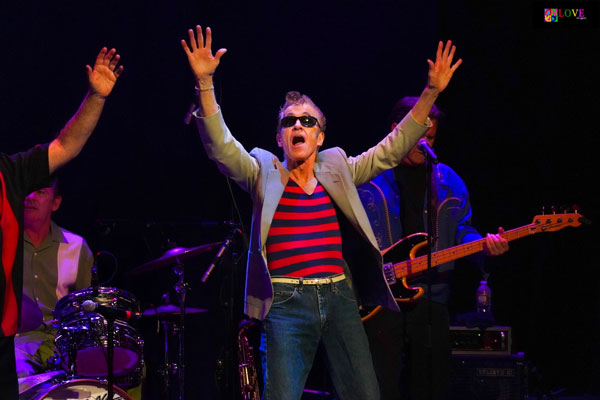 Original member Jocko Marcellino also handles lead vocals.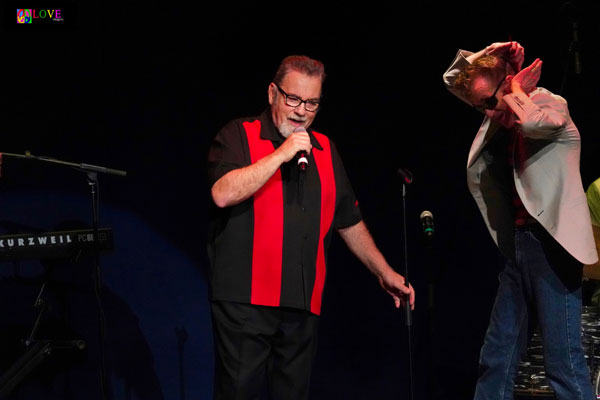 Keyboardist/vocalist Screamin' Scott Simon joined Marcello and York just following the group's 1969 appearance at Woodstock, and is still touring with them nearly 50 years later.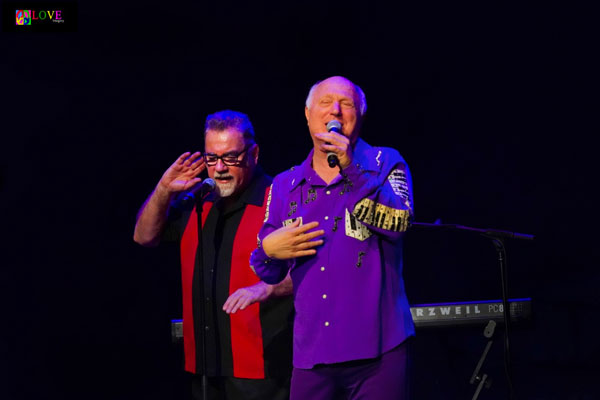 Rounding out Sha Na Na these days is bassist Tim Butler, guitarist Randy Hill, drummer Ty Cox, and sax player Michael Brown.
Before the show begins, we take a moment to catch up with several Sha Na Na fans here in the Newton Theatre auditorium.
First, we chat with Tara from Morris Plains who reveals, "I've been a fan of the group for over 30 years," citing the Sha Na Na TV show as one of her favorites.
A frequent visitor at the Newton Theatre, Tara tells us that she not only attended a Beatles' tribute show here last week, but she's especially looking forward to Ted Vigil's upcoming John Denver tribute show at "The Newt" because, as she explains, "Wherever you sit, it's a good seat!"
We also chat with Mel from Andover, who has been fan of Sha Na Na since the 1970s. Revealing he saw the group in person back in those early years, Mel declares, "I love the music of the '60s and '70s, and to watch this group perform it live on stage is a great experience," explaining, "It's not just singing — it's an entire show!"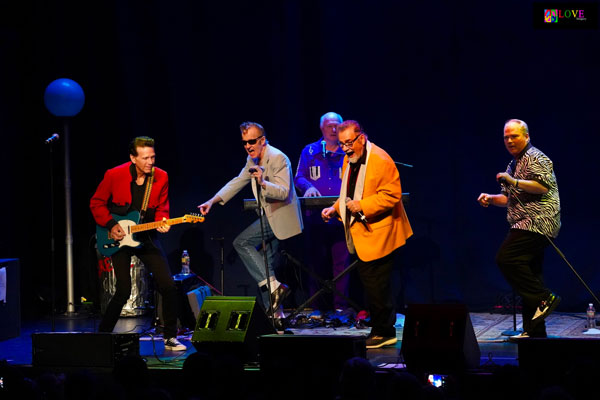 Mel's wife, Ann, is also a fan of Sha Na Na — not only for their music, but for their comedy, recalling, "I loved their skits on TV — every song was not only fun to listen to, but fun to watch!"
Ann is also a fan of the entertainment programming here at the Newton Theatre revealing that she and Mel, too, plan to attend Ted Vigil's "John Denver Christmas" show here on Dec. 8.
Dave from Vernon recalls that, as a kid, he watched the Sha Na Na television show, acknowledging, "Tonight is my first time seeing them in person, before adding, "I hope they perform a wide variety of music."
Dave's wife, Karen, concurs, before noting, "I just love all the songs they do!"
The lights dim and the excitement starts to build as the current members of Sha Na Na — Donny York and Jocko Marcellino on vocals, Scott Simon on vocals and keyboards, Tim Butler on bass, Randy Hill on guitar, Ty Cox on drums, and Michael Brown on sax — take the stage.
The group opens the show with a lively rendition of the song they performed in the film, Woodstock — Danny and the Juniors' "At the Hop." Featuring strong harmonies and a fun Scott Simon keyboard solo, the group displays an incredible amount of energy in their fifth decade as a band!
Several audience members can be seen twisting along with Sha Na Na on the group's rendition of Joey Dee and The Starliters' "The Peppermint Twist." After a rockin' Randy Hill guitar solo, the audience sings along with lead vocalist Donny York on the song's famous "Hey, hey, hey, hey" interlude.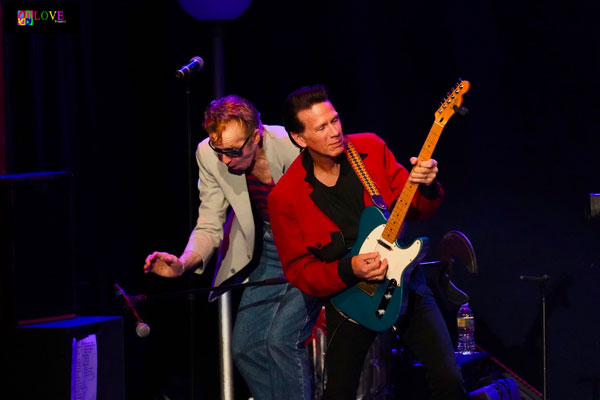 Performing a number they did in the film, Grease, Sha Na Na gets the crowd involved on "Born to Hand Jive," where they invite audience members up onto the stage to hand jive with the band. The audience responds with huge applause, and gets even more involved as the group invites everyone to get on their feet and "shake it all about" on the "Hokey Pokey."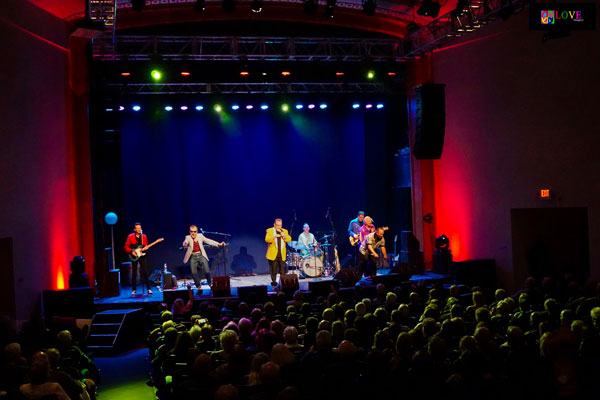 Keyboardist Scott Simon is featured on The Drifters' "Save the Last Dance for Me," when he chooses a lovely lady in the crowd and brings her onto the stage to dance while comically maneuvering his back side to the audience and shaking his groove thing on the song's catchy "Save the last dance for me" chorus.
Following inspired Jocko Marcellino vocals on Johnny Maestro and The Crests' "Sixteen Candles," the audience claps along and shouts out the lyrics on the group's rendition of The Champs' "Tequila" — a number which features saxophonist Michael Brown. As the audience claps along, the band segues into Bill Doggett's bluesy "Honky Tonk" which features a duel between Randy Hill on guitar and Michael Brown on sax.
After announcing,"This year is our 50th year as a band," Jocko Marcinello explains that after their appearance in Woodstock, "we went to Hollywood to shoot 97 half-hour episodes of the Sha Na Na television show and followed that up with an appearance in the movie, Grease."
Adding, "Here's some stuff from Grease," the group performs an up-tempo rendition of Elvis Presley's "Hound Dog," and they follow that up with a slow but, then, rapidly accelerating doo-wop rendition of The Marcels' "Blue Moon."
Bassist Tim Butler handles the lead vocal on The Riviera's "California Sun" — as audience members dance — before everyone rocks out to a cool Michael Brown sax solo.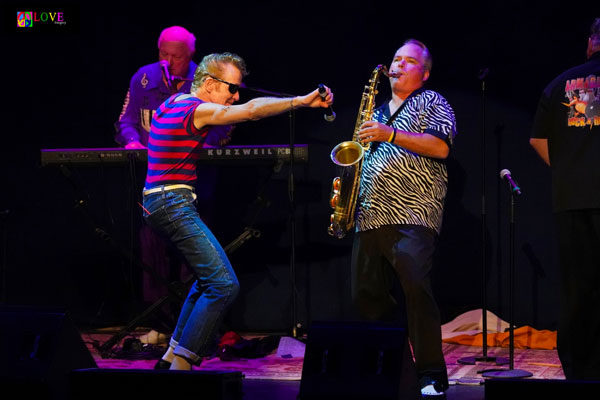 Comedy reigns on Brian Hyland's "Itsy Bitsy Teenie Weenie Yellow Polka Dot Bikini" as Screamin' Scott Simon takes the stage sporting sunglasses and a towel and removes it to reveal that he is, indeed, wearing a yellow and black polka dot bikini!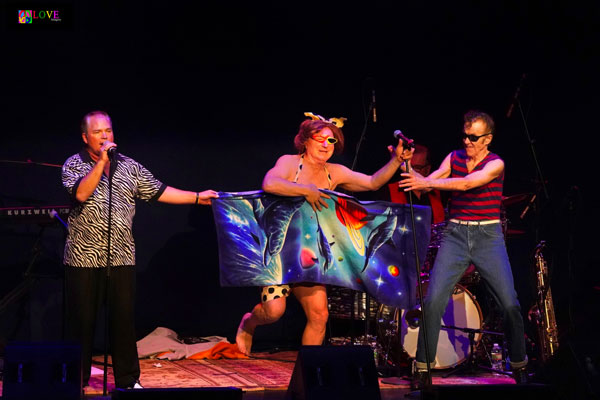 A highlight of the show is Sha Na Na's instrumental rendition of The Surfari's "Wipe Out" — featuring dueling guitars and lead singer Jocko Marcellino taking a drum solo — which segues into a twangy '60s guitar version of "Walk Don't Run" by The Ventures.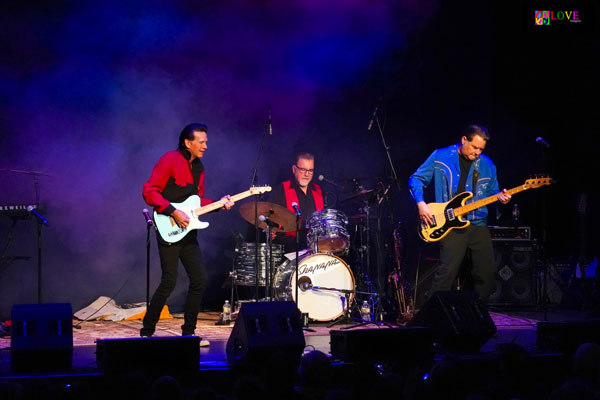 The audience enjoys a touching rendition of The Righteous Brothers' "(You're My) Soul and Inspiration" before Act I concludes with a dynamic version of Ray Charles "What'd I Say" featuring strong Scott Simon keyboard playing, four-part vocal harmonies, and audience members joyously singing and dancing along to the happy Sha Na Na sound.
Following a short intermission, Act II opens with Sha Na Na's version of The Del-Vikings' "Come Go with Me." Starting out as an a cappella arrangement, as soon as the instrumentalists kick in, a couple can be seen dancing in the front of the auditorium while Michael Brown rocks out on the sax. And Brown continues to impress on The Clovers' "Love Potion #9" when he holds a single note for what seems like minutes on end!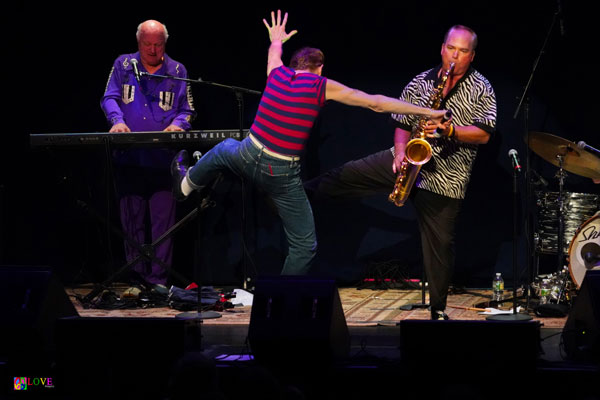 The crowd cheers before Donny York says, "Our best audiences are always in New Jersey, so sing along on our next tune!" Here, the audience happily joins in on Dion and The Belmonts' "Teenager in Love," the entire crowd crooning, "Why must I be a teenager in love?
Organ and saxophone shine on a dynamic version of The Dovells' "You Can't Sit Down," which the audience loves and demonstrates it by cheering excitedly!
Donny York handles the lead vocal on The Cascades' "Rhythm of the Rain" as he and several of his bandmates twirl umbrellas on stage. When a streetlamp and garbage can appear on one side of the stage, he sings under a streetlamp as the group croons their version of The Five Satins' "In the Still of the Night."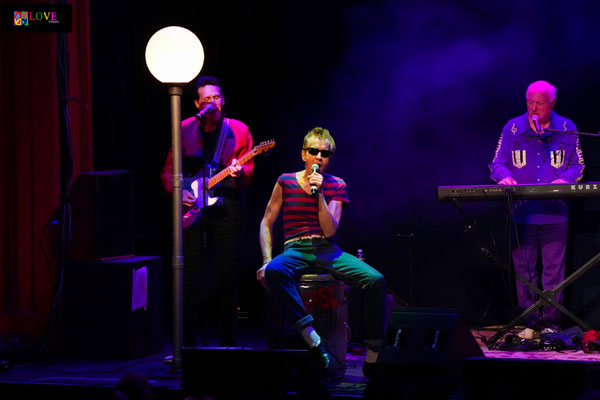 After announcing, "Sha Na Na started as a glee club at Columbia University and we took our name from the opening words of this song," the boys perform a lively rendition of The Silhouettes' "Get a Job."
Following cheers and applause, Scott Simon jokes, "We couldn't sing this next song in Grease, so we had to get some guy from New Jersey to sing it — John Travolta." After acknowledging, "Since he can't be here to sing it tonight, we were able to get the guy who actually wrote the words," Simon sings the lyrics — which he himself penned — to the well-known number from Grease, "Sandy."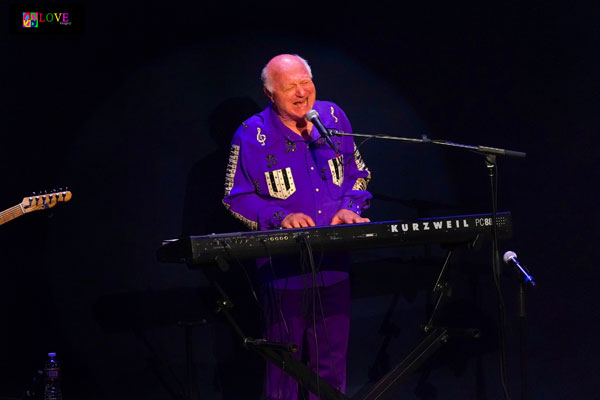 Then, the guys really rev things up with a smokin' rendition of Sam the Sham and The Pharaohs' "Wooly Bully!" with the crowd happily singing and dancing along.
Concluding the evening with a trio of classic oldies tunes including Little Richard's "Lucille," Jerry Lee Lewis' "Whole Lotta Shakin' Goin' On," and Bill Haley and The Comets' "See You Later, Alligator," the group ends their show with Sha Na Na's unique take on The Spaniels' "Goodnight, Sweetheart, Goodnight."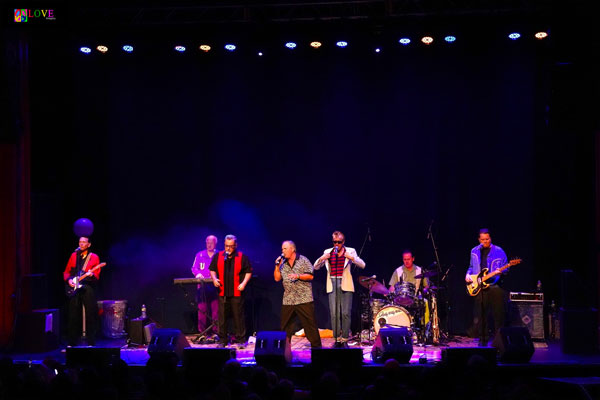 As audience members make their way out of the auditorium, we chat with several concertgoers who share their opinions regarding tonight's show with us.
Jerry from Byram tells us that he attended performances here at the Newton Theatre "in the 1940s, when there were movies and vaudeville shows which played here." Recalling, "I believe the theater originally opened its doors in 1923," Jerry reveals that one extremely fond memory for him involves walking into this very theater "holding my grandfather's hand."
Spending the entire show dancing in the last row of the orchestra with his wife, Mary Ann, Jerry says, "These days, when we come to this venue, we always ask for seats in the last row of the orchestra or in the very last row of the auditorium," explaining, "that way, we'll have room to dance without getting in anyone's way!"
Acknowledging that despite their age, the couple is "extremely young at heart," Jerry says that Sha Na Na's songs remind him and Mary Ann of "the best times of our lives."
"We've been dancing together for 51 years!" exclaims Mary Ann.
Also dancing with the pair tonight is their friend, Lillian, who says, "When I heard Sha Na Na was coming to Newton, I immediately told Mary Ann, 'I'm coming!'"
Revealing that her favorite song was Sha Na Na's rendition of "What'd I Say," Lillian comments that the concert tonight was "absolutely fantastic!"
Whereas Jerry's favorite tune was "Blue Moon" and Mary Ann especially enjoyed "Wipe Out," all three music lovers say they truly enjoyed Sha Na Na's complete performance tonight.
Concludes Mary Ann, "Are you kidding? If you don't like Sha Na Na's music, get a life and leave!"
To learn more about Sha Na Na, please go to shanana.com. For further information about upcoming concerts at The Newton Theatre — including Renaissance on Nov. 16, The Roseanne Cash Band on Dec. 1, and LeAnn Rimes on Feb. 7, 2019 — please click on thenewtontheatre.com
Photos by Love Imagery
Spotlight Central. Your source for Jersey entertainment news and reviews
Love Imagery Fine Art Photography. all you need. peace/love/flower/power