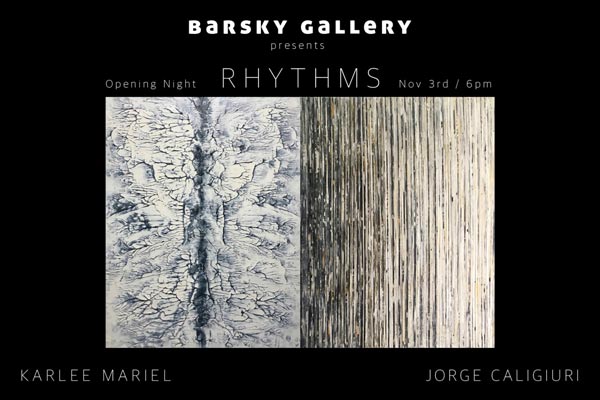 (HOBOKEN, NJ) -- Barsky Gallery in Hoboken will host a new duo-art exhibition – RHYTHMS featuring works of two talented artists, debuting on Saturday, November 3rd, 2018 to coincide with the Hoboken Art + Studio Tour scheduled for the same weekend. The exhibition will run through November.
Barsky Gallery is the area's most established contemporary art gallery and has been described by some as one of the wonders of Hoboken and Hoboken's source for exceptional art. As part of the gallery's aim of showing the world the elevated art culture of Hoboken, Barsky Gallery will be hosting a new exhibition christened RHYTHMS.
Hoboken remains one of the most visited spots in New Jersey, as it attracts visitors not only from different parts of the United States but also across the globe, showing them amazing artworks with the aim of making a high impact on its visitors, either through a personal connection or a sensory response. The gallery hosts several captivating exhibit openings and community events and has announced that RHYTHMS will be held on the 3rd November 2018 from 6 to 8 pm.
RHYTHMS is an anticipated duo-art exhibition that will feature new work by represented artists Jorge Caligiuri and Karlee Mariel. Inspired by dynamic rhythms and patterns of motion observable, Mariel and Caligiuri explore the space that exists between the Natural world and the human presence within it. Jorge Caligiuri and Karlee Mariel have made a name for themselves in the art world, and their work resonates well with art collectors. Opening Night gives an opportunity for attendees to see the latest from these talented artists as well as meet them in person.
"In describing their work, Caligiuri commented "Organic and geometric forms stir the senses and carry the viewer through visual depths." Mariel added "Textures and tactile surfaces draw the eye from tension to harmony which expand and contract within the artworks' dynamic expression.  This is part of the goal which Jorge Caligiuri and I are bringing to those who explore our work at this exhibit."
---
The article continues after this ad
---
---
The debut showing is timed to be over the same weekend as the Hoboken Art & Studio Tour, so art-lovers and enthusiasts can have a very special all-around experience. The free event will also have in attendance Thomas Golden, who's family founded Golden Artist Colors, Inc. "I can't wait for RHYTHMS.  We should all be grateful that Barsky Gallery is putting on these types of exciting exhibitions," says Tom Golden.
More information about RHYTHMS can be found here: Barsky Gallery Art Exhibition.  The gallery is located at 49 Harrison Street in Hoboken, New Jersey. It is a short 5 minute drive from the Holland Tunnel, and fifteen minutes away from the Lincoln Tunnel. A charming 15 minute walk from the nearby Hoboken PATH and NJ Transit trains, guests arriving by train from NYC can also choose to take a 5 minute Uber or local taxi ride.