---
Big News! Emily Mann to retire as McCarter Theatre's Artistic Director following 2019-2020 season
Click here for the story!
---
New Jersey State Council on the Arts Names Allison Tratner as Executive Director
originally published: 10/25/2018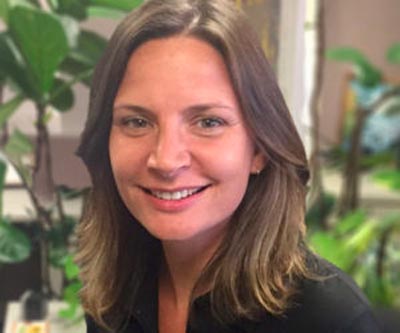 (TRENTON, NJ) -- The New Jersey State Council on the Arts has named Allison Tratner as the new Executive Director. The final vote confirming Ms. Tratner as the Executive Director was made October 24th during the Council's public meeting at Perkins Center for the Arts in Collingswood.
The news was met with an overwhelmingly positive response from attendees, which included members of the public, artists, and leaders in the field of arts and culture. Ms. Tratner has served on the Council staff since 2005 in a number of positions, most recently as Deputy Director and Director of Communications. During her time at the Council, Allison has helped usher in a number of programs and initiatives, building strong relationships with arts organizations, artists, and communities throughout the state. During her time with the agency, Allison has been responsible for supporting the Council's interests in strategic communications, long-range planning, and cross-sector partnerships.
During yesterday's meeting, State Arts Council Chair Elizabeth Mattson discussed the Council's decision-making process: "Since learning of the previous Director's departure earlier this year, we on the Council agreed to take our time in filling this position; to be thoughtful, deliberate, and forward-thinking in our decision. Sound, strong leadership of this agency at the staff level has helped make New Jersey a leader in the State Arts Agency field, and is crucial to serving our constituency and the people of our state." 
"Throughout her tenure with the Council, Allison has demonstrated a commitment to excellence that has helped to keep this agency at the forefront among our peers," said Ms. Mattson. "She is creative, intelligent, and a passionate advocate for the arts. She also brings to this post key knowledge and a depth of understanding of the agency's past and a dedication to its mission that will take us to new heights."
The Arts Council worked closely with the Secretary of State throughout the process, as the Arts Council is an agency of the Department of State. "I am confident Allison's experience and solid background working with the arts community will greatly benefit the growth of the New Jersey State Council on the Arts and its mission," said Secretary of State Tahesha Way. "Art, in all its varied forms, is important to New Jerseyans. It enhances our daily lives, and shines a light on all aspects of society lifting our spirits, beautifying our communities, and attracting visitors. We cannot underestimate the ways in which a thriving and vibrant arts community benefits our state, and Allison will be its champion."
---
The article continues after this ad
---
---
"I am honored to take on this new role in service to an agency and a community that I believe to be so vital," said Allison Tratner. "The arts industry is among New Jersey's greatest assets, with artists and arts organizations in every corner working hard to hone and teach skills, expand and spark imagination, build and bridge communities, and so much more. Together with the exceptional team in the office, our visionary board, and a supportive Administration, I look forward to the next chapter of innovative support of the arts statewide."  
Prior to joining the Council, Allison worked in the nonprofit sector as both an educator, and a research and evaluation consultant with prominent firms and museums in New York, New Jersey, and Philadelphia. She earned her MA in Museum Education at the University of the Arts and holds degrees in Arts Education and Fine Arts from Alfred University.
The New Jersey State Council on the Arts, created in 1966, is a division of the NJ Department of State. The Council was established to encourage and foster public interest in the arts; enlarge public and private resources devoted to the arts; promote freedom of expression in the arts; and facilitate the inclusion of art in every public building in New Jersey. The Council receives direct appropriations from the State of New Jersey through a dedicated, renewable Hotel/Motel Occupancy fee, as well as competitive grants from the National Endowment for the Arts. 


Marion Thompson Wright Lecture Series Presents "The Erotic as Power: Sexuality and the Black Experience"
(NEWARK, NJ) -- The erotic is often seen as a realm of oppression and danger. But, as Audre Lorde argued 40 years ago, it also contains the potential for empowerment and struggle. This tension will be explored as the 39th annual Marion Thompson Wright (MTW) Lecture Series brings together eminent scholars and performers to examine the poltical and social lives of the erotic in the African American experience.
---
West Windsor Arts Council presents Faculty Student Show
(PRINCETON JUNCTION, NJ) -- Every day students of all ages come to the West Windsor Arts Center to expand their knowledge and experiment with art and creativity. Whether they are adults or children, they take classes in order to try something new or hone their skills by learning from some of the best teaching artists in the region. Classes are offered in many artistic media including painting, drawing, and sculpting as well as fashion design, photography and the literary and performing arts. The annual Faculty Student Show aims to provide the experience of submitting and preparing their work for a professional exhibition as well.
---
Monmouth University Hosts Artist Talk with Sherrill Roland about "The Jumpsuit Project"
(WEST LONG BRANCH, NJ) -- The Center for the Arts at Monmouth University will host artist Sherrill Roland  on Tuesday, January 29 at 4:30pm in Wilson Hall Auditorium, to discuss his socially engaged artwork The Jumpsuit Project — that he uses to ignite conversations around issues related to mass incarceration.
---
Art House Productions Presents 13th Annual Snow Ball Gala
(JERSEY CITY, NJ) -- Join Art House Productions and presenting sponsor SILVERMAN for their 13th Annual Snow Ball Gala on Saturday, January 26th, 2018 from 7:00pm- 12:00am with VIP beginning at 6:00pm (Snow date: Saturday, February 2nd) at Art House's location at the Cast Iron Lofts, 262 17th St, Jersey City, NJ.  This year's Snow Ball features live music from Cook Thugless ("Cook Thugless are one of the coolest bands in New Jersey." -Bob Makin, My Central Jersey), live and silent auctions from Grandstand Sports, including sports memorabilia, local art pieces, and exclusive weekend getaways.
---
Palette ArtSpace Presents "Cold Pop!" with Robert Piersanti and Faustine Badrichani
(ASBURY PARK, NJ) -- Palette ArtSpace presents "Cold Pop!" by Robert Piersanti, now through January 27. The exhibit brings a touch of summer to a cold January with paintings of mermaids, surfers and more. Piersant's work features 1950s and 1960s pop culture with locals as subjects. He's shown work from the local area to Miami and Milan.  The exhibit also features new paintings of women by Faustine Badrichani, a French artist in New York who has shown at Palette previously. Admission to the gallery is free and open to the public.
---


Inside New Jersey Stage Magazine Issue 54
(BELMAR, NJ) -- The latest issue of New Jersey Stage magazine contains something for every arts fan.  Rock and Roll Hall of Famer, John Oates, is the cover story in an issue packed with music, film, theatre, and art coverage.  The issue is available for free at www.NJArtsMag.com 
---
Nick Kiefer In Iceland
Nick Kiefer is an award winning graphic designer and photographer based out of Asbury Park, NJ. He is currently the Art Director at Netwave Interactive - a branding and advertising agency in Point Pleasant. NJ. Nick has also been designing and photographing in the NJ music scene for more than half his life. He has designed dozens of record covers and gig posters for local musicians in the Asbury Park area. After a heavy year packed with work, he and his fiancé Kristina, decided to roam around Iceland for a few weeks back in October of 2018. Here are some photos from the trip.
---
Peter Max Remembers Frank Sinatra
(HOBOKEN, NJ) -- As fans of Frank Sinatra across the world remember the legendary entertainer on what would have been his 103th birthday (December 12th), pop artist Peter Max provides a series of portraits of 'Ol' Blue Eyes' at different points throughout his career. Max, with a 5 decades-long career of his own, created these signature, vibrantly colored portraits, working with the Sinatra family to celebrate the Sinatra Centennial in 2015. They remain a fan favorite at gallery shows across the country.
---
Jerry Gant 1961-2018
Jerry, There is no bio that will seem complete for you. Where would it be listed, amongst your numerous and diverse accomplishments, that you talked to people, always seemed to find time for the younger artists, to talk to them and look at their sketchbooks? Your use of language as a material, testing limits, associations, and possibilities.
---
PODCAST: An Artist Asks "The 20 Most Important Scientific Questions Of The 21st Century"
In this podcast, we speak with them about art, activism and how women invented Postmodernism. "The 20 Most Important Scientific Questions of the 21st Century" runs through December 14th at Douglass Library.
---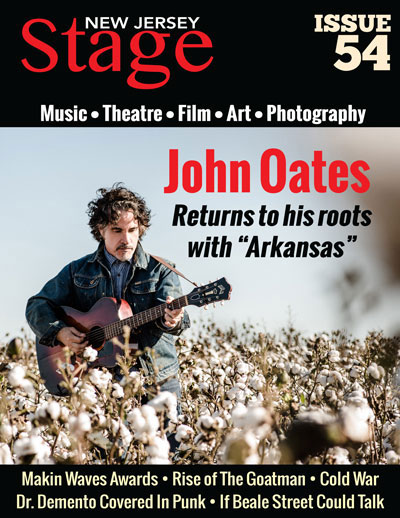 Inside New Jersey Stage Magazine Issue 54
(BELMAR, NJ) -- The latest issue of New Jersey Stage magazine contains something for every arts fan.  Rock and Roll Hall of Famer, John Oates, is the cover story in an issue packed with music, film, theatre, and art coverage.  The issue is available for free at www.NJArtsMag.com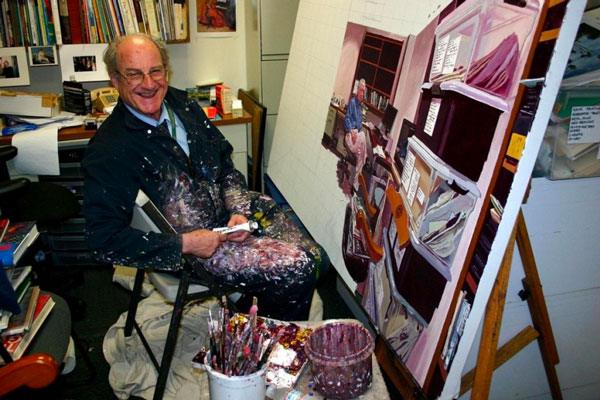 Artist Mel Leipzig At 83
We recently met up with artist Mel Leipzig at Artworks in Trenton. He was there to do what he does every day – create big paintings of people he likes. While the Artworks staff went about their business getting the space ready for this year's Art All Day event, happening this Saturday, Mel pulled a few of them aside to capture them in their natural habitat in acrylic.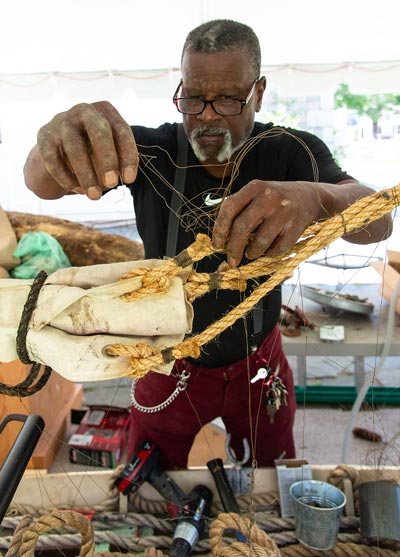 Kevin Sampson: Solo Exhibitions In New Jersey and Beyond
"I'm a Civil Rights baby. I grew up laying across picket lines and blocking traffic." Artist Kevin Sampson's father, Stephen, was a well-known Civil Rights leader in New Jersey, and he instilled a commitment to community that his son still honors.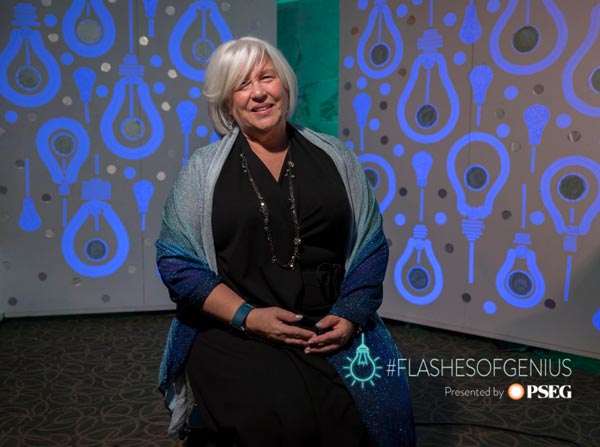 Basking Ridge Resident Returns to Matheny to Help Assist in Strategic Planning for 'This Amazing Place'
When Ellen Lambert was director of development at the Matheny School and Hospital in Peapack, NJ, from 1993 to 1995, one of her major achievements was the formation of a fundraising plan for what would eventually become the Robert Schonhorn Arts Center. The concept of Matheny's Arts Access Program  -- which enables people with disabilities to create art, assisted by professional artist-facilitators  -- was emerging in '93, and the arts center was eventually built in 2000.



Event calendar
Friday, Jan 18, 2019
---
MUSIC

---
---
---
---
---
THEATRE

---
---
Annie Jr.

@ The Oakes Center, Summit - 7:30pm
---
Some Girl(s)

@ Studio Playhouse Upper Montclair, Upper Montclair - 8:00pm
---
---
COMEDY

---
---
MISC

---
---
View all events
---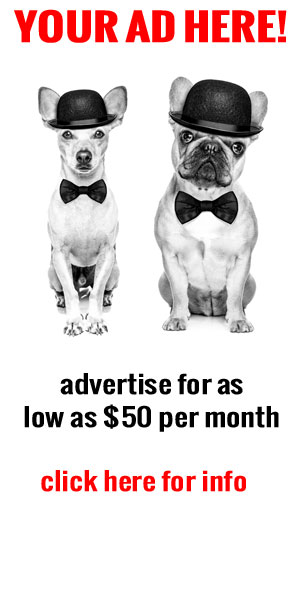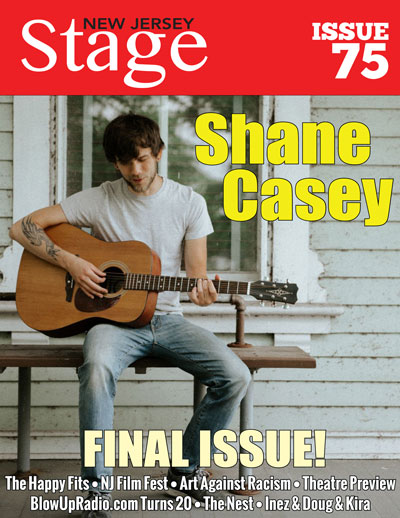 For more on our awards, click here
New Jersey Stage © 2019 by Wine Time Media, LLC | PO Box 140, Spring Lake, NJ 07762 (732) 280-7625 | info@newjerseystage.com

Images used on this site have been sent to us from publicists, artists, and PR firms.
If there is a problem with the rights to any image, please contact us and we will look into the matter.