By Gary Wien
originally published: 10/24/2018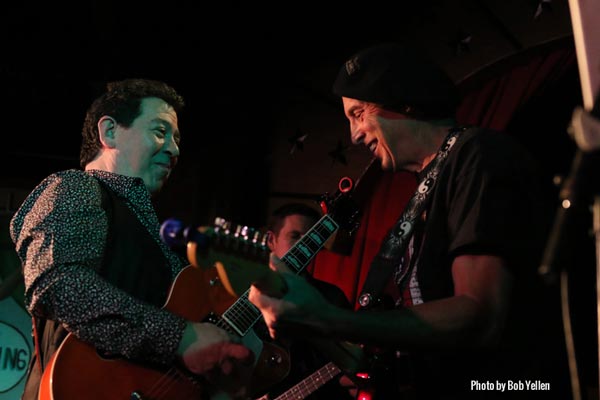 Growing up in New Jersey doesn't generally lend itself to becoming a country music artist. Michael Patrick took a bit of a winding road to get there, but he's about as Americana as they come.  On his latest release, John Wayne Movies, Michael Patrick weaves country songs alongside rock and roll, folk and rockabilly tunes to create an excellent album that few would guess was born in the Garden State.
It's been seven years since his last record - a period in which he suffered great personal loss within a two year period.  He lost his wife of 20 years to complications from Cooley's Anemia in 2013. One year later, his father passed away.  Those losses are reflected in his lyrics.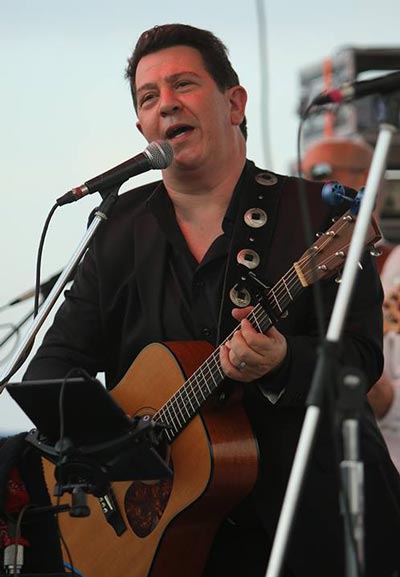 "Songwriting became more personal to me," explained Michael Patrick.  "I was less nervous about taking risks and just letting it out.  After I lost my wife, I lost my dad the next year.  It changes your perspective and your point of view that's guarded - it's a wall that's not good if you're going to be a songwriter.  The walls come down a little bit and you're about to write more from the heart.  You write about what you've lived and experienced.  I've been through a lot - even before that.  It's been a pretty full life."
For years, Michael Patrick has been a mainstay of the New Jersey music scene with solo performances, his Suburban Hillbillies band, and Ring of Fire (his Johnny Cash tribute band).  But before those bands, he played bass in a Grateful Dead tribute band for 13 years.  He says that's where his love of country music and bluegrass stems from.  It was around that period of time that he began listening to a wider range of music.  
When you hear him talk, he sounds like he's playing a Johnny Cash character.  His voice is deep and doesn't sound much like anybody from the Garden State.  He sounds like what you'd imagine a country artist to sound like, but he swears it wasn't always like that.
---
The article continues after this ad
---
---
"When I listen back to the first CD and hear 'Incomplete' it sounds like I had a different accent back then!" he laughs.  "I think it's subconsciously developed.  I don't try to sound any different, but have been singing country songs all of these years… the cigarettes probably don't help either."
John Wayne Movies even contains a song that not only sounds like Johnny Cash singing, but sounds like a song Cash would have written.  The song is called "You're Not Who I Thought You Were."
"You don't match the words that you said you made damn sure.. my ego was fed I bought into the lies now it ain't no surprise that you're not who I thought you were"
"You're Not Who I Thought You Were"
"That kind of came from a dark place, I guess," said Michael Patrick who performed everywhere from bars to performing arts centers and festivals with the Ring of Fire band.  That band was put together shortly before the Walk The Line film, which starred Joaquin Phoenix as the Man in Black.  "My band (Suburban Hillbillies) was doing a bunch of Cash tunes and I always felt like it fit my voice, so I said let's try to put together a tribute.  It was the perfect timing with the film coming out."
Many artists are unable to move between tribute bands or bands playing cover music to their own original songs, but it hasn't been a problem for Michael Patrick.  He still gets people who have seen him on stage come up from time to time and say, "Hey Johnny Cash!" but he takes it as a compliment.  He continued to do his own original solo and band shows even when Ring of Fire was at their peak, and even managed to play some of his originals on the big stages.  One song, "Cash In The Attic," always did well and led to many CD sales.
According to Michael Patrick, everyone that received an early copy of the album has named a different song as their favorite.  For me, it's the title track which was written by Joe Iantosca - a touching song about a boy and his father accentuated by wistful slide guitar.
"Watching John Wayne Movies on rainy afternoons / His hero on the screen and mine here in this room / I thought he was everything a man could ever be
He was John Wayne to me"
—"John Wayne Movies"
Memories of a father appear in the wonderful track "Something To Fall Back On" as well. In this song, the narrator remembers how his father helped him buy his first guitar and taught him the message they stayed with him throughout his life — a message he would relay to his own son when he showed him  how to play his first chord.
You're gonna need someway to pay the bills, something to eat, strummin that guitar wont be shoes on your feet, take those books and study hard, when the thrill is finally gone, you'll have something to fall back on.
    "Something To Fall Back On"
Michael Patrick also shows he's learned a thing or two over the years from John Eddie, one of the artists he lists as a inspiration.  He points to him as someone who uses energy on stage to turn concerts into a special show, but it's clear he's learned more than that.  From his very first album, John Eddie showed hints of a country artist lying within but it took a few albums for that songwriter to fully shine through. Even when it did, he never lost his rock and roll fans.  That's what Michael Patrick is trying to do as well.  Each of his albums has a few songs that lean more towards the rock and roll side, but he hopes to see country and rock fans in the audience. 
"I listen to a lot of different styles of music," explained Michael Patrick.  "The kind of music I like isn't locked in to one type.  I think that's where Americana kind of encompasses all of that from the roots rock stuff to rockabilly. I think the tunes on this album kind of cross different barriers, but they're not so far off that people wouldn't be able to relate to them.  With this album… I don't want to say I wrote it specifically with live performances in mind, but it played a part in it.  Thinking about my last CD, it's like you could sit and listen to it but there wasn't a whole lot of energy to do it live.  So I thought I'd take a different approach and be able to do a few more rockers live that will keep the energy going."
Many of the artists Michael Patrick considers inspirations are ones who were able to transcend normal music categories and develop diverse audiences.  Johnny Cash is famous for being regularly covered by punk rockers as much as country artists.  Lyle Lovett and John Prine are two other main inspirations who both found mainstream audiences outside of their main musical genres.  
In the end, it all comes down to the stories found in the lyrics.  That's what led Michael Patrick to the songs from his favorite artists and stories are what keeps people coming back to Michael Patrick songs.  Seven years since his last recording, Michael Patrick has emerged as a more mature songwriter.  He's gone through an extremely difficult decade and his pain, heartbreak, and life experiences clearly show on this release, but there are plenty of fun and upbeat songs as well. It's easily his best release to date.
The characters in his songs are living life, fighting through relationship problems, reminiscing about their childhood.  There are fun songs, sad songs, and hopeful songs.  One of my favorites is "When I Grow Up" - a bit of a rocker that is a tale many can relate to.  In it, he may be looking back, but he's also hopeful for the future.
"Look in the mirror still don't know who I see / I know for sure it's not who I used to be / I'm gettin older but my heart's still young and free
well I ....count all my blessings and I say amen / my mind goes back to all those childhood friends (we'd say) / When I grow up I wanna... be a kid again"
—"When I Grow Up"
Michael Patrick's band includes Bobby Donofrio (guitar), Mike Noordsy (Bass), Mike Heady (drums), and Elaine Orzechowski (keyboards). 
---
Upcoming shows:
November 24 @ 8:00pm Lighthouse Tavern, Waretown
November 29 @ 8:00pm Clancy's Tavern, Neptune
December 8 @ 10:00pm Albert Music Hall, Waretown
---
---
Gary Wien has been covering the arts since 2001 and has had work published with Jersey Arts, Elmore Magazine, Princeton Magazine, Backstreets and other publications. He is a three-time winner of the Asbury Music Award for Top Music Journalist and the author of Beyond the Palace (the first book on the history of rock and roll in Asbury Park) and Are You Listening? The Top 100 Albums of 2001-2010 by New Jersey Artists. In addition, he runs New Jersey Stage and the online radio station The Penguin Rocks. He can be contacted at gary@newjerseystage.com.
---