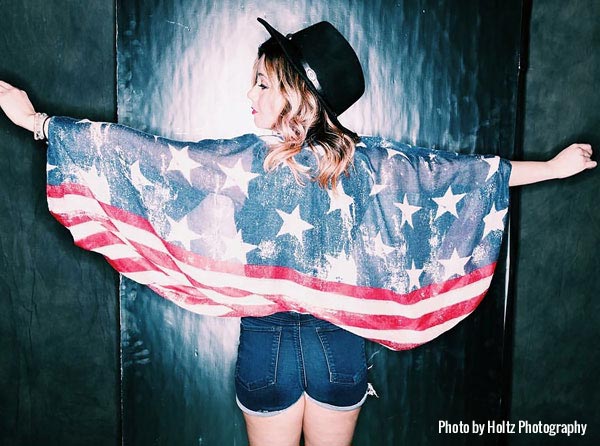 Outspoken Asbury Park-based singer-songwriter-guitarist Pamela Flores is in the process of a recording a follow-up to her 2017 EP, "Pieces." A chat with the richly talented Pamela Flores about truth, justice and rock 'n' roll. Photo by Holtz Photography
With the bubbling bravura of Janis Joplin and earthy intelligence of Ani DiFranco, Flores woos audiences like an exotic pixie, then slays them with stunning vocal and guitar chops, as well as an inspiring passion for justice and freedom that has been lending itself more and more to her music. While her recording and video output has been minimal, that will change in 2019, she said. And my, does she have a lot to say!
In the meantime, her exuberant, well-rooted live show should not be missed. Upcoming dates include the Spilling the Tea songwriters circle on Oct. 25 at Clancy's Tavern, Neptune, with Mike Montrey and James Popik; the Second Annual Makin Waves Hunger Benefit for Food for Thought on Nov. 17 at Langosta Lounge with Des and the Swagmatics and Tara Dente, and Gurlzilla, Dec. 1 at Asbury Park Music Foundation with Avery Mandeville and the Man Devils, Des and the Swagmatics, Prim, and Kate Dressed Up feat. Renee Maskin, Foxanne and Elaine Rasnake.
Who is in your band, how did you hook up with them, how long have you been playing with them, and what do you like most about playing with each of them and why?
My band consists of Guy Fiumarelli on guitar, Dan Haase on bass and Steve Honoshowsky on drums. We've been playing together as a band for two years now. Dan and Steve I met working at Lakehouse (Music Academy), and Guy I met online. They each bring their own style to the table, which I love. I love how they interpret the songs I bring to them and how they figure out parts together. Once it comes together, it gives me actual goosebumps when the song I wrote because much bigger than just me and my guitar.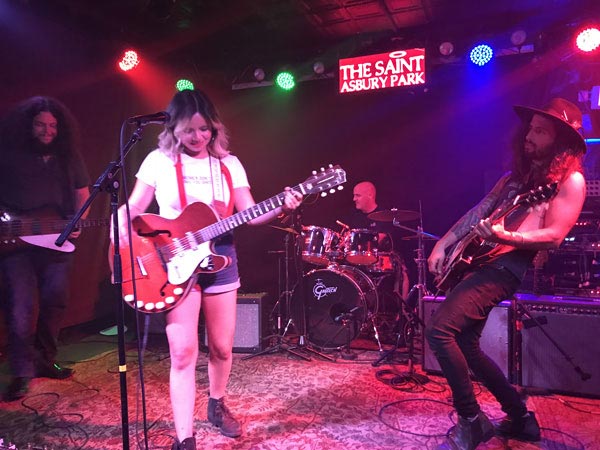 Pamela Flores and her band perform at The Saint in Asbury Park. Pictured with her from left to right are bassist Dan Haase, drummer Steve Honoshowsky and guitarist Guy Fiumarelli. Photo by Bob Makin.
I love how you wear your political opinions on your blouses, such as 'WOMEN DON'T OWE YOU SHIT' and 'Fuck Kavanaugh.' Comment on how it makes you feel to do that and the response you have gotten, such as the viral 'Fuck Kavanaugh' photo on Instagram.
I have been very open about where I stand with sexual assault, and to be honest, I don't see it as a political stance but more so as a moral 'don't-be-a-shitty-human' one. I think it's actually insane that some people believe wanting to put an end to sexual assault is a liberal ideology. Allowing my clothing to say what is sometimes emotionally exhausting to say verbally just allows me to play my music and speak my mind in a not so subtle way. The response has been nothing but positive, which makes me feel a little bit better about humanity.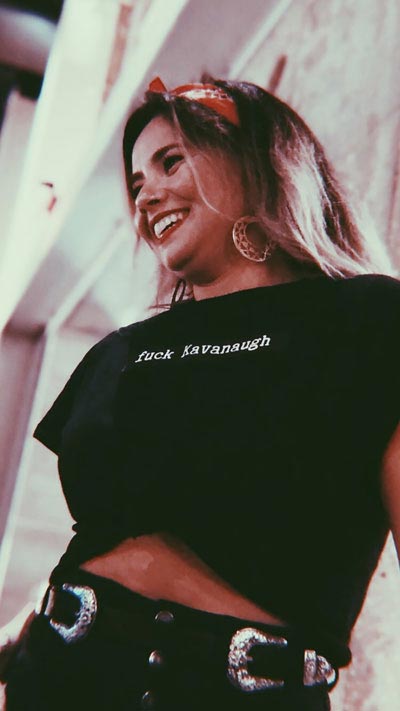 What is it about the Kavanaugh situation that made you want to wear that T-shirt, why, how does his confirmation reflect the direction of the country, and what are your thoughts about that?
I felt I could have either made a big ol' long-winded post on social media or go to AC Moore, make a shirt and make my statement short and to the point. There isn't much else I can say that isn't already being said, and honestly, I'm tired that this is an issue and it makes myself and many other women and men relive their own situations. So yeah, 'Fuck Kavanaugh!' Fuck everyone like him who has taken advantage of another person's body for their own perverted enjoyment, and fuck those who take his side! I hope that in a way this will make people want to speak up and support those who have gone through this. And I hope this encourages a shift in society towards respect and empathy for one another.
How does it also make you feel to be among the talented, often vocal women of the Asbury Park music scene, having the opportunity to voice your opposition to the political climate as a Latina?
Nervous? (Laughs) but also extremely supported. I honestly don't even know how much of what I do or say matters, but I hope that I'm at least empowering anyone who may even notice for a second. I understand where my privilege lies amongst the Latino community, and I just want to do them proud. Representation is important, and I just want to do it correctly. 
While the music you've released is soulful, it's not all that political (although you do wear the American flag very nicely). Some of your new music, however, seems very political. Comment on the direction your next record will take you and please share details about a couple of the songs, what inspired them, and what kind of feedback you've gotten about them so far. 
Yeah, my music isn't exactly protest music, but my whole thing is if I force a theme in my music, it's going to feel forced, and that's just not what I'm about. If it didn't come from my soul, I just let it go. The songs I write are parts of me. I realize how artsy fartsy that sounds, yet it's true. It takes me a while to finish a song because of that. It's like giving birth to a piece of music! 
My song 'Sugar & Spice' was inspired by students I've met through the past few years of teaching music, as well as my childhood and finding comfort in music and how music can help blur the divide in society through empathy and common ground. 'Burn the Ships' has taken a political turn and is currently being rewritten. I didn't intend on that happening, but the more I sang it, the more I realized I no longer felt the subject of the song was about a bad relationship with a guy. 
We're currently in the studio recording 'Grace.' which is about battling your demons and ultimately losing. It happens. It's not a happy tune, but yeah, neither are my other songs (laughs).
How is the recording process going with Paul Ritchie from Parlor Mob and gods at his new New Future studio in Neptune, and how have you liked working with him and why?
His new studio is amazing! I couldn't be happier for him and this new space. Paul has truly been amazing to work with, and I couldn't be more grateful for his help. He gets just as excited about working on my music as me and my band do, and he really puts 100 percent into it and brings it to a different with new ideas and styles. 
Pretty excited for the outcome to say the least.
Did Paul produce the 'Pieces' EP?
He did not. That was Eric Silvergold, who was a huge help in getting me started with my music career. 
How and why did you come to choose Paul as your producer?
I had heard he was producing with a few friends of mine in Lyons and Tide Bends and loved what I heard. And then I saw gods live and that sealed it for me. I was blown the fuck away. Loved their sound. I barely knew him but knew I wanted to work with him so I just simply asked him and he said sure (laugh).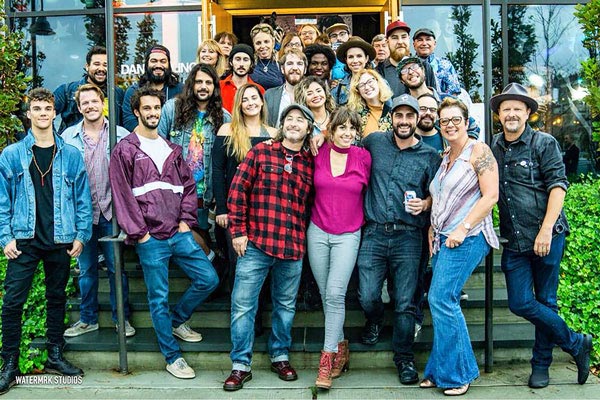 Pamela Flores is pictured with many friends at Danny Clinch Transparent Gallery in Asbury Park after a revue featuring covers of the artists who played a week later at the Sea.Hear.Now Festival. Photo by Michael Kravetsky.
Like Parlor Mob, you got to play Sea.Hear.Now Festival at a cover revue at Danny Clinch Transparent Gallery and a warm-up party at The Asbury hotel, which is where you wore the 'Fuck Kavanaugh' T-shirt. You said that latter gig was one was of the best nights of your life. Why and how did it feel to be picked to play Sea.Hear.Now?
Just the fact that I get to be a part of this music scene is ridiculous, and I am very, very lucky to have been some of the few acts to represent our scene that weekend. I met Danny, (gallery manager) Tina (Kerekes) and (music curator/singer-songwriter) Rachel (Ana Dobken) a little over a year ago, and they have done so much for our little scene. I'm just grateful for them and their friendship. 
We have such a kick-ass scene, and I couldn't be happier that it's getting notoriety in the music world. And I'm not blowing smoke up anyone's ass, I truly believe we have a great and freakin' talented AF scene. 
Both those bills included several of your friends with whom you are part of a roots-oriented scene that often revolves around Transparent Gallery and The Asbury, as well as Asbury Lanes, Telegraph Hill Records, and 3143 Management, with Rachel, Natalie Farrell, Levy & the Oaks, The Burns, Foes of Fern,The Mercury Brothers, Avery Mandeville & the Man Devils, and a few others. Comment on how and why that is a scene within the Asbury scene, and what you all have in common and why.
I honestly don't know. Everyone's just really fun to be around. It's like a little family of misfits. I am a bit of an outsider when it comes to the scene. A lot of folks have known each other for a while, either growing up together or playing music for a while together, and I moved here four years ago not knowing anyone at all. And everyone, regardless of what crew it is, has been welcoming. It's great, and I really am a big fan of all of them. 
Since you are tight with all those folks, will you be working with 3143 Management and/or Telegraph Hill Records, or are you just close with some of their artists, and have or are pursuing other representation?
Nope, we're all just good buds!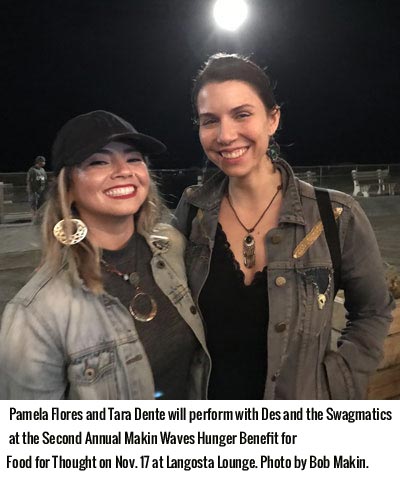 Tara Dente also is part of that family of roots musicians. And like you, she has been collaborating against style with rapper/spoken word artist Chris Rockwell. You seemed to have a blast performing with him, his band and Chill Smith at APYC last month. Do you have any plans to record with him, like Tara, and if so, can you share any details, such as whether the tunes will appear on your next record, his or both?
Chris and I have spoken lots about song ideas or recreating songs I have, one day soon we will get a project done! 
Also with Tara, as well as Des and the Swagmatics, you'll play the Second Annual Makin Waves Hunger Benefit for Food for Thought on Nov. 17 at Langosta Lounge, while Chris & Chill play next door at APYC with Experiment 34 and Nalani & Sarina. Why was it important for you and your band to graciously and generously be a part of that charity weekend?
The best way to share music is by giving back to the community who supports it. I am more than happy to give back in this way, plus I get to play a bill with my closest friends ... nothing better.
What else is going on with you as far as shows, videos, singles, and anything else you want to make sure folks know you have going through to the end of the year and into the next? 
Hopefully before the New Year, I will have a new single out, plus a music video. I've never done a music video before so that'll be pretty dope and hopefully not awkward at all. 
---
Bob Makin is the reporter for www.MyCentralJersey.com/entertainment and a former managing editor of The Aquarian Weekly, which launched this column in 1988. Contact him at makinwaves64@yahoo.com. And like Makin Waves at www.facebook.com/makinwavescolumn