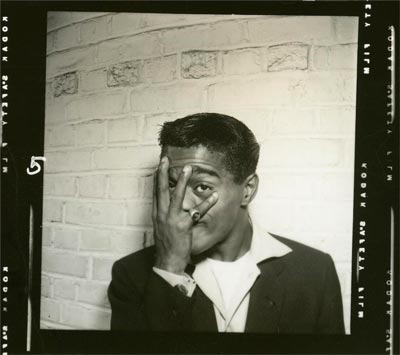 (VINELAND, NJ) -- Enjoy four highly-acclaimed award-winning recent foreign films representing diverse cultures at the 2018 International Film Festival, starting Monday, November 26, at the Levoy Theatre, 126-130 N. High St., Millville, NJ. The four films—A Fantastic Woman, The Interpreter, 1945, and Sammy Davis, Jr.: I've Gotta Be Me—will introduce the theatergoer to the universality of themes that are common to Jewish and other international themes. They are representative of the finest of today's international cinematographic art.
The festival, which runs through Thursday, November 29, is presented by Jewish Federation of Cumberland, Gloucester & Salem Counties. Major sponsors are Rone Funeral Service and Sir Speedy Printing and Marketing Services.
"From Chile, Slovakia, Hungary, and the United States, we present films presenting a mix of power, spirit and wit, comedy, and drama that provide an artistic program for the entire community," said Jewish Federation President M. Jay Einstein. "International films can take themes and situations that are universal and present them through a vintage point unique to a particular culture."
"Since introducing this festival in 2008, we have continued to be gratified over the reception it has received," Einstein said. Thanks to the support of our attendees and sponsors, this has grown into the premier international film festival in this part of New Jersey."
Tickets are $8 for adults for one film, $15 for two films, $20 for three films, and $25 for all four films. Admission is free to students under 21 with student ID. Tickets are available through Jewish Federation at 856-696-4445 or may be purchased the night of each film at the Levoy Theatre. The movies on November 26 and 29 start at 7 p.m. and those on November 27 and 28, at 6 p.m.
---
The article continues after this ad
---
---
A combination dinner/movie package will also be offered on Monday, November 26 and Thursday, November 29. Tickets for this package are $40 per person. Enjoy a dinner at Andrea Trattoria Italiana, 16 N. High St., in Millville, at 5:15 p.m. and then the movie at 7 p.m. Dinner will consist of a salad, main course, dessert, and coffee or tea. Gratuity is extra. Please call Jewish Federation for reservations.
Funding for this program has been made possible in part by the New Jersey State Council on the Arts/Department of State, the National Endowment for the Arts, and the Cumberland County Board of Chosen Freeholders, through the Cumberland County Cultural & Heritage Commission.
The schedule for the Festival is as follows:
Monday, November 26, 7 p.m. (Dinner, 5:15 p.m.): A Fantastic Woman —A 2017 drama. Somewhere in Santiago at a dimly-lit nightclub, Orlando, the kindly and well-off owner of a textile company, locks eyes with Marina, a hopeful singer and the roughly half-his-age love of his life. But, unfortunately, after Marina's birthday celebration and a night of passion, Orlando falls gravely ill--and by the following morning--he dies in hospital. In the wake of her companion's untimely death, Marina will soon real­ize that, from now on, everything is brought into question: her involvement in Orlando's death, their unconventional relationship; and above all, her right to mourn her beloved deceased. In the end, what was Marina's crime; a deed so hideous that would rob a fantastic woman of her respect, her dignity, and ultimately, her identity? Directed by Sebastián Lelio, written (screenplay) by Sebastián Lelio and Gonzalo Mala, and starring Daniela Vega, Francisco Reyes, and Luis Gnecco. Winner of a 2018 Academy Award, with 27 more wins.  Nominated for a 2018 Golden Globe Award, with 32 more nominations. Spanish, with English subtitles, 100 min. (Rated: R)
---
Tuesday, November 27, 6 p.m.: The Interpreter—A 2018 comedy/drama. Eighty-year-old Ali Ungar comes across a book by a former SS officer describing his wartime activities in Slova­kia. He realizes his parents were executed by him. He sets out to take revenge but finds instead his 70-year-old son, Georg, a retired teach­er. Georg, who had avoided his father all his life, decides to find out more about him and offers Ali to be his in­terpreter. The two old men, in everything opposite, embark on a bittersweet journey to meet surviving witnesses of the wartime tragedy. They discover a country eager to forget its past. They realize their memories are fragments mixed with their imagination and interpretation. They connect in silence and manage to discover their own identity. Directed by Martin Sulík, written by Marek Lescák and Martin Sulík, and starring Jiri Menzel, Peter Simonischek, and Zuzara Mauréry. Winner of a 2018 Haifa Film Festival Award. Nominated for a 2018 Jerusalem Film Festival Award. German/Slovakian, with English subtitles, 114 min. (Rated: PG-13)
---
Wednesday, November 28, 6 p.m.: 1945—A 2017 drama. On a sweltering August day in 1945, villagers prepare for the wedding of the town clerk's son. Meanwhile, two Orthodox Jews arrive at the village train station with mysterious boxes labeled "fragrances." The town clerk fears the men may be heirs of the village's deported Jews and expects them to demand their illegally ac­quired property back, origi­nally lost during the second World War. Other villagers are afraid more survivors will come, posing a threat to the property and possessions they have claimed as their own. Directed by Ferenc Török, written by Gábor Szántó and Ferenc Török, and starring Péter Rudolf, Bence Tasnádi, and Tamás Szabó Kimmel.  Winner of a 2017 Jerusalem Film Festival Award, and with more wins. Nominated for a 2017 Berlin International Film Festival Award, with three more nominations. German, with English subtitles, 91 min. (Rating: N/A). Harry Furman, Chairman of the South Jersey Holocaust Coalition, will lead a discussion after the screening of the film.
---
Thursday, November 29, 7 p.m. (Dinner, 5:15 p.m.): Sammy Davis, Jr.: I've Gotta Be Me—A 2017 documentary. Sammy Davis, Jr.'s career was indisputably legendary; so vast and multi-faceted that it was dizzying in its scope and scale. And yet, his life was complex and contradictory. Davis strove to achieve the American Dream in a time of racial prejudice and swirl­ing political change. He was the veteran of increasingly outdated show business tra­ditions; he frequently found himself bracketed by the bigotry of white America and the distaste of Black Amer­ica; and he was the most public Black figure to embrace Judaism, thereby yoking his identity to another persecuted minority. Featuring interviews with Billy Crystal, Norman Lear, Jerry Lewis, Whoopi Goldberg, and Kim Novak, and never-before-seen photographs from Davis' vast personal collection, Sammy Davis, Jr.: I've Gotta Be Me explores the life and art of a uniquely gifted entertainer whose trajectory blazed across the major flashpoints of American society from the Depression through the 1980s. Directed by Samuel D. Pollard, written by Laurence Maslon, and starring Harry Belafonte, Tony Bennett, Humphrey Bogart, and others. Winner of a 2018 Louisiana International Film Festival Award, with two more wins. Nominated for a 2018 Cleveland International Film Festival Award. English, 100 min. (Rated: N /A)