By Spotlight Central
originally published: 10/14/2018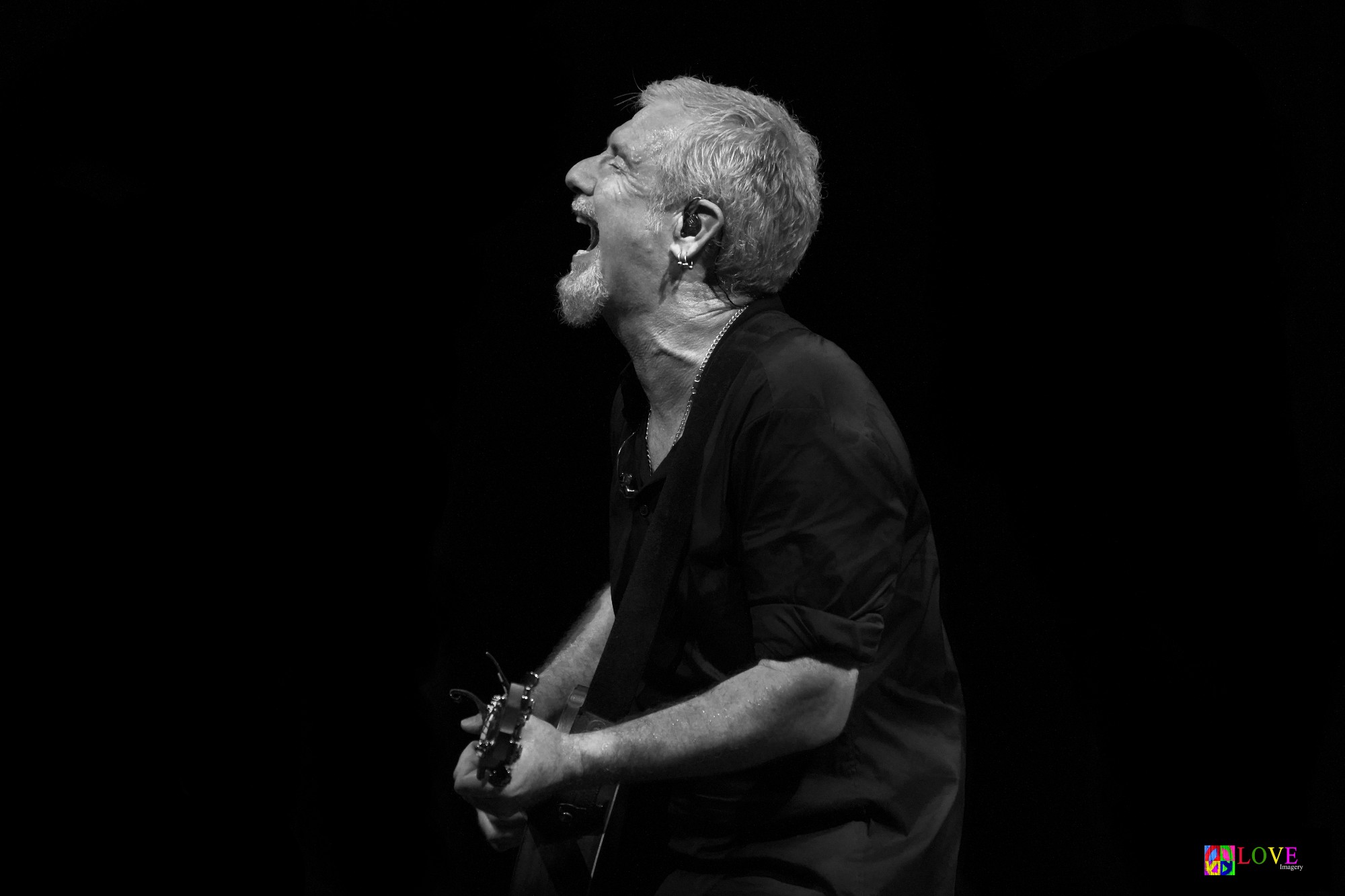 It's a mild Saturday, September 29, 2019 evening as fans of Celtic rock are streaming into Toms River, NJ's Grunin Center of the Arts for a concert by The Young Dubliners.
The Young Dubliners were founded in Los Angeles, California in 1988. Their members include Keith Roberts on lead vocals and guitar; Chas Waltz on violin, keyboards, mandolin, and harmonica; Brendan Holmes on bass; Dave Ingraham on drums; and Justin Pecot on guitar.
The Young Dubliners' style of music fuses traditional Irish instruments and music with modern rock, and their repertoire consists mostly of original rock compositions and Irish folk songs but with a rock twist. Explains founding member Keith Roberts, "The sound was always intended to be a hybrid because we all come from different backgrounds. Even though two of us are from Ireland, a lot of the music we listened to growing up wasn't Irish at all, but when we got here, we got homesick and developed a new appreciation for Irish music."
Since 1993, The Young Dubliners have released ten albums, starting with Rocky Road. Their latest release is called 9. In recent years, The Dubs have appeared on television on ABC's Jimmy Kimmel Live!, and have even had songs featured in TV shows like Sons Of Anarchy and Human Target, in addition to Hollywood films.
For nearly three decades, the group has toured both here in the United States and in Europe where they have opened for artists including Jethro Tull, Chris Isaak, Jonny Lang, John Hiatt, Collective Soul, and Los Lobos. Currently wrapping up their 2018 US summer tour — a schedule which includes music festivals and club dates throughout America — tonight's performance in the Garden State is the final show of the East coast leg of the tour.
---
The article continues after this ad
---
---
As we make our way into the cozy Grunin Center auditorium, we see that the stage is set with various acoustic and electric instruments. All are placed in front of a back curtain which is shimmering with a raining streak of muted colors.
The lights go to black and we hear Irish voices singing in harmony over the house PA as Keith Roberts enters the stage and begins to strum his guitar.
Soon, Justin Pecot takes the stage and adds a bell-like guitar sound on his electric guitar as Roberts sings with his Irish brogue about his "native home" of Ireland. Once Chas Waltz arrives, he adds a lilting violin accompaniment to the mix. As Roberts spins his yarn on the group's dynamic Irish rocker, "Paddy's Green Shamrock Shore," drummer Dave Ingraham and bassist Brendon Holmes take the stage as well.
The audience applauds and the backdrop changes colors to gold crimson and emerald with accents of orange as the band rocks to a toe-tapping instrumental from 9, entitled "Abhainn Mor." The instrumentalists dance as they play, obviously enjoying the music they're creating, the crowd clapping with approval at the end!
Keith Roberts' passionate lead vocal is accompanied by three-part vocal harmonies on the upbeat rocker, "Fall," as the singers fervently cry, "Woah, We'll be drinking the water tonight." The driving beat builds as lights flash in time to the music.
Roberts underscores a bit of UK history when he reveals "how hard it was to be Irish while working under an English foreman." Here — with his Irish brogue prominently displayed — he and the band perform "McAlpine's Fusiliers," a number which features rapid guitar strumming and a two-step rhythm.
After large applause, the group segues into "Brown Dog," a song which Roberts discloses was featured in the children's film, Scooby Doo and the Loch Ness Monster. Heads bop as the musicians perform at a frantic pace! Jumping around as they sing, "There's a brown dog barking at the back door," Brendan Holms keeps the rhythm happening on the bass and Waltz fiddles to the driving backbeat.
The audience claps along on the fast folk-rocker "Come Back Home," and happily keeps it going as Dave Ingraham's tom-tom drums and Chas Waltz' fiddle introduce the delightful Irish reel, "Bodhran." Several audience members can even be seen taking to their feet clapping and calling out. By the end, the entire crowd is hooting and hollering along.
Joking, "This is the last day of our East Coast tour which lasted about 15 years!" Robert talks about how the band's newest addition — guitarist Justin Pecot — has a three-year old who misses him at home. After introducing the group's next song — which he says is "about loving somebody" — violinist Chas Waltz moves over to the keyboard for the rock ballad, "Apart," a number which features Pecot and Richard wailing their lament on their guitars.
Ingraham's drums continue the beat as the group segues into the head-banging rocker,"The Leaving of Liverpool." On this number, the musicians jump and strum at a frantic pace, causing audience members' heads to bop in entranced agreement! Waltz screams on the harmonica and lights flash along in time.
Following large applause, The Dubs perform another up-tempo Irish rocker from 9 entitled "Seeds of Sorrow." Sounding somewhat reminiscent of Green Day, they sing, "Throw away the seeds of sorrow/Far away, sow no more/ Gone today, still tomorrow/Love will follow, cross my heart."
Roberts introduces a song which he says is "about when you drink so much that suddenly everyone looks good to you." Here, the group performs "Howaya Girls," a rock shuffle on which the musicians passionately play off one another, eliciting excited cheers from the crowd.
Seguing into a number which Richard describes as "a good sing-along," he and the band perform a tune "about getting your first pint of Guinness," entitled "I'll Tell Me Ma." The audience happily sings along on the appealing "She is handsome/She is pretty/She is the belle of Dublin City" chorus of this rhythmic Irish ditty.
"The Foggy Dew" is a straight-ahead Irish rocker which features tasty distortion guitar courtesy of Justin Pecot and a "Devil Went Down to Georgia"-like violin solo by Waltz. Moving on to a soaring instrumental tune about "a waterfall in Ireland," Waltz moves over to mandolin and Pecot plays a swirling guitar solo as Ingraham's drums drive the Irish reel, "Ashley Falls."
Keyboard and guitar introduce the poignant ballad, "Raglan Road," which is followed up by one of the highlight performances of the evening — a Chas Waltz violin solo. Initially accompanied only by guitar where Waltz plays a sweet and singing fiddle melody, eventually he performs — like French jazz violinist Jean Luc Ponty often does — unaccompanied, except for the use of electronic effects, which echo his sound throughout the Grunin Center auditorium.
As he spins his rhythmic and melodic tale, the crowd is hushed in rapt attention, but they soon applaud as he segues into an upbeat melody leading to a foot-stomping conclusion!
The rest of the band returns for a rousing rendition of the rockin' "Rosie," which features lightning-fast guitar strumming, and the band concludes its performance with "Follow Me Up to Carlow" — an infectious Celtic rocker on which the audience responds "Hey!" as they vigorously clap along.
With the crowd on its feet standing and cheering, The Young Dubliners leave the stage, but soon return when the audience demands an encore. At this point, Roberts jokes, "We won't leave until you are absolutely exhausted with Irish music!"
The audience claps along on the group's energetic rendition of the country-rock-influenced "If I Should Fall From Grace with God." Then, the band performs another highlight of the show — an electrifying rendition of "Rocky Road to Dublin."
Featuring constantly shifting rhythms, the lyrics pour out at lighting speed and each musician is featured on a solo before the audience happily joins in singing on the catchy "Woah/Oh-oh-oh" chorus.
"Good people of New Jersey, good night!" exclaims Roberts to continued cheers and applause!
As the audience makes its way out of the auditorium and into the Grunin Center lobby, we take a moment to chat with founding member, lead singer and guitarist, Keith Roberts.
When asked about this — their final show of the East coast leg of their 2018 tour — Roberts says, "We love playing the East coast — in fact, we're probably the only band in our genre that plays both coasts."
Adding, "For most of our concerts, we've been used to people getting up and moving to the music, but we've been together for 28 years now, and our audience is getting a little older, so we find we're growing more into a listening band!"
That notwithstanding, suggests Roberts, "We can't 'phone it in' — we have to give it everything we've got — every single show."
Out in the Grunin Center lobby, we also chat with several audience members who share their opinions about tonight's performance.
John from Paterson is a fan who has seen The Young Dubliners perform over a dozen times. States John, "I have a list of bands that are under-appreciated — Los Lobos, being one for example — and The Young Dubliners are also on that list. I've seen them play in a variety of venues from a house concert to a small church to a record store to pubs, not to mention places like this one tonight — a concert stage. They are a unique and fun group, but it's their energy that attracts me — it moves me."
"You have to go to one of their performances to really understand their appeal," adds John, before declaring, "They are a joy to see — the interaction with their audiences is amazing!"
Laurel from Toms River agrees stating, "This is my first time seeing The Young Dubliners perform live, and they put on one great show!"
Her friend, Beth from Toms River, concurs adding, "It was even better than I had expected — it was an amazing performance!"
Lastly, we chat with Vincent from Staten Island who declares, "The Young Dubliners are one fantastic rock and roll band. I travel all over to see them — this is my 76th show! I love their music — they sing about Irish themes, and their shows are so uplifting," before concluding, "Individually, every member of The Young Dubliners is a terrific musician, but when you put them all together, they are brilliant!"
To learn more about The Young Dubliners, please go to youngdubliners.com. For information on upcoming performances at Ocean County College's Grunin Center of the Arts — including Broadway's Hamilton star Mandy Gonzalez on November 2, and Max Weinberg's Jukebox on November 18 — please click on grunincenter.org.
Photos by Love Imagery
Spotlight Central. Your source for Jersey entertainment news and reviews
Love Imagery Fine Art Photography. all you need. peace/love/flower/power