By Spotlight Central
originally published: 10/11/2018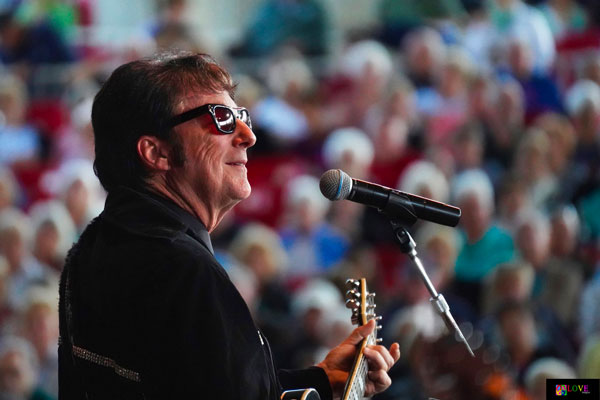 A huge crowd is gathered here on this beautiful September 27, 2018 afternoon at Holmdel, NJ's PNC Bank Arts Center today for a live concert tribute to the music of Roy Orbison, The Beach Boys, and Frankie Valli and the Four Seasons.
The concert is the third in a series of three free Fall performances for NJ residents 55 and over presented by the Garden State Arts Foundation. The first concert, held on September 12, starred Lucie Arnaz, and the second, which was presented on September 20, spotlighted entertainer Vinnie Medugno.
Today's show features Mark Barnett's tribute to Roy Orbison, Endless Summer's tribute to the music of The Beach Boys, and Who Loves You, a Frankie Valli and the Four Seasons tribute group.
As we make our way backstage at the PNC Bank Arts Center's amphitheater, we take a moment to chat with one of the stars of today's show, Mark Barnett, who with his band, The Black and White Knights, will pay tribute to the music of Roy Orbison.
When asked about his reasons for becoming a Roy Orbison tribute artist, Barnett, who hails from Bloomington, CA, reveals, "When I was young, I used to listen to music in my treehouse which was built in a peach tree. When Roy Orbison would come on the radio with songs like 'Pretty Woman,' 'In Dreams,' 'Running Scared,' and 'Only the Lonely,' I would say, 'I wanna sing like that!'"
---
The article continues after this ad
---
---
As a young teen, Barnett joined his father, Johnny Barnett's band, recalling, "I played bass, my brother played drums, and my dad played guitar. We'd go out on the road and I would miss school — which my principal didn't like. He'd say, 'Why aren't you in school?' And I'd say, 'I've been on tour. Here's my dad's phone number — but don't try calling him before noon!'"
While on the road, Barnett performed oldies music — especially rockabilly.
"I didn't realize I had the voice to do Roy Orbison," explains Barnett, "until one time when drummer Mike Davidson of The Drifters said to me, 'You sound like Roy Orbison! You should put on a wig and some cheap sunglasses and you'll even look like him.' So I got a cheap Elvis wig and cut the mutton chops off, looked in the mirror, and said, 'I like it — I can't believe I'm looking at a dead guy!'"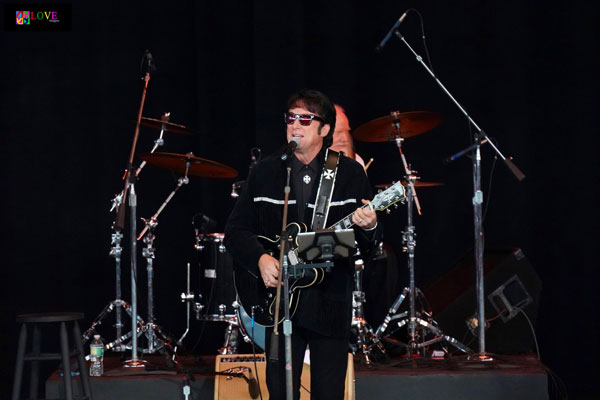 Starting off his Orbison tribute career playing small venues, Barnett got his big break when he was asked to be a part of a Buddy Holly, Roy Orbison, Elvis Presley tribute concert in Boston. From there, he created his own band, The Black and White Knights, and he's been traveling around the country with his show ever since, acknowledging, "But this will be my first time performing in New Jersey!"
As showtime nears, we take our seats in the bustling PNC Bank Arts Center amphitheater, which is jam-packed today with music lovers from America's greatest generation.
Ron Gravino, VP of the Garden State Arts Foundation, takes the stage and welcomes the crowd to today's performance, reminding everyone that no federal or state money is used to support the GSAF's line-up of concerts.
Following the playing of "The Star-Spangled Banner," Gravino introduces the MC for today's show, Rob Albanese.
Albanese takes the stage, inquiring, "How are we doing, everyone? Thanks for coming!"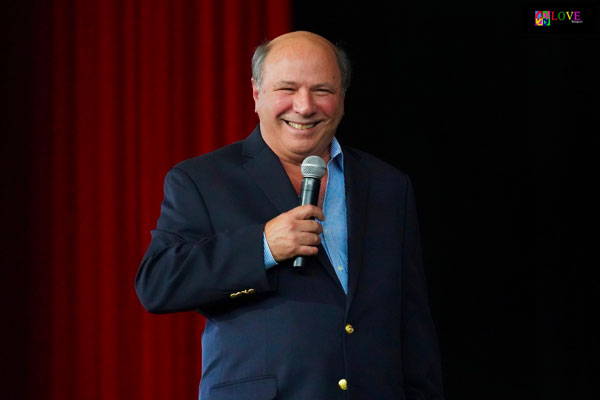 Albanese introduces Who Loves You, and the Frankie Valli and the Four Seasons tribute group hits the stage running with an energetic performance of "Let's Hang On," backed by a live band and swaying as they sing!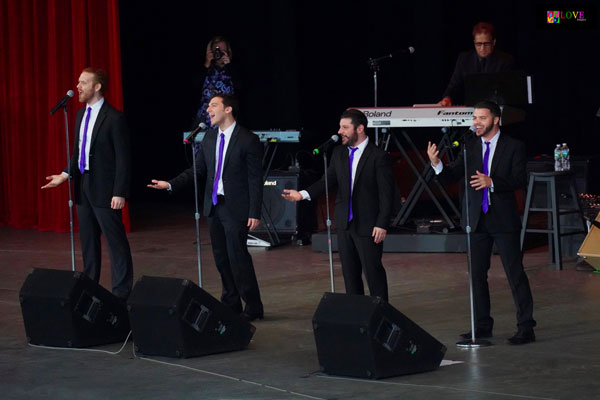 "We are so excited to be here at the gorgeous PNC Bank Arts Center," says the group, before exclaiming, "We hope you'll get up and dance, clap your hands, and have a great time today!"
Segueing into "Sherry," the singers hit all of the high notes, and the crowd responds with avid applause before the guys say, "Let's take you back to four dudes hanging out in the great state of New Jersey and to the music of the '60s that defined an era — and steamed up millions of car windows!"
Here, Who Loves You performs a song which they say "knocked Sherry out of the Top 10" — "Big Girls Don't Cry" — and they continue their big vocal sound on "Walk Like a Man."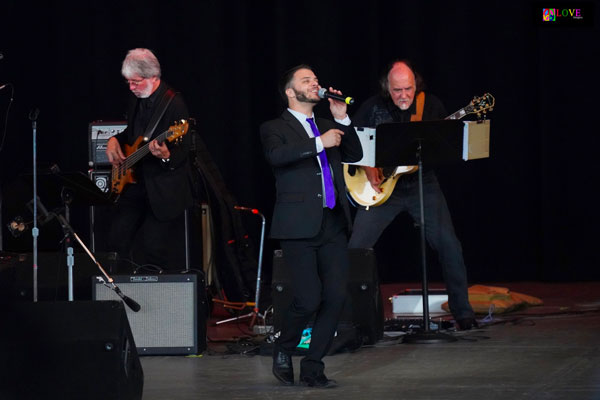 Several audience members can be seen dancing in the aisles to the musicians' rockin' '60s sound!
Many in the crowd tap their toes and sing along on "Dawn." Some in the crowd even appreciate the fact that on the song, "My Eyes Adored You" when the group sings the lyric, "Walking home every day/Over Barnegat Bridge and Bay," they're referring to a location here at the Jersey Shore not far from Holmdel's PNC Bank Arts Center.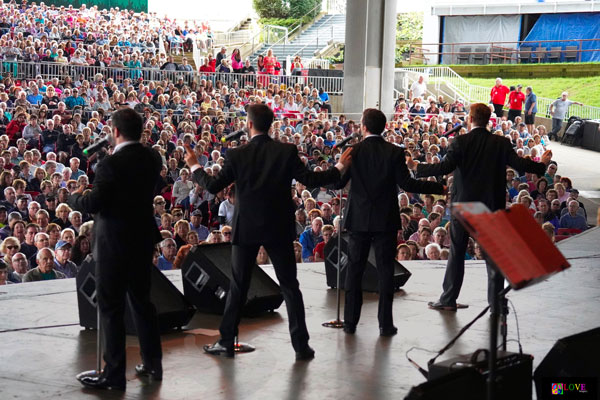 "This next song is about loving someone just the way they are," say the guys before they perform "Rag Doll." They follow that up with a tune which, they acknowledge, "Frankie Valli sang by himself," noting, "His voice was unique, right?"
Here the group performs their rendition of "Can't Take My Eyes Off of You," where the audience happily joins in singing along on the famous "I love you baby" chorus.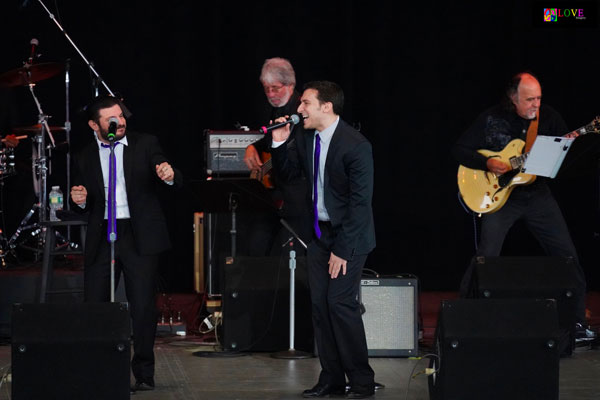 "Now we're gonna flash forward to the birth of disco! You can dance or just wiggle in your seats if you like!"
The audience moves to the groove and claps to the rhythm of "Grease," and the disco beat keeps spinning on "December, 1963 (Oh What a Night)" where audience members clap and have fun singing along.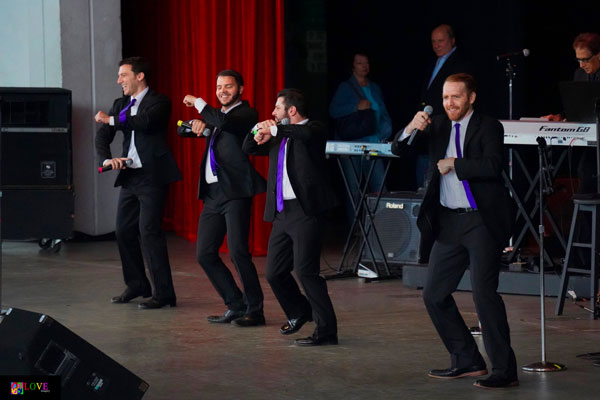 After thanking the crowd, the group concludes with their namesake song, "Who Loves You," replying with a heartfelt "We love you" when the audience responds with a standing ovation!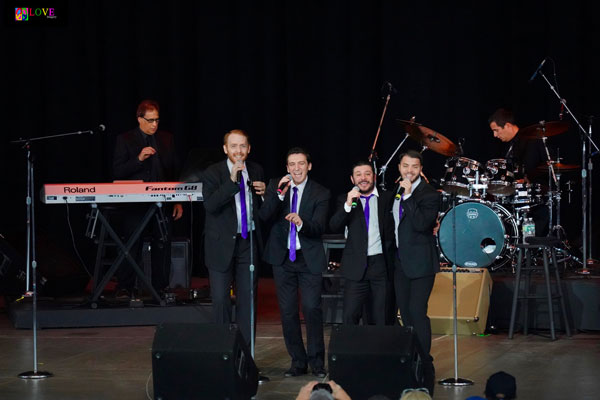 Albanese retakes the stage to introduce the next act on today's bill, Endless Summer's tribute to The Beach Boys!
"Hello, NJ!" says the band, uniformly dressed in blue striped shirts and light slacks. "Are you having fun? We want you to fully enjoy our tribute to The Beach Boys!"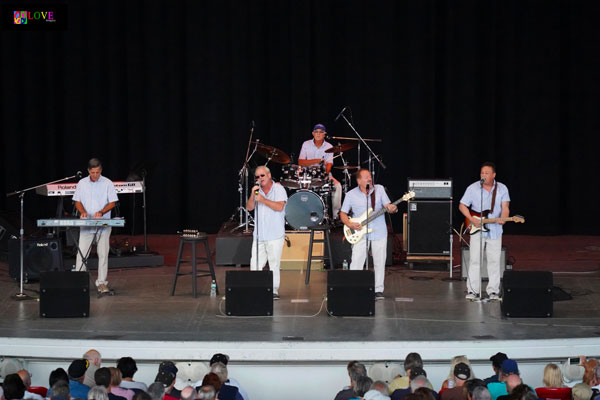 Opening with a rousing rendition of "California Girls," the group impresses with their big sound despite an instrumentation which only consists of drums, keyboard, bass, and guitar.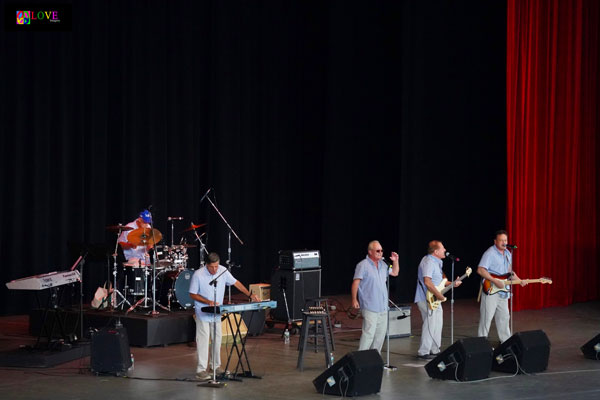 Dancers do the swim in the aisles on the band's rendition of "Surfin' Safari," after which Endless Summer segues into "Dance, Dance, Dance."
Vocal harmonies abound on "Fun, Fun, Fun" and "Do You Wanna Dance," and the audience joyfully joins in singing and moving to the rhythm of "Barbara Ann."
Announcing, "We're gonna send this one out to all the lovely ladies out there," Endless Summer performs "Surfer Girl."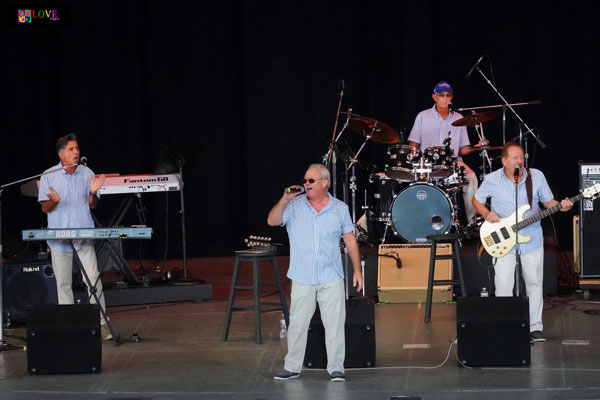 As a shuffle beat plays, the group says, "We would be remiss if we didn't include a medley of classic car songs."
Here, they perform a snappy rendition of "Little Deuce Coupe," on which couples can be seen dancing with one another, and "409," a number which features a '60s-style guitar solo.
Next, Endless Summer performs a song from 1964 which they describe as "The Beach Boys' first #1 hit" — "I Get Around" — on which they hit all the high falsetto notes.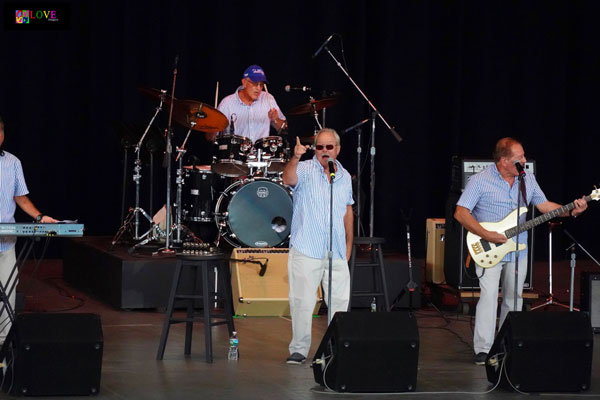 The highlight of the group's set, however, is their rendition of "Good Vibrations," which features five-part vocal harmonies. 
"Help us out so they can hear us in New York City," says the band, before the crowd joins in on the "Gotta keep those lovin' good vibrations happening with her" interlude.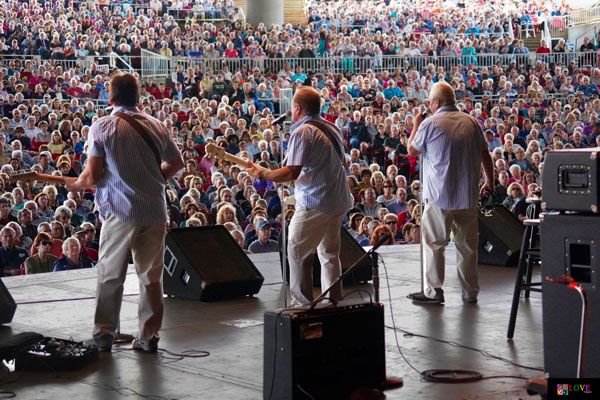 After the song crescendos to a powerful conclusion, the audience responds with a standing ovation.
"You like that one, huh?" asks the band. "We're gonna take you all on a trip with us!" as they play The Beach Boys #1 hit, "Kokomo," which has the audience singing and clapping along!
"Everyone knows the words to this one," they state, before launching into an energetic rendition of "Help Me, Rhonda."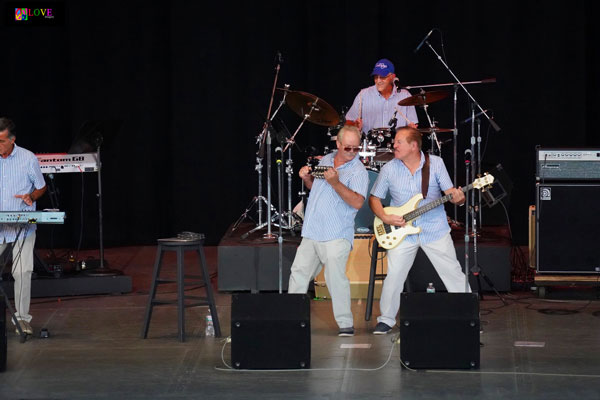 As the audience sings along, many can be seen dancing in the aisles.
"Thank you very much to the people of New Jersey," says Endless Summer. "Thanks, too, to the PNC Bank Arts Center — there's no better place for shows, and what a beautiful day it is today! We hope to see you again soon," before they conclude with a rockin' version of "Surfin' USA."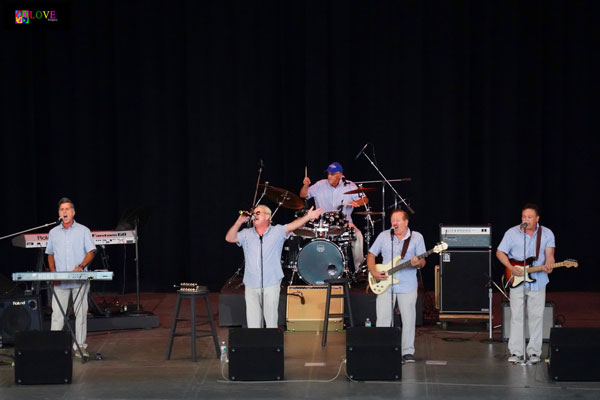 Following avid applause, there's a short intermission, at which time we chat with several members of the audience about today's show thus far.
Lynn from Farmingdale comments, "Who Loves You has a lot of personality and energy! They really sound like Frankie Valli and the Four Seasons," before exclaiming, "and I knew all the songs!"
Kathy from Parlin agrees declaring, "Who Loves You is the greatest Frankie Valli tribute band I've seen! I loved all the songs, but I just sent them a text saying, "You forgot to do 'Swearin' to God!'"
Describing Who Loves You's sound as "good head-boppin' music," Kathy adds, "we were clapping the whole time," acknowledging, "and my husband was even singing to me!"
We also chat with Bob from New Brunswick, a man whom we noticed was especially enjoying Endless Summer's tribute to The Beach Boys.
"I was dancing the whole time!" exclaims Bob. "but my favorite song today was 'Surfin' USA.'"
When we ask Bob his age, he jokes, "I'm 14," before revealing, "No, I'm 86 years old!"
Albanese retakes the stage to introduce the final act on today's bill — Mark Barnett and The Black and White Knights and their tribute to Roy Orbison.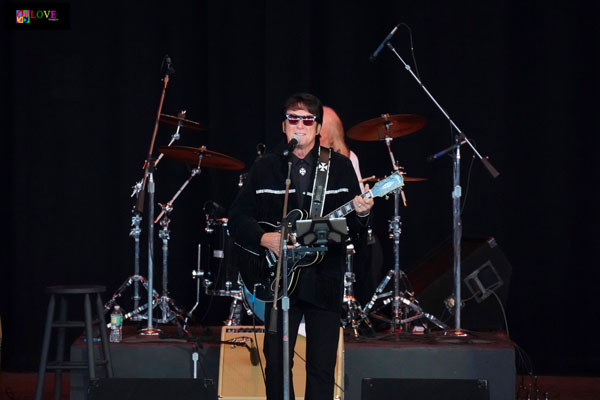 Acting as if he is Roy Orbison, Barnett says, "Hi, New Jersey. Here's a song I wrote for a good friend of mine, Elvis Presley," before launching into his opening number, "Only the Lonely."
Dressed in black with fringe, the audience reacts to Barnett's rich, deep sound and accurate Roy Orbison vibrato by nodding and singing along with him.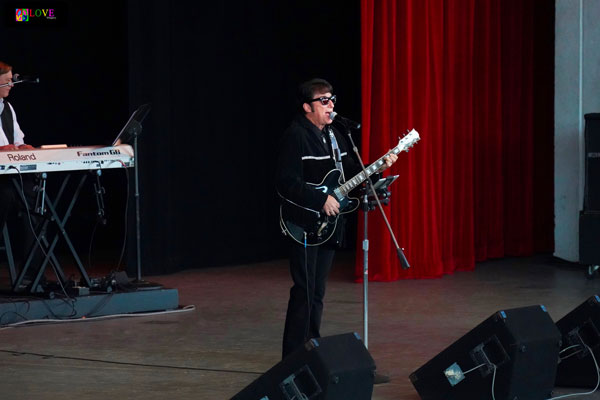 Following appreciative applause, Barnett impresses with his vocal chops on "In Dreams" and then changes things up with a rockabilly beat on "Claudette," which features three-part harmonies, a twangy guitar solo, and a rockin' roadhouse piano solo.
After introducing the members of his Black and White Knights band, Barnett says, "Here's one you may remember!" With it's classic 1950's sound, he performs "Blue Angel" and he follows that up with the Orbison shuffle blues, "Uptown."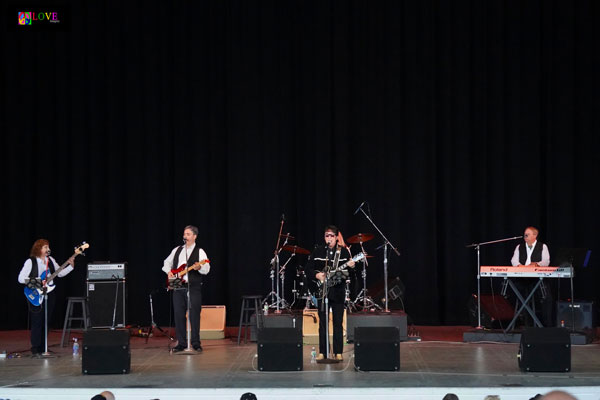 The audience instantly applauds as soon as they recognize the opening strains of "Crying," and they sing along as Barnett brings back memories with his pleading falsetto voice and his band's symphonic arrangement.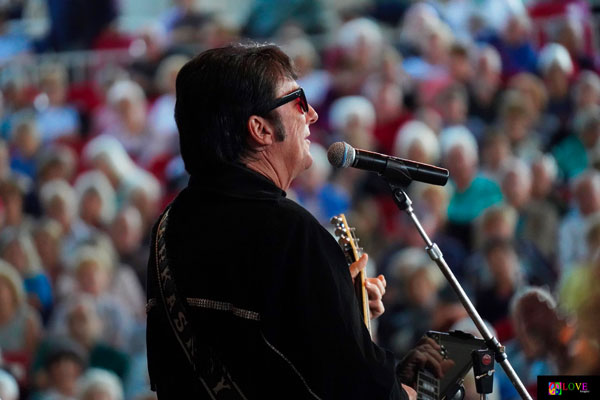 The crowd responds with cheers, and then Barnett responds by opening his next number, "Running Scared," with just his voice and guitar before the band kicks in with a repeated rhythmic ostinato figure. Angelic background vocals soar on this musical arrangement which elicits great applause from the crowd!
After Barnett and the group perform the ballad, "It's Over" — on which some members of the audience sing along while others dance — they change things up with the '50-style rocker, "Mean Woman Blues" — a tune which features a "Wipe Out"-style drum interlude and Roy Orbison's trademark "purr."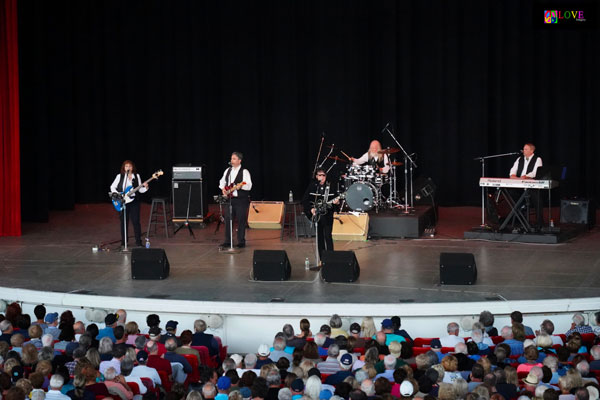 The mysterious "Leah" is up next, and is followed by "Love Hurts." The audience sings and sways on Barnett's smooth rendition of "Blue Bayou," which elicits huge applause.
"On this next song, we're gonna need your help," announces Barnett.
Here, he divides the audience into three groups, each of which sings the lyric, "You got it" at the designated time. The audience enjoys this friendly competition on his rendition of "You Got It" and responds appropriately following the lyrics, "Anything you want….Anything you need….Anything thing at all…"
Barnett concludes his Roy Orbison tribute with another highlight — his performance of "Pretty Woman" — which features Barnett's spot-on vocal, in addition to thoughtful guitar and keyboard solos.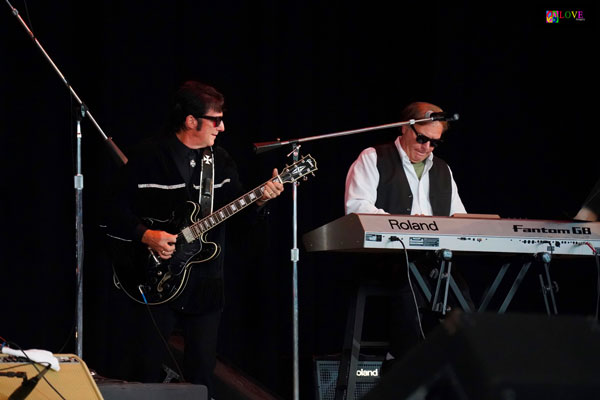 Along with this, the drummer's heart-thumping drum solo helps to inspire a standing ovation!
As the audience makes its way out of the PNC Bank Arts Center amphitheater, we chat with several in attendance who share their thoughts on today's show.
Carol from Morganville exclaims, "I enjoyed everyone today! This is the fourth Garden State Arts Foundation show I've been to this year — I saw Lucie Arnaz a few weeks ago, in addition to The Texas Tenors and Frankie Avalon when they were here last Spring — and they were all wonderful!"
"I loved the whole show," comments Carol's friend, Patty, also from Morganville. "I love Roy Orbison and 'Pretty Woman' is my favorite song," noting, "and I loved the movie with Julia Roberts, too!"
States Monica from East Brunswick, "Mark Barnett sounded really good — he has a really high voice," before joking, "and I can't believe how young 'Roy Orbison' looked!"
And, lastly, we chat with Gary from South River who remarks, "I enjoyed this show immensely," before concluding, "All of this great music brought back many great memories!"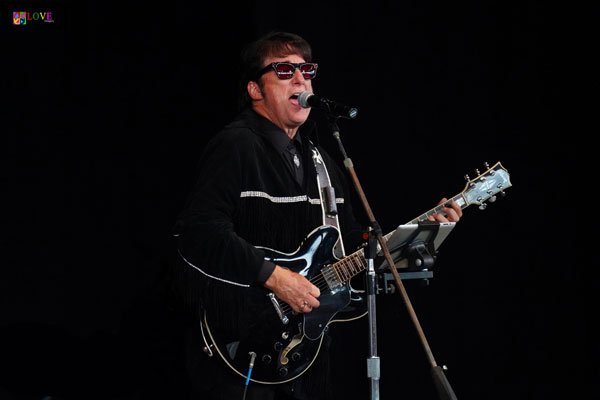 To learn more about Mark Barnett and the Black and White Knights' tribute to Roy Orbison, please go to markasroy.com. For further information about Endless Summer's tribute to The Beach Boys, click on EndlessSummerTributeBand. To find out more about Who Loves You's Frankie Valli and the Four Seasons tribute, check out wholovesyoushow.com. For information about future Garden State Arts Foundation shows at the PNC Bank Arts Center, go to gsafoundation.org.
Photos by Love Imagery
Spotlight Central. Your source for Jersey entertainment news and reviews
Love Imagery Fine Art Photography. all you need. peace/love/flower/power