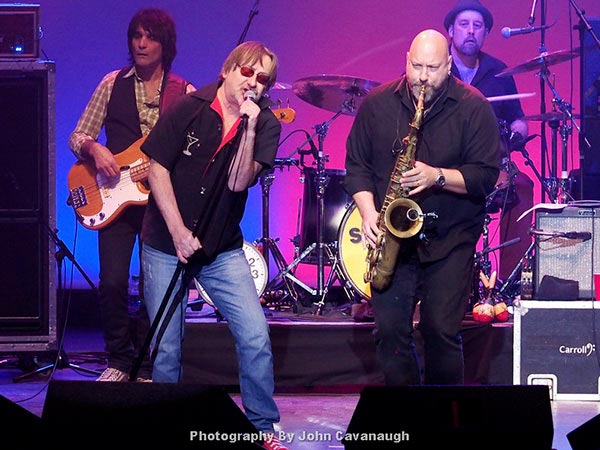 (UNION, NJ) -- Southside Johnny & the Asbury Jukes are making their long-awaited return to Kean University on Saturday, October 13 at 8:00pm when they perform at Kean Stage's Wilkins Theatre. The band's performances on campus in 1978 and 1980 are legendary to alumni of what was then Kean College.
"We're going to have a good time at Kean," said John Lyon, better known as Southside Johnny. "We haven't played there in a while. We'll be fired up."
Lyon co-founded the Asbury Jukes in the mid-1970s along with Little Steven Van Zandt, of E Street Band and The Sopranos fame. With their rhythm and horns, along with gospel-charged vocals and catchy choruses, the Jukes became part of the Jersey Shore rock scene that exploded during that time.
"I think we all felt like we were getting away with something," he said. "You work for two hours and people tell you you're great."
Their 1976 debut album, I Don't Want to Go Home, contained several songs written by Van Zandt and Bruce Springsteen. Follow-up albums This Time It's For Real and Hearts of Stone, also produced by Van Zandt, contained a mixture of horn-based melodic riffs and soul-searching lyrics. Rolling Stone magazine voted Hearts of Stone among the top 100 albums of the 1970s and 1980s.
---
The article continues after this ad
---
---
Subsequent hits such as The Fever, Talk to Me, Love on the Wrong Side of Town and a cover of Sam Cooke's We're Having a Party helped secure a vibrant and dedicated fan base that has followed the Jukes for more than 40 years.
To what does Southside Johnny attribute this longevity?
"I think it's sheer tenacity," he said. "There were a lot of lean years when we were playing and not making any money. But I wasn't going to give up. I don't know how to do anything else."
A voracious reader, thanks to the influence of his parents, he studied English at Monmouth University for a while, but soon left due to boredom.
"My first year, we were reading Hamlet," he said. "Who hasn't read Hamlet?"
His parents were supportive of his decision to pursue a music career. His father had played the upright bass but gave it up for a secure 40-year career at the post office.
"He told me, 'If you want to make music, now is the time to do it,' " said Lyon. "Don't worry about not having money. When you're young, you're supposed to be broke."
When he's not touring, playing at the many benefits he supports or jamming with friends, Lyon can be found reading, bird watching or visiting seniors at the retirement homes near his Ocean Grove home.
"I started doing it when I was 15, when I delivered prescriptions there for Nagel's Pharmacy," he said. "These people love to tell stories about their lives and their past. You start to ask them questions and they brighten up and talk. I remember a guy told me he was in the trenches during World War I. I was amazed that I was talking to an actual person who experienced history. He was almost comatose when I approached him, but it was clear he just needed someone to ask about it."
Now more than 40 years later, and approaching age 70, Lyon doesn't flinch at the idea of getting back out on the road for the band's upcoming tour.
"Other than the aches and pains and forgetfulness, turning 70 doesn't resonate with me," he said. "The world has changed a lot and I've changed a lot. I'm not afraid of anything. When I get out with the guys and go on stage, it all clicks together."
Southside Johnny & the Asbury Jukes will perform on Saturday, October 13 at 8:00pm in Wilkins Theatre, 1000 Morris Ave, Union, on Kean University's main campus. Tickets are $35-$55 and can be purchased at the Kean Stage Box Office in Wilkins Theatre, by phone at (908) 737-7469 or online at www.keanstage.com.