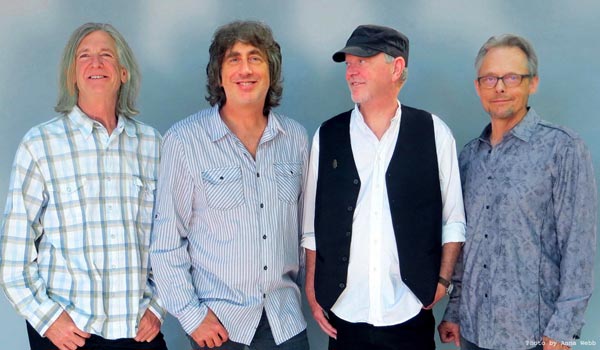 Steel pedal guitarist Rusty Young is celebrating the 50th anniversary of the country rock band he helped to create, Poco. The band recently performed at South Orange Performing Arts Center and spoke with Spotlight Central ahead of the show.
Poco originated when the 60's rock group, Buffalo Springfield ("For What It's Worth") was recording its final album, and group members Stephen Stills, Neil Young, and Richie Furay were recording their own material without the other band members present. One of Furay's projects was his country rock classic, "Kind Woman," which he recorded with the help of producer/engineer/bassist Jim Messina and pedal steel guitar player Rusty Young.
When Buffalo Springfield split up, Young, Messina, and Furay started their own band with the idea of continuing to exploring this new musical genre they were developing — country rock. After completing their line-up with drummer George Grantham and bassist Randy Meisner, they called the group, Pogo, after the comic strip character, but soon after changed the name to Poco.
Poco's first album, 1969's Pickin' Up the Pieces, is considered one of the pioneering albums in country rock. In 1970, the band reached the Billboard Top 40 with their third effort, a live recording entitled DeLIVErin'.
Over the years, Jim Messina left Poco to join Loggins & Messina, and Richie Furay moved on to join The Souther-Hillman-Furay Band. Randy Meisner joined The Eagles and was replaced for a time by Timothy B. Schmidt — who, ironically, went on to replace Meisner in The Eagles. Original member George Grantham also left Poco and ended up playing drums for various artists including Ricky Skaggs.
---
The article continues after this ad
---
---
Rusty Young, however — along with Jim Messina's replacement, Paul Cotton — continued on with Poco. In 1978, the pair created Legend, an album which became Poco's most commercially successful recording and which contained a song which Rusty Young wrote and sang lead vocal on — "Crazy Love." The album was certified gold.
In 1989, all five of the original members of Poco reunited for Legacy, another recording which attained gold record status. Throughout the 2000s, the group — with various musicians — continued to record and travel the world playing live concerts, some of which featured one or more of the founding members.
Poco's latest recording is their 2013 effort, All Fired Up. Last year, in 2017, Rusty Young released his very first solo album, Waitin' for the Sun.
These days, Young, 72, tours with Poco and its current line-up which includes Jack Sundrud on bass, Rick Lonow on drums, and Lex Browning on fiddle, mandolin, and guitar. As the sole remaining founder of Poco, Rusty is the only group member to have played at every single live concert and on every Poco recording since 1968!
Spotlight Central recently had a chance to catch up with Rusty Young and talked to him about his childhood musical influences, his experiences as a steel pedal guitarist, and his upcoming concert with Poco at SOPAC in South Orange, NJ.
Spotlight Central: Were you born into a musical family?
Rusty Young: Well, kind of — my understanding is that, lots of times, those kinds of things will skip a generation. My grandparents were both very musical. My grandmother was a piano player back in Colorado, and she used to play for silent movies. She would sit in the theater with a little tip jar on her piano and she would play along by looking at the screen and making music which she thought was appropriate for whatever she was seeing. So some of my songwriting creativity really comes from her.
And my grandfather — whom she was married to — had his own band in Colorado. It was a horn band and he played saxophone and clarinet. So both of my grandparents on my dad's side were professional musicians. My dad didn't take up an instrument, however, and then it came to my generation — so I think that's how it occurred in terms of my genetic background.
Spotlight Central: We understand that about at the age of six, you started playing the lap steel guitar. What attracted you to that particular instrument?
Rusty Young: [Laughs] Well, I'm a really old person! The year was 1952 and back in the early 1950s if you wanted to take guitar lessons — on whatever type of guitar — you started off playing lap steel because it was a real simple instrument to learn the basics on. So you would take lap steel for six months or a year, and then you would graduate to a standard six-string acoustic or electric guitar.
So everyone started that way, but I loved that instrument so much — I mean I'll even play it at the show at SOPAC — I think it's a beautiful instrument! And I went on to learn to play a lot of other instruments, but I've always played lap steel and I still really enjoy it.
Spotlight Central: So how did you migrate from that instrument to the pedal steel guitar?
Rusty Young: Well, part of that was the evolution of the instrument. The history of it is that American soldiers coming back from WWII would stop in Hawaii, so Hawaiian music became very popular in the late '40s and early '50s, and they played much of that music on lap steels. Jerry Byrd is a famous lap steel player who had great technique and he and others were playing that kind of thing on steel guitars — but a single lap steel guitar could only play one tuning.
So Fender came up with these two- and three- and, even, four-neck steel guitars! They didn't have pedals, but they had up to four necks and each one was tuned to a different tuning so you could play different things on each neck since one tuning was just too limited.
Then, somebody came up with the idea of taking what was on a harp — you know, a big heavenly harp with all the strings on it — which was pedals, and somebody — I think it was Gibson — said, "What if we take pedals like a harp has and put them on a steel guitar — then, you could change the tunings and you wouldn't have to have three or four necks?"
And that opened the gates, and a lot of guys started making pedal steels in their garages where they could hook up levers and raise and lower the strings so they didn't have to have all the necks.
Then, in the early '60s, Fender came out with the Fender 1000 which was a one-neck pedal steel guitar with ten strings, I think, and they also had a Fender 400 which had four pedals on it. But for me, in Denver, Colorado, I couldn't get a pedal steel until it became available here in the early '70s — when Fender 400s and 1000s were very popular — but I got one!
Spotlight Central: So what gave you the idea of playing your pedal steel guitar through a Leslie speaker cabinet like a Hammond B3 organ player might do?
Rusty Young: In Denver, Colorado, there was a place called Don Edwards' Guitar City and that was the hub in the Midwest for steel guitar players. I actually signed on as a guitar teacher when the store was in the basement of Don Edwards' house, but eventually he got an actual store and I gave guitar lessons and sold guitars there. And it was a great environment, because steel players from all over would come there. If a steel player was coming from Nashville to Los Angeles or Las Vegas, he would stop in Denver and play at a club there called The Four Seasons, and so everybody who came through there looked forward to coming to Don Edwards' shop because he had the pedal steel stuff, and he even made his own pedal steel guitars.
And this guy showed up there from Oklahoma — his name was Donny Buzzard — and Donny was my hero! He looked like Buddy Holly. He had the black glasses and — through the whole Beatle era — had the tall bouffant hairdo like Elvis, and he always wore the outfit that you wore when you played in clubs: a white shirt, tight black pants, and Cuban shoes — kind of like Beatle boots. And we would sit around in the afternoons when the store was slow and just play.
He was a brilliant musician, and he introduced me to all kinds of stuff. He said, "You can try playing the steel with a comb, and it will sound like a tack piano." Or "You can run it through a fuzz tone and listen to what that sounds like." Or "Run it through a Leslie speaker." And you have heard of a guy named Alvino Rey, who was the first to use a voice box like Joe Walsh and Peter Frampton ended up using — but the first guy I knew who had one of those was my friend, Donny Buzzard. And he just opened my eyes to the fact that the pedal steel is an instrument that can do anything, and it shouldn't be limited to just country and western music. So I decided to take off with what Donny had showed me and the rest is history.
Spotlight Central: And speaking of history, you and Richie Furay and Jim Messina decided to create Poco, and this year is the 50th anniversary of that band!
Rusty Young: Yes, it is — this fall, actually, will be the 50th anniversary of our very first shows at The Troubadour in Los Angeles.
Spotlight Central: So what was the impetus for starting the band with those fine musicians?
Rusty Young: They called me in to play on Buffalo Springfield's The Last Time Around record on a Richie Furay song called "Kind Woman," so I flew out from Colorado and played on that song. And Jimmy and Richie and I got along really well and they didn't have a band anymore — by that point, The Springfield had broken up. And Richie was looking for a band — he wasn't really a solo artist at that time — and since the three of us got along, we had this idea: Richie was a rock and roll guy, Jimmy's a brilliant technician and guitar player, and I played all these country instruments — banjo, mandolin, dobro, and steel guitar. At that time, because there weren't synthesizers, people had to use real instruments to make those sounds. And with The Beatles experimenting with so many different instruments and different sounds, it just seemed natural to think, "What if we take this in a country direction? We'll take rock and roll songs, but the palette — the colors — that we'll add to it, will be country instruments — so it will be country instruments playing rock and roll, and not playing the typical country thing."
That was the concept we decided we wanted to go after — so that's how we started off — but there were just the three of us, so we needed a rhythm section. That's when I called George Grantham who played with me in Colorado and who I thought was a great drummer and had a great high voice, and I asked him to be involved. And I also asked Randy Meisner, who I've known since we were teenagers in Colorado — he was already out in Los Angeles trying to make his way in this business. So I called Randy up, and George, Randy, Jimmy, Richie, and I were the beginning of Poco.
Spotlight Central: And so many great Poco albums followed but your most commercially successful recording was Legend from 1978 which featured a hit which you wrote and sang — "Crazy Love." How did it feel when that single and album become so popular?
Rusty Young: It was really ironic, because after Richie — who had been in the band for about five or six years — exited the group, it left room for another songwriter, and I really wanted to be a songwriter, and so I started writing songs. But the irony is I had always been an instrumentalist — that's all I was — and the other guys were singer/songwriters.
And so after Richie left the band, and then when Timothy B. Schmidt — who had taken over for Randy Meisner — left to join The Eagles in 1977, it left room for me to also sing the songs I was writing. So the funny thing is when we started the band, I didn't sing and I didn't write, and we never had a hit until 1978 — and it was with a song that I wrote and sang on! [Laughs] It was very ironic!
Spotlight Central: And, after all these years, you just recently released your debut solo album, Waitin' for the Sun. Tell us about more that.
Rusty Young: Yeah, it's been almost a year now. Poco is my main focus and I've always written songs for Poco and kept Poco going, and I didn't really look to make a solo record. But I'm winding down — I actually started winding down several years ago — where I just play some concerts that I want to play here and there.
And, one day, Jimmy Messina called and said, "I've got six shows out on the West Coast. Will you come out and play them?" So I did, and after the second or third show, a guy came up and introduced himself from a record company called Blue Élan and said, "Have you ever thought of doing a solo record?" And I said, "Not really, I've always done Poco records." And he said, "Well, I have this label, and if you're interested in doing a solo record, we'd be interested in signing you."
And, at that point, I was thinking about doing less and not more, but it really appealed to me because I'd never done a solo record and everybody else in the band had done lots of solo records, so I just thought, "You know, in winding down my career and to never have a solo record would not be fulfilling my 50 years of Poco and 65 years of playing music," so I said, "Sure!"
It took about a year to write all the songs, and I recorded the album in Nashville at Cash Cabin Studios, which is Johnny Cash's place. It was a great experience, and I'm really glad I did it. And, at the concert at SOPAC, we'll probably do three or four songs from that record.
You know, when you get near the end of your career — and I'm in the fourth quarter, for sure — you have goals that you want to accomplish. One of mine was to do a solo record that I was really proud of. The other was to finish a book I've been working on for ten years, and I'm hoping that by the beginning of next year, the book will be done. So, at that point, I'll have my book and my solo record and I'll feel like I've done my job!
Spotlight Central: And in addition to some cuts from Waitin' For the Sun, what else can audience members expect to hear at the Poco concert this Saturday?
Rusty Young: We'll do a couple of Buffalo Springfield songs — we'll do "Kind Woman," which is the song that began the whole thing. We'll do the title tune of the very first Poco record, Pickin' Up the Pieces. We'll do the title tune of the most recent Poco record, All Fired Up. We'll do classics like "Heart of the Night," "Crazy Love," "Rose of Cimarron." And we'll probably do "Magnolia."
And this is actually the first tour in ten years where I will play the pedal steel! For the past decade, I've mostly been the front man, but we're now bringing out the steel guitar and we're gonna play four or five songs that I play it on and I'm looking forward to that.
We'll also do "Good Feelin' to Know," and many of the other songs that people come out to Poco concerts expecting to hear like "Call It Love"— the last real Top 20 record that Poco had — in addition to some new songs, too.
Spotlight Central: That sounds great! Is there anything else you'd like to add?
Rusty Young: Well, actually, I'm in Nashville right now and we're here rehearsing with our new band member, Lex Browning, who plays fiddle, mandolin, and electric guitar. He's a great musician and the SOPAC concert will only be the second show featuring this new formation of the band.
And we'll also have Rick Lonow from The Flying Burrito Brothers — who has been in the group for about a year — on drums, and Jack Sundrud — who has been in the band since 1985 — playing bass. It's gonna be a lot of fun because I love having a fiddle in the band when you play those country rock songs — a fiddle is just so awesome to have — and we just look forward to seeing everyone there!
Poco will appear on Saturday Oct. 13, 2018 at 8pm at SOPAC, located at 1 SOPAC Way in South Orange, NJ. Ticket prices are $38, $48, and $58 and can be purchased by calling the SOPAC box office at 973–313–2787 or by clicking on sopacnow.org.
Photos by Love Imagery
Spotlight Central. Your source for Jersey entertainment news and reviews
Love Imagery Fine Art Photography. all you need. peace/love/flower/power