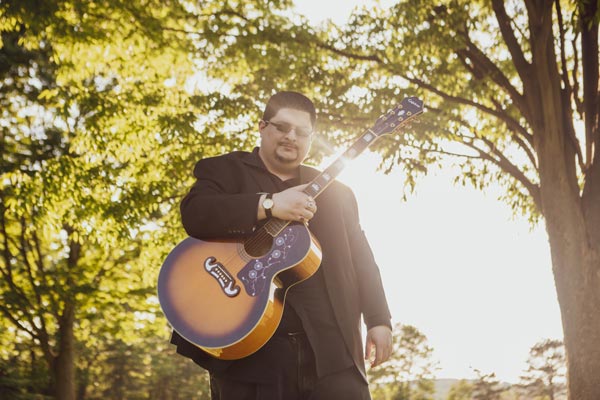 From the corporate strip mall wastelands of suburbia in Central New Jersey, Diego Allessandro's trademark sound blending Americana with 80s and 90s pop and 2000s punk has earned him two nominations in the Asbury Music Awards Top Americana Band category with his former band Lot 25. He's back with This American Life - his first full length solo effort since 2014's The Losin' Kind. He's shared the video for "Arizona Sky" with New Jersey Stage and provides us with the story behind the song.
The story behind the song: "Early 2017 I was working at a Best Buy store in Monmouth County and it was deader than dead," explained Allessandro. "I went almost two hours with nothing to do except wait for someone to come in and buy toner or something. I just remember thinking, 'This can't be it. All the hard work I put in in school, all the things I had to over come...for this? To make someone else rich? To sell so my asshole managers get a bigger bonus on top of a livable wage and health benefits? There has to be something different, something better.'"
"I was beyond angry at that point," he continued. "You have to understand I come from a generation that was used as a political pawn in the 90s, all anyone ever said was 'we have to leave a better world for out kids' while they were stripping everything away and selling it to the highest bidder. I was told all throughout my childhood 'stay out of trouble, work hard in school and there'll be a job waiting for you when you graduate.' Nobody said anything about experience but we knew, we knew in the mid-90s just how screwed we were."
"That night as I lay in bed after working from 9:45am through to 9 at night because someone decided to call out and we were short staffed and knowing full well I had to go in to close the next day; it was the closest I ever came to just piling my guitars and gear in my car and just driving until I found something I didn't hate," he explained. "When I wrote the song I was just writing about the frustration of feeling so powerless because if you say anything you get fired, if you try to unionize you get fired, if you demand fair wages and benefits you get fired. I quit a few months later when they brought someone else in from outside the company to work a full time sales position I had went out for, I was done after that. I wasn't gonna stay in a job where I was putting up amazing sales numbers every month and seeing nothing come back my way. It made me less than a pleasant person to be around and after I told them to go screw and quit, I was back to my old self again."
Allessandro shares how the video was created:  "I had some stock clips I had collected over the past year or so trying to put something together for this song. It's fun playing around with audio whether it's radio or music, sometimes it's fun to mess around with visuals too. I'm less knowledgeable about Premier and Photoshop than I am with Presonus StudioOne and Adobe Audition but it's fun to see what you can come up with to marry the image to the audio. It's great to have places you can go to get clips and stuff to put something like this together and I am very thankful to those who post those sites and allow others like me to use their stuff to put something together. I'm honestly not the biggest fan of doing videos, 25/30 years ago totally different story. But in the modern industry it's, especially if you're a label artist, throwing a lot of good money out for non-existent results but at the indie. DIY level you can do something cool or artsy without sacrificing anything and no one is looking over your shoulder so to speak and saying 'we can't market this so you can't do it.' When I did this I wanted you to feel like you were on a road trip with this guy in the car thinking about the things he left behind."
---
The article continues after this ad
---
---
About This American Life: "I'm extremely proud of it, I think it's my best album thus far and I'm at point in my life where I am creating what is my best work," added Allessandro. "I at this point have put out five studio albums and four singles. That's 51 songs now, each one I stand by 100% and over three hours of music and I feel I'm just now scratching the surface of my potential. I'm excited, I'm focused, I'm proud and I am scared shitless. I worked hard on every second to make it the best album it can be, the best you'll ever hear. I hope that anyone who checks it out or purchases it finds in it, something they latch onto, something that makes them feel something. Ultimately that's my job; to make you feel something. I won't stop trying to make the best album you've ever heard, regardless if that's an obtainable goal or not. Why aim for mediocrity? Why not aim at something more lofty? So, yeah; I want people to know that I go to that place that thrills me, scares me, beats me, haunts me and breaks me so they won't have to, so they won't be alone if they do; I can take it. It's the cost for my having this mind, this heart and this soul and that tax man always comes around to collect."
For more on Diego Allessandro visit www.diegoa.net
---
If you are a musician interested in being part of our Story Behind The Song series contact us at: info@newjerseystage.com
---