By Al Nigrin
originally published: 10/03/2018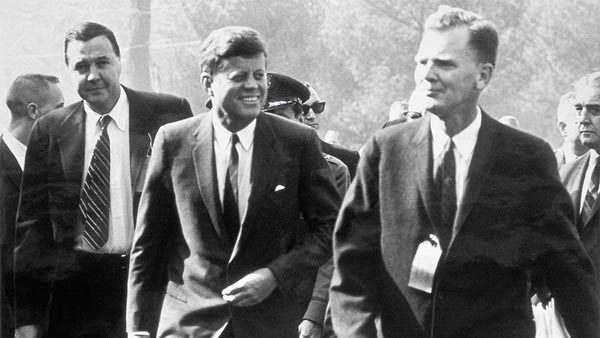 Bestor Cram's important documentary JFK The Last Speech screens at the New Jersey Film Festival this Friday, October 5. 
Here is the interview I conducted with JFK The Last Speech director Bestor Cram:

Nigrin: Your film JFK The Last Speechmovingly shows the bond between President John F. Kennedy and the poet Robert Frost but it also documents how this speech altered the lives of a group of Amherst College classmates who witnessed it. Please tell us more about your film and why you decided to make it? 
Cram: The film grew out of a dialogue during the 50thanniversary of the Amherst Class of 1964, wanting to contribute in some meaningful way an understanding of their experience in college and how it relates to public issues of today.  I believed it was a worthy endeavor and shaped a structure and approach, knowing that JFK's speech was significant and overlooked as was the Frost trip to Russia.  Together, they seemed to form some interesting history that connected to today in very relevant terms.  Frost provides a set of bookends to the JFK presidency and insight into the nature of public leadership through oratory.  The lives of those who heard JFK first hand become compelling evidence of the impact of values that are translated through education, the art and political example.
Nigrin:   Given the current political climate it is refreshing to go back to a time when a President valued higher education. Was that an underlying premise of your film?
---
The article continues after this ad
---
---
Cram:  Filmmakers are well aware of how the making of a film reflects the current environment as well as shaped by the cultural, economic and political climate of the day. The premise of the documentary was to participate in a public conversation about the role of the arts in our society and the great value of a liberal arts education which is currently threatened.
Nigrin:   How long did it take to make this film? Was it difficult securing the rights to the archival footage? 

Cram:  As with many docs, it took more time to get funded than to make the film.  Overall production schedule was about 9 months. Archival rights was not a challenge, archival research always is as we want to blend the iconic with new fresh imagery to present a story that has not been told.
Nigrin:  How have audiences responded to your film so far? 
Cram:  Audiences are surprised they didn't know the story of the Frost Kennedy relationship.  But the strongest response has been to thinking about the meaning and intent of words, as spoken by the president and lived by the Amherst graduates.
Nigrin:   Are there any memorable stories while you made this film or any other info about your film you would like to relay to our readers? 
Cram:  We interviewed more than 25 graduates to eventually find the four stories we thought would provide an accurate representation of this class, one that is engaged and providing a contemporary voice for a generation that continues to "participate" regardless of age and circumstance.
JFK The Last Speech will be preceded by two poignant short films. Here is more info for this screening. 
Let Mercy Come - Andrew Serban (New York, New York)  A young woman is forced to take a stand when her white supremacist cohorts attempt to commit a hate crime against a Syrian refugee. In the process, she learns the meaning of tolerance and acceptance.  2018; 23 min.With a Q+A Session by Director Andrew Serban!
PATIRI in the promised land - Page Cooper Anderson and Dana Marissa Schoenfeld (New York, New York)  A young immigrant from Zimbabwe befriends a bookstore owner, in hopes of forming an alliance that could help her remain in her country of choice. 2018; 25 min.  With a Q+A Session by Director Page Cooper Anderson!
 JFK The Last Speech - Bestor Cram (Boston, Massachussetts)   JFK The Last Speech movingly documents the bond between President John F. Kennedy and the poet Robert Frost—as well as a surprising encounter with Soviet Premier Nikita Khrushchev at the height of the Cold War. Born out of these events was the last, remarkable speech that Kennedy gave, a speech about poetry and power, which altered the lives of a group of Amherst College classmates, who witnessed Kennedy deliver the speech on their campus. 2018; 58 min. With a Q+A Session by Director Bestor Cram! Co-sponsored by the Rutgers University American Studies Department and the Rutgers University Cinema Studies Program! 

Friday, October 5, 2018 at 7:00 p.m. - Voorhees Hall #105/Rutgers University
, 71 Hamilton Street, New Brunswick, New Jersey


$12=General; $10=Students+Seniors; $9=Rutgers Film Co-op Friends


Information: (848) 932-8482; www.njfilmfest.com