By Spotlight Central
originally published: 09/29/2018
The crowd is rapidly making its way inside Toms River, NJ's Grunin Center of the Arts this Saturday, September 15, 2018 evening for I Walk with Music, a concert devoted to the music of composers Johnny Mercer and Hoagy Carmichael, presented by singer, songwriter, and actress Gabrielle Stravelli.
Stravelli began singing professionally at the age of 15 as a soloist with the New Jersey-based Orchestra of St. Peter by the Sea led by Father Alphonse Stephenson, and has since performed on stages from Azerbaijan to New York at venues including Birdland. In 2017, Stravelli released her third album, Dream Ago, which garnered rave reviews from DownBeat, The Huffington Post, and others. Highlights of her work in recent years include traveling the world as a United States Department of State "Jazz Ambassador," in addition to touring the country with Wynton Marsalis and the Jazz at Lincoln Center Orchestra.
As we wait for tonight's show to begin, we chat with two Gabrielle Stravelli fans in the audience who tell us a little bit about their favorite performer.
Says Joe from Flanders, "Gabrielle Stravelli is awesome! We went to her CD release party — she has a terrific voice — and the chemistry between Gabrielle and her bass player, Pat O'Leary, is amazing!"
Joe's friend, Paul from Lavallette, agrees, adding, "A couple of years ago we saw her perform at Birdland to a packed house. As soon as I heard her sing, I welled up — her voice affects me that much emotionally."
---
The article continues after this ad
---
---
As the auditorium lights begin to dim, three musicians — pianist Art Hirahara, bassist Pat O'Leary, and drummer Eric Halvorson — take their places at their instruments and softly begin to tune before Gabrielle Stravelli takes the stage.
Opening with a jazzy version of "How Little We Know," Stravelli's voice sounds bright, rich, and full as she's expertly accompanied by her trio on this upbeat tune which features a lively Art Hirahara piano solo.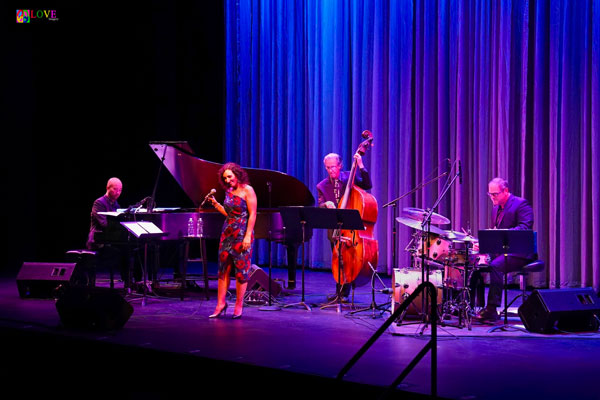 Following avid applause, Stravelli welcomes the crowd and tells them about how her parents always had "great music" playing in her home while she was growing up including such favorites as Ella Fitzgerald and Frank Sinatra, in addition to works of opera and musical theater.
After telling the audience a bit about Johnny Mercer and Hoagy Carmichael — revealing that both were singers with a "laid-back rural charm" with "Mercer coming from Savannah, Georgia, and Carmichael from Indiana" — Stravelli performs the Oscar-winning song from the 1951 film, Here Comes the Groom, entitled "In the Cool, Cool, Cool of the Evening."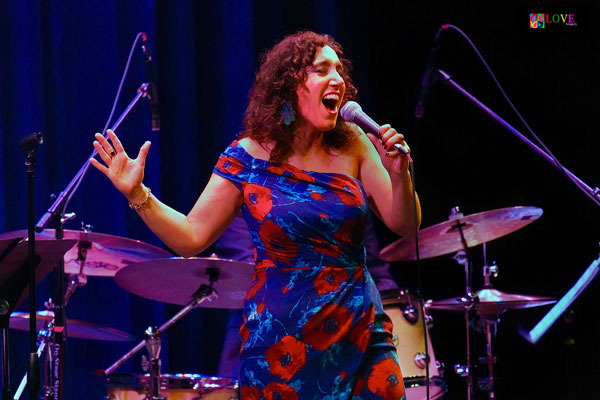 Opening with Art Hirahara doing double duty playing the grand piano with his left hand and blowing into a tube while depressing the keys of a small mouth organ with his right, Stravelli and company impress the crowd with their arrangement of this classic Sinatra tune which features a cool samba rhythm.
Drummer Eric Halvorson is featured on "The Rhumba Jumps," a barnburner which features Stravelli crooning, "'Cause when the drummer boy thumps/The rhumba jumps!"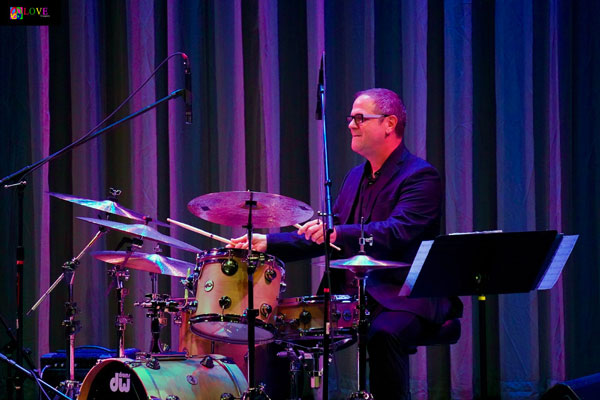 Gabrielle follows up by performing the crowd-pleaser, "Everything Happens to Me." On this clever number about mishaps, Stravelli shows off her scat singing skills, trading scats as Hirahara's piano echoes her in a rapid fire give-and-take!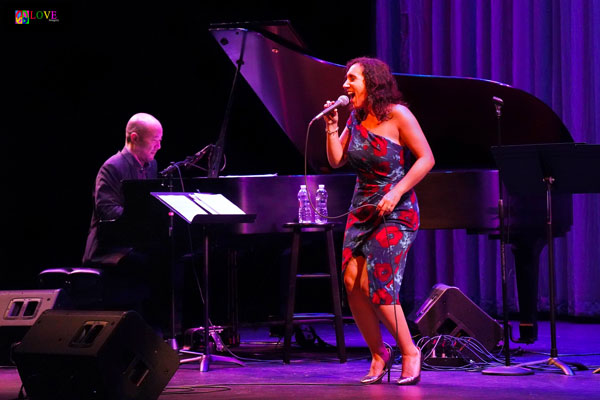 The audience applauds and Stravelli goes on to show off her versatility and range with an emotional interpretation of "Whistling Away the Dark." Singing, "Often I think my poor old heart has given up for good/ And then I see a brand new face/I glimpse some new neighborhood," on the coda, Gabrielle shows her vocal control as she skillfully and softly holds out the last note.
Singing a Johnny Mercer song which was once used in an episode of the Peter Gunn television show, Stravelli performs "Day In, Day Out," and she follows that up with a finger-snapping rendition of "Charade."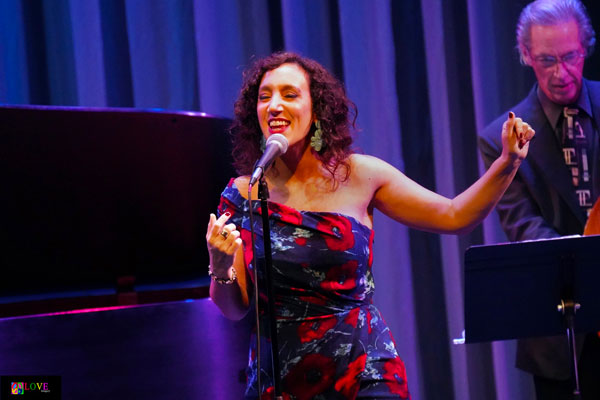 A highlight of the evening is a performance of a number from the film, Breakfast at Tiffanys — a song which Stravelli reveals "was almost cut from the movie." Taking liberties with the composition and bringing it to new heights are Stravelli on vocals and Pat O'Leary on bass, as they provide a unique and creative "stripped-down" take on "Moon River."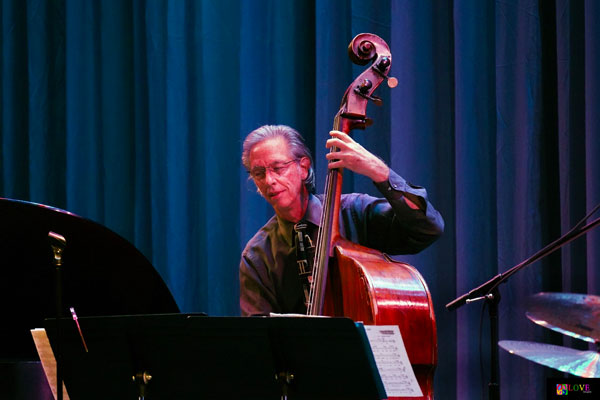 Another enduring classic is Hoagy Carmichael's "Stardust," which begins with Stravelli's voice sounding smooth and sultry before becoming clear and succinct as she beautifully maneuvers around the composition's classic melody. Her instrument captivating the audience with her warmth and breath control, the performance also features a thoughtful Art Hirahara piano solo.
After her trio has fun keeping up with her vocal on "One Morning in May" — a piece which features expert around-the-beat drumming by Eric Halvorson — Stravelli performs a Pat O'Leary arrangement of "Baltimore Oriole" which boasts a brilliant piano solo by Art Hirahara.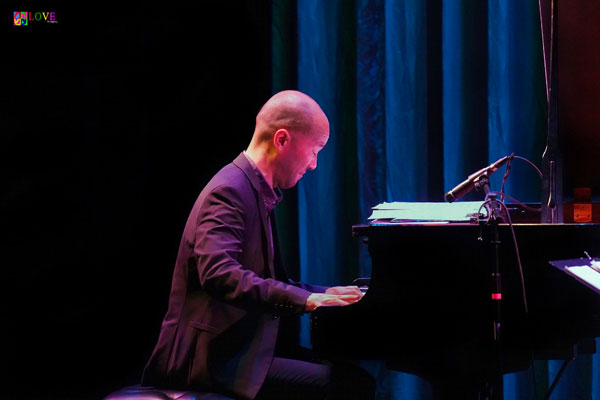 Revealing that Johnny Mercer wrote 1500 tunes and, at one point, "had a song in the Top 10 every week of the year!" Stravelli and company perform an appealing medley of Mercer hits including "Come Rain or Come Shine," "P.S. I Love You," "Goody Goody," and many more. Filled with multiple changes of styles and tempos, the audience reacts with enthusiastic cheers and applause for this entertaining amalgamation!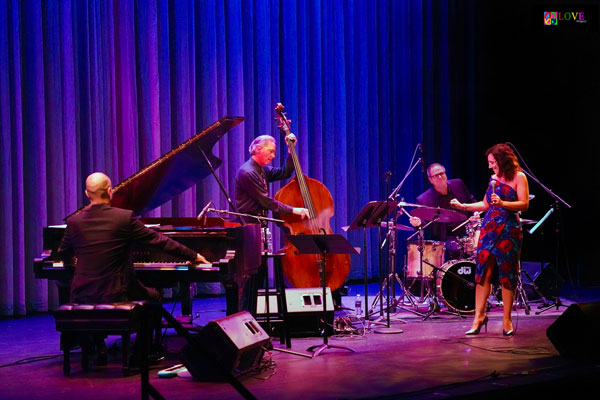 After thanking her band, Stravelli concludes her performance this evening with one of her favorite pieces, "I Walk with Music." Her superb diction, inflection, and interpretation inspire the audience to applaud and cheer for a job well done!
For an encore, Stravelli treats the crowd to a lovely and touching rendition of Hoagy Carmichael's beautiful "Skylark," her vocal styling featuring her beautiful tone and inflection which inspires a standing ovation from the Grunin Center crowd!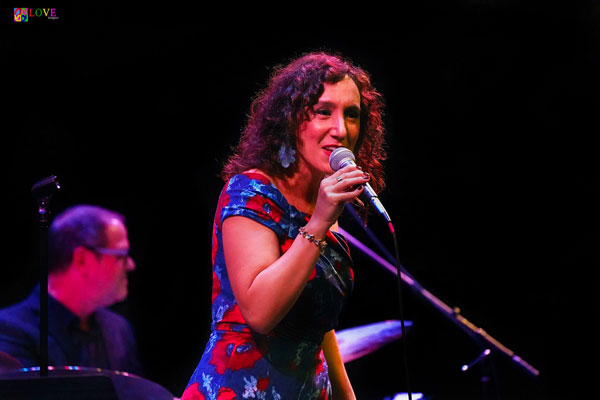 As audience members make their way out of the auditorium, we take a moment to chat with Gabrielle Stravelli, who talks about performing here at the Grunin Center stating, "This is a beautiful room, and the staff here is so professional. It's so nice to play at a performing arts center like this."
In discussing the material she presented tonight, Stravelli notes, "I love to know the stories behind the songs I sing," before suggesting, "The role that singers play is so interesting — we are an instrument and we are interpreters — so we're the link in the room between the song and the audience."
When asked about playing to crowds here in the Garden State, Stravelli exclaims, "The best thing about playing in New Jersey is people come who knew me since I was a kid!" before concluding, "It's incredible and really special to have people cheering me on in the audience. It's so touching to see!"
We also chat with several members of the audience who share their opinions of tonight's performance with us.
Comments Pat from Vauxhall, "Gabrielle Stravelli was superb! She has a wonderful instrument — when she performs, magic happens. She's absolutely sensational and her band is fantastic!"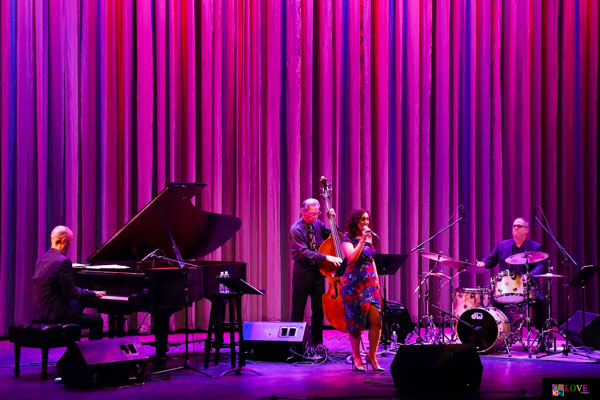 Adding, "We drove last night to Lancaster, Pennsylvania, to see her perform a Willie Nelson show," Pat continues, "We're going to keep seeing her. We love her — she has a magnificent voice and she knows what to do with it."
Whereas Mary from Lakewood remarks, "She's so talented," Gloria from Lakewood exclaims, "She has a wonderful voice — it's lovely!"
Donna from Chatham contends, "Gabrielle Stravelli is extraordinary — she's in a class by herself," while Tony from Toms River declares, "Gabrielle Stravelli is just marvelous — she's a tremendous talent."
We also get a chance to catch up with Paul from Lavallette, with whom we spoke before the show, who comments, "As usual, Gabrielle didn't miss a note tonight — her vocal control was a perfect compliment to the playing of the instruments."
And, lastly, we chat with Father Scott — a priest from Toms River — who says, "Gabrielle provides listeners with an excellent invitation into a time and period that we don't hear often enough. When her voice takes over, it's exhilarating — she inhabits a song and she makes you believe!"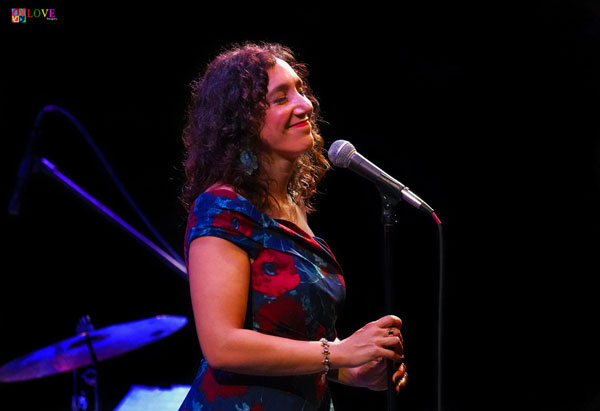 To learn more about Gabrielle Stravelli, please go to gabriellestravelli.com. For information on upcoming performances at Ocean County College's Grunin Center of the Arts — including female country artists Farewell Angelina on Oct. 6 and Broadway's Mandy Gonzalez on November 2 — please click on grunincenter.org.
Photos by Love Imagery
Spotlight Central. Your source for Jersey entertainment news and reviews
Love Imagery Fine Art Photography. all you need. peace/love/flower/power