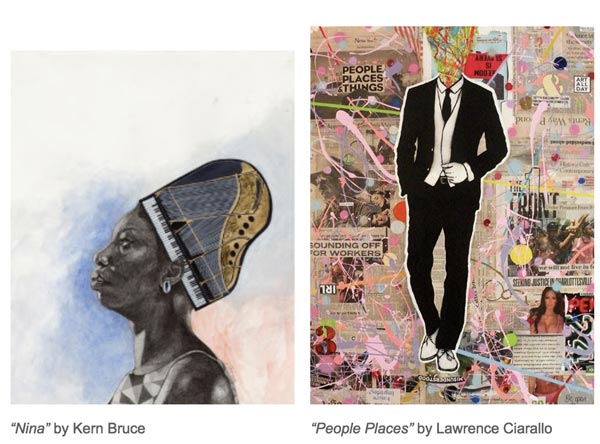 (NEWARK, NJ) -- On Friday, October 5th, the new Essex County Donald M. Payne Sr. Tech High School will be a major arts spotlight during the Newark Arts Festival. Located in the Fairmount neighborhood, the new $100 million, three-story, 320,000-square-foot state-of-the-art school building will be the backdrop for Voices of The City, an exhibition presented by Newark Arts and curated by artist and arts educator Malik Whitaker.
Voices of the City will bring together local visual artists, Payne School students, teachers and administrators for a one-of-a-kind artistic experience. The free event will include catering by the Payne School Culinary Arts Department, music by the Payne Tech Jazz Ensemble, and film and production work by the school's media majors.
"This beautiful new school is located in Newark's Fairmount neighborhood, which is fast becoming a hub for arts and culture—it is steps from the new Fairmount Art Wall, community pocket parks and murals. The arts community is thrilled to partner with Essex County Schools of Technology District to celebrate the unique talents of the school and to shed light on the artistry of Essex residents," said Jeremy Johnson, Newark Arts Executive Director.
Voices of the City is a collaborative group show that challenges viewers to look at the world through the eyes of an Artist. The works will use art to represent society's impact on communities, families and children.  Featured artists include Kern Bruce, Linda Street, Toni Thomas, Jillian Rock, Sue Ward, Sophia Domeville, Evelyn Graves, Philip Hytower, Darrell Goza, Nueman Arts, Corey Zen Studios, Pedro Mieles, Lawrence Ciarallo, David James, Patrick Hunt, Amrisa Niranjan, Nadine La Fond, Janis Langley, Ebony Baskins and an Arts Unbound "Mini" Group Show.
Payne School is centered on technology-driven, interactive, learner-centered, and interdisciplinary instruction, the opening reception to Voices of the City will include meaningful participation by Payne School students in the form of catering from Payne School Culinary Arts Department with music by the Payne School Jazz Ensemble as Film & Video Production majors capture the night.
---
The article continues after this ad
---
---
"The opening of the Essex County Donald M. Payne, Sr. School of Technology has had an immediate impact in the revitalization of Newark's West Ward and the Fairmount neighborhood. Art has an important role in our students' education and we are pleased the school is partnering with the Newark Arts Festival top present this exciting exhibition. This is a wonderful opportunity to enhance the relationship of the school with the city and highlight the talents of our students," Essex County Executive Joseph N. DiVincenzo, Jr. said.
Voices Of The City is a collaborative group show giving stage to the collective perspectives of the ever- evolving artist community as they filter the world through their passion and exuberance.  The show challenges viewers to look at the world around them through the eyes of an Artist and the impact these things have had on communities, families and children.  "At The Payne School of Technology, we jumped at the opportunity to work in partnership with Newark Arts to feature this diverse community group show in our beautiful new space in the emerging Fairmount Arts District. Having students participate is really the cherry on top," said Payne School Vice Principal, Emily Bonilla.
Residents of the 10th Congressional District still have fond memories of the late Congressman Payne Sr.'s annual competition, entitled "An Artistic Discovery", which allowed beginners and advanced art students to create a "personal masterpiece" and have it displayed in a professional museum for others to enjoy. Newark Arts' presentation of Whitaker's Voices Of The City continues that legacy. Congressman Donald M. Payne, Jr. had this to say: "The Payne School of Technology means so much to my father's legacy and I'm excited that this important artistic initiative will be housed there."
Voices of the City opens Friday, October 5th from 5:30pm-8:30pm, at Donald M. Payne Sr. Tech High School, 498-544 West Market Street, Newark, New Jersey. 
For more information about the Newark Arts Festival, visit www.newarkartsfestival.com.
Newark Arts Festival is produced by Newark Arts and sponsored by M&T Bank and Prudential. Newark Arts receives support from the City of Newark, PSEG, Rutgers University-Newark, L+M Development, NJIT, Goldman Sachs, Greater Newark Convention and Visitors Bureau, the NJ Division of Travel and Tourism, Geraldine R. Dodge Foundation, Bank of America, Lotus Equity Development, Turrell Fund, Victoria Foundation, New Jersey State Council on the Arts, the National Endowment for the Arts and additional businesses, individuals, and foundations.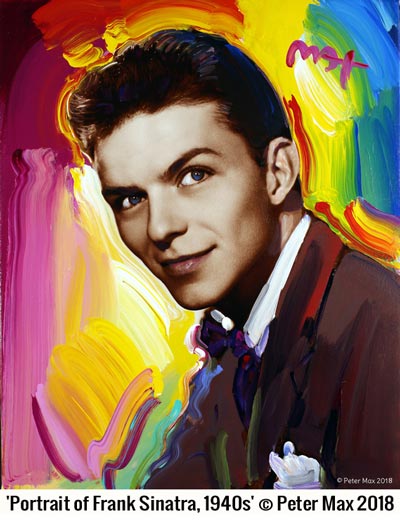 Peter Max Remembers Frank Sinatra
(HOBOKEN, NJ) -- As fans of Frank Sinatra across the world remember the legendary entertainer on what would have been his 103th birthday (December 12th), pop artist Peter Max provides a series of portraits of 'Ol' Blue Eyes' at different points throughout his career. Max, with a 5 decades-long career of his own, created these signature, vibrantly colored portraits, working with the Sinatra family to celebrate the Sinatra Centennial in 2015. They remain a fan favorite at gallery shows across the country.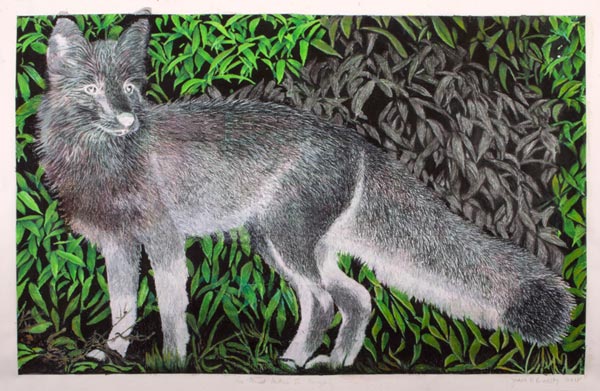 PODCAST: An Artist Asks "The 20 Most Important Scientific Questions Of The 21st Century"
In this podcast, we speak with them about art, activism and how women invented Postmodernism. "The 20 Most Important Scientific Questions of the 21st Century" runs through December 14th at Douglass Library.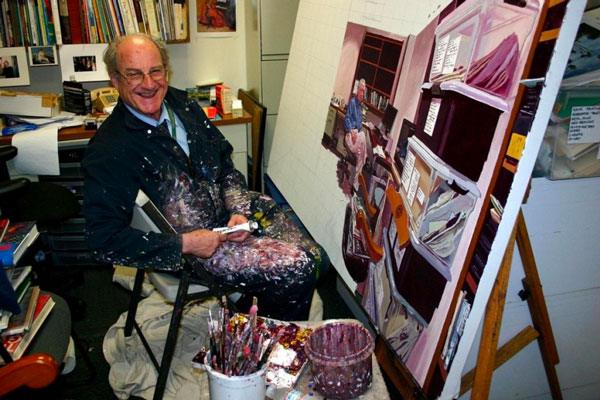 Artist Mel Leipzig At 83
We recently met up with artist Mel Leipzig at Artworks in Trenton. He was there to do what he does every day – create big paintings of people he likes. While the Artworks staff went about their business getting the space ready for this year's Art All Day event, happening this Saturday, Mel pulled a few of them aside to capture them in their natural habitat in acrylic.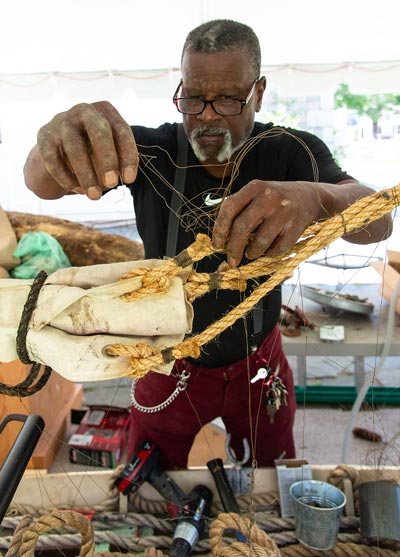 Kevin Sampson: Solo Exhibitions In New Jersey and Beyond
"I'm a Civil Rights baby. I grew up laying across picket lines and blocking traffic." Artist Kevin Sampson's father, Stephen, was a well-known Civil Rights leader in New Jersey, and he instilled a commitment to community that his son still honors.