By Spotlight Central
originally published: 09/21/2018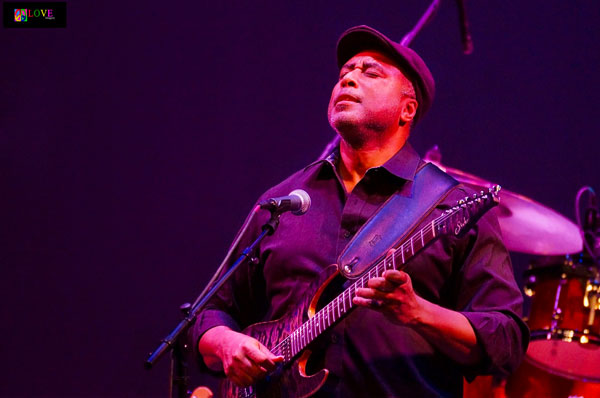 Fans of sports and music are lining up outside Toms River, NJ's Grunin Center of the Arts this Saturday, September 8, 2018 for a concert by four-time World Series Champion and Latin Grammy-Nominated guitarist/composer Bernie Williams and his All-Star Band!
Born to a merchant marine father and a principal/college professor mother, Williams was born in The Bronx, but moved to Puerto Rico at the age of one. Growing up on the island, he played classical guitar as well as baseball, but also excelled in track and field. Discovered by Major League Baseball while still a teen, Bernie was signed by the New York Yankees at the age of 17. During his 16-year career as a center fielder for the team, his passion for music never waned, however — it is said that the sound of his guitar could often be heard emanating from the Yankee clubhouse and even on road trips!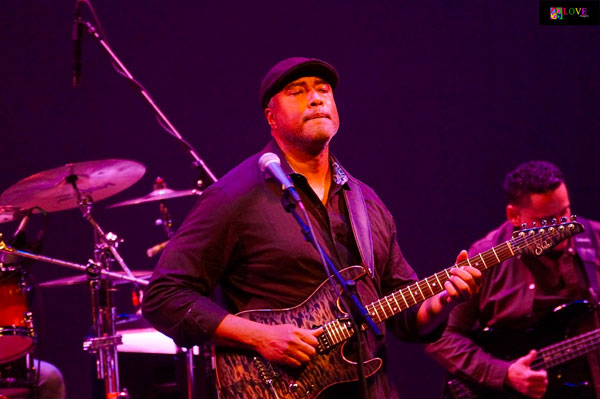 In 2003, Williams released his first album, The Journey Within — a recording which contained his first single, "Just Because" — and which featured such talented musicians as jazz pianist David Benoit, keyboardist David Sancious, mandolinist Bela Fleck, and bassist Leland Sklar.
Williams raised his game even further with the release of his second album in 2009, Moving Forward, which produced a Latin Grammy nomination for Best Instrumental Album. This recording also featured an assortment of talented artists including jazz saxophonist Dave Koz, Latin singer/songwriter Jon Secada, and the Jersey Shore's own Bruce Springsteen.
In 2016 — at the age of 48 — Williams graduated from the Manhattan School of Music, where he received his Bachelor of Music degree in Jazz Performance. These days — in addition to performing with his group, The All-Star Band — he does philanthropic work with Little Kids Rock, a non-profit organization that revitalizes music education programs in public schools across the U.S.A.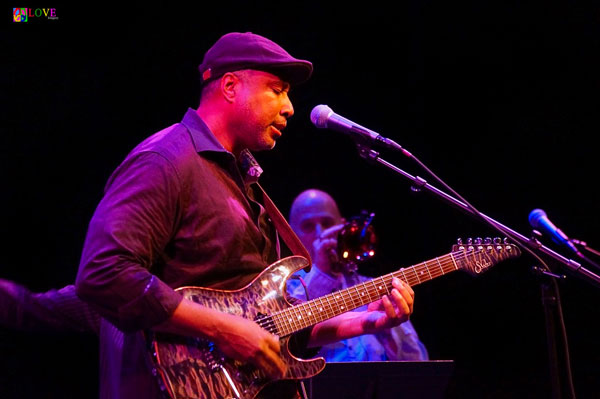 ---
The article continues after this ad
---
---
Inside the packed Grunin Center auditorium, the lights dim as announcer Steve Fortunato says, "Let's welcome Bernie Williams and his All-Star Band!" Here, Bernie Williams and his musicians — keyboardist Chris Clark, drummer Joel Rosenblatt, bassist Gene Perez, percussionist Erik Piza, trumpeter Don Harris, and musical director and woodwind player Richie Cannata — enter to whistles and applause.
As Williams and Co. make their way onto the stage, several in the crowd can be heard shouting comments like "Bern, Baby Bern!" and "Go, Yankees!"
With his eyes closed, Williams begins to strum his guitar, his right hand curved over the strings. Playing softly, his head nods as he starts to create a slow groove to the title track of his latest recording, Moving Forward, communicating his feelings about what he calls "this part of my life" through his masterful guitar playing.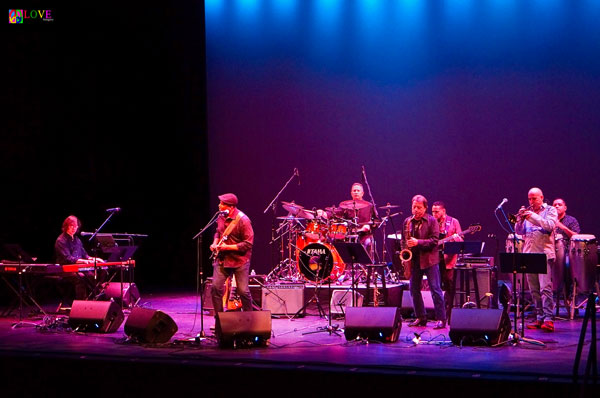 As drums, congas, and bass support this Latin-inspired jazz number with its appealing chord changes and rhythms, there's a lyrical Chris Clark keyboard solo before the All-Star horn section adds to the return of the groove.
The audience cheers and Bernie welcomes the crowd saying, "Thank you! How ya doing?"
After recalling an earlier visit several years ago to the Grunin Center — located on the campus of Toms River, NJ's Ocean County College — Williams talks about the tri-state area, joking, "If you can make it here, you'll make it anywhere," before stating, "I got to live my dream twice here — thank you!" to which an audience member shouts out, "We love you!"
Introducing what Wiliams calls "a new tune that hasn't been recorded yet," he and the band launch into "Now What," a captivating blues shuffle.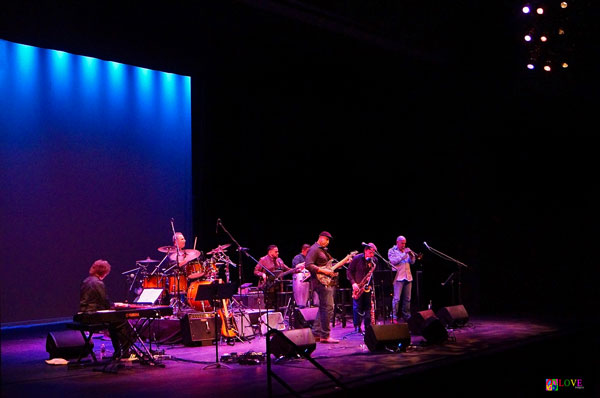 On this happy, syncopated number, Williams plays with precision, spirit, and energy before launching into another tune from Moving Forward, "Songo." This dynamic and percussive samba — which begins with muted trumpet and features lots of lively percussion — also spotlights Bernie playing a wailing electric guitar solo!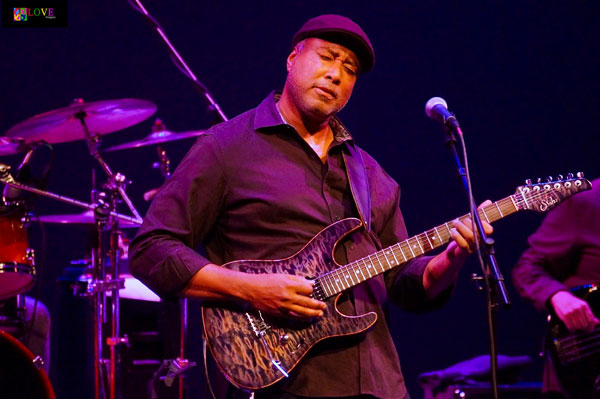 Following avid cheers and applause, Williams takes the microphone and talks a bit about being a parent to "a rebellious teenager" before acknowledging, "That song was about a little confrontation!"
After Bernie introduces his musical director, Richie Cannata — an instrumentalist known for playing saxophone in Billy Joel's band — Cannata states, "I met Bernie when I played 'The Star-Spangled Banner' at Yankee Stadium nine or ten years ago." Then, he introduces a classic number which he calls "the first song I played with Billy Joel" — "New York State of Mind."
Opening with a extended Chris Clark piano intro, Cannata enters playing the famous melody on his tenor — sounding smooth and mellow — before the song begins to build. Soon, the entire band joins in and sparks fly as Williams and Cannata play off one another.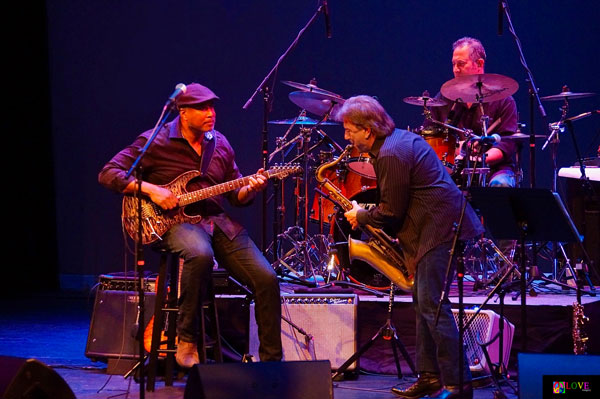 Clark reenters with an exciting keyboard solo before Cannata ends the number on one long, long, long high note and then passionately wails and honks to excited cheers and applause!
Joking, "Now for something completely out of left field," Williams introduces what he calls "a tribute to one of my favorite bands — The Brecker Brothers." On one of their most popular tunes, "Some Skunk Funk," Richie Cannata's and Don Harris' horns are featured as they play the lightning fast bebop melody which is supported by a funk rhythm section. Lights rain down on the stage as the band bops along through energizing sax, trumpet, and guitar solos — all accompanied by the skillful drumming of Joel Rosenblatt and the tight bass playing of Gene Perez.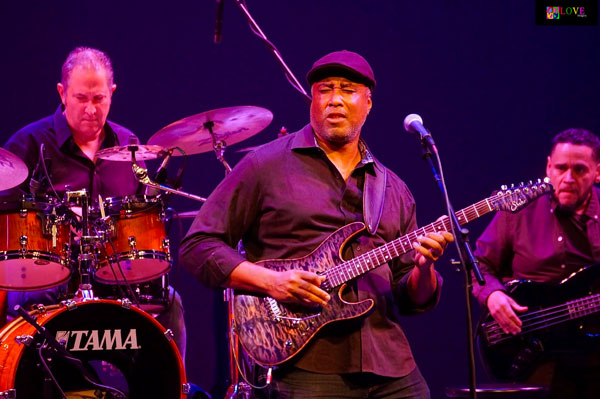 One of the highlights of the concert is another Bernie Williams' original composition from Moving Forward entitled "Ritmo de Otoño."
Featuring Erik Piza on congas, lights turn to red as Piza warms up — hands tapping and drumming from drum to drum — creating a symphony of rhythm. Williams enters on guitar and Rosenblatt joins in on drums before the entire ensemble breaks out into this enticing samba which has Richie Cannata playing the sultry soprano saxophone part.
With intriguing harmonies accompanying the catchy melody, the tune boasts a mellow and smooth Don Harris trumpet solo, a percussive Joel Rosenblatt drum solo, not to mention a rockin' Bernie Williams/Richie Cannata guitar and sax duet.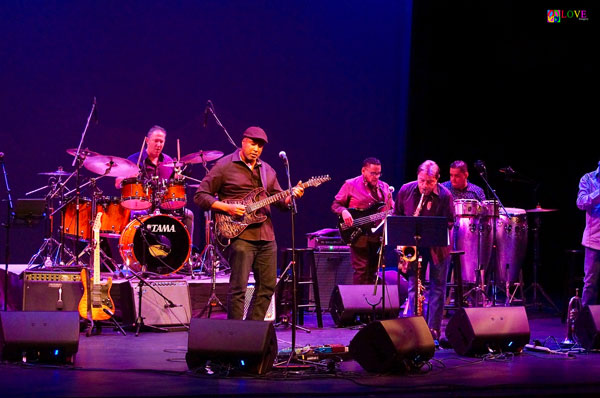 The audience cheers for this ever-changing smooth jazz mini-symphony!
While Williams and Co. break for a short intermission, we take a moment to chat with several members of the audience.
Here tonight to celebrate her 97th birthday is Charlotte from Toms River who exclaims, "Bernie Williams is one of my favorite ball players!" Revealing, "These tickets were a gift from my daughter for my 97th birthday," Charlotte acknowledges, "I had no idea he played guitar — but I've learned he is a marvelous musician!"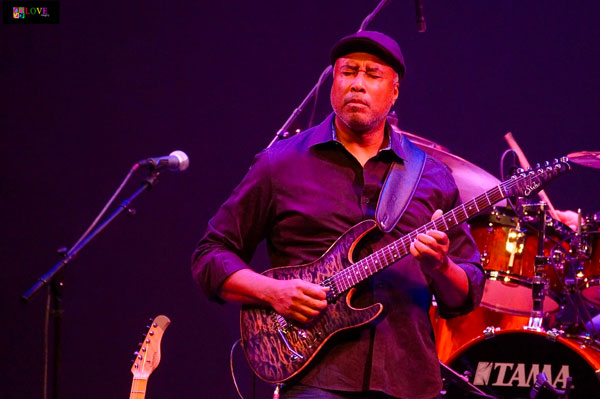 Charlotte's daughter, Renee, comments,"I love that Bernie and his musicians are enjoying what they are doing — you can really tell they all love working with one another" before adding, "It's so wonderful to be able to support live music right here in our home town. We are so privileged to have so many wonderful live performances right here in Toms River!"
Act II commences with Bernie introducing a "new addition to the band" — Jay Prince on rhythm guitar and vocals.
Opening with a funky rendition of Joe Cocker's "Unchain My Heart," Prince and the All-Stars have the audience clapping along to the infectious beat.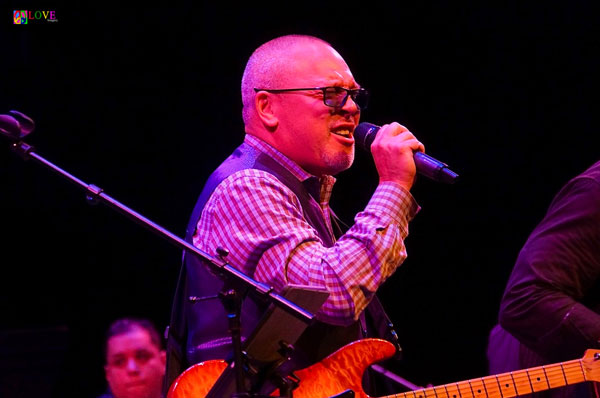 Heads bop in the audience as the horns blip while Prince sings with passion, "Unchain my heart, set me free!"
Following excited applause, Williams and his team follow up with a cover version of two more popular tunes. Inviting the audience to sing along, Prince is featured on a funky version of The Steve Miller Band's "Fly Like an Eagle," and then he leads a funk ballad rendition of Van Morrison's "Into the Mystic," which not only features Williams on lead guitar but also the Cannata/Harris horn section rockin' out as well.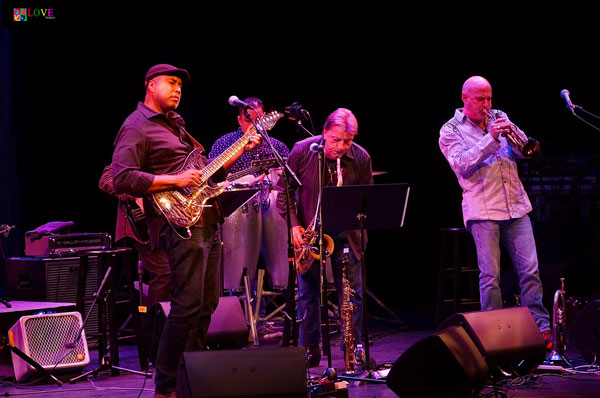 A trio of pop numbers follow including a bluesy cover version of The Black Crowes' "Hard to Handle" and a funky rendition of The Box Tops' "The Letter" — a performance on which the audience happily sings along on the iconic "Lonely days are gone/ I'm a-goin' home/My baby just-a wrote me a letter" chorus.
Last up in the trio is an upbeat rendition of the Stevie Wonder Motown classic, "Signed, Sealed, Delivered," which has audience members contentedly bopping in their seats.
"Did you all have a good time tonight?" asks Williams, to which the crowd responds with an emphatic "YES!"
Here, Williams tells the audience about "a tune I wrote" before asking them, "Do you want to hear it?"
After avidly replying in the affirmative, Williams discloses, "When I was playing for the Yankees, sometimes I rode my motorcycle to the stadium — which was against the rules. I rode this bad boy Harley which, one time, got stuck on the Willis Avenue Bridge."
"I was wearing a full face helmet, so no one could tell who I was," Bernie continues, "but I was still worried about being late — or fired! — and that was the inspiration for this song" — "Stranded on the Bridge."
On this Tower of Power-influenced number from Williams' debut album, The Journey Within, the band starts off with the tune's poppin' and infectious melody which sails into a smoothly-played chorus. Solos abound on this rockin' number and include a Chris Clark keyboard solo, percussionist Erik Piza playing off drummer Joel Rosenblatt's rhythms, a slap bass solo from Gene Perez, a spectacular Bernie Williams guitar solo, a stratospheric Don Harris trumpet solo, and a patented Richie Cannata/Bernie Williams instrumental duel which inspires the audience to leap to its feet for a standing ovation!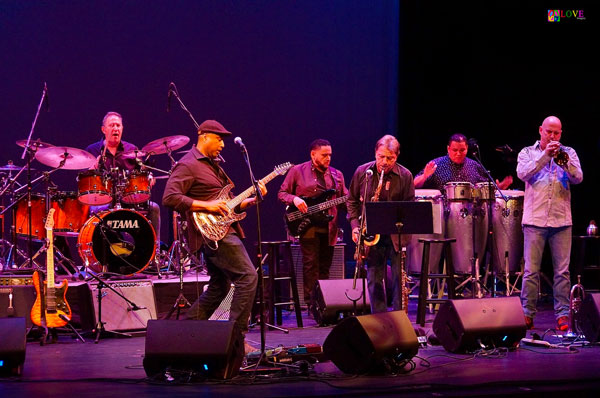 Williams and the All-Stars exit the stage, but Bernie returns with Chris Clark for an encore number. After fingerpicking a Crosby, Stills and Nash-like figure on his guitar, the audience chuckles once they recognize the tune as "Take Me Out to the Ball Game." Enjoying themselves as much — or more — than if they were at the ball field, the audience spontaneously begins to sing along, "And it's one, two, three strikes you're out at the old ball game." This poignant musical arrangement — which features lovely harmonies and an emotional performance from Williams — has the audience members right back on their feet for #51: Bernie Williams!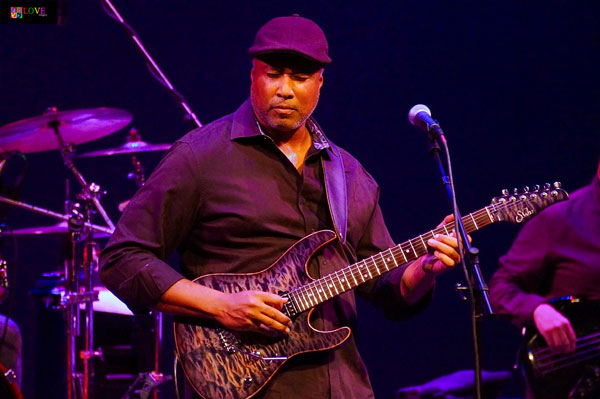 As the crowd begins to make its way out of the Grunin Center auditorium, we chat with several members of the audience who share their opinions of tonight's performance.
Comments Dora from Linden, "This concert was amazing! Bernie Williams is such a talented man! For him to pursue another passion is inspiring for retirees like myself — I'm a retired principal — but I play the piano so I'm inspired by his example to practice and learn more."
Remarks Ron from Howell, "This show was excellent! The combination of Bernie Williams' music and his baseball career is fantastic," before adding, "I've followed him for a long time but this is the first time I've seen him in person."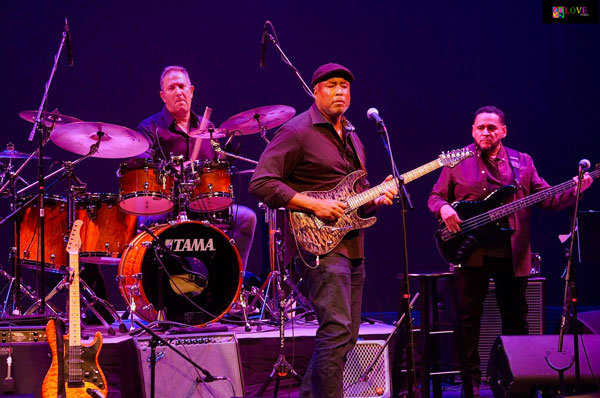 Steve from Beacon, NY declares, "It was a great show — I came all the way from Duchess County, New York, for it and it was worth the trip!"
Whereas Sue from Waretown calls Bernie Williams "Stupendous! Outstanding!" her husband, Ned, adds, "We saw Bernie Williams the last time he was at Ocean County College and, while we were here, we also got to see him do a master class with the players in the college's jazz band," commenting, "He's just so good with the students!"
Concludes Sue, "He's a generous person when it comes to his gifts."
Lastly, we chat with Rusty and Joan — a couple who traveled from Massapequa, Long Island, just for tonight's performance.
Explains Rusty, "We travel all over to see Bernie," adding, "We're fans because we love both baseball and music. We've seen him at least 15 times at all different kinds of events, and he puts on a great show every single time!"
Joan agrees, before noting, "He is so nice and down to earth. He does a lot of charity work too — which is another reason we are such fans of his."
Finally, we get a moment to talk to the star of the show — Bernie Williams.
When asked how he enjoyed performing for tonight's crowd, Bernie exclaims, "It was great! I loved the energy of the crowd and the band was just kickin! It was incredible — I love getting them together to play," before humbly concluding, "I'm so lucky. I really am very blessed."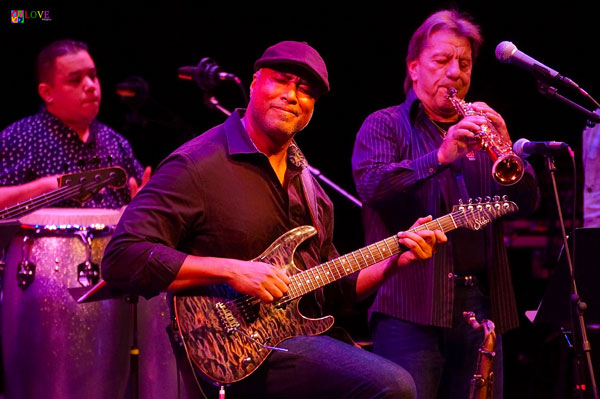 To learn more about Bernie Williams, please go to bernie51.com. For information on upcoming performances at Ocean County College's Grunin Center of the Arts — including Celtic rockers The Young Dubliners on Sept. 29, female country artists Farewell Angelina on Oct. 6, and Broadway's Mandy Gonzalez on November 2 — please click on grunincenter.org.
Photos by Love Imagery
Spotlight Central. Your source for Jersey entertainment news and reviews
Love Imagery Fine Art Photography. all you need. peace/love/flower/power