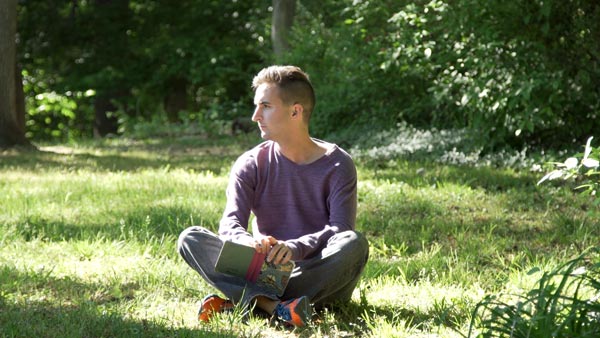 Up-and-coming New Jersey native Brandon Monokian has worked as an actor, writer, director, producer, and popcorn sample distributor. He wrote and starred in the film Happy Yummy Chickenand co-founded the production company Love Drunk Life with Katie Frazer. Together they have produced plays, films, books, and, to support their creative work financially, a product line: lovedrunklife.com. Monokian received national attention through Revolutionary Readings (his TEDx talk at Princeton Library), which was used to fight the banning of the book Revolutionary Voices from two New Jersey libraries.
I spoke with Brandon at the Philadelphia Fringe Festival where his play, The Living Dragon, was being presented at the Arden Theatre. A satire on Sherlock Holmes and film noir, Monokian puts a fresh spin on the Jersey Devil legend. In this interview, the playwright talks about growing up in New Jersey, his artistic struggles, and his creative present and future.
---
Growing up in New Jersey
---
You live in Ocean City but grew up in Lumberton, New Jersey where, as a kid, you often visited the Pine Barrens, home of the Jersey Devil, as legend has it. How did you feel about the Jersey Devil as a child?
My grandmother would often take me to the Pine Barrens as a kid to go on hikes, and to go visit Batsto, which I still go to. The Jersey Devil was something I was always interested in. I thought it was cool, but it was also something I was scared of growing up. I definitely believed it was 100% real. Later, I knew I wanted to do a film noir style satire and thought creating the Jersey Devil the way we did for this play would help him stand out. The Jersey Devil in my play was made to be an opposite of what everyone thought he would be.
---
---
The article continues after this ad
---
---
The Living Dragon and Revolutionary Voices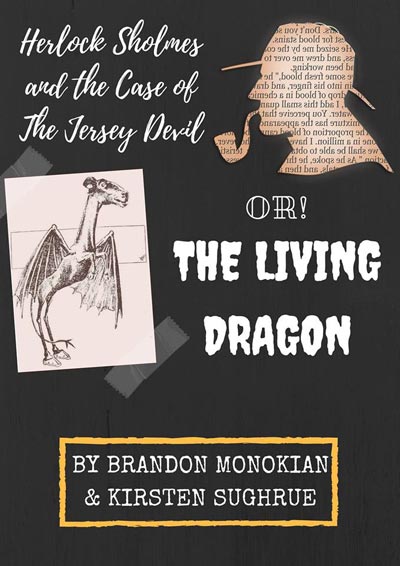 ---
What is your goal for the future of The Living Dragon? As it is intended for school performances (6-12 graders), what do you want to do to make the play even stronger?
This piece started off as a commission for the Greater Ocean City Theatre Company's Jr. Company, which I wrote with Kirsten Sughrue from Egg Harbor. The kids that were in it and their talents informed a lot of the writing we did and the choices we made, so maybe I'll get hired to do the piece with a group of kids again and it can continue to evolve! I'd love to see it performed in schools throughout New Jersey and beyond. I'd love to do a professional production of it as well, but I think with the cast size being so large that may never happen. However, I have an idea to do it as an animated film or a graphic novel, so maybe it will evolve in that way and come to fruition in the next few years.
To strengthen The Living Dragon, I'd like to spend an extended period of time working with actors to make the play even funnier and more outrageous.
In one of your blogs, you discussed the banning of the book Revolutionary Voices: A Multicultural Queer Youth Anthology from NJ public libraries, including your former high school—an event, which inspired you to work with others in developing Revolutionary Readings—a way of protesting the ban of such gay content. How important is queer representation to you, especially given our current social and political climate?
When Rancocas Valley Regional High School, my H.S. in Mt. Holly, and, my former library, Burlington County Public Library, banned Revolutionary Voices, my friends and I got together and performed readings throughout New Jersey of the book. It was an out-of-print book that wasn't being checked out too regularly. Funny enough, by them banning the book, it started to get a lot more attention and other NJ libraries, such as Princeton Public Library, started carrying the book where they hadn't before. So because the censors had tried to silence minority members, suddenly gay voices were being heard louder and clearer than before.
Our protest project, Revolutionary Readings, really just started because we were pissed off and wanted to take some action. So we put our theatre degrees to use and started doing theatrical readings of the book by any organization that would have us. We ended up getting invited by important places like Rutgers University and the New Jersey Library Association Conference among others.
---
Artistic gain can also be a financial drain
---
You said your film, Happy Yummy Chicken, was emotionally and financially draining.
Finance in the arts can be draining in more ways than one, but I think it pushes you to discover fantastic things you never would have discovered otherwise. I directed a production of Sarah Ruhl's Eurydice that had a small budget and the play called for a river to run through the set. We made a river out of recycled plastic bottles and people responded well to it.
In Happy Yummy Chicken, a line that always gets a huge laugh is, "A lot of people that do shows here bring in incredible sets, but, we ran out of money so instead we just drew pictures of chickens." If I had the budget, there would have been a big set, but we were broke so pictures of chickens it was! I'm glad, because the moment works so well and speaks honestly to the struggle of many art makers.
There was some cool "merch" for sale at the show, which is used to pay for productions. Is the cost of producing the merchandise and the time involved worth the effort?
We're lucky because my family owns a laser etching store so they let us create all the products there for a good price. It helps the company financially but it also is fulfilling creatively because we get to create the kinds of products that we would want to use as artists. We have an Etsy page that is starting to do quite well, so we want to expand that and set up pop-up shop style sales with live performances like we did at the Philly Fringe.
What are your creative plans for the future?
At the end of September, I'll be acting in a new play in New York by Charlotte Lang, which I'm very excited about. So, hopefully this momentum keeps going. I thought I was done creating things after doing Happy Yummy Chicken, so to feel the need to create again is a fantastic feeling.