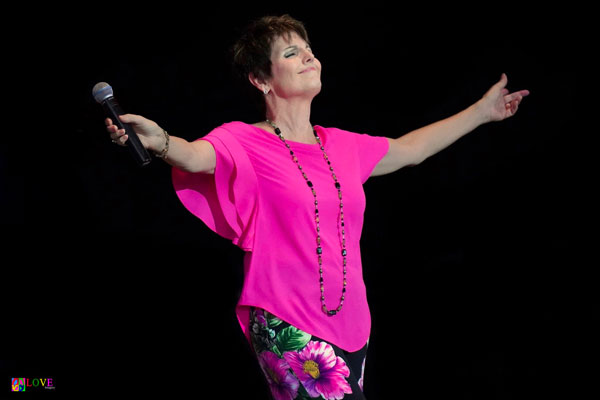 Even though the weather outside Holmdel, NJ's PNC Bank Arts Center is cloudy with some light intermittent drizzle this Wednesday, September 12, 2018 afternoon, the venue's stage is still shining brightly with talent thanks to a live performance by television, film, and stage actress/singer Lucie Arnaz!
Lucie Arnaz is the daughter of Lucille Ball and Desi Arnaz, the stars of the TV classic, I Love Lucy. Following some walk-ons on her mother's television series, The Lucy Show, Arnaz made her TV debut playing the role of Kim Carter, with a continuing role on the series, Here's Lucy — a show which ran for six seasons. Over the years, she also appeared on such popular TV programs as Fantasy Island; Murder, She Wrote; Marcus Welby, MD; Sons and Daughters; and Law & Order.
Arnaz made her Broadway debut in 1979 in They're Playing Our Song, for which she won both the Theater World Award and the LA Drama Critics Circle Award for Best Actress in a Musical. She also toured with Tommy Tune in the international company of My One and Only, and appeared in such Broadway productions as Neil Simon's Lost in Yonkers, Dirty Rotten Scoundrels, and the recent revival of Pippin.
No stranger to films, Arnaz starred with Neil Diamond and Laurence Olivier in The Jazz Singer, for which she earned a Golden Globe award nomination for Best Supporting Actress in a Motion Picture.
As a singer, Arnaz released her first album, Just in Time, on the Concord Jazz label, but her latest release is entitled Lucie Live! These days, she tours the country with her show, I Got the Job: Songs from my Musical Past — a tribute to her theater roots and the various roles she's played — in addition to a show featuring selections from her recording, Latin Roots.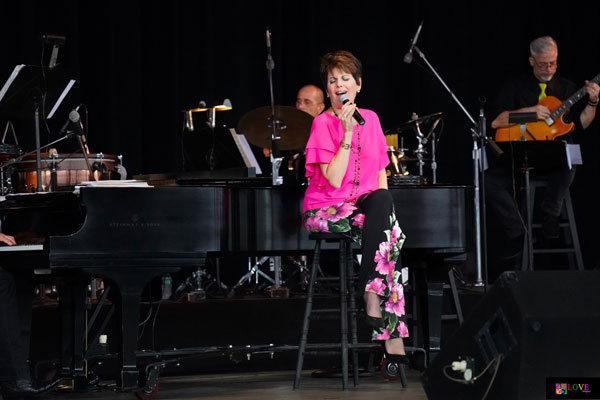 ---
The article continues after this ad
---
---
Today's show at the PNC Bank Arts Center is the first of a series of three free Fall 2018 afternoon performances for New Jersey residents aged 55 and over. Other shows in the series include singer Vinnie Medugno with The Jersey Sound Band on September 20 and a tribute to Roy Orbison, Frankie Valli, and The Beach Boys on September 27.
Yet another show — Cousin Brucie's Rock and Roll Yearbook Vol. 2 starring The Buckinghams, The Cowsills, Freddie "Boom Boom" Cannon, and The Orlons — is a free evening concert for New Jersey residents of all ages which takes place on Friday, Sept. 28, 2018.
All shows are presented by the Garden State Arts Foundation under the direction of VP Ron Gravino, who is ably assisted by Cookie Santiago.
As we enter the PNC Bank Arts Center amphitheater, we chat with several concertgoers here today including Al from Stockholm, NJ, who reveals, "We try to get to as many Garden Arts Foundation concerts as we can — each makes for a nice day out with our friends."
"We're looking forward to the Vinnie Medugo concert," explains Al. "He's great — just so full of life — and we're also looking forward to the Roy Orbison, Frankie Valli, and The Beach Boys tribute as well," before noting, "And, of course, we remember Lucille Ball, so we really wanted to come see her daughter, Lucie, here today."
Al's wife, Joan, agrees recalling, "I grew up watching Lucie Arnaz's parents, but I loved seeing Lucie in "The Jazz Singer" with Neil Diamond. As a result, I'm very anxious to see what she's done with her career."
Before this afternoon's program begins, we get an opportunity to go backstage for a chat with today's star, Lucie Arnaz!
When asked how she enjoys performing here in the Garden State, Lucie replies with a smile, "Oh, I've played Atlantic City and theaters all across New Jersey, and this venue is a wonderful place to play — we just finished our sound check, and it went really well; the sound here is so empowering!"
In talking about her orchestra for this afternoon's concert, Arnaz says, "I hand-picked the twelve best musicians for today's performance and included a percussionist and a harpist," before adding, "My father always had a harp in his band."
Continuing, "They are all fantastic musicians!" Arnaz explains, "and they are all led by Ron Abel on the piano, who has been my music director for 30 years."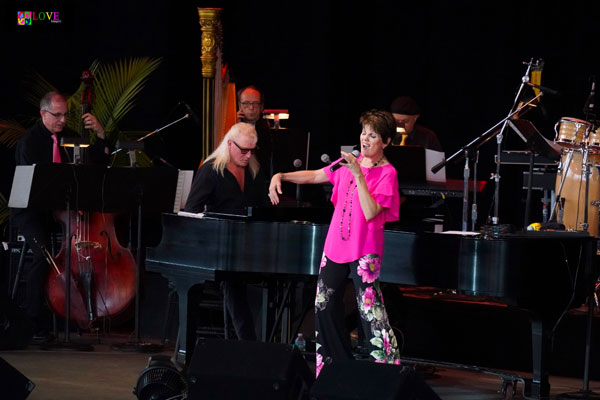 Going on to add, "I created this show especially for this place — I've taken some of the numbers from my Latin Roots show and added some good big band numbers to it," Arnaz acknowledges, "I've always sung music from what we call the 'Great American Songbook,' so I've used some of these classic numbers to create an eclectic mix especially for this venue."
Stating, "I am impressed with the Garden State Arts Foundation — which does all these shows for New Jersey residents," Arnaz concludes by exclaiming, "and I hope the audience will have as much fun as we will!"
Following the playing of "The Star-Spangled Banner," Garden State Arts Foundation VP Ron Gravino introduces the audience to today's headliner — Lucie Arnaz!
Opening with a bright and snappy rendition of the Sinatra staple, "The Best is Yet to Come," Arnaz knocks the audience's socks off with her polished vocals, poise, and charm — not to mention the powerful yet nuanced playing of the musicians in her top-notch orchestra!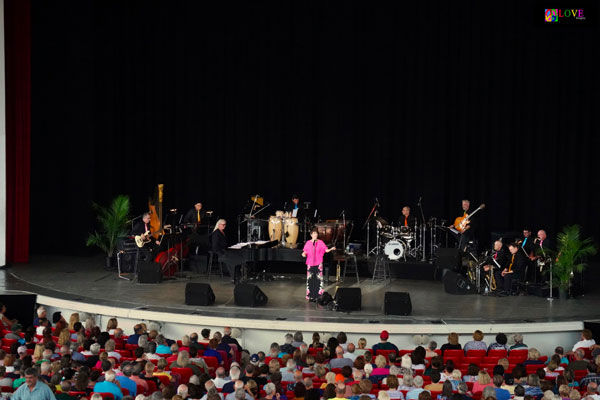 After greeting the crowd, Arnaz says, "I used to answer questions from the audience — and I really don't do that any more — but I will answer one question first, wryly joking, "No, I don't look like either one of them."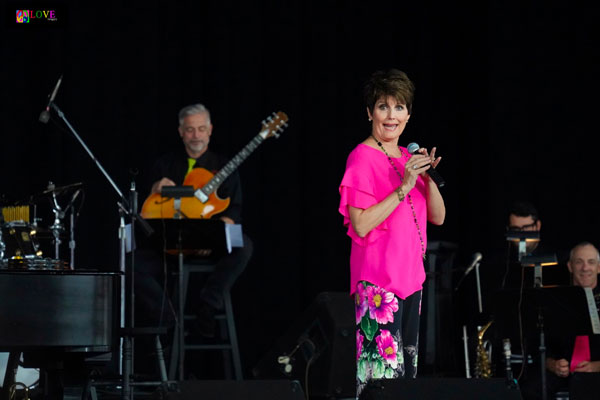 Revealing that she wrote a song to answer questions which fans often ask her, Arnaz sings the clever ditty, "Lucie with an I-E," accompanied by Ron Abel on the piano. In this humorous piece — in which she waxes poetic about the spelling of her name in addition to other aspects related to her well-known family — Arnaz captivates this Jersey crowd audience with her wit and talent.
Following avid applause, she performs a medley of some of her favorite songs including Cole Porter's "It's All Right With Me" and Johnny Mercer's "Something's Gotta Give." Giving these numbers a bit of a Latin twist, Arnaz sounds sophisticated and sultry.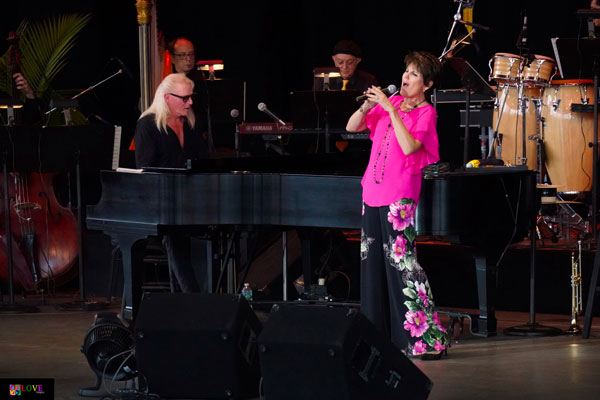 Potted palms and an onstage fan blowing on her as she sings add to the Latin feel, as does Arnaz's stunning hot pink blouse and her floral print slacks.
A highlight of today's program is Arnaz's rendition of "Johnny Angel." Performed with a light Brazilian feel, the talented instrumentalists of her band shine — notably the harpist — and Arnaz makes this song her own as she pines with emotion singing, "Johnny Angel/How I want him/How I tingle when he passes by/Every time he says "'hello' my heart begins to fly."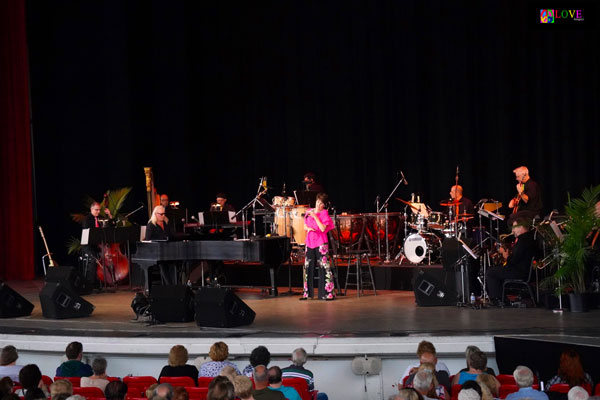 In addition to her singing acumen, Arnaz is also a gifted storyteller. In one tale, Arnaz talks about some of the influences on her career in show business. According to Lucie, her dad, Desi Arnaz, had a beach house in Del Mar, CA, which was across from a racetrack. Here, his friends including composers Sammy Cahn, Jules Stein, and Burt Bacharach — along with neighbors like Jimmy Durante — would often visit.
Moreover, according to Arnaz, her mother, Lucille Ball, enjoyed visiting Las Vegas and often took Lucie to see shows there including several by singing duo Steve Lawrence and Eydie Gormé, and many by "Mr. Entertainment" himself, Wayne Newton, who — as she explains — "would sometimes play up to eight instruments during a show!"
After fondly acknowledging how these entertainers influenced her goal of becoming a singer and actress, Arnaz launches into her next number — her "I Love a Piano" medley.
On this audience favorite, pianist Ron Abel provides a grand gesture of an introduction before Lucie dances over to the grand piano to sing and pantomime beside Ron as he plays.
Introducing bass and drums in the lyric of the song, Arnaz owns the stage as she individually pantomimes each instrument when it is featured with a solo performance.
As the medley segues into a rousing rendition of "Alexander's Rag Time Band," Arnaz picks up a trumpet and plays a riff for laughs.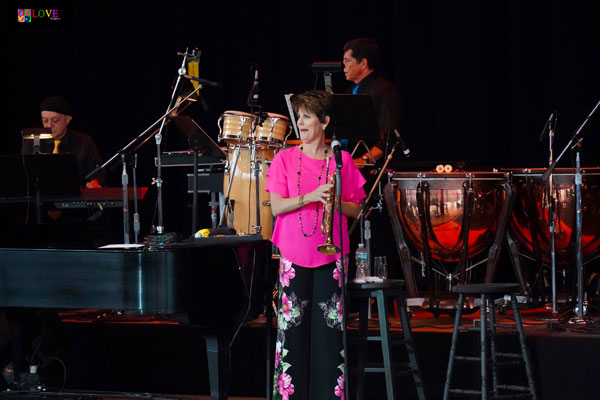 After ringing her triangle, Arnaz proudly concludes the number with a tambourine flourish, exclaiming, "Eat your heart out, Wayne!"
Acknowledging all of the members of her talented band on this special number, the audience rewards them with a well-deserved round of applause.
After announcing a new musical based on the Hazel television show which she says "is slowly sweeping its way to Broadway," Arnaz performs "He Just Happened to Me" — a number she reveals was written by her musical director, Ron Abel. Calling the tune "a preview of what might be a breakout hit from the show," Arnaz delights the audience with this happy love song.
Continuing in the Broadway vein, Arnaz thrills the Jersey crowd by performing a number she originated on Broadway — the title song from her Broadway hit created by Neil Simon, Marvin Hamlisch, and Carole Bayer Sager — They're Playing Our Song.
Lights pulse as Arnaz joyfully dances her way through this magical number, completely captivating members of this audience with her spirited performance!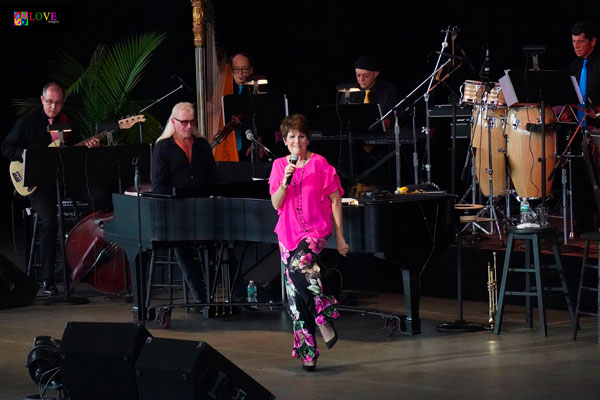 After revealing how she met her husband, actor Laurence Luckinbill, in New York City — where she says, "he won my heart when he took me out onto the dance floor to a Latin band" — Arnaz performs a sparkling rendition of "Blame it on the Bossa Nova." On this sexy and fun number, Arnaz plays shaker and dances, charming the audience with her prodigious talent and style.
Following "The Places Medley" — a concoction about different locations around the world — Arnaz tells a story about how, as a result of her childhood, she pursued a career in musical theater, but gravitated to the concert arena after the death of her famous father.
Taking the audience back to the night in1986 when her dad passed away, Arnaz says, "I went out to the garage where I found a collection of cassette tapes of his live performances" in addition to "30 boxes of arrangements of those songs." Taking this as a sign, she started to perform these original charts in concert settings — notably "Quisas, Quisas (Perhaps, Perhaps, Perhaps)," a 1940's-style love song which she goes on to perform both in English and in Spanish.
Audience members are filled with emotion on Arnaz's rendition of Dan Fogelberg's "Leader of the Band," which — with the addition of some new original lyrics — she dedicates to the memory of her father.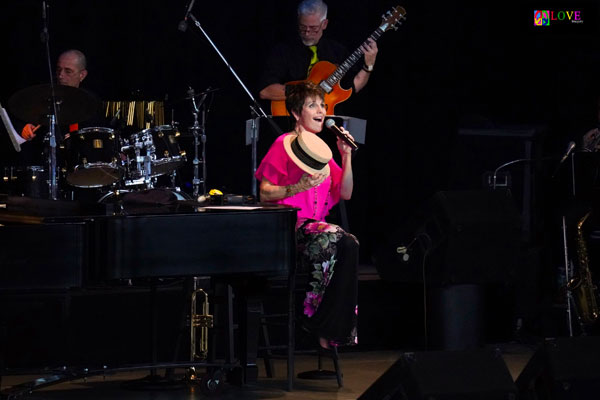 After picking up his hat and holding it up while singing, "Papa, I don't think I said I love you near enough," Lucie has members of the audience feeling lumps in their throats as a result of this poignant moment which elicits cheers and applause from the Jersey crowd.
Concluding the afternoon's production with yet another highlight number is Arnaz and Co.'s performance of "Cumbanchero." On this rousing rendition filled with expert singing and dancing, Lucie even takes some time to drum on one end of the grand piano as Ron Abel masterfully plays the other!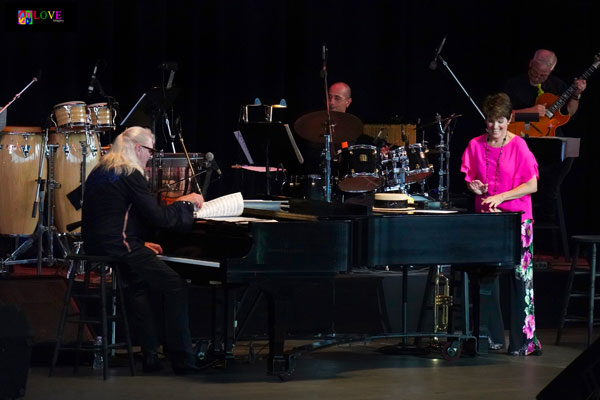 This exciting performance leaves the audience on its feet cheering for more!
After thanking The Garden State Arts Foundation, along with everyone at the PNC Bank Arts Center, Arnaz introduces the audience to a special surprise guest — her son, guitarist Joe Luckinbill.
Reminding the audience that her mother, Lucille Ball, was not primarily known as a musician, Arnaz reveals that her mom, nonetheless, has a "signature song" — one she originated on Broadway in the early 1960s in a show called Wildcat.
Confessing, "I never wanted to sing that song," Arnaz acknowledges that she changed her mind after her musical director, Ron Abel, came up with "a new arrangement that makes you listen to the lyric in a whole new way."
With her son, Joe, sitting on a stool beside her, Arnaz dedicates her performance of this song — "Hey, Look Me Over" — saying, "Mom, this is for you and your grandson."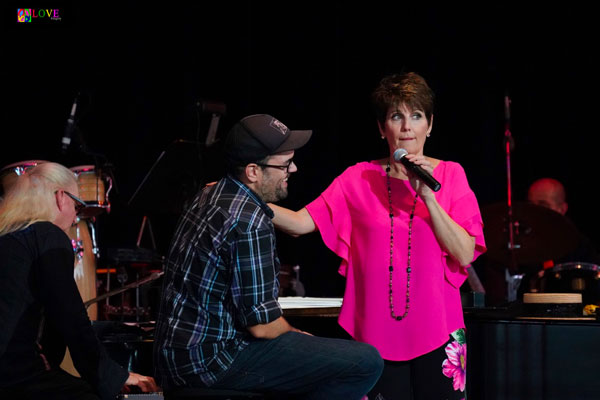 On this tour de force performance, Arnaz wows the crowd, proving to all why she is, indeed, show business royalty!
Following even more cheers and applause, we take a moment to chat with several members of the audience who share their opinions about today's performance.
Remarks Jackie from Jackson, "Lucie Arnaz looks amazing and sounds amazing!"
Rosy from Boynton Beach, FL, calls Lucie Arnaz's performance "a wonderful show," after which her husband Marvin exclaims, "We really enjoyed it!"
Iris from Manalapan says, "Lucie Arnaz is so talented — I loved this show," whereas her husband, Jerry, declares, "This show had a lot of energy; it was great!"
Maxine from Old Bridge conveys, "Lucie Arnaz is absolutely charming — she's delightful. The stories she told were great. She brought me to tears with her last song because I saw her mom, Lucy, in her only Broadway show, where she sang 'Hey, Look Me Over.'"
Millie from Lakewood agrees declaring, "Lucie Arnaz is a class act — a consummate performer. She had the best training by being around all of those great performers during her childhood, so it's no wonder she is who she is. I loved every minute of this show!"
Likewise, Ruth from Howell remarks, "What a talent — and she is so down to earth! I felt like she was talking right to me. She is a beautiful performer — so warm and engaging — and I love her voice; I could listen to her all day!"
Lastly, George from Middletown comments, "I loved her song choices — she can sing anything!" before concluding with a smile, "Listening to Lucie Arnaz today made me feel young again!"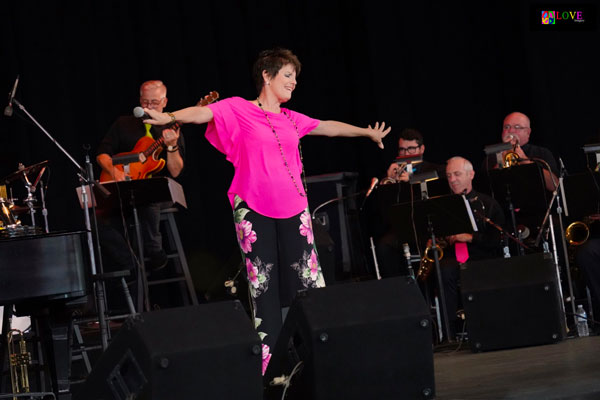 To learn more about Lucie Arnaz, please go to luciearnaz.com. For information on upcoming free Garden State Arts Foundation performances for NJ residents 55 and older — including Vinnie Medugo and the Jersey Sound Band on Sept. 20 and A Tribute to Roy Orbison, Frankie Valli, and The Beach Boys on Sept. 27; in addition to a concert for NJ residents of all ages — Cousin Brucie's Rock and Roll Yearbook Vol. 2 starring The Buckinghams, The Cowsills, Freddie "Boom Boom" Cannon, and The Orlons on Friday, Sept. 28, 2018 — please click on gsafoundation.org.
Photos by Love Imagery
Spotlight Central. Your source for Jersey entertainment news and reviews
Love Imagery Fine Art Photography. all you need. peace/love/flower/power