originally published: 09/13/2018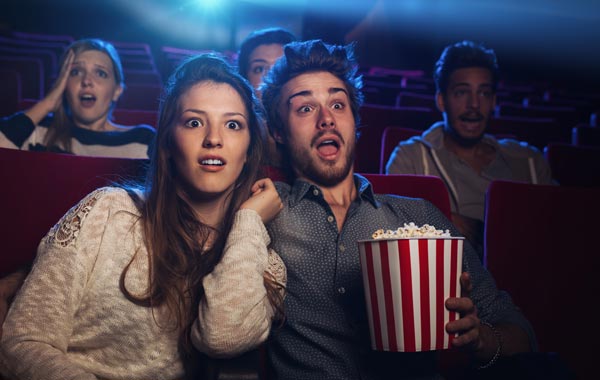 (HOPEWELL, NJ) -- For an entire week, Hopewell Theater will celebrate Halloween with, Fright Fest, a mini fest of classic Halloween horror films from October 25 - 31, 2018. The slate of films are icons of horror cinema, and will be displayed in all their gory glory on the big screen. 
"These films just get super scary when you see them on the big screen with surround sound in a dark theater - the movie theater is the perfect way to enjoy their full frightening effect," says Sara Scully, Executive Director, Hopewell Theater.
John Carpenter's groundbreaking slasher film Halloween kicks off the fest. The film premiered four decades ago, changing the landscape of horror cinema forever. To celebrate this storied film franchise the Hopewell Theater will screen the original 1978 classic at 7:00pm on October 25th, the 40th anniversary of its original release. Other classics in the line up are as follows:
---
Halloween - Thurs., October 25 at 7:00pm - The year is 1963, the night: Halloween. Police are called to 43 Lampkin Lane only to discover that 15 year-old Judith Myers has been stabbed to death by her 6 year-old brother, Michael. After being institutionalized for 15 years, Myers breaks out on the night before Halloween. No one knows, nor wants to find out, what will happen on October 31, 1978 besides Myers' psychiatrist, Dr. Loomis. He knows Michael is coming back to Haddonfield, but by the time the town realizes it, it'll be too late for many people. Directed by John Carpenter; Rated: R; Runtime: 91 minutes; Common Sense Media Rating: Ages 17+; Tickets are available online.
---
An American Werewolf in London - Friday, October 26 at 7:00pm - David (David Naughton) and Jack (Griffin Dunne), two American college students, are backpacking through Britain when a large wolf attacks them. David survives with a bite, but Jack is brutally killed. As David heals in the hospital, he's plagued by violent nightmares of his mutilated friend, who warns David that he is becoming a werewolf. When David discovers the horrible truth, he contemplates committing suicide before the next full moon causes him to transform from man to murderous beast. Directed by John Landis; Rated: R; Runtime: 97 minutes; Tickets are available online.
---
---
The article continues after this ad
---
---
Family Matinee, Halloween Edition: Ghostbusters – Saturday, October 27 at 11:15am - Don't miss this one chance to catch Ghostbusters on the big screen. One show time only on Saturday, October 27! Ghostbusters is a 1984 American supernatural comedy film directed and produced by Ivan Reitman and written by Dan Aykroyd and Harold Ramis. It stars Bill Murray, Aykroyd and Ramis as eccentric parapsychologists who start a ghost-catching business in New York City. Sigourney Weaver and Rick Moranis co-star as a client and her neighbor, and Ernie Hudson as the Ghostbusters' first recruit. After the members of a team of scientists lose their cushy positions at a university in New York City, they decide to become "ghostbusters" to wage a high-tech battle with the supernatural for money. They stumble upon a gateway to another dimension, a doorway that will release evil upon the city. The Ghostbusters must now save New York from complete destruction. Directed by Ivan Reitman; Runtime: 107 minutes; Rated: PG; Common Sense Media Rating: Ages 11+; Tickets are available online.
---
The Shining – Saturday, October 27 at 1:30pm - Jack Torrance (Jack Nicholson) becomes the winter caretaker at the isolated Overlook Hotel in Colorado, hoping to cure his writer's block. He settles in along with his wife, Wendy (Shelley Duvall), and his son, Danny (Danny Lloyd), who is plagued by psychic premonitions. As Jack's writing goes nowhere and Danny's visions become more disturbing, Jack discovers the hotel's dark secrets and begins to unravel into a homicidal maniac hell-bent on terrorizing his family. Directed by Stanley Kubrick; Rated: R; Runtime: 145 minutes; Common Sense Media Rating: Ages 17+; Tickets are available online.
---
Frankenstein – Sunday, October 28 at 5:15pm - This iconic horror film follows the obsessed scientist Dr. Henry Frankenstein (Colin Clive) as he attempts to create life by assembling a creature from body parts of the deceased. Aided by his loyal misshapen assistant, Fritz (Dwight Frye), Frankenstein succeeds in animating his monster (Boris Karloff), but, confused and traumatized, it escapes into the countryside and begins to wreak havoc. Frankenstein searches for the elusive being, and eventually must confront his tormented creation. Directed by James Whale; Rated: Not rated; Runtime: 70 minutes; Common Sense Media Rating: Ages 10+; Tickets are available online.
---
Rosemary's Baby – Sunday, October 28 at 7:00pm - A young wife comes to believe that her offspring is not of this world. Waifish Rosemary Woodhouse (Mia Farrow) and her struggling actor husband Guy (John Cassavetes) move to a New York City apartment building with an ominous reputation and odd neighbors Roman and Minnie Castavet (Sidney Blackmer, Ruth Gordon). When Rosemary becomes pregnant she becomes increasingly isolated, and the diabolical truth is revealed only after Rosemary gives birth. Directed by Roman Polanski; Rated: R;  Runtime: 136 minutes; Common Sense Media Rating: Ages 16+; Tickets are available online.
---
Let the Right One In – Tuesday, October 30 at 7:00pm - A fragile, anxious boy, 12-year-old Oskar is regularly bullied by his stronger classmates but never strikes back. The lonely boy's wish for a friend seems to come true when he meets Eli, also 12, who moves in next door to him with her father. A pale, serious young girl, she only comes out at night and doesn't seem affected by the freezing temperatures. Coinciding with Eli's arrival is a series of inexplicable disappearances and murders. One man is found tied to a tree, another frozen in the lake, a woman bitten in the neck. Blood seems to be the common denominator – and for an introverted boy like Oskar, who is fascinated by gruesome stories, it doesn't take long before he figures out that Eli is a vampire. But by now a subtle romance has blossomed between Oskar and Eli, and she gives him the strength to fight back against his aggressors. Oskar becomes increasingly aware of the tragic, inhuman dimension of Eli's plight, but cannot bring himself to forsake her. Frozen forever in a twelve-year-old's body, with all the burgeoning feelings and confused emotions of a young adolescent, Eli knows that she can only continue to live if she keeps on moving. But when Oskar faces his darkest hour, Eli returns to defend him the only way she can. Swedish filmmaker Tomas Alfredson weaves friendship, rejection and loyalty into a disturbing and darkly atmospheric, yet poetic and unexpectedly tender tableau of adolescence. The feature is based on the bestselling novel by John Ajvide Lindqvist. Directed by Tomas Alfredson; Rated:R; Runtime: 114 minutes; Common Sense Media Rating: Ages 17+; Tickets are available online.
---
The Exorcist – Tuesday, October 31 at 7:00pm - One of the most profitable horror movies ever made, this tale of an exorcism is based loosely on actual events. When young Regan (Linda Blair) starts acting odd -- levitating, speaking in tongues -- her worried mother (Ellen Burstyn) seeks medical help, only to hit a dead end. A local priest (Jason Miller), however, thinks the girl may be seized by the devil. The priest makes a request to perform an exorcism, and the church sends in an expert (Max von Sydow) to help with the difficult job. Directed by William Friedkin; Rated: R; Runtime: 122 minutes; Common Sense Media Rating: Ages 16+; Tickets are available online.
---
Hopewell Theater offers a range of unique cultural experiences, from independent film and live music to guest speakers, artists and performances. Patrons can dine-in on small plates from local restaurants or just come for the show. Film buffs will particularly enjoy a state-of-the-art movie theater in Hopewell, NJ with a dine-in menu. A landing spot, a launch pad, and an incubator, Hopewell Theater is also a place where artists can play, practice, perform or show their passion project on the big screen. The theater is available to rent, at both hourly and day-rates. Hopewell Theater is located at 5 S. Greenwood Avenue in Hopewell, New Jersey.