By Spotlight Central
originally published: 09/06/2018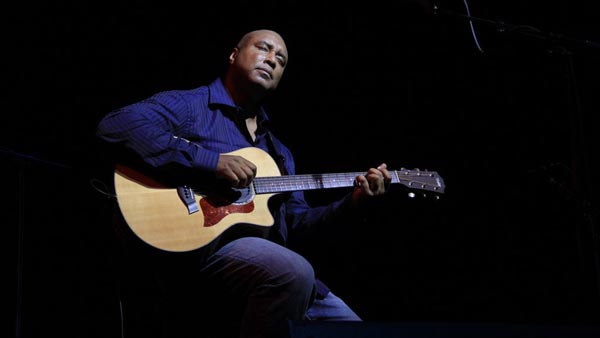 Four-time World Series Champion and Latin Grammy-Nominated guitarist and composer Bernie Williams performed with his All-Star Band at the Jersey Shore on Saturday, Sept. 8, 2018 at The Grunin Center of the Arts in Toms River, NJ.
Born to a merchant marine father and a principal/college professor mother, Bernie Williams was born in The Bronx, but moved to Puerto Rico at the age of one. Growing up on the island, he played classical guitar as well as baseball, but also excelled in track and field. Discovered by Major League Baseball while still a teen, Williams was signed by the New York Yankees at the age of 17. During his 16-year career as a center fielder for the team, his passion for music never waned. It is said that the sound of his guitar could often be heard emanating from the Yankee clubhouse and even when traveling on road trips!
In 2003, Williams released his first album, The Journey Within — a recording which contained his first single, "Just Because" — and which featured such talented musicians as jazz pianist David Benoit, keyboardist David Sancious, mandolinist Béla Fleck, and bassist Leland Sklar.
Williams raised his game even further with the release of his second album in 2009, Moving Forward, which produced a Latin Grammy nomination for Best Instrumental Album. This recording also featured an assortment of talented artists including jazz saxophonist Dave Koz, Latin singer/songwriter Jon Secada, and the Jersey Shore's own Bruce Springsteen.
In 2016, Williams graduated from the Manhattan School of Music, where he received his Bachelor of Music degree in Jazz Performance. These days — in addition to performing with his group, The All-Star Band — he does philanthropic work with Little Kids Rock, a non-profit organization that revitalizes music education programs in public schools across the U.S.A.
---
The article continues after this ad
---
---
Spotlight Central recently had a chance to catch up with Williams, who talked about his childhood musical influences, his life growing up as a musician and athlete, and his upcoming performance this Saturday night at Toms River's Grunin Center of the Arts.
We understand that your dad was a wonderful guitarist! You've said that, as a child, you'd listen to him play guitar in the middle of the night and wake up and ask him, "What is it that you are playing and how can I learn?" But what about your mom, who was a principal and a college professor — did she have any influence on you as a young musician?
Bernie Williams: Well, not necessarily as a musician, but my mom was very supportive in everything that my brother and I did — and music was a part of that process. For instance, we started playing instruments at her insistence because she wanted us to be well-rounded. She didn't really envision us being instrumentalists — virtuosos — or anything like that; she just wanted us to be well-educated. So, with that said, she was always very supportive with anything that we did — with every new song that we would come up with, she was always very happy about listening to it, and chiming in and saying how nice it was — so she was just really supportive of all of our artistic endeavors.
You lived in The Bronx until you were about one year old, and then you moved to Puerto Rico. What type of music did you listen to there as a child?
Bernie Williams: All the traditional Puerto Rican/Latin music from the salsa to the Christmas music to the more folkloric music of the islands. I also listened to a lot of the traditional instruments like the cuatro — a small stringed instrument — and nylon-stringed guitars, in addition to all sorts of minor percussion instruments like maracas and guiros and other instruments that help to create the very distinctive sound that is particular to the Caribbean and, especially, Puerto Rico.
And, basically, I grew up listening to the Latin "songbook" — all of the boleros and all of the salsa tunes — in addition to listening to all the great Latin-American artists from the '70s and '80s.
And when you were about eight years old, you started taking formal music lessons. As you matured, you excelled in sports, but you also went to a music and arts high school where you learned about classical music. So were you thinking more about becoming a professional musician than, say, an athlete?
Bernie Williams: Yes! At the time, I was in a totally immersive performing arts high school — and I was playing baseball on the side as a Little Leaguer — but a lot of my focus was just to interact with all of my classmates who were musicians. And, at that point, I sort of envisioned myself, for all practical purposes, as coming out of school and applying to a conservatory and becoming a full-time musician.
But that was not necessarily what my mom and dad had planned for me! They didn't see music as a viable way to make a living. [Laughs] In my mom's mind, it was more about going to college and getting what she would consider a more legitimate, or prestigious, job like an engineer, or architect, or lawyer, or doctor, or whatever.
But — as it turns out — you didn't do too badly with your actual career choice!
Bernie Williams: No! [Laughs] Little did she know I was going to make my living as a baseball player!
And, you know, back when I was in high school, I was playing Little League on the side — and I played other sports, as well — but they were just a means to an end, as my parents were just trying to expose me to as many experiences as they could to see what I would end up liking the most. And when it was time for me to make a career decision, in many ways, my decision was, kind of, made for me, because of my ability to play baseball and the opportunity which was given to me to to play it professionally at a very young age.
We understand that, while you were playing baseball, you always had your guitar with you — especially on the road — and that's where you became familiar with lots of different musical influences like jazz and pop, in addition to the classical and the Latin music with which you had already become familiar. Were there any particular composers or performers then — or even any today — whose music you really admire?
Bernie Williams: There are so many! But I always kept this sort of mantra or motto: to always keep my eyes and my ears open and to listen to as many different kinds of music as I could, because there's so much great music in this world! I think I would have done myself a disservice if I had just limited myself to listening to one specific type of music. So even from a young age, I tried to keep my ears open to things that would spark some inspiration or some sort of sentiment inside myself just by listening to that type of music.
You see, in every genre, there is always great music to be listened to, so whether it's classical, Latin, rock, jazz, or even metal, I always try to give myself an opportunity to explore it and see if I actually really do like it. And, over time, I've sort of gravitated to jazz because I wanted to learn about musical structure — not that jazz is loose at all; it's very intricate and very structured — but the ability that jazz gives you to be an improvisational musician is something that has always attracted me.
So I started by listening to the fusion side of jazz, and that gave me an opportunity to listen to guitar players who were out there playing with some sort of "grit" in their sound, but who — at the same time — had real jazz chops. Players like John Scofield, Pat Metheny, Mike Stern, Robben Ford — and [laughs] there are more — Greg Howe, Wayne Kranz, and Scott Henderson — I was a big Scott Henderson guy when I was growing up!
So you really do have a lot of influences!
Bernie Williams: Oh yeah, absolutely! And all of those influences inform the way I play, the way I listen, and the way I process music. And it's a really great process for me to be a part of, because I've always tried to be unpredictable in my music, in my music choices, and in the way I play and compose.
Some musicians give you surprises that are funny and clever when they improvise or compose music — innovators like Mozart and Beethoven and Rachmaninoff, for instance, really give you a sense of how great music can be. And I think that my affinity for all different kinds of music came from studying at the Manhattan School of Music where I got to listen to all different styles and learned to find greatness in all different genres of music.
And, so, when you go on to look at jazz — the experimental side of it, the history of jazz, and how it has evolved over time — it's just been a great experience to be a part of!
And speaking of jazz, you're going to be performing at the Jersey Shore this Saturday, September 8, at the Grunin Center of the Arts, with your band, The All-Stars. What can audience members expect to experience at this concert?
Bernie Williams: We're trying to be as eclectic as we can be! We'll do a nice mix of original music — sort of modern jazzy stuff — but we'll play some covers too. We have a great vocalist, Jay Prince, who's gonna help us out with the very upbeat, pop vocal part of the performance where we'll cover tunes from artists like The Steve Miller Band and Joe Cocker. And then we're gonna have my original music — the latest version of it — and we'll play some fusion stuff too.
We have a band filled with great musicians who have a lot of chemistry. I've been associated with them for almost ten years now — so they really know my music — and I've had a wonderful opportunity to grow up with them musically under their wings. So, all in all, I'm just very blessed to have the opportunity to play with them — and it's gonna be a great night!
---
Bernie Williams and his All-Star Band will appear at The Jay and Linda Grunin Center of the Arts located on the campus of Ocean County College in Toms River, NJ on September 8, 2018, at 8pm. Tickets are $59, $49, and $45. For tickets and info please click on grunincenter.org.
Photos by Love Imagery
Spotlight Central. Your source for Jersey entertainment news and reviews
Love Imagery Fine Art Photography. all you need. peace/love/flower/power