originally published: 09/02/2018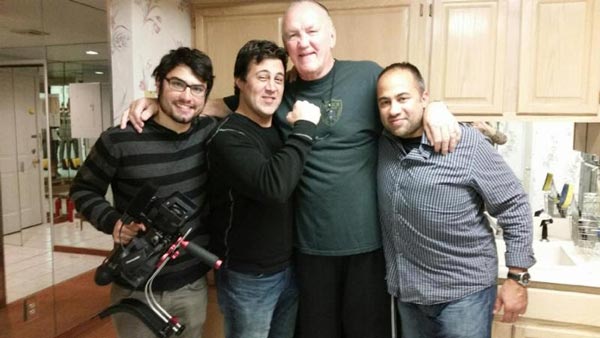 (JERSEY CITY, NJ) -- One of the most popular sports films in history is Rocky - a film that mirrors the real life experience of professional boxer Chuck Wepner from Bayonne. A new independent film called The Pretender takes viewers inside the life of Mike Kunda, a "Rocky" fanatic since the movie's release nearly 40 years ago. The film explores Mike's fascination with the Rocky Balboa character and how it continues to impact his life, and the lives of others, in interesting and unimaginable ways. The film screens as part of the Golden Door International Film Festival on Sunday, September 23rd at 12:00pm at the Landmark Lowe's Jersey Theatre (54 Journal Square Plaza) in Jersey City, NJ.
The Pretender, by Detroit-based production company Free Age,  begins with the origins of Mike's admiration for "Rocky" as a young middle-class kid growing up in Pennsylvania. Over the next four decades, Mike searches to find meaning in his obsession and discover his true self, focusing on every aspect of the fictional hero, and often becoming the Rocky Balboa character. 
"Mike's journey is an emotional trip through themes of obsession, compassion, acceptance and inspiration," says director Jim Toscano, Free Age. "His story is humorous and heartening, and proves that even the most extraordinary or unrealistic goals may prove to offer the most rewarding and fulfilling life." The film shares the highs and lows of Mike's life, and how the Rocky films continue to shape him personally and professionally.
"We are honored and excited to share Mike's story with film fans in Jersey City," says filmmaker Danny Gianino, Free Age. "His love for life and being true to oneself is an inspiration to us, and we hope it inspires the audience, as well."
Special guest Chuck Wepner "The Real Rocky" will also be in attendance at the screening. As a heavyweight contender, Wepner inspired the nation—including Sylvester Stallone—by going 15 rounds with Heavy Weight Champion of the World, Muhammad Ali in 1975. Today Chuck is a personal friend and supporter of The Pretender Mike Kunda and is excited to see Mike's story on the big screen for the first time. 
---
The article continues after this ad
---
---
Mike Kunda will join the filmmakers for a question and answer session immediately following the film.
The Golden Door International Film Festival takes place September 20-23 in Jersey City, New Jersey. Founded in 2010 by actor Bill Sorvino and a small group of dyed in the wool Jersey City faithfuls and film lovers.  This renegade band of old and new Jersey City residents set out on a mission to shine a light on Jersey City, New Jersey through film and festival. Since that time, Golden Door International Film Festival has anchored itself as a cultural focal point of Jersey City.  GDIFF has been twice named #1 film festival in New Jersey by New Jersey Stage Magazine and has been placed on the 2018 Top 50 Film Festivals by Movie Maker Magazine.