originally published: 08/31/2018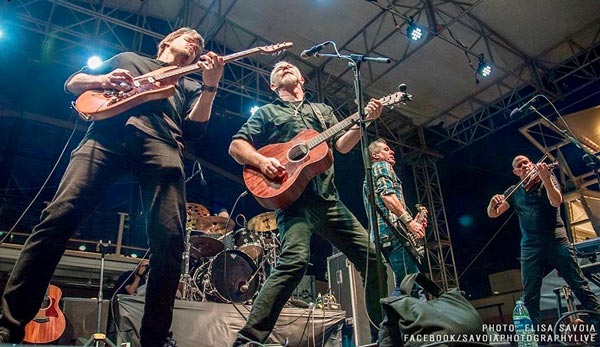 (TOMS RIVER, NJ) -- The Young Dubliners, quite possibly Celtic Rock's hardest-working band, will take the stage at the Jay and Linda Grunin Center for the Arts at Ocean County College on Saturday, September 29, at 8:00pm.     
The Young Dubliners play hundreds of shows to thousands of fans across the U.S. and Europe every year. In recent years they have twice appeared on ABC's "Jimmy Kimmel Live" and "Good Morning America," had songs featured in TV shows such as "Sons Of Anarchy" and "Human Target," and toured extensively as a headliner and as the opener for a diverse list of artists that includes Collective Soul, Jethro Tull, Johnny Lang, and Los Lobos.
Although the Young Dubliners' sound is most commonly called "Celtic Rock," that label, as labels often can be, is misleading. The Irish influence is there, certainly, but it's not the only influence that rears its head on their albums, or in live shows. After all, several of the band members have no Irish roots of any kind. "The sound was always intended to be a hybrid because we all come from different backgrounds," explained the band's lead singer, Keith Roberts. "Even though two of us are from Ireland, a lot of the music we listened to growing up wasn't Irish at all, but when we got here, we got homesick and developed a new appreciation for Irish music. In truth the Celtic riffs can just as easily come from the American band members. Everyone writes now so you never know what we'll end up with when we start on a new album."
The group's last album – "Nine" – was its first independently released effort. But, recordings aside, this is predominantly a live band, and relentless touring has garnered them a faithful following. "We are very appreciative of how the fans have continued to support the live shows," said Roberts. "It makes for a crazy but enjoyable year despite the hectic travel schedule."
Tickets are $25–$20 ($20 rate ends on September 1) and can be purchased online at grunincenter.org; by phone at 732-255-0500; or in person at the Grunin Center Box Office, Monday to Friday, 10:00 a.m. to 5:00 p.m. Student and group discounts available on select shows. Ask about discounts for active military and veterans. 
---
The article continues after this ad
---
---
The Grunin Center is located on the OCC Main Campus, College Drive, Toms River, NJ.