originally published: 08/25/2018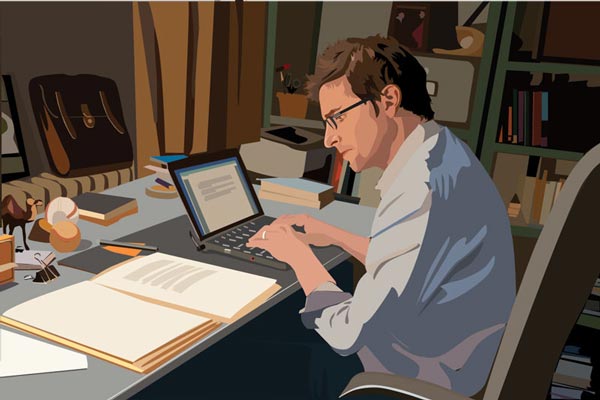 Each month, New Jersey Stage runs about 50-70 articles on our daily site in addition to the articles found in our monthly magazine.  We recently ran its 14,000th story online and thought our 50th issue was a good time to showcase the people behind the content in the magazine and the daily site.  We are always adding new writers and have recently welcomed Ilana Rapp and Lisa Annitti to the team as well. None of the writers get paid, so this is a labor of love for us all.
---
Eric Hillis is our movie reviewer with a pair of reviews each month. He runs TheMovieWaffler.com and lives in Dublin, Ireland.  Since he is the writer from farthest away, we'll start with him.  Gary and Sherry Wien met up with him in Dublin this past June and drank some pints together in his local pub.
When did you start writing and what was your first writing job? As a kid I would make my own comic books and was always writing in some form or other. My first writing job was reviewing films for a free newspaper given out on one of the train services here in Dublin.
What are five of your favorite films of all time? Halloween, Jaws, Vertigo, Nashville, Detour
Do you find it strange or cool that people thousands of miles away are reading your film reviews with NJ Stage? I find it both strange and cool. As a writer, one of the great things about the internet is that it opens up the whole world as a potential audience.
---
The article continues after this ad
---
---
If you weren't a writer, what do you think you would be doing? Probably a really bad filmmaker on the run from the mobsters who funded my failed movie.
Finally, what is something interesting about you that you think people should know about or would like to know? I'm a distant relative of George Bernard Shaw. Maybe writing is in my genes.
---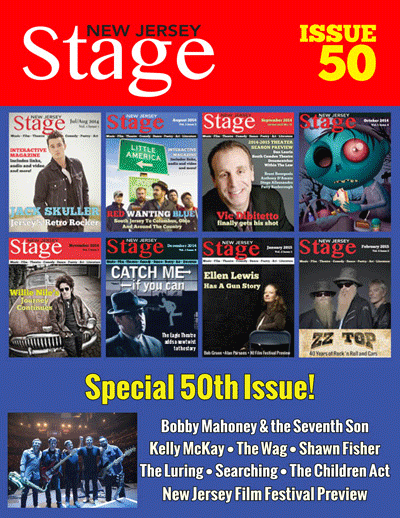 Danny Coleman writes a weekly column for us online called "Rock On!"  He's a man of many talents - a professional drummer, a radio and tv host.
What was your first writing job? I started writing as an elementary school child. I loved creating stories and seeing people's reactions when they read them. I started writing professionally in 2000 by doing band news letters and then for the Trentonian newspaper in 2010. 
Tell me about your radio show.  When did you first begin doing radio and tv hosting? The radio show came about out of necessity after a back injury ended my career as a UPS driver. Forced to re-invent myself I drew on my fascination for radio in an effort to do what I love for a living and that's something in the music/entertainment field as well as give artists an outlet they may not have had. I started doing radio in April of 2009 and TV in 2016. 
Who are five of your favorite interviews of all time? Nancy Wilson,  Ann Wilson, Ian Anderson, Don Felder and Edgar Winter
Name an artist who is no longer alive that you wish you could have interviewed. Toss up between Jim Morrison and John Bonham
If you weren't a writer/radio host, what do you think you would be doing?  Wishing I was both!
Finally, what is something interesting about you that you think people should know about or would like to know? I've wanted to be a rock star since I was 12.
---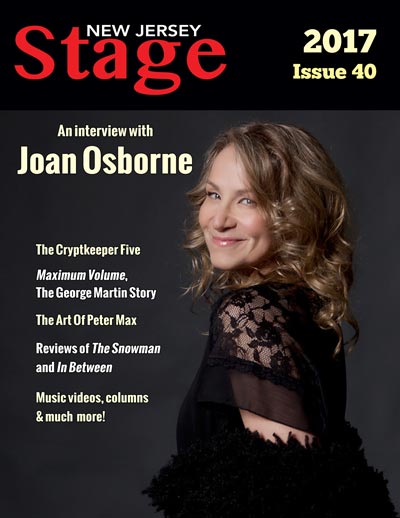 Rosemary Conte has been running her Inside Music column with us each month since early on in the magazine's lifetime.  In addition to writing, she is a professional singer, teaches vocal instruction, and has two sons (Steve and John) who are professional musicians with a college degrees in jazz performance and in demand players for bands as diverse as Southside Johnny & the Asbury Jukes to The New York Dolls. She will be singing at a very special occasion at the Asbury Hotel in Asbury Park on September 2. 
What were your first professional writing jobs? During the '70s, when my NJ singing career began, out of necessity, I learned to write promotional/publicity material for my music projects and did the same for bands I booked and for friends' bands.  In the '80s – '90s I wrote a column, "Working in Music," for the Monmouth County Arts Council's Monthly publication; wrote a piece here and there for The Aquarian, The Two River Times, and some business newsletters.
During that time, having lived the hard life of supporting a family as a musician, I worried about others facing the same challenges  as I…and advocating for musicians young and old became an important part of my life.  I wrote and published a magazine that featured other musician writers as well. It was called All Music, and was an accompaniment to the non-profit org I founded and ran to serve people in music for 6 years.
Tell us about your performing career and some of its highlights. My performing career began at age 4, in a small town in way upstate NY, where the remnants of vaudeville and Minstrel Shows had me on stage with my mom and dad singing and tap dancing. When I was 12, I went "on the road" with the Georgia Minstrels & Follies, singing and dancing in weekend one-nighters in small towns in the Adirondack Region. My bass player dad brought me with him to Oneida County Jazz Society monthly jams, where I got to sing with fine local jazz players and where one day, 12-yr old Stevie Wonder who was appearing at nearby Sylvan Beach came by with his handlers to check us out.  As a young teen, my heart lept to jazz and I had my first recording experience at age 18 with some fine Utica/Syracuse NY jazz players.
My New Jersey career began in the early 70s. I worked in jazz clubs in North and South Jersey with jazz greats from Jersey and NYC including Bucky Pizzarelli, Harry Leahey, Jack Six, Gary Mazzaroppi, Phil Markowitz, Ray Mantilla, Jon Burr, Chip Jackson, Walt Penny, Don Friedman, Kenny Davern, Vinnie Corrao, and more. The NYC jazz priest, Rev. John Gensel and his wife became my cheerleaders and invited me to sing at Duke Ellington's Memorial Service. It was a highlight! Another was performing in the JVC Jazz Festival feature Women in Jazz in NYC. And still another was being involved in the creation of the Jersey Shore Jazz & Blues Festival that became the Jersey Shore Jazz & Blues Foundation.
In addition to performing and writing, you're a teacher.  How have you helped artists?  It's a gas to see former students – instrumentalists and singers -- on TV, and live in NJ bands, esp Jersey Shore artists. I believe my unique gift to students is my concept of teaching the whole person, and in having the perspective of a singer who has lived the life of a fulltime working singer/bandleader/teacher. It's a dimension unattainable purely through academia.
I've been a mentor to my students, teaching them how to navigate the culture as well as their instruments. They've learned confidence. They've conquered stage fright; learned about the business of making music and the dangers and exploitation – esp for females. I've supported them as artists and friends -- emotionally and spiritually, while making sure they are getting the best of me if they want to sing to the best of their capability.
If you weren't doing all of these things (writing, performing, teaching), what do you think you would be doing?   I'd be doing something involving creating positive change in people's lives and helping to create peace in the world. I'd be doing more psychotherapy/hypnosis therapy to that end.
---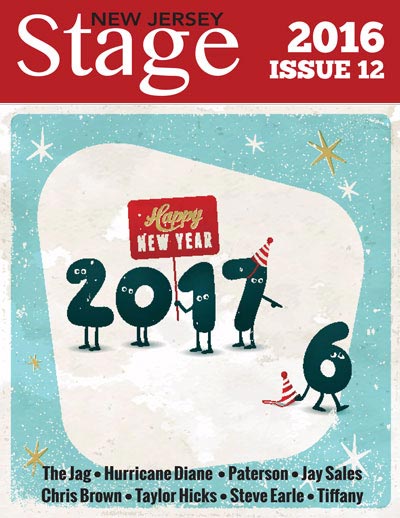 Bob Makin moved his long-running weekly column, Makin Waves, to New Jersey Stage in March 2007.  He's been running the column for 30 years and was one of the first writers contacted for Upstage Magazine - a print publication that was the predecessor of New Jersey Stage - back in 2003.
What was your first writing job? From September 1980 to June 1982 while at Point Pleasant Beach High School, I wrote for the Youth Page of the Asbury Park Press. I wrote record reviews (Tom Petty & the Heartbreakers' "Hard Promises"), concert previews of Stone Pony and Convention Hall (Dickey Betts, Elvis Costello), and profiles of local bands. Then interned for the Press in college in 1984 and 1985 and continued covering the Asbury scene for them as a freelancer through 1987. 
Who are some of your favorite interviews of all time? Bruce Springsteen for Backstreets and Courier News after first Light of Day in 2000 in the kitchen of the Stone Pony; the first-ever interview for The Bouncing Souls in 1991 outside the old Pizza Hut in New Brunswick (now Due Mari) for Makin Waves in East Coast Rocker; any of the many interviews with Dave Wyndorf of Monster Magnet; John Popper of Blues Traveler at Mondo Perso in 1989 for East Coast Rocker (their first-ever magazine cover) and on their tour bus at Jones Beach during the third Warped Tour in 1994 (had a blast hanging out backstage with Blues Traveler and the Allman Brothers Band); dozens of interviews with members of the Allmans and Grateful Dead between 1986 and 2007 for various outlets, some of which led to me having a "family" seat onstage and backstage access, and a tie for my funniest interviews with Adam West of Batman fame for the cover of The Aquarian Weekly in 1994 and Ozzy Osbourne in 1996 to preview the first Ozzfest tour for the Courier News, which won my first of nine New Jersey Press Association Awards.  Nudeswirl, 1990, over sardines at Broadway Central Cafè in 1990 for Makin Waves in East Coast Rocker. 
Name an artist who is no longer alive that you wish you could have interviewed. Miles Davis (my son Matthew's middle name, Davis, is in his honor) and Bob Marley (my daughter Rebekah's middle name, Marley, is in his honor). 
If you weren't a writer, what do you think you would be doing? Flying helicopters for the Florida EPA in retirement from a 25-year career in the Coast Guard. Having grown up on a lake in Point Pleasant Beach within paddling distance from the Coast Guard Station in Manasquan, I had wanted to go to the Coast Guard Academy, but at the time, they didn't let people with glasses fly helicopters or do rescues, so I would have had a desk job, but that changed when enrollment and enlistment declined. I hope one day to get my helicopter pilot license.  
What is something interesting about you that you think people should know about  you? For 38 years, the New Jersey music scene, especially Asbury Park, New Brunswick, Trenton, Hoboken and now Jersey City, has made me proud and brought me a lot of joy. I was sad when Makin Waves didn't have an outlet from 2006 to 2016, just as Asbury Park was undergoing its renaissance and revitalization, but I'm so grateful that New Jersey Stage gives it a healthy and happy home, and it can cover the New Jersey music scene like a blanket once again. 
I am also grateful to my son's band, Experiment 34, for paving the way for the return of Makin Waves by popular demand! When scenesters saw me out with them, they requested that I write Makin Waves again and, thankfully, there have been outlets for it once again.
---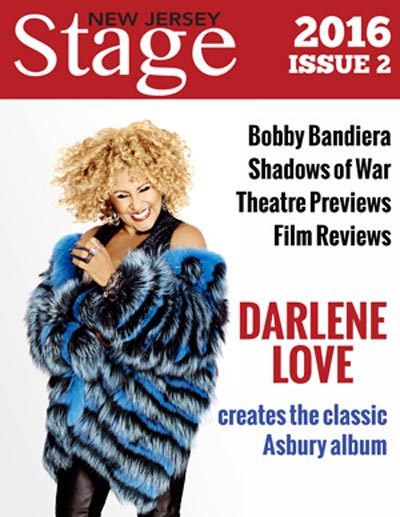 Albert Nigrin runs the New Jersey Film Festival at Rutgers University and has been teaching Cinema Studies courses at Rutgers since 1991.  He has provided New Jersey Stage with many interviews of filmmakers throughout the year.  As a filmmaker himself, he brings a unique perspective to the interviews.
Tell us about the NJ Film Festival and what led you to create it? I started what is now called the New Jersey Film festival back in the Fall of 1982 at Rutgers. Originally, the Festival centered on revival films – movies from the 1920s to the '70s and classic foreign and avant-garde pictures. As cinema evolved in the 1990s with the advent of multiplexes and the prevalence of home video and cable, we started looking to show movies that could not be found elsewhere. In 1991, we screened Daughters of the Dust, a historical film set in the early 20th century about a family in the Gullah community of coastal South Carolina. There was a lot of buzz around this film because it provided programming to an underserved audience – African American women – but even the local art film houses were not showing it. The Festival started attracting notice of cinema gods like Martin Scorsese, who volunteered to be part of a panel discussion that I put together about one of his favorite films, The Life and Death of Colonel Blimp, in 1994. Articles in The New York Times followed, as did more celebrity guests, such as Clerks' director Kevin Smith and Paul Morrissey, a filmmaker known for directing some of Andy Warhol's films. Also, the Festival didn't shy away from controversy either – and neither did the crowds. About 1,000 people came to our 1999 screening of Todd Solondz's film Happiness. Since part of the plot dealt with pedophilia, no one else would show it, but it turned out to be the largest crowd we ever had. I wanted to create a festival that was a true celebration of film based on a call for entries that would allow us to premier independent films rather than show first or second-run art house movies. Today 500 submissions per festival undergo a rigorous jury process in which the films are culled by students, faculty, filmmakers and arts journalists. We seek productions that are original, enlightening, challenging or fun. 
Each year, you interview many actors and directors involved in the films for the festival.  Who are a few of your favorite interviews? My favorite interview was with Canadian filmmaker, Saul Pincus, who is the Director of the award winning film Nocturne (2015).  I also really enjoyed interviewing Swedish filmmaker Patrick Ericsson amazing short film The Cart (2015) and Brooklyn based director James Lester whose film Getting Naked: A Burlesque Story is a fascinating look at the neo-burlesque scene.
In addition to teaching, you've create your own films as well.  Are you still creating them?  Of your film history, what are you most proud of? I was very active making experimental films and touring them around the world in the 1980s and 1990s. I have slowed down since then for a variety of reasons but I am still actively making films. The films I am  most proud of are the ones I made with my muse and partner Irene Fizer -- i.e.. Stripe Tease (1983), Gradiva (1985), Aurelia (1986), and Emma Woolfolk (1988). Her amazing presence and beauty made it easy for me to make them. 
Finally, what is something interesting about you that you think people should know about or would like to know? I love animals and have also dedicated my life to helping stray cats and other animals. Over the last 30 years I have rescued and found homes for over 200 cats. I am no longer doing this as actively as I was the last few decades but I am committed to making my corner of the world a better place for animals. 
---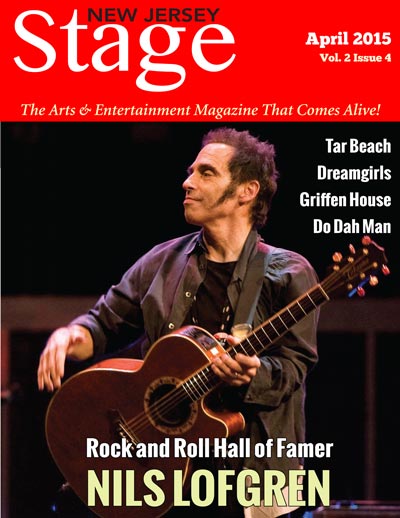 Adam F. Cohen has written several theatre reviews and features and provided coverage of film festivals for us over the years.  He has degrees from Bennington College and New York University and has run a few marathons and triathlons.
What are a few of your favorite plays of all time? I don't have a favorite but my most memorable productions were as a kid and seeing the Plays in the Park in Edison.  My parents would pack a picnic and we'd pile in the VW Bug and sit on the lawn and take in everything.  I'm sure when I was younger I fell asleep but I distinctly remember taking in South Pacific.  My first Broadway show was at 9 and I saw Sarah Jessica Parker in Annie.  We waited at the stage door for autographs and photos.  I eBayed that Playbill to help pay rent, at one point.
When did you get started in writing? A friend of mine started reviewing in Westchester about six years ago and we'd go to shows and I'd help with the reviews, so I started doing it on my own and seeking publication under my own byline.
What would you change about local theatre if you could change or improve anything? I love the variety of stages and venues where theater is presented in New Jersey - at all levels - high school, community, and professional.  Any program that encourages and gives actors, writers, directors, and production people experience while doing something they love, and creating new works is great.  I definitely think we need more avenues for new voices and works to come forward and reach more audiences is vital.
---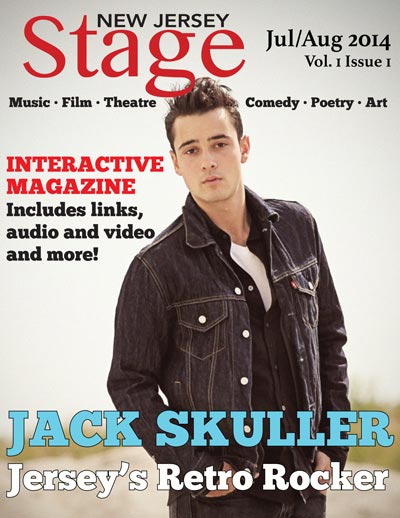 Spotlight Central, led by the husband and wife team of Marc and Carol, are one of the biggest contributors to New Jersey Stage.  They've written over 300 stories in the past three years.  Marc takes the photos and Carol writes the recaps as they cover shows throughout the state. Love Imagery is their business, which offers cards, framed and matted prints, and a variety of images for publication.  Spotlight Central is a website they run, which features their stories.
Marc, how long have you been a photographer? And what got you interested in photography? I started shooting seriously about seven years ago. At the time, I was teaching a college music history course to classes significantly comprised of athletes who were not so interested in learning about classical music. As a result, I decided to purchase a good quality camera and taught myself how to take pictures of my student-athletes on the baseball diamond, the basketball court, and the lacrosse field. Then, I'd take those photos and create videos where I'd set the images to pieces of music like Carl Orff's "Carmina Burana" (used in the film, The Omen) which the students went crazy for.  It turned out to be a win/win for everyone because the students ended up learning about classical music and I ended up learning how to take pictures.
What are some of your favorite people that you have photographed? Most of the time, these days, you can find me taking photos of musicians — some of my favorites being Brian Wilson, Pat Metheny, Jimmy Webb, Tommy James, John Sebastian, Gladys Knight, Ann Wilson, Chicago, Joshua Bell, LeAnn Rimes, Olivia Newton-John, The Zombies, and all of the great musicians associated with the various editions of the Happy Together Tour and the Pop, Rock and Doo Wopp concert series. I also enjoy shooting theater and dance performances, in addition to unique events like the red carpet parade of celebrities at the yearly New Jersey Hall of Fame Ceremony in Asbury Park.
What is something interesting about you that you think people should know about or would like to know? Some people don't know that I am actually a trained musician. I spent my formative years learning how to play piano and guitar, and even studied music as an undergraduate in college. After having a career in which I both taught and performed music, I went to graduate school and studied the creative process of musicians. That put me on a path to writing and producing recordings and, ultimately, taking photos and writing stories about them — something I still enjoy doing today with Carol, in addition to my other co-writers including my daughter, Amy; my sister, Shelley Bromberg; and my friend, Dawn Shurmaitis. 
Carol, tell us about your teaching career. I started my career in education as an elementary school classroom teacher.  When my children were small, for several years, I taught Kindermusik to young people, which led me to the next phase of my teaching career — I'm presently an elementary school vocal music teacher.  I love working with children every day and exposing them to different genres of music — classical, folk, rock, patriotic, Broadway, and more. I also like helping them to develop their musical skills by introducing them to instrumental music via the baroque recorder and to improve their singing abilities by having them perform in lots of different shows.  It's a bonus that I have lots of fun stories to tell my students about musicians and their music thanks to the pieces I write for Spotlight Central! 
Who are a few of your favorite authors? I'd have to say that I don't have a favorite author, per se, but I love reading biographies and autobiographies like "This is Me" by Chrissy Metz, "If I Understood You Would I Have This Look on My Face?" by Alan Alda, "Me, The Mob, and the Music," by Tommy James, "The Cake and The Rain" by Jimmy Webb, and "Pickin' Up the Pieces" by Richie Furay.  As it's turned out, Marc and I have ended up interviewing and/or writing stories about all of them!
What is something interesting about you that you think people should know about or would like to know? People might not know that I have a conservatory vocal performance degree and have performed as a professional singer for church services, weddings, recitals, and with large and small pop groups and bands. I also co-wrote and sang on several recordings for young people which were released nationally, in addition to doing some local television appearances.  Lastly, they may not know that I'm a huge fan of two groups who were big when I was growing up — The Monkees and The Little River Band — and I would love to get a chance to write about either group for Spotlight Central! 
Do you think ten years ago you would have imagined not just covering shows and interviewing artists, but becoming friends with them? Carol: Never in a million years!  Marc: When I was doing my graduate work, I got to interview many creative musicians and artists for a variety of scholarly projects. From that point on, I always thought that I would like to continue that type of activity some day, but I was never quite sure how it would all come about. I'm glad that it worked out to be as an interviewer of musicians and a translator of their live concert appearances to the printed page. I have to say it's been a blast for both Carol and me to get a chance to know some of the artists we idolized when we were kids— people like Peter Yarrow, Tommy James, John Sebastian, Petula Clark, Richie Furay, The Rascals' Eddie Brigati, and The Buckinghams' Carl Giammarese and Dennis Tufano, in addition to others like The Grass Roots' Mark Dawson and our favorite radio DJ growing up, 77 WABC's Bruce "Cousin Brucie" Morrow.  
---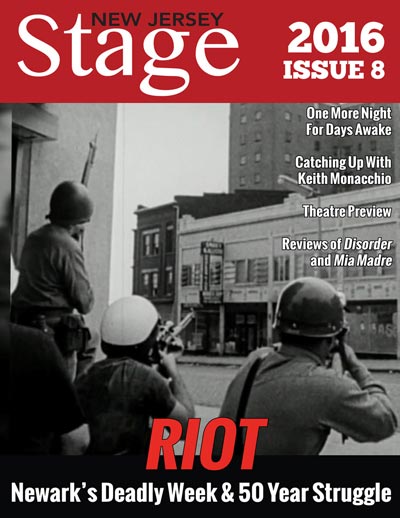 Candace Nicholson is one of our newest writers.  We came across her blog and coverage of the arts in Newark and asked if she would like to work with us. Since then she has provided arts-related news as well as covered plays and a film festival for us.  Her blog can be found at incandescere.com 
When did you start blogging?  What do you hope to do with the blog? I began writing officially in 2006, but unofficially, I've been writing all my life. With a background in journalism, my hope was to pursue a vibrant career in magazine publishing either covering the arts or activism. But best laid plans saw me doing more editing than writing in the magazine staff positions where I worked, so I took to freelance writing and blogging to develop my linguistic muscle. In blogging, I was able to write about the arts and activism without worrying about the audience misunderstanding my voice. I hope to continue to blog about the power and brilliance of art (in its many forms) as a viable part of any and all cultures.
Tell me about the work you do for clients. I've recently streamlined my client list so that I can move more into editorial project management instead of simply copy editing and writing. Now, my work for clients is primarily as a managing editor for a trade magazine, as well as copywriting marketing materials for nonprofit organizations. I have a full plate at the moment, but I always keep my eye on what's going on in the world of the arts, if not as a writer, then definitely as a patron.
What should people who live outside the city and may not know much about Newark know? Although I've only lived in Newark for three years, I've found it to be a city that has so much more to offer than its negative reputation. Its fiercely proud community manages to be both welcoming to new residents and protective of its native citizens at the same time. With a large immigrant community and a historically disenfranchised multi-ethnic population, Newark is a city that understands that success only comes to those who celebrate their differences instead of suppressing them. I think that's why so many people in creative fields have come through Newark and have gone on to find success. It seems like every year I'm learning about another artist, writer, performer or designer who was either born in Newark, taught at one of its local universities, or called Brick City home for a while. The city is fearless, on the surface and underground, and everywhere you look, you meet someone working tirelessly toward a dream. Newark residents have that "New York hustle," but they're spurred on by that "New Jersey grit." If you're just passing through, you may not see it. But if you stop, stay and interact with the community regularly, you'll recognize it in a flash. 
If you weren't involved in writing, what would you be doing? I've always loved the arts. And despite being told many times that a profession in the arts would not be a very lucrative one, I think I would have pursued a career in theater or at a museum. Perhaps not as a performing or contributing artist, but maybe in the field of arts management or administration.
Finally, what is something interesting about you that you think people should know about or would like to know? Variety makes the world a far more beautiful place. That's why I have difficulty limiting my writing to a specific niche. Over the years, I've written about small business solutions, medical research and development, and career management. Even in the world of arts and entertainment, I can't pick a focus. I love writing about it all, from art exhibitions to poetry readings to music festivals to theater productions (both Broadway, OB, and regional). I've held more jobs than O. Henry and every one of them has provided a wealth of knowledge and experience that contributes a new perspective or focus to my work. I can't say that I've had a career worth imitating, but I've certainly had one that is anything but boring.
---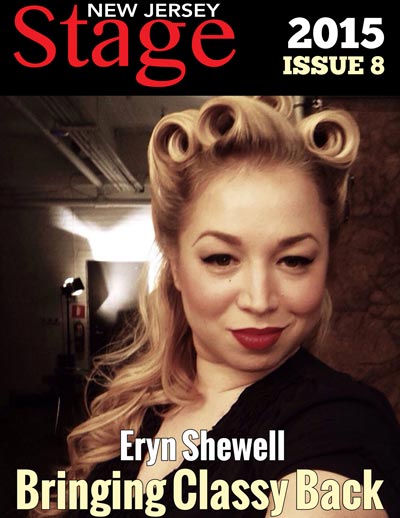 Sherry Wien, Ph.D., is the Editor of New Jersey Stage.  She is an Associate Professor of Communication at Monmouth University.  Gary and Sherry met in college and theatre played a romantic role.  They first kissed while rehearsing lines and their first dates were watching plays together.
Tell us about your interest in the arts. My earliest performance was singing "Bad Bad Leroy Brown" when I was three in front of my family.  As soon as I could pretend, I was acting.  I sang and acted in high school and was selected for the Virginia Governor's School for the Arts with an emphasis in theatre.  
In college, I minored in Studio Art to complement my Communication degree.  I danced in Pippin and sang as Julie Jordan in Carousel.
Sadly, my performances stopped with graduate school so I could pursue a career in academia.  My current interest is to promote people communicating important messages using the visual and performing arts.  I still love to draw every month with Dr. Sketchy's Anti-Art School in Asbury Park.  I still love going on theatre dates with Gary and afterward discussing the writing, acting, costumes, and set design.  I've performed as a public speaker in front of college students for over 25 years.  I teach students how to give creative presentations and I encourage the audience to applaud for them.
In the past two years, you have presented at academic conferences in Europe on Prince and the television show Mad Men.  Did you ever imagine bringing pop culture into your academic work? I research communication skills such as eye contact and listening behaviors, but now I'm having fun connecting those professional skills with my personal passions.
I love Prince as a performer and he was my first crush because of his eyes.  So after his passing, I seized the opportunity to participate in Purple Reign, the first ever academic conference devoted to Prince in England. 
The conference was hosted by The School of Arts and Media at the University of Salford, UK and the Department of Recording Industry, Middle Tennessee State University, USA.  I gave a multimedia presentation on how Prince directed his gaze in his songs and movies.  
I love the tv drama Mad Men so much that I've spent the last three years analyzing the listening behaviors and styles between the characters of Joan and Peggy, Don and Roger, and finally Don and Peggy.  My current scholarship agenda is listening and I'll teach a listening course at Monmouth University next fall.  
One way to help students understand listening in real life is to have them examine listening in their favorite shows.  I was thrilled to present my work-in-progress at Mad Men: The Conference in Tennessee, and at the International Listening Association conventions in Omaha, Nebraska last year and Dublin, Ireland this summer.
To speak in front of international audiences is an honor.  Art is global and American pop culture is international and interdisciplinary.  Once I find an appropriate multimedia academic journal (with a format like the multimedia New Jersey Stage), I'll publish my findings.
If you weren't teaching, what would you be doing? I would be a full-time actress with an Actors Equity card.  I dreamed of being a professional stage actress who could change the energy in a dark room full of a thousand eyes and ears.  When I watch actors, I wish I could be on stage with them.  I wish I could act for summer stages but I can't devote enough time for rehearsals and performances.  I need a live audience to perform "in the flow" so that's why I prefer stage over screen.  That's why I chose teaching over television journalism in graduate school.
What is something interesting about you that you think people should know about or would like to know? I've been a fan of RuPaul's Drag Race since it started in 2009.  Drag is performance art because it's self-expression for entertainment, cultural critique, and/or fashion.  This September, I'll attend RuPaul's NYC DragCon at the Javits Center to celebrate art, pop culture, and all things drag.  I'm happy that drag is becoming more accepted and recognized as visual and performing art because I'm a drag queen at heart.
---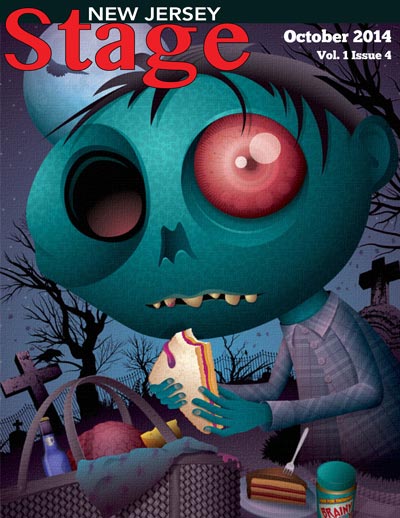 Gary Wien is the Founder and Publisher of New Jersey Stage.  He ran Upstage Magazine, a print magazine about the arts from 2003-2008, and has been covering the arts for roughly 20 years. He has written about music, theatre, film, comedy, art, photography, and dance. 
Tell us about your writing career.  Most of my career has involved publications with New Jersey in the title.  I've written for New Jersey Webguide, Family Guides for New Jersey, Princeton Magazine, Upstage Magazine, Jersey Arts, New Jersey Stage, and a pair of automotive publications - Fleet Executive and FLEETSolutions.  In addition, I've written a pair of books on music - Beyond the Palace and Are You Listening? The 100 Best Albums of 2001-2010 by New Jersey Artists.  The first was the first book to tell the history of rock and roll music in Asbury Park and the latter was the result of reviewing over 2,500 records released in the past decade by New Jersey artists.
Who are some of the favorite interviews that you've had? Most of my favorite interviews have been with musicians and actors.  On the acting side, interviews with Dan Lauria from The Wonder Years, Richard Schiff from The West Wing, Andrew McCarthy of St. Elmo's Fire, and Jack Klugman of The Odd Couple come to mind. Some of my favorite interviews with musicians include Amy Ray of the Indigo Girls, Mike Peters of The Alarm, Scott Terry of Red Wanting Blue, and Brian Fallon of The Gaslight Anthem.  And there are interviews with artists like Davy Jones of The Monkees and David Cassidy of The Partridge Family who are known for both.  Of course nearly all of the 40 or so interviews in my Beyond the Palace book could be mentioned as well, as well as an interview with Senator Bill Bradley.  My personal website has links to most of the work I've done over the years.
Name an artist who is no longer alive that you wish you could have interviewed? John Lennon is top of the list.  He's my inspiration and my hero.  If there is an afterlife, I hope to see him at the bar, buy him a round, and start talking.
If you weren't involved in writing, what would you be doing? I would most likely have been working in radio in some capacity.  I originally went to college to be a DJ, but switched my major to literature and focused on writing.  During college, I worked at the local AM/FM radio station and have run an online radio station for over a decade.
Finally, what is something interesting about you that people should know about? I was diagnosed with multiple sclerosis in 2015 after suffering with symptoms for many years. I decided to make it public with issue 50 because I often talk about it on my personal Twitter account and have had more and more arts organizations follow me there, so it isn't much of a secret anymore.  I'm proud that the last 40 issues or so of New Jersey Stage magazine were published since my diagnosis - something that shows the publication is in no danger of stopping.  My neurologist is also involved in the arts as a photographer (see a feature on him here).  He was recommended by Gabor Barabas from NJ Rep and I'm forever grateful for that.