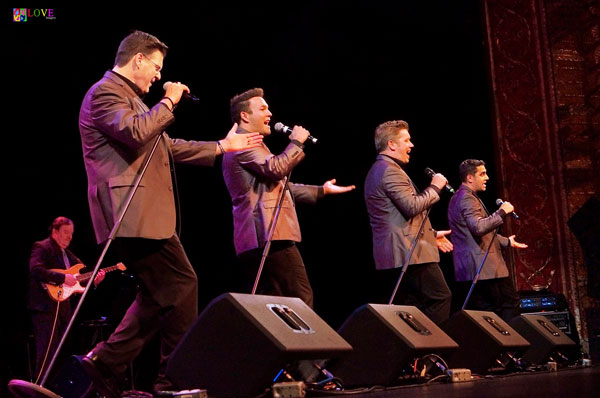 Q: So what do four guys from Pennsylvania, Texas, Tennessee, and Massachusetts — and all currently based out of Florida — have in common with four guys from "Joisey" this summery August 3, 2018 evening at the Strand Theater in Lakewood, NJ?
A: They're all part of an energetic concert tribute dedicated to the music of the Garden State's very own "Jersey Boys" — Frankie Valli and the Four Seasons — billed as Let's Hang On: America's #1 Frankie Valli Tribute Show!
As we wait inside the historic Strand auditorium for tonight's program to begin, we chat with several concertgoers who tell us about their love for New Jersey's musical son, Frankie Valli.
Mike from Manalapan — who is here being treated by his wife, Fran, to tonight's performance — says, "I like all of Frankie Valli's songs," before exclaiming, "and I saw Jersey Boys!"
A different Mike — Mike from Jackson — was given tickets to tonight's show by his wife, Denise, to celebrate his birthday. States Mike, "Our first date was seeing Jersey Boys on Broadway. We love all the Four Seasons' songs!"
---
The article continues after this ad
---
---
Others tell us about their love for their favorite concert venue here at the Jersey Shore — the Strand Theater.
Remarks Dave from Point Pleasant Beach, "Once a month, I enjoy coming to the Strand. I like the aesthetics of the theater — it's gorgeous. I've been here four or five times since I moved to the area, seeing great shows by The Glen Miller Orchestra and CSN Songs — the Crosby, Stills and Nash tribute band — adding, "I plan to see CSN Songs again when they come back here to the Strand on Sept. 15th."
Still others — like Carla from Brick — contend they're fans of both Frankie Valli and the Strand. Explains Carla, "I was here the last time Let's Hang On performed at the Strand and their versions of all the Frankie Valli and the Four Seasons hits was so exciting, I had to come back and see them here again," before noting, "I just love their music and I just love this theater!"
The lights dim and the members of the Let's Hang On band — Barry Spatz on keyboards, Ed Conte on bass, Bob Schubert on drums, and musical director Bill Norman on guitar — put the audience in a Jersey Boys frame of mind by playing an instrumental overture of Frankie Valli and the Four Seasons' hits.
Soon, the four Let's Hang On vocalists — Rich Bresenhan, Diego Cano, Josh Eleazer, and Chris Barletta — take the stage singing the 1963 hit "Walk Like a Man," dancing in sync and crooning in rich four-part harmony. Their bright red blazers and white shirts remind the audience of a time of early 60's innocence.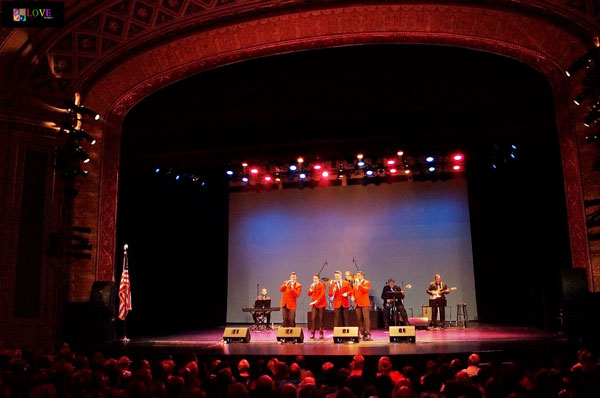 Following large applause, the quartet segues into 1966's "I've Got You Under My Skin," the guys making the audience chuckle as they pretend to kick one another on the song's "And each time I do/Just the thought of you/Makes me stop before I begin" lyric.
Next, the crowd grooves to Let's Hang On's performance of the upbeat 1967 tune, "C'mon Marianne." On this rhythmic number, audience members clap and sing along as Rich, Diego, Josh, and Chris trade lead vocals while they dance."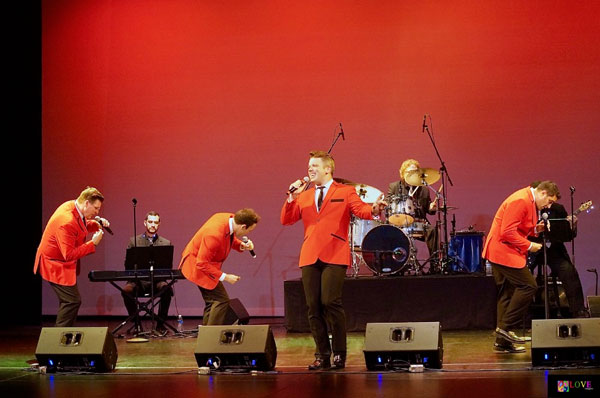 Inviting the audience to "sing along when you recognize a song," Let's Hang On performs a selection of classic '60s cover tunes which they suggest Frankie Valli and the Four Seasons sang in clubs before they became chart-toppers themselves. These hits including a finger-snapping rendition of "Silhouettes," a toe-tapping version of "I Can't Give You Anything but Love," a crooning and swooning interpretation of "Earth Angel," and a spirited performance of "Why Do Fools Fall In Love" — the boys walking, strolling, clapping, and sharply turning around in sync on the instrumental interlude.
Frankie Valli's 1975 solo hit, "My Eyes Adored You," starts out as a solo number with Josh Eleazer singing lead.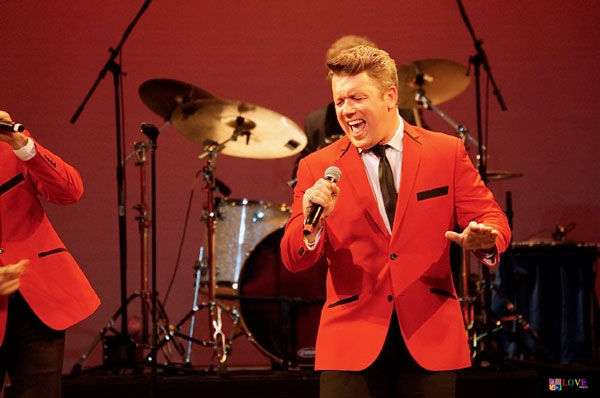 As each of the Let's Hang On vocalists returns to the stage, they add their voices one by one until all of the vocalists are singing in four-part harmony.
A special moment takes place for a number of local residents in the house who begin to hoot and holler when Josh sings, "Walking home every day/Over Barnegat Bridge and Bay," because the real-life inspiration for the song's lyric is located here at the Jersey Shore just minutes from the Strand Theater!
Moving on to a trio of classic Frankie Valli and the Four Seasons' hits, the members of the quartet sing and dance on two tunes from 1964 — "Dawn" and "Big Man in Town" — before the audience happily joins in singing and clapping on 1962's "Big Girls Don't Cry."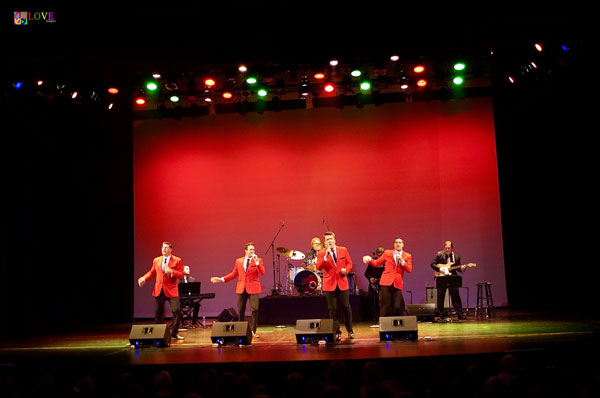 On "Marlena" — a 1963 B-side — the Let's Hang On vocalists side step as they invite the audience to clap along on this rhythmic ditty.
Moving to to a rockin' rendition of 1964's "Save it For Me," the group pleads as they sing, "Don't let your love go astray (Save it for me)/Don't give your sweet kiss away (Save it for me)," on this tuneful pop confection.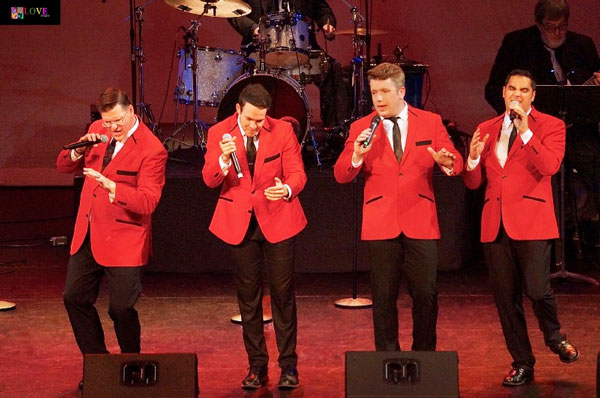 After taking a moment to introduce all of the Let's Hang On vocalists to the Jersey crowd, baritone Josh Eleazer has the audience smiling when he shows his age by announcing, "Someone recently told me that records used to have a 'B' side where you could play both sides of a record," before muttering, " I think I'll have to try that sometime in my car."
Going on to introduce an unexpected 'B' side hit for Frankie Valli, he and the band perform a dynamic rendition of 1967's "Can't Take My Eyes Off Of You." As the audience sings along, Josh makes his way down into the crowd and dances with a member of the audience named Athena — "like the goddess," announces Josh — as Diego Cano sings onstage.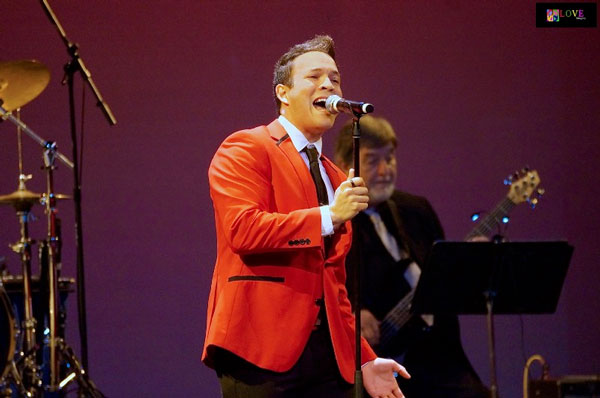 Following avid applause, the boys wrap up Act I of their set with lively renditions of The Four Seasons 1962 smash "Sherry" and 1975's "December, 1963 (Oh, What a Night)," the crowd enjoying every note.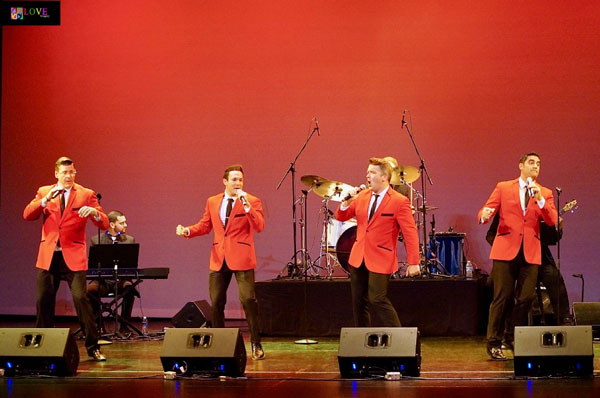 During intermission, out in the Strand Lobby, we get an opportunity to chat with the newest member of Let's Hang On, vocalist Diego Cano.
Says Cano — a tenor in the group since December, 2017 — "I love being a part of this group. This is the first time I've gotten to sing the songs of Frankie Valli, which has been a passion of mine for a long time."
When asked about performing for audiences here in Frankie Valli's home stage, Cano — currently a resident of Florida — exclaims, "Jersey audiences are more passionate! We get many more standing ovations here in Jersey," before adding, "and a lot of fans come up and tell us that they knew Frankie Valli whenever we play here."
Act II begins with the Let's Hang On vocalists returning to the stage wearing black slacks and shirts along with silver jackets. After introducing the band's instrumentalists, the group says, "This next song was a #1 hit in 1967 and, again, 40 years later in Europe as a techno-dance song."
Launching into a rockin' version of "Beggin'" — a performance which features a wailin' guitar solo — the guys then perform 1963's "Candy Girl," entertaining the crowd with their precision dance moves.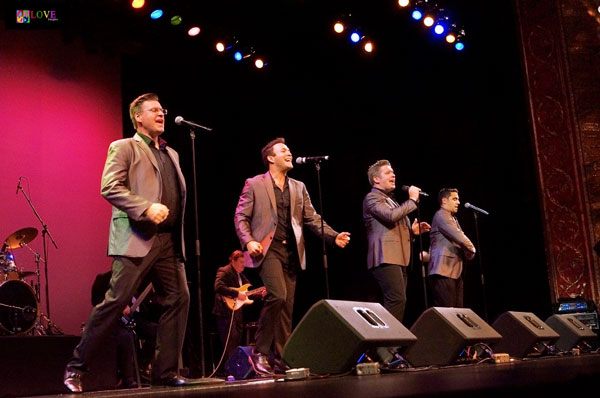 After asking, "Who's having fun tonight?" the guys perform The Four Seasons 1964 #1 hit, "Rag Doll." As feet stamp to the iconic bass drum beat, the quartet sings and dances around with their microphones performing every single "ooh" and "ah" with gusto!
After a knock-out rendition of The Four Seasons' '63 recording, "Stay," the guys perform the crowd pleaser, 1966's "Working My Way Back to You," before entertaining the audience with their fancy footwork and choreography on their namesake tune, 1963's "Let's Hang On."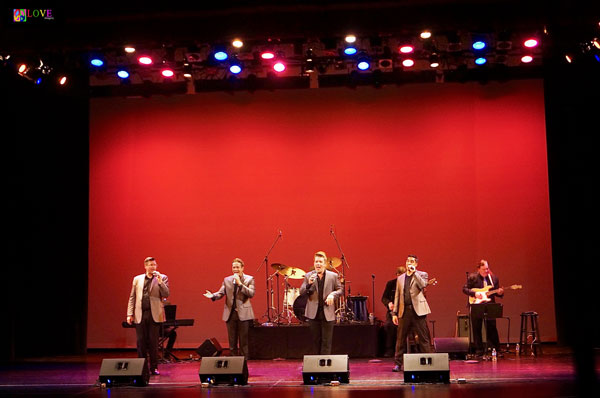 The crowd loves it and cheers for this performance!
Revealing, "We travel all over the world, and we did a New Year's Eve party in Hawaii for Japanese tourists who were very polite," Rich confesses, "but when they heard this song, they all started leaving!"
The song? The Four Seasons' 1965 hit, "Bye Bye Baby."
After warning the Jersey crowd, "It's not the end, so please don't leave!" the guys sing "Bye Bye Baby," Diego handling the lead as his trio of colleagues backs him up. Dancing as they sing, the group's rich vocals fill the theater with harmony.
A highlight of tonight's show is the group's performance of The Four Seasons' 1964 Top Ten hit, "Ronnie," the group giving the audience chills as they hit all the high notes crooning, "I'll go on living and keep on forgiving/Because/You were my first love."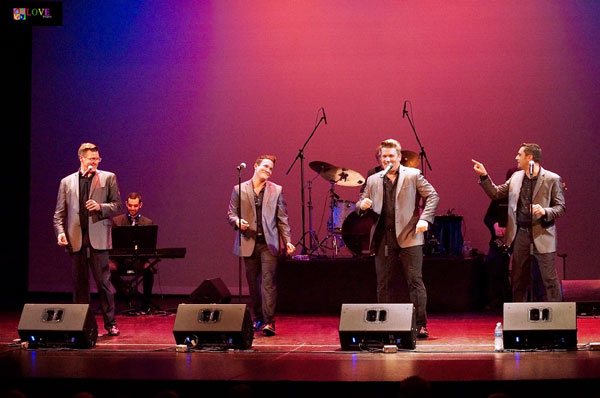 After asking, "Who had more fun tonight?" the guys have an impromptu competition between audience members on the right and left sides of the Strand auditorium to see which group can contribute more applause.
Ending with a tie, the quartet comments, "We love this gig! We travel all over the United States and we've never heard better singing than we've heard tonight!"
Concluding their show with 1975's "Who Loves You," the audience whistles and cheers for Let's Hang On!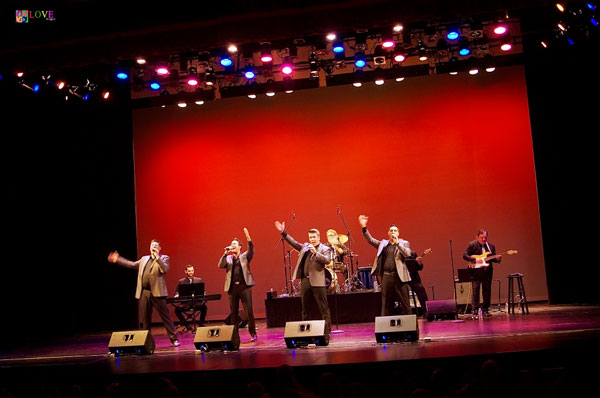 As audience members make their way out of the auditorium, we chat with several in attendance to get their reactions to tonight's performance.
Replies Patty from Brick, "They were fantastic — fabulous! They sounded exactly like the Four Seasons — so much so, we bought their CD."
Likewise, Bonnie from Howell comments, "This show was awesome! It brought back a lot of memories. I had a great time — it was a really good night."
Ella from Haddonfield remarks, "I liked their dancing! I'm a big fan of the Four Seasons," noting, "My favorite songs tonight were 'Sherry' and 'Rag Doll.'"
Sophie, a young fan from Bayville, concurs adding, "I liked all of it! I listen to a mix of oldies music and this concert was really good."
Sophie's friend, Ava from Beachwood, agrees adding, "Oldies are my favorites. I can connect more to that type of music — from groups like The Beach Boys, The Beatles, and The Four Seasons. I really liked the high voices and the way the singers moved around. Their energy made this show really entertaining!"
Sophie's grandmother, Kate from Pine Beach, acknowledges, "It was a lot of fun — enjoying all the old songs brought back a lot of memories!"
We also get to chat with a musical celebrity in the house tonight, John Salvato, a founding member of The Duprees. Salvato personally performed on such classic recordings as the group's 1962's Top Ten hit featuring the timeless lyric, "See the pyramids along the Nile" — "You Belong To Me."
Revealing that his favorite Duprees' song was the group's 1962 hit, "My Own True Love," Salvato remarks, "I really enjoyed the show tonight. These are wonderful, talented guys and they did a good job!"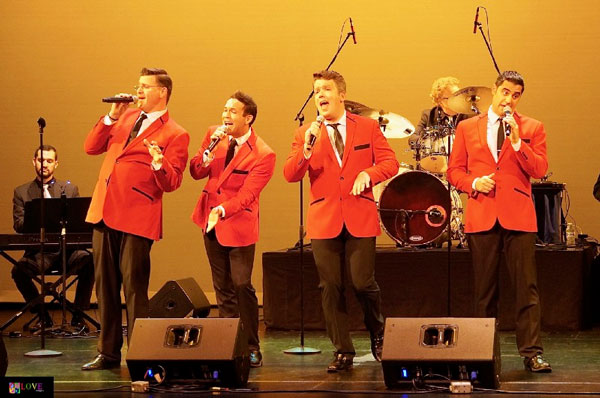 Adding that "Tonight's music brought back a lot of memories," Salvato recalls, "When The Duprees performed on American Bandstand with Dick Clark in 1963 we met Frankie Valli and the Four Seasons backstage in the elevator!" before noting, "Later, our groups toured doing concerts together as part of Dick Clark's Caravan of Stars."
Going on to reveal, "I once sang with Frankie Valli in Newark when he received an award back in 1980," Salvato recollects, "We sang 'I've Got You Under My Skin' and I got chills. Frankie Valli's phrasing was phenomenal. I'll never forget it."
Nor will some folks in tonight's audience for Let's Hang On's performance at The Strand — notably Fran from Lakewood — who says, "This was a phenomenal evening — everyone was singing along and clapping," before concluding, "This music brings back fabulous memories!"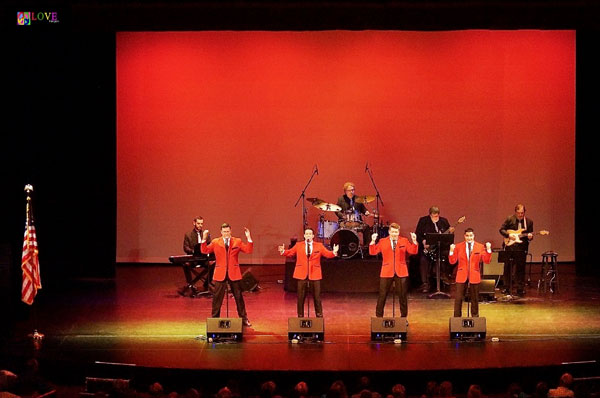 To learn more about Let's Hang On, please go to frankievallitributeshow.com. For information on future performances at The Strand Theater — including CSN Songs: A Tribute to Crosby, Stills, Nash and Young on Sept. 15, Alive '75: The Ultimate Classic Kiss Tribute on Sept. 29, and Herman's Hermits starring Peter Noone on Oct. 6 — please click on strand.org.
Photos by Love Imagery
Spotlight Central. Your source for Jersey entertainment news and reviews
Love Imagery Fine Art Photography. all you need. peace/love/flower/power