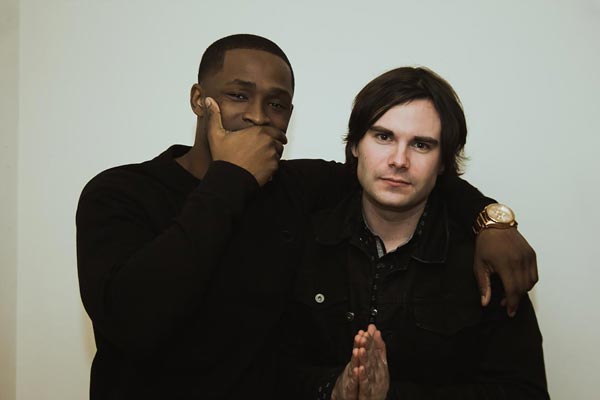 In the wake of their local hit, "Dark City Lights," Bulletproof Belv and Matty Carlock are about to drop a follow-up single, "F Being Friends," while readying records of their own. Also featured this week in special all-hip-hop edition of the Scene Report are Chill Smith, Mello B, Black Surburbia Music and Silent Knight.  Photo courtesy of Matty Carlock.
Asbury Park rapper Bulletproof Belv and his rocker counterpart Matty Carlock soon will release a new single, "F Being Friends," a follow-up to their local smash, "Dark City Lights." In the meantime, both Belv and Carlock are readying other records that will be released by year's end. 
Belv will follow his buzzing "11:11 Wishing Thinking" LP with an EP, "With or Without You." He also will be the subject of a forthcoming documentary looking at his early days growing up in pre-gentrified Asbury Park and rising up the ranks of hip-hop. 
Carlock also is featured in rapper Cage's new music video for "Veins." He also contributed three of his tunes to Priority/Capitol recording Albee Al, popular rapper Chad B, and rap battle champ Arsonal Da Rebel, all of which will be released by winter as videos. 
Carlock also expects to release his full-length debut album, "Jailbirds," by year's end. The LP will feature guest performances by fellow well-rooted punk-inspired singer-songwriters Jared Hart of The Scandals and Jesse Malin, plus the blues harp of celebrity photographer Danny Clinch.
"The whole record is about the trials and tribulations of growing up a punk hardcore kid in the suburbs of New Jersey," Carlock said. "Its about sex addiction, overdosing, teenage death, extreme violence, drugs, young love, and being fucked up with no guidance. But the beauty in that -- through all of that -- youth shines through and you find companionship."
Carlock plans to tour the South and Canada in support of their record, but first he'll play Malin's annual Summer Stram Jam in tribute to The Clash's Joe Strummer on Aug. 25 at Bowery Ballroom in New York City. Hart's new band, Mercy Union, and New York City's Uni will share the bill along with special guests HR of Bad Brains, Tommy Stinson of The Replacements, Suzi Gardner of L7, Cait O'Riordan of The Pogues, Frank Iero of My Chemical Romance, Willie Nile and much more. Find out more about that show here … 
Asbury hip-hopper Drew the Recluse is featured on The Cold Seas' new single, "Bloodstain," which officially drops next week, but can be heard on the "Makin Waves Report" of Asbury Music's "Radio Jersey" at  www.mixcloud.com/leemrowicki. The Cold Seas and Drew the Recluse will celebrate the release of "Bloodstain" on Aug. 31 at The Saint with special guests Ella Rose, Lex Rex and more.
Black Suburbia Music Group, a hip-hop collective run by Drew; his brother, Morgan, and their father James Barkley, will collaborate with the Asbury Park Music Foundation on a monthly concert series, Suburbia Friday Nights, which kicks off Sept. 7. In addition to Drew and Morgan, aka Momo Da Gawd?, performers will include Miles NxBxDy and members of APMF's Makin Waves-sponsored Hip Hop Institute. Shows for Oct. 5, Nov. 2 and Dec. 7 dates will be announced soon. Meanwhile, APMF will seek a corporate sponsor or individual underwriters to support this mission for an inclusive and collaborative "One Asbury" music community at the AMPF performance space in the Lakehouse building at 621 Lake Ave. The all-ages alcohol-free monthly series will provide a base for hip-hop music on the east side of Asbury to expand on shows running successfully at The Saint and House of Independents.
"One of our biggest goals is to bring a diverse musical experience to our audience," James Barkley said in a news release. "We want to continue to introduce hip hop to Asbury Park's music scene and at the same time collaborate with other genres. We hope that by sharing our vision with the next generation, the railroad tracks will no longer be a dividing line." 
APMF Chairman Jim Lenskold added, "Hip hop is under-represented in Asbury Park and our foundation saw an opportunity to support this musical community and build the momentum that is just starting to get traction. Black Suburbia Group takes a very professional approach to their shows and can inspire young artists just starting out. Plus, they are attracting a growing audience who want to see hip hop within the mix of great music in Asbury Park."
APMF also is hosting Karma Cartel's Back to School Drive on Aug. 16. This 7 p.m. all-ages alcohol-free show will collect school supplies for K.Y.D.S. (Konscious Youth Development & Service) and instruments that APMF will get to students at local schools. Hip-hop performances by Heather Hills, Grooves & Hip-Hop, and Shortshot x Ewald will be mixed with those by pop singer-songwriter SOF and transplanted Brazilian songstress Ashley Delima. People bringing a school supply donation or instrument can attend for $5 (or $7 without the donation) …
Jersey City rapper Murdock will release his latest album, "Rebirth," on Aug. 16 on all the usual digital outlets. An album release party and art show will take place Aug. 18 at Art House Productions in JC featuring the music of Cook Thugless, PeteyxKraze, Vincent the Owl, Nizz Sentine, Jonny Wolf, DAZED and DJ Leeroy Green. The theatrical, visual show will feature a projector, video installations and a full gallery with pieces by Leandro Henriquez, Jason Morales, Kelsey Reilly, John Mehrkens, Jean Louis Droulers, Kaitlyn Texel, Alexander Gurevich, Jessica Zuniga, and more … 
Speaking of Cook Thugless, the New Brunswick-originated, Jersey City/Brooklyn-based jazzadelic rap band have dropped their third single this year, "Love Is a Wild Thing." The dope new tune sounds like melancholy autotuned ballad meets epic orchestral 8-bit wonderland. Cook Thugless also will play Sept. 6 at Barca City, New Brunswick, with Madam West …
Prolific and productive New Brunswick rapper Mello B has followed up his five-song "No Filter" EP released earlier this year with a new 11-track album, "Set in Stone," featuring the single "What I Believe," a video for which is expected to be released by month's end. With "No Filter" still buzzing, another video is expected from that too for "Forever at Motion." Now that's what I call Makin Waves …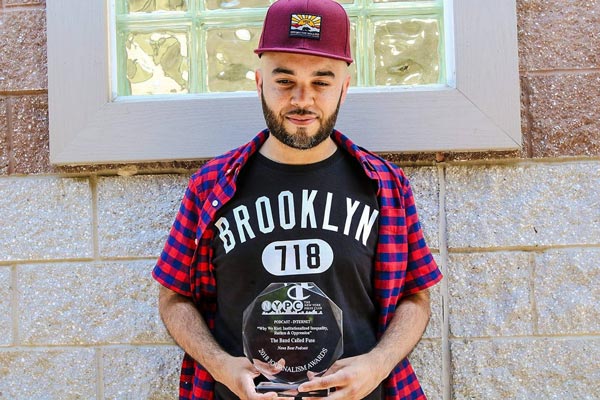 New Brunswick rapper Silent Knight is pictured with his New York Press Club Best Podcast Award for his contributions to USNewsBeat.com as artist-in-residence.
New Bruswick rapper Silent Knight has three hot Hub City shows coming up: Aug. 17, Scarlet Pub, with J.I. Hudson, Vincent the Owl, and Jay Hollin; Aug. 25, Blackthorn, with Cymarshall Law and K. Desiree, who, like Silent Knight, will be celebrating their birthdays, plus his band The Band Called FUSE, and Sept. 8, ROCK New Brunswick, with Hub City Stompers, Priva and Naja, Professor Caveman, Hong Kong Graffiti, Sharief Hobley, Experiment 34, Nalani & Sarina, SusBus, Pleased Youth, Doc Hopper and Circus Place. 
In other Silent Knight news, the rapper recently won a New York Press Club Best Podcast Award for usnewsbeat.com, where he is the artist-in-residence. Through News Beat, he was tapped to be an Innocence Ambassador for The Innocence Project, a social justice nonprofit that exonerates the wrongly convicted through DNA testing and reforms the criminal justice system to prevent future injustice. Find about more about that here … 
Paterson-bred rapper Chill Smith will take a break of his new album, which will feature Lex Rex & the Dragons and longtime collaborator Chris Rockwell, to play the Second Annual Rap Vs. Punk Show on Aug. 23 at The Saint. In addition to Smith and Rockwell, the lineup will feature Sister Munch, This Year's Comeback, Miles Nxbxdy, Trashboat Dickinson, and Trapbang. In October, Smith and Rockwell will be heading out on a national tour. 
Bob Makin is the reporter for
www.MyCentralJersey.com/entertainment
and a former managing editor of The Aquarian Weekly, which launched this column in 1988. Contact him at
makinwaves64@yahoo.com
. And like Makin Waves at
www.facebook.com/makinwavescolumn
.