By Spotlight Central
originally published: 08/12/2018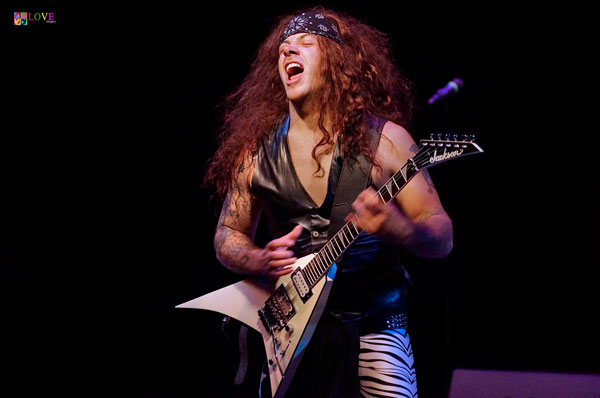 As we make our way inside the Grunin Center of the Arts located on the campus of Ocean County College in Toms River, NJ, this Saturday, July 28, 2018, we see music lovers of all ages. Some of them are wearing street clothes but some are decked out in outfits from the 1970s and '80s for tonight's concert by the '70s and '80s tribute band, The Great Rock N Roll Time Machine.
In the Grunin Center lobby, we take a moment to chat with Jayme from Brick — a student at Ocean County College — and her daughter, Guinevere, who are both wearing Great Rock N Roll Time Machine T-shirts.
When asked why they're fans of this Jersey band, Jayme says, "They're very animated — they dance when they sing — and they have tremendous talent! Jimmy Franklin is their 24-year-old guitarist — the audience is going to be very impressed by him! And Laura Catalina Johnson, their singer, is amazing — she's got the pipes!"
Continuing, "Brian Morelli, the group's drummer, talked to the music club here at Ocean County College and told us that he played in a band. He was so passionate about making music and playing that I brought my daughter to see one of his shows. I have to tell you that when she saw this group, she was so lit up, she was on fire!"
Comments Guinevere, 14, "At first, I didn't want to go to the show, but I'm glad I did! The energy was amazing — you don't see many groups that get into the music like this band does." Revealing that she typically listens to artists like Fall Out Boy, Marilyn Manson, and Rob Zombie, Guinevere concludes by stating, "but now I love the Rock N Roll Time Machine!"
---
The article continues after this ad
---
---
We step inside the Grunin Center auditorium to see a stage set with drums, keyboards, guitars, and assorted mics and amps. In the center of the stage, there is a micophone stand draped with colorful scarves — a classic '80s touch. Banners on either side of the stage proclaim, "The Great Rock N Roll Time Machine" — "70s classic rock" and "80s rock classics" — and there is a large screen with the same information flashing at the rear of the stage.
The lights dim and images of classic rock artists of several eras fill the big screen. Representing the 1950s are Bill Haley and the Comets playing "Rock Around the Clock" to images of Buddy Holly, Little Richard, and dancing teenagers. For the '60s, we see Ed Sullivan introduce America to The Beatles, along with clips of The Beach Boys and The Rolling Stones; we also hear Jim Morrison and The Doors sing "Light My Fire" as Jimi Hendrix, James Taylor, and psychedelic images swirl onscreen. Lastly, for the 1970s, artists including Kiss, David Bowie, Peter Frampton, The Bee Gees, and Edgar Winter grace the screen.
Cheers and whistles emanate from the audience as the members of The Great Rock N Roll Time Machine — Davey Lister and Jimmy Franklin on vocals and guitars, Chris Brown on bass, Rich Kelly on vocals and keyboards, Brian Morelli on drums, and female vocalists Laura Catalina Johnson and Sarah Lister — take the stage.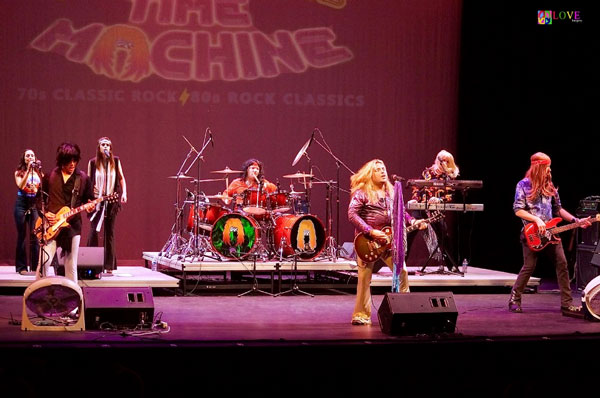 The show opens with Davey Lister, dressed in gold lamee spandex pants and a long blonde wig, welcoming the crowd asking, "Are you ready to rock?" Announcing, "I want people up on your feet — I want you dancing and singing — this is a rock and roll show!" the band plays The Edgar Winter Group's monster hit, "Frankenstein." Wearing '70s denim, tie-dye, spandex, and long hair, the Great Rock N Roll Time Machine band grooves to the rockin' '70s vibe.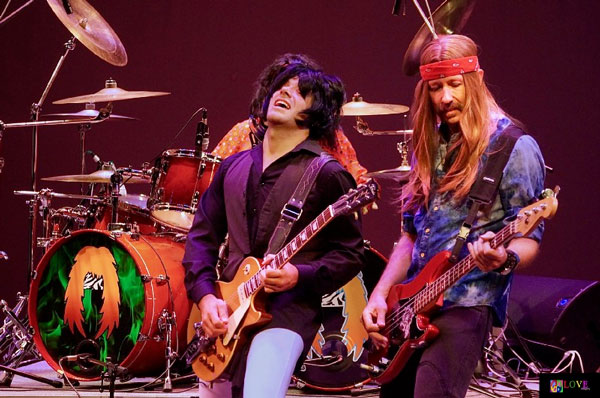 The sound of a sequencer opens the next tune, The Who's "Baba O'Riley." As the band sings, "Teenage wasteland/It's only teenage wasteland," Brian Morelli's energetic drumming propels the song forward as the musicians dance along in their outrageous get-ups.
After Davey Lister is featured on Paul McCartney and Wings' "Jet," Jimmy Franklin is spotlighted on Peter Frampton's "Show Me the Way." Playing his "talk box"-connected guitar, Franklin vocalizes into a plastic tube to shape the sound, notably during his "wa-wa' guitar solo. The number also features Laura Catalina Johnson handling the lead vocal in her tie dye shirt as she vigorously sings and dances.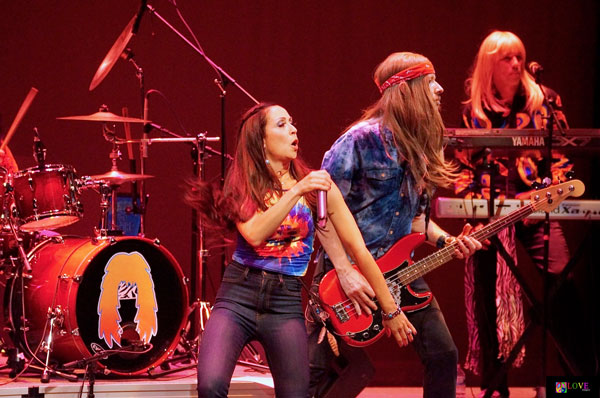 Johnson takes center stage on The Great Rock N Roll Time Machine's rendition of Heart's "Barracuda." As audience members sing along, several in the crowd get up and dance to this song, which embodies the music of their youth. With Franklin's guitar wailing and Morelli's drums pounding, Johnson vamps it up for the Jersey crowd.
Following avid applause, Johnson says, "'Barracuda' is one of my favorites," after which a fan yells out, "You sang it well, girl!"
Responds Johnson, "Why, thank you!"
Changing things up, the members of The Great Rock N Roll Time Machine band take leave of the stage and drummer Brian Morelli moves over to the piano to accompany Johnson on Elton John's "Candle in the Wind." The crowd whistles and cheers for the duo's performance.
When the band returns, keyboardist Rich Kelly sings lead on Boston's "More Than a Feeling," accompanied by Sarah Lister on backup vocals, Chris Brown on bass, and Brian Morelli on drums.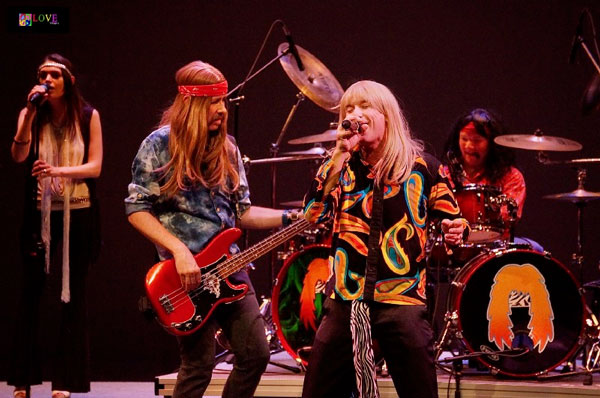 Jimmy Franklin plays a solo on one of the necks of his double-necked guitar as hands clap overhead.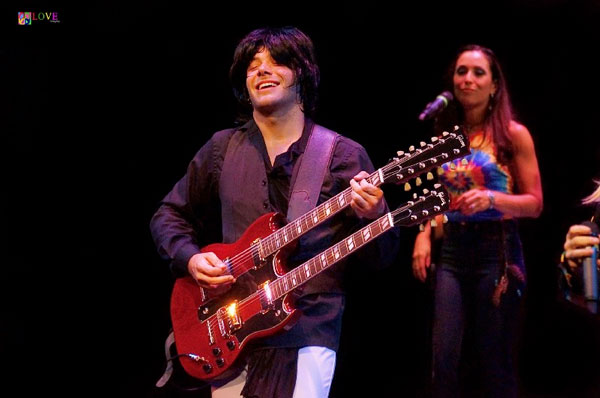 Accompanying himself on the keys, Rich Kelly is featured on Styx' "Come Sail Away." Encouraging the audience to participate, the crowd joins in singing on the infamous "Come sail away/Come sail away/Come sail away with me" chorus, and Jimmy Franklin and Davey Lister rock out on their guitars.
The group continues to cook on Foreigner's "Hot Blooded" — a number on which Jimmy Franklin plays his guitar behind his back!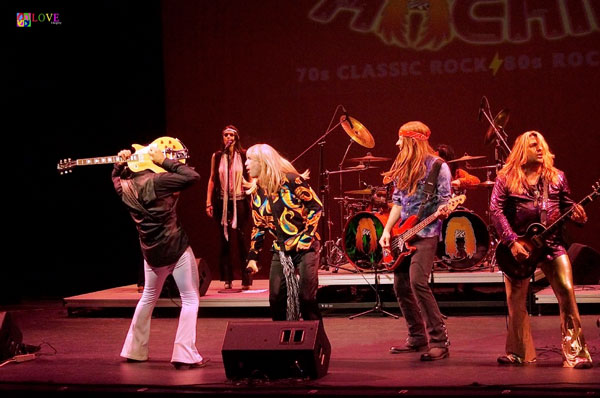 Announcing, "We're here to bring people together," The Great Rock N Roll Time Machine performs Sweet's "Ballroom Blitz." On this upbeat tune, audience members clap to the beat as the music gets faster and faster and Jimmy Franklin pantomimes picking his guitar with his teeth.
Appearing on stage dressed as Alice Cooper, Rich Kelly sings "School's Out."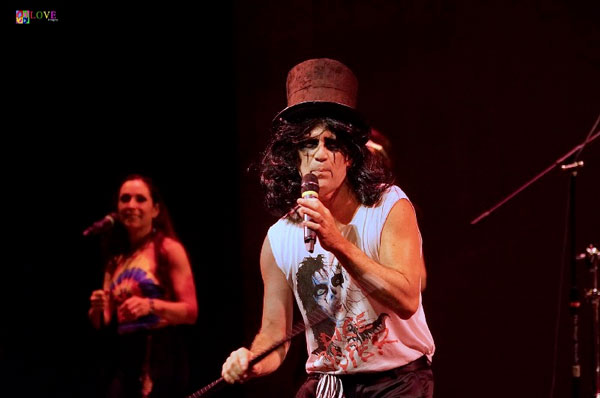 Conducting the band with his cane, audience members pump their fists as they happily sing, "School's out for summer/School's out forever." Morelli throws his sticks in the air and catches them while the crowd cheers.
Following a short intermission — where vintage television commercials for products like the Ford Pinto and Caldor department store play on the screen — Act II begins with photos and clips of musical acts and more from the 1980s including artists such as Michael Jackson, Prince, Poison, Madonna, Billy Idol, and ZZ Top.
Retaking the stage in '80s wigs and costumes, The Great Rock N Roll Time Machine takes the stage running with their rendition of Europe's "The Final Countdown."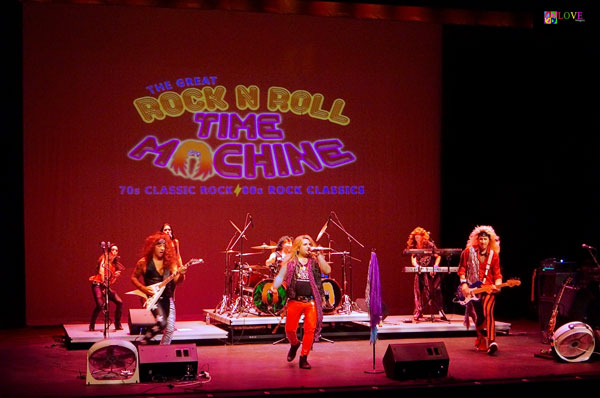 The driving beat gets audience members tapping their toes before the group segues into Motley Crue's "Girls, Girls, Girls" with drummer Brian Morelli twirling his sticks to the rockin' rhythm.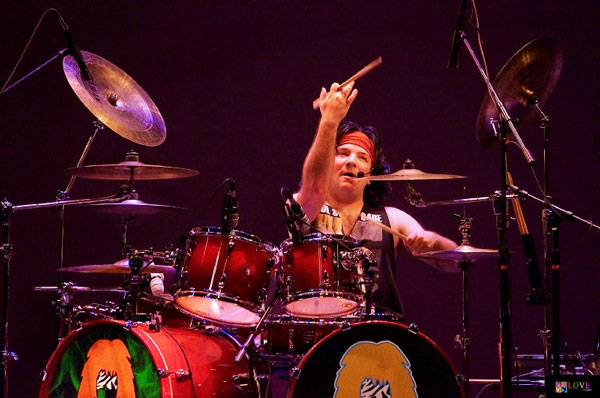 Guitarist Jimmy Franklin is featured on Van Halen's "Hot for Teacher." Playing fast and furious on his fretboard, Franklin bends his strings for maximum effect.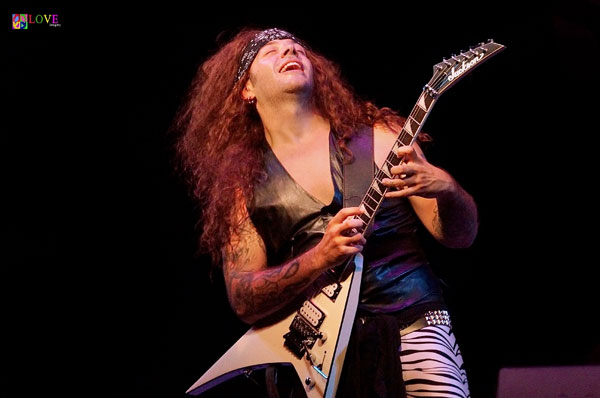 Laura Catalina Johnson dances as she sings Lita Ford's "Kiss Me Deadly." Jimmy Franklin and the band are in sync as they punctuate the song, supporting Johnson with choreographed punches and kicks on the beat.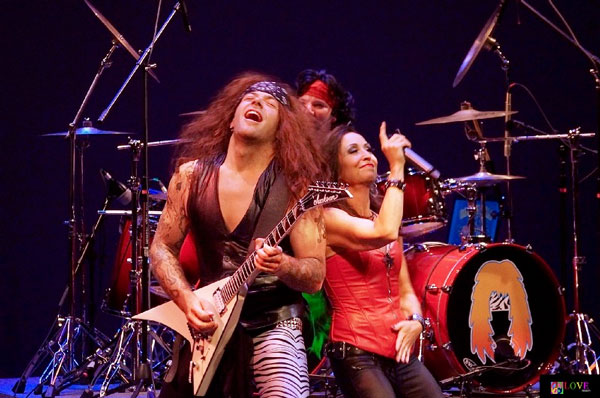 Leaving their instruments behind and making their way to the edge of the stage in their '80s leather, leopard, and zebra print costumes, the group vocally performs Extreme's "More Than Words."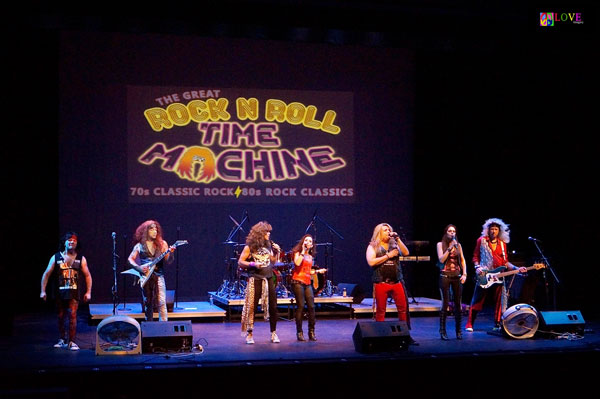 Inviting the audience to sing along, Davey Lister's falsetto voice is featured.
The crowd loves The Great Rock N Roll Time Machine's version of Mr. Big's "To Be With You" featuring Chris Brown on bass. Then, Laura Johnson is in the spotlight again on Skid Row's "I Remember You."
"You go, girl!" shouts out a fan in the audience!
After a full-band rendition of Night Ranger's "Sister Christian," audience members clap their hands over their heads as they sing along on Journey's "Don't Stop Believin.'"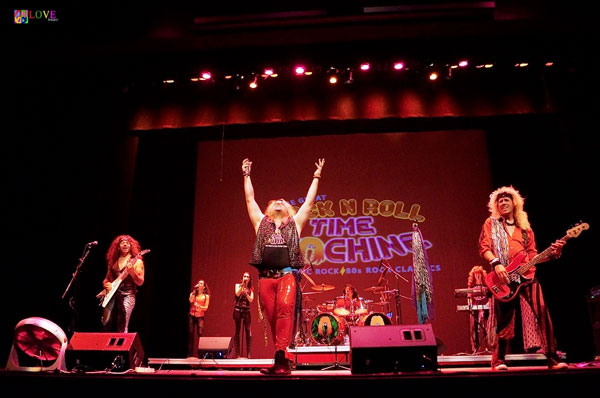 Jumping around to the beat and singing with power and conviction, the band has the audience members on their feet before Laura Catalina Johnson blows kisses to the audience.
Keeping the party going, Rich Kelly is featured on Twisted Sister's "We're Not Gonna Take It Anymore."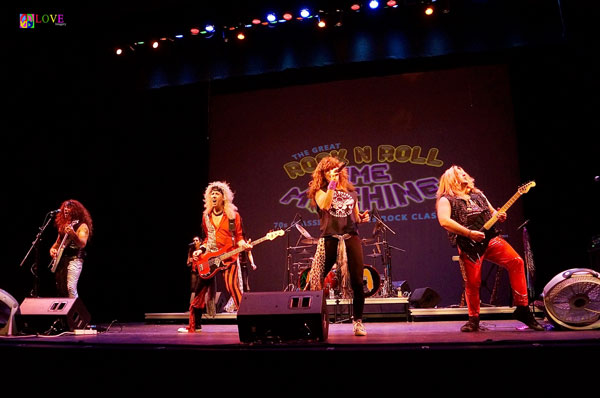 On this song of teenage rebellion and angst, electric guitars and bass duel and the drums keep thumping as the crowd sings, "Oh we're not gonna take it/No, we ain't gonna take it/Oh we're not gonna take it anymore!"
With the audience cheering on its feet, the Great Rock N Roll Time Machine musicians leave the stage.
After a few moments, they return and ask the audience to stand as a recording of "The Star-Spangled Banner" plays. On the screen behind them, an image of an American flag and the statue of Imo Jima morph into a rainbow-striped pattern, which signals the end of programming for the night.
For their end-of-the-night encore, the group performs Def Leppard's "Pour Some Sugar On Me," featuring Rich Kelly on vocals. The crowd — standing and cheering — loves it!
Davey Lister addresses the audience, asking, "One more?" before adding, "Since we're a Jersey band, Bruce? Bon Jovi?"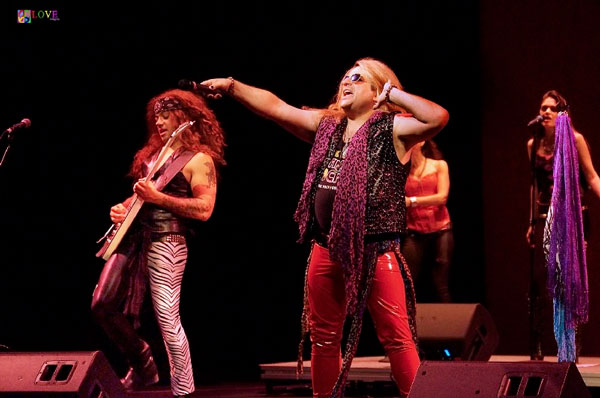 After the crowd responds in the affirmative to the latter, The Great Rock N Roll Time Machine performs Bon Jovi's "Livin' on a Prayer." With the audience singing, "Woah, we're half way there/Woah, livin' on a prayer," Davey Lister and Jimmy Franklin leave the stage and continue to perform as they make their way through the audience.
Following enthusiastic audience applause, the group takes one final bow together on stage!
As we make our way back to the Grunin Center lobby, we get a chance to chat with two members of The Rock N Roll Time Machine — Dave and Sarah Lister — both originally from NJ.
With regards to performing here at NJ's Grunin Center, Dave reveals, "I actually went to college here for awhile," before noting, "This theater is wonderful. The staff is great, the sound is always excellent, and it's right here in the heart of the Jersey Shore."
Dave's wife, Sarah, agrees, adding, "We always love playing for a hometown crowd! We cut our teeth here in Jersey doing the bar scene, so it's been great graduating to a theater level — especially here at a place like Toms River's Grunin Center."
Out in the lobby, we also chat with several members of crowd who share their opinions about tonight's show with us.
Says Steve from Howell — a fan of '70s and '80s music from a time when it was originally played on the radio — "This was a great show; it really got me going," before exclaiming, "I was glad to see the crowd up and at it — especially those who are my age!"
We also catch up with mom Jayme and her daughter, Guinivere, to whom we spoke before the concert.
Exclaims 14-year-old Guinevere, "It was a great show!"
Mom Jayme agrees, stating, "I loved it! It was amazing, and nostalgic! They have such energy and the energy from the audience was awesome tonight," before concluding with a big smile, "I think I'm gonna lose my voice from singing along!"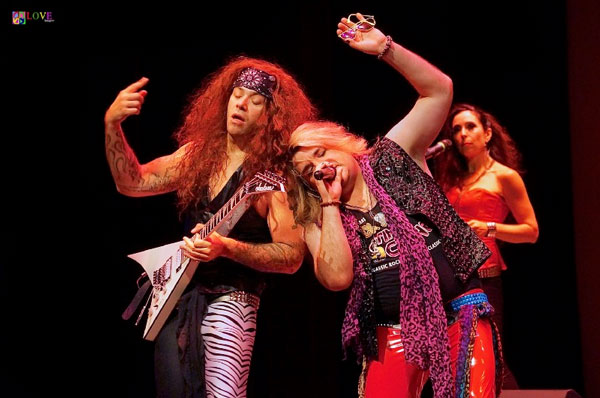 To learn more about The Great Rock N Roll Time Machine, please go to rnrtimemachine.com. To find out more about upcoming concerts at Toms River, NJ's Grunin Center of the Arts including jazz guitarist Bernie Williams and his All-Star Band on September 8, singer Gabrielle Stravelli on September 15, Yesterday: A Tribute to The Beatles on October 12, and Broadway sensation Mandy Gonzalez on October 2 — please go to grunincenter.org.
Photos by Love Imagery
Spotlight Central. Your source for Jersey entertainment news and reviews
Love Imagery Fine Art Photography. all you need. peace/love/flower/power