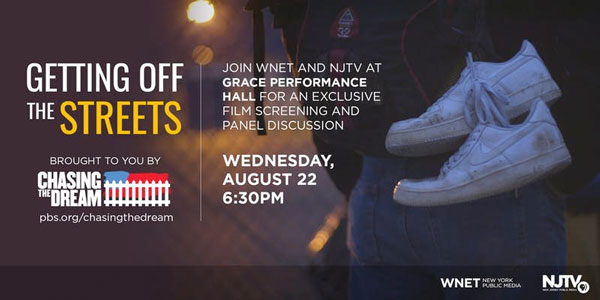 (CAMDEN, NJ) -- WNET's Chasing the Dream and NJTV have announced a new series for web and broadcast, Getting Off the Streets, which chronicles the dramatic journey of four homeless men from the streets of Camden, New Jersey, who work to change their lives through a rigorous homelessness rehabilitation program with the Interfaith Homeless Outreach Council (IHOC). 
The public is invited to a sneak-peek screening of the documentary series followed by a panel discussion on Wednesday, August 22nd at 6:30pm at Grace Performance Hall in Haddonfield moderated by NJTV News Correspondent Briana Vannozzi. The panel discussion will feature some of the series participants, including Sonya Jacobs, IHOC program coordinator and Bill Lowery, an IHOC program graduate, with others to be announced.
Screening attendees must RSVP for admission. Seating is limited. Confirmations will be made on a first-come basis. Click here for the event invite and to RSVP.
Filmed over six months, Getting Off the Streets shadows four men in the IHOC program, telling their life stories that brought them to the point of homelessness. Some fell upon hard times after family tragedy. Some are battling drug and alcohol addiction. Some have criminal records. Viewers experience their triumphs and their setbacks as they struggle to turn their lives around through counseling and tough love treatment that means no drugs, no alcohol, and no contact with family or friends. This series, which films in locations across southern New Jersey from Camden to Collingswood to Cherry Hill, paints an intimate portrait of the fight to get off the streets from the perspectives of those struggling and those trying to help them find their way to a better life.
 "These streets of Camden will eat you alive," explains Jacobs in the series. "We take them out of the city of Camden. We're trying to eliminate some of the triggers (that cause truancy and addiction relapses)."
---
The article continues after this ad
---
---
Says Lowery of his experience in the program, "It's a rough ride. There are good days and bad days. But you carry on with these people that you've been with (in the program)."
Getting Off the Streets will stream as a digital series in late August and air as segments on NJTV News with Mary Alice Williams in September. A broadcast documentary special will follow on NJTV, THIRTEEN and WLIW.
Follow the Chasing the Dream: Getting Off the Streets series online and on social media @chasingthedream.
Major Funding for Chasing the Dream is provided by The JPB Foundation. Additional Funding is provided by the Ford Foundation.
Geraldine Moriba is Executive Producer of Getting Off the Streets; Ed Hersh is Senior Programming Consultant; Jamila Paksima is Producer; Ben Kalina and Jacob Hopkins are Editors; Maya Navon is Associate Producer; and Nina Joung is Digital and Social Media Assistant Producer.